Two BU Researchers Awarded Sloan Fellowships
Research Accolades
Two BU Researchers Awarded Sloan Fellowships
The funding will further their respective research in brain function and algorithm optimization
Laura Lewis, a Boston University biomedical engineer who studies sleep, and Alina Ene, a BU computer scientist working to develop optimal computer algorithms, have each been awarded a 2021 Sloan Research Fellowship, one of the most prestigious awards for early-career scientists. They are 2 of 126 fellows chosen this year, and each will receive a two-year, $75,000 fellowship to advance their research. The Brink talked with Ene and Lewis to find out what they hope to accomplish with the support of the award.
Laura Lewis


BU College of Engineering assistant professor of biomedical engineering and member of BU's Center for Systems Neuroscience
The Brink: What aspect of sleep are you studying?
My research focuses on why we sleep, both identifying the brain circuits that control sleep, and understanding the consequences of sleep for brain health. The brain is enveloped in a liquid called cerebrospinal fluid, which cushions it and clears away waste. Our research recently discovered that during sleep, large waves of cerebrospinal fluid flow through the brain. These findings may help explain why sleep is important for maintaining healthy brain function and removing waste products.

We also work on developing brain imaging methods and analysis techniques that let us get a better window into what happens in the brain during sleep. This is because the data obtained from brain imaging is quite complex and high-dimensional, so developing new analysis approaches is essential for us to interpret these data.
Why did you choose to pursue a career in brain research?
As an undergrad [at McGill University], I became fascinated by neuroscience when I took a course about patients who had very distinctive cognitive symptoms linked to brain injuries in specific, known locations, and also patients for whom the neural origins of their symptoms were unknown. I was also taking machine learning courses at the time and became very interested in how [machine learning might be used to] extract more information about how the brain supports incredibly complex cognitive processes. I now focus primarily on sleep and arousal states because they are so fundamental to brain function and awareness, and yet there are still many unanswered questions about how these states affect brain function.
How will the Sloan Fellowship help you advance your work?
The Sloan Fellowship will allow us to pursue some exciting new studies on deep brain circuits that control our sleep patterns. Running these studies will require integrating multiple new brain imaging technologies, so the project is a bit unusual and technically challenging, and we're extremely grateful for the fellowship support to pursue this work.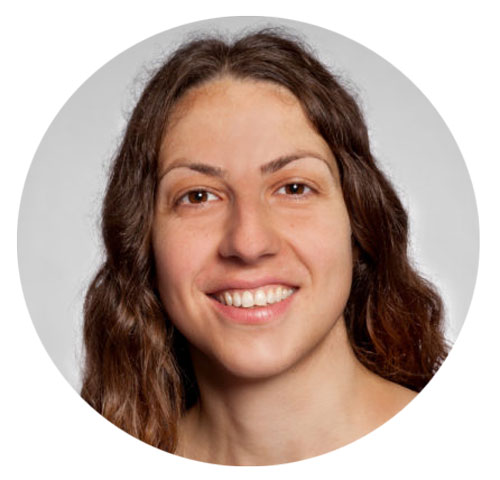 Alina Ene
BU College of Arts & Sciences assistant professor of computer science, and an institute junior faculty fellow at BU's Rafik B. Hariri Institute for Computing and Computational Science & Engineering

The Brink: What is your current research focus?
My work is in theoretical computer science, with a focus on algorithm design and optimization. I study a wide range of problems that are motivated by real-world applications, one example of a problem being monitoring water quality throughout a water distribution network. We can detect potential contaminants in the water by installing sensors at various places in the network, but with a limited number of sensors available, a natural optimization problem arises—where should we place the sensors to maximize the area in the network covered? Another example is medical diagnosis: we have a patient with an unknown disease, and we would like to select a small number of medical tests to perform in order to gather as much information as possible to diagnose and treat the illness. How do we determine which tests to perform first?

These are two very different optimization problems, but they share fundamental mathematical structures called submodular functions, which means that the relevant objectives exhibit diminishing returns as the amount of input increases. The more sensors that are placed to monitor water quality, for example, the less additional area a new sensor will cover. Submodular functions are fundamental in computer science, mathematics, and economics, so my work aims to develop algorithms for optimizing submodular functions that are very efficient.
How did you first become interested in computational sciences?
I became interested in computer science as an undergraduate. Prior to college, my main interests were in mathematics and the natural sciences. However, not too long after I arrived as a freshman [at Princeton University], I became very interested in studying computer science due to its strong mathematical foundations and its interdisciplinary impact.
What will your Sloan Fellowship help you accomplish?
With the support of the Sloan Fellowship, my group and I hope to make progress on foundational questions at the intersection of theoretical computer science, machine learning, and optimization.

For many submodular optimization problems, there is still a significant gap in our understanding of the best approximation guarantees, which measure how competitive our solution is compared to the best possible solution. It's an important measure of performance. In addition to obtaining the best possible approximation, the algorithms should ideally have very fast running times so that they can scale to very large, modern datasets.