Should Sports Teams Change Their Native-Inspired Names?
Five questions for filmmaker and BU alum Donick Cary, whose new film tackles the controversy around sports teams names and mascots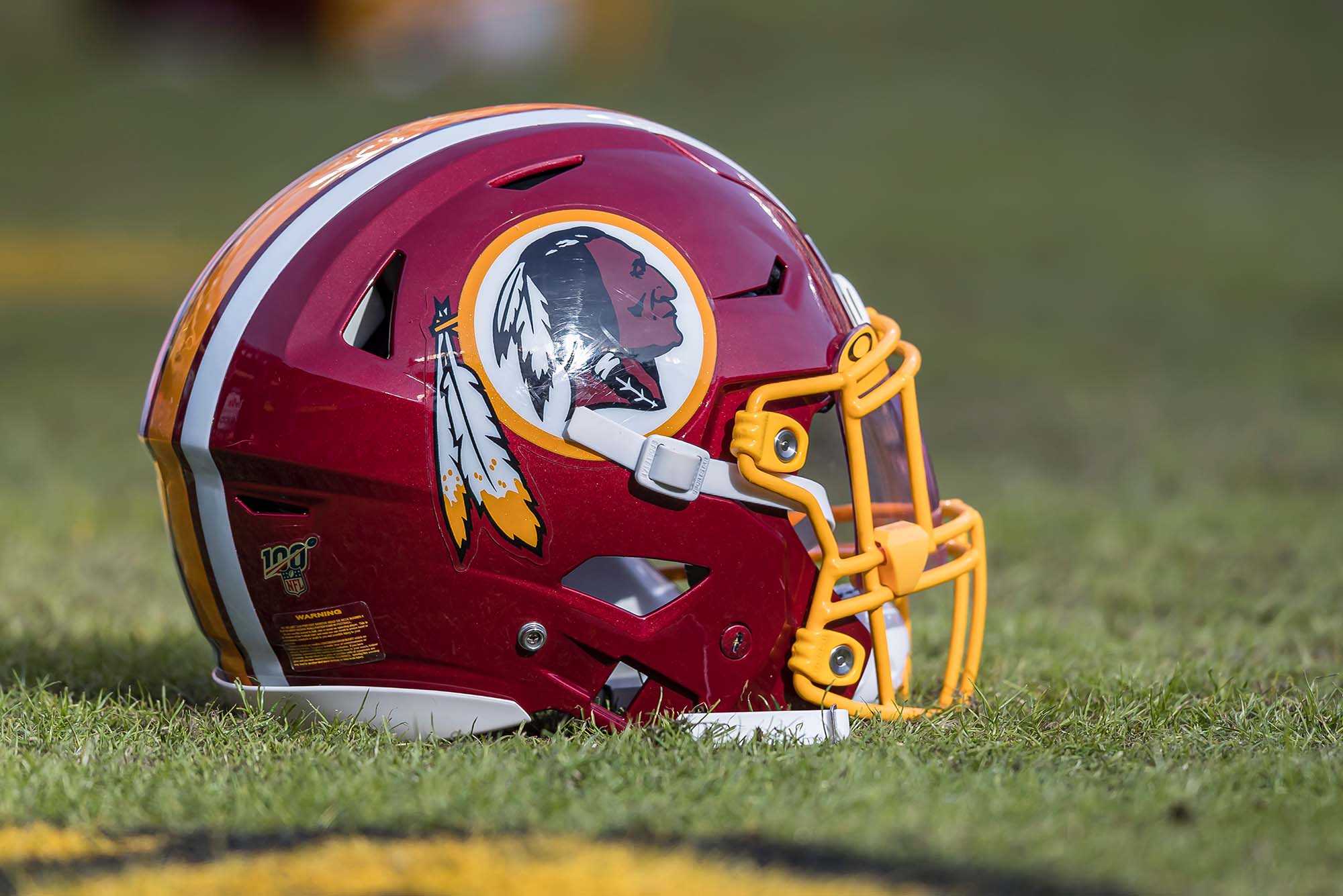 National Sports
Should Sports Teams Change Their Native-Inspired Names?
Five questions for filmmaker and BU alum Donick Cary, whose new film tackles the controversy around sports team names and mascots
Donick Cary wrote for David Letterman and helped to produce the Emmy Award–winning comedies The Simpsons and Parks and Recreation. But now the comedian-turned-documentarian is tackling a sensitive subject: appropriated and downright racist sports team names and mascots.
Cary (CGS'88) grew up watching Washington Redskins games with his dad. As an adult, he converted his shed into a game room. He installed three televisions and covered the walls with memorabilia bearing the team's name and Native American–inspired logo. Then, during a game four years ago, his eight-year-old son, Otis, asked, "Dad, isn't this racist?"
A difficult conversation followed—and then Cary and his son decided to educate themselves. They set out to ask Native Americans across the country how the team's name had affected them. Focusing a wide lens on the subject also sparked a personal reckoning: Cary stripped his game room of memorabilia and even began to reevaluate some of his work, like lines he wrote for the character Apu on The Simpsons.
Since Cary and his son began their film, Washington has dropped its name—becoming, temporarily, the generic Washington Football Team—as did Major League Baseball's Cleveland Indians (now Cleveland Guardians). But hundreds, if not thousands, of professional, collegiate, and high school teams continue to use Native American–inspired names. With the Atlanta Braves playing in the 2021 World Series this week—and their fans tomahawk-chopping in the stands—Cary spoke with Bostonia about what he's learned from the people most hurt by such stereotypical depictions. He hopes to complete his film Hail to the Breadsticks! in time for a spring 2022 festival premiere.
Bostonia:
When did you start to question Washington's team name?
Donick Cary: Football was a way that my father and I bonded. I'm now handing this love and this bond down to my son, Otis. When he said, "Dad, isn't that racist?" I started to say all the things that I had been programmed to say—all these PR things. I had never questioned that. It's very hard to question things that you love.

The first thing we did was talk to a panel of Athabaskan tribe members in Alaska. We sat down and one of them said, "This is America, you can say what you want. I'm indigenous, and matter of fact, I love that team." And then the other people on the panel just laid into him. Each one had a different example of how it actually affected them. One of their kids went to a school with a Native American–inspired mascot and had to go to games where people were dressing up. They felt invisible to their communities.

I don't use the R-word anymore. For many of the people we've talked to, it's a lot like the N-word.
Bostonia:
Did your reporting branch out beyond football?
I wrote for the [Simpsons] character Apu for years. And while we were making this doc, a comedian named Hari Kondabolu put out a documentary called The Problem With Apu. I watched it and thought, "Hari is on the other side of what we're doing—like if a Native American made our doc." And there was so much pushback that was harsh toward Hari—he got death threats from fans and The Simpsons had what seemed like a very tone-deaf response.

I called Hank Azaria [the voice of Apu] and talked to him about what it was like finding a blind spot. How do you get over the initial defensiveness and start to listen, learn, change? He was realizing what a caricature Apu is and how that has affected Southeast Asian kids who were being teased. We were exploring this through a few different lenses, not just a football team.
Bostonia:
It seems like you intentionally moved outside of the sports bubble in your reporting.
When you explore it within a sports bubble, it's very hard to feel like you should change anything. You think, "We've been the Chiefs forever. Why would we ever change?" Your overwhelming sense is that it's mostly OK and that there's a few people complaining about it on the fringes. But once you get out of that bubble and talk to some of the six million Native Americans who live in the country today—and ask, "What is it like for you to see a Monday Night Football game where people are dressed up in headdresses and red face paint and saying what, to you, feels like the N-word?"—then it becomes, "What am I doing? What am I hanging on to?"

And I realized that I don't think I'd invite Native Americans to our game room full of R-word stuff. That would be crazy. That's like if we had Confederate flags just because we love The Dukes of Hazzard and said, "We're not into white supremacy—we just like the toys from the show!" But those toys represent people being lynched. So we started to make those connections.
Bostonia:
Do you still watch the games every Sunday?
I do. I have a fantasy team and I watch the games. Recently, we were watching Washington play the Kansas City Chiefs and their fans are doing the tomahawk chop. And we're watching the Dodgers on another channel play the Atlanta Braves, where they're doing tomahawk chop. And Otis was like, "I'm gonna go watch Brooklyn Nine-Nine."
Bostonia:
The Braves are playing in the World Series. The Kansas City Chiefs have been in the last two Super Bowls. Many college and high school athletic programs are similarly named. What would you say to fans who resist giving up these names?
Often you're arguing for something that is very important to you, but that might affect someone else in a much bigger way. Open yourself to listening to the other side. Be open to their point of view. That changed our perspective quickly.

We're very afraid of change and we hang on to things for dear life. But when things change, it's actually usually very easy and it wasn't that big a deal when the team finally dropped their name. A lot of people were mad about it, but change can happen and it's not life or death—that's a pretty good lesson.
This interview has been edited for clarity and brevity.