New Novel by Peter Ho Davies Takes a Searing, Painful, Loving Look at Parenting
Books
New Novel by Peter Ho Davies Takes a Searing, Painful, Loving Look at Parenting
GRS alum gets inside the head of one father. He didn't have to go far.
A couple prepares to welcome their first child, but prenatal tests are ominous. Too many chromosomes. "The list of things the baby might have was four pages long. Single-spaced." Wracked with indecision, the couple ends the pregnancy, and tries again. This time a son is born. But their lives are shadowed by uncertainty—is he on the spectrum?—and haunted, in quiet moments, by their decision to abort the first time. What, exactly, does it mean to be a good parent, a good spouse, a good person, day after day after day?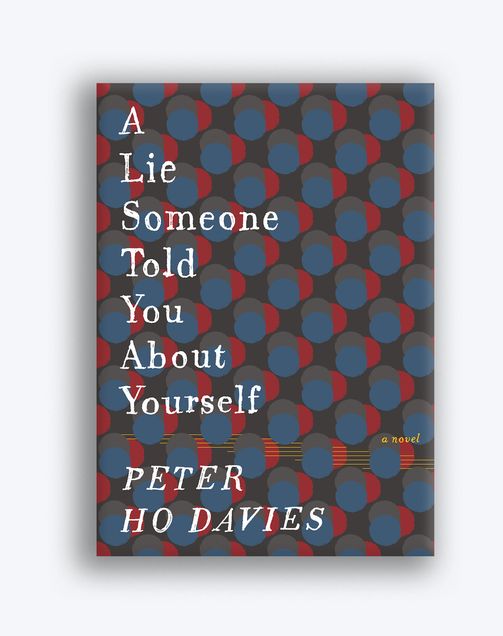 The father is a writer.
Peter Ho Davies (GRS'94) is a novelist, not a memoirist, but he says his new book, A Lie Someone Told You About Yourself (Houghton Mifflin Harcourt, 2021), is "adjacent to life."
"It's going to seem as though I'm being coy, and that's not quite the intention. Clearly my experiences have informed the book in various ways. But it is also true that the book is distinctly fiction," says Davies. "Even if I had thought to write a faithful memoir of the experience of parenting, memory intervenes, memory forgets, memory selects certain things. We're not actually in control of the way we fictionalize our recollection.
"Ultimately the book is suspended a little bit in that space between memoir and fiction, and deliberately so," he says from Michigan, where he teaches fiction at the University of Michigan as Charles Baxter Collegiate Professor of English Language and Literature. "The uncertainty as to the form or nature of what is being read is partly intentional, because that uncertainty is an analogue for the uncertainty the characters are experiencing. So the slightly slippery, uncertain form of autofiction felt as though it was a good fit for the material."
Davies' first novel, The Welsh Girl (Houghton Mifflin Company, 2007), was a London Times bestseller and long-listed for the Booker Prize. His most recent, The Fortunes (Houghton Mifflin Harcourt, 2016), was a New York Times Notable Book, and won the Anisfield-Wolf Award and the Chautauqua Prize. He also has a nonfiction book, about the process of revision, coming out in the fall.
More than a decade ago, he wrote a short story about a couple's decision to end a pregnancy, and read it at writing conferences and bookstores. "At the end of the readings, there would always be a handful of people who would wait for me afterward and tell me they had experienced something similar," he says. "That was always a powerful moment for me. I had written it out of a sense of a kind of loneliness, and I had the sense that these folks also felt that sense of being alone in this experience, an experience that's very hard to talk about or express to other people, and that communion made me think there might be some value in writing into this space."
That short story became a novel, told in elliptical vignettes full of colloquial wisecracks and pop cultural references. Disney's California Adventure is namechecked, as are the Baltimore Ravens and the band Wilco. Some vignettes are funny. Some are agonized. We are very close to the bone with the father, seeing the mother through his eyes. That is how they are identified throughout: the father, the mother. Something about this, combined with the rhythm of the sentences, holds us in suspense.
"I did want the book to be an intense experience, because I think parenting is a pretty intense experience," says Davies, father of one. "This book is a condensation of those intensities. It's a pretty short book. There's a kind of roller coaster, which I do think is representative of the parenting experience. It swings from dismay and despair to almost hysterical laughter. It's easier to get a sort of laugh-out-loud moment in a book like this because of the grimness, the darkness, the challenges that precede some of those moments."
There's a level of worry that almost never leaves his characters.
"It's very much a parenting story that starts from not parenting, so it's shot through with that anxiety all the way," he says. "I think most parenting stories are shot through with many anxieties, inevitably, because we are all, especially with a first child, exploring a territory that we don't really know very much about.
"This character is so anxious when he comes to meet his son—Will I love him? When does that moment of love kick in? And I think at that moment, all of the anxieties and fears are love, and I think in a certain sense that for many years after—for the character and for myself—that remains somewhat true, that one of the ways we express our love is through worry
and anxiety."
The novel's strengths are its honesty and specificity, built from small moments, telling details.
"With an experience like parenting, how do you write about this and say anything new about it? How do you write about this and make it particular? How do you make it detailed and textured so it speaks to a particular character? I was very conscious of that," Davies says.
The book's episodic rhythms are also the result of the central fact: The father is a writer. The writer is a father.
"The fragmentary nature of the book, written in these short vignettes, some of that goes back to the opening chapter, because that was written when my son was young, and I think it has some of the rhythms of early parenting to it."
An intentional artistic choice, then? "Intentional?" Davies says with a laugh. "I think it was situational—no, survival, a survival choice!
"Before we had a child, I used to be a somewhat precious writer. You know: There's no point sitting down at the desk unless I have the whole morning to work. And of course a child quickly disillusions you from those preciousnesses. I was obliged to say, 'He's napping for 45 minutes, I should try to get something done!'
"Early parenthood is this sort of frenzy punctuated by moments of calm," Davies says, "and those moments of calm lend themselves to the way the book is written, in these shorter, vignette-style sections. Or maybe the moments of calm are the white space between the sections."