My Coming Out Story: Ethan Sobel
PRIDE
My Coming Out Story: Ethan Sobel
BU Hillel managing director on how a conference for gay Jewish college students changed his life
The BU Out List is a new directory of faculty and staff who identify as queer, trans, and/or nonbinary. A collaboration between the University's LGBTQIA+ Faculty & Staff Community Network and Q, the student-run Queer Activist Collective, the Out List's goal is to promote visibility, togetherness, mentorship, and resource-sharing among the BU community.

To mark the Out List's release, BU Today is featuring a series of coming-out stories from list members, bringing you a different personal story each week during Pride Month. First up: Ethan Sobel (COM'13), managing director of BU Hillel.

"A costume"
I was a typical high school kid. I grew up in Longmeadow, Mass., in a small suburb. The only difference between me and most people was that I was in love with my best friend, Alex, and he didn't know it. I wanted to be close to him; when he went on dates with his girlfriend, I wanted to be the person that he was hanging out with instead. It was a very, very defeating feeling. But I never told anybody how I felt. That went on for four years of high school before I went to college at UMass Amherst.
When I was home over winter break, I reconnected with an old friend, Rachel, from Jewish day school. She was telling me about her life, and she said, "It might surprise you, but I'm actually dating women." In that moment, I froze. My heart was racing; my mind was racing; I knew that she was a person I could tell. She was the first person I ever told. Over the next couple of years, I would visit her at school in DC. There, I would be "gay Ethan" and be social and go out on dates—and then I'd come back to UMass and I'd be straight. It was like a costume that I put on.
I didn't tell anyone else for a long while. Fast forward to my junior year: I was with Alex at a New Year's party, and I saw him give a girl a New Year's kiss at the end of the night. It just tore me up. I decided that night that I was going to tell him—so I told him that not only did I like guys, but that I was in love with him. And he responded by saying, "Well, that's okay; I still love you"…which wasn't very helpful. Then he went on to not talk to me for a while. But that's a whole other story.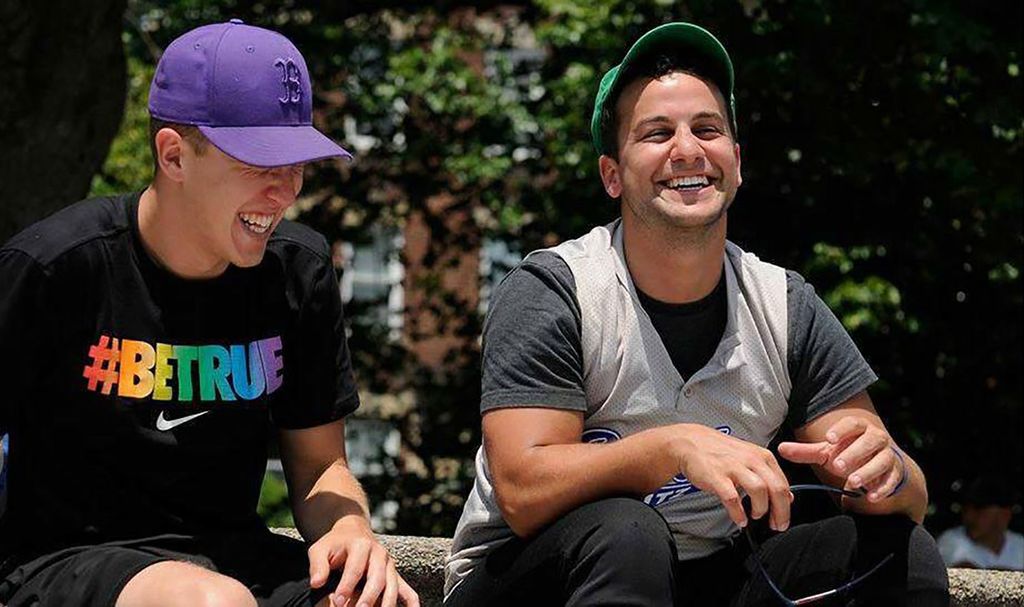 By the time I came back to UMass as a senior, I had told some people that I was "bisexual." I worked in the UMass athletic department, so I was friends with a lot of bro-ey, heteronormative guys. But a lot of them had graduated at that point, so I felt safer telling more people that year. And I did; I came out to people, but nothing really changed. I didn't know what needed to happen for things to change—until Rachel invited me to a DC conference for gay Jewish college students. (Yes, such a thing used to exist.)
That weekend changed my life. I met people who grew up like me, and who struggled with similar things. People who were both stereotypically gay and not stereotypically gay. I came back to UMass with all of this momentum; I said, "I'm going to have a new coming out. I'm going to tell everybody I'm gay; I'm not bisexual. And, I'm going to give a speech on campus about being Jewish and being gay." So I did! Maybe 30 days later I met a guy, Brian, at a school dance, and we fell head over heels in love.
Now, my gay identity is part of who I am. It's not all of who I am, but my authentic identity is very, very important to me. I was excited to put my name on the Out List for many different reasons, but mainly because I think it's important for people to know that LGBTQ staff work at BU, for students to be able to relate to us. People are looking for those connections in those safe spaces.
This Series
Also in
June 28, 2022

June 22, 2022

June 15, 2022