My Coming Out Story: Chantel James
Pride
My Coming Out Story: Chantel James
LGBTQIA+ Faculty and Staff Community Network chair on the importance of visibility
June is Pride Month. To celebrate, BU Today is reprising our My Coming Out Story series, where members of the Boston University community share their stories about coming out and self-acceptance.
We'll bring you a new narrative each week throughout the month.
This week: bisexual staffer Chantel James, former assistant director of financial aid and current Human Resources program manager for performance management. James is also the inaugural chair of the LGBTQIA+ Faculty and Staff Community Network, a coalition of queer University employees working to promote community and inclusion on campus.
Here's her story.
"There's still a lot of work we need to do"
I feel like I had two coming-out stories. I had the internal one that I went through, after which I told my friends. And then I had another one at BU. When it comes to sexual orientations, I think there's a big perception that the way a person dates makes them who they are. And for me, I identify as bisexual. I think a lot of times, if I'm in a relationship with a man, people think, "Oh, well, that must be a very normal, straight relationship." I think there's still such a big taboo around bisexuality.
I knew I was part of the LGBTQ+ community from the time I was very young. But I was very self-conscious to tell people, even though I'm pretty sure my mom knew. She would always make comments like, "Loving is equal" and all of this stuff, you know—parents always know! So, I always had a supportive mom and a supportive family.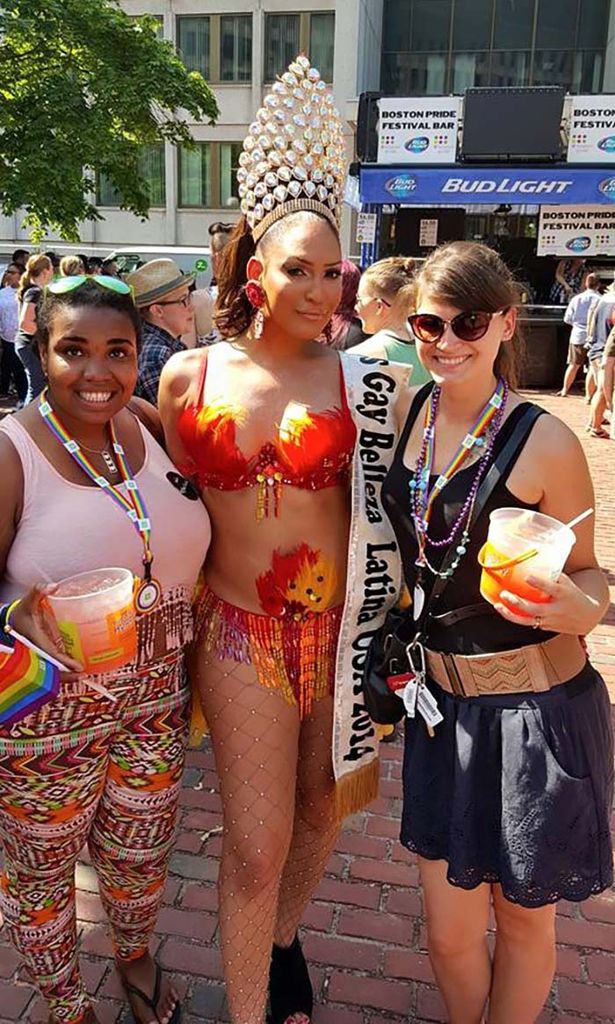 When I went to college at UMass Amherst, I was in a long-term relationship with a man. Nobody knew I was bi. My friends just thought, "Oh, she's just with this guy." Then I started struggling with mental health my junior year. I think a big part of that was my hiding my sexual orientation. I had also lost my mom before college, so the grief mixed with that became a problem. At the time, I had friends who were queer and out. Being in the friend group with them was my way of living through them, I think. And then I transferred.
I left UMass Amherst and went to Newbury College, which was a very queer school. Newbury's story was that it was a school of second chances. There were a lot of transfer students there who didn't fit in at the schools they went to. Not to say I had a bad experience at UMass Amherst—it just wasn't for me after a period of time. At Newbury, everybody was out and proud. That's when I felt more comfortable opening up to people. My first girlfriend was the person who really helped me, because she was so proud of being out that it felt okay to struggle and not know how to be part of the community. When I did finally come out, all of my UMass Amherst friends were like, "What?" And all my friends at Newbury were like, "Yeahhh, we knew." So that was my first coming-out story.
Then I graduated. I started working full-time at a real estate job that was very heteronormative. Nobody talked about being LGBTQ+; there was no space to do so. Then I came to BU, and it was a brand-new world. But it did feel like a lot of people were closeted and didn't want to be open about their sexuality. I was also dating a man again at that point. Part of me was like, if I come out to you all, will you be confused by this?
I feel like there are two sides when somebody comes out—the supportive one, and the one that's questioning and confused or even angry and emotional. When I came out to my boss, the director, she was like, "Great!" and never made it weird. But when I told a different manager, she had the more emotional reaction—she was like, "Everybody's bisexual; it's such a trend." I was really hesitant to tell people after that. I only told people that I felt comfortable with and kind of just kept it quiet. You know, BU's a very white institution. So to me, it was kind of like, why would I out myself again, and give everybody another weapon to judge me with? So I was never really out out at first.
My true BU coming-out story was when I joined the LGTBQIA+ network. BU has very loud, white queer people. That's just how higher ed is. Initially, I thought to myself, you know what, I'm not going to be a big part of this network. Cut to a meeting where Crystal Williams [former vice president and associate provost for community and inclusion] asked people to sign up for the board. When I left, she asked me why I didn't put my name down. I said something like, "Oh, you know, I don't have the experience." And I'll never forget what she said back: she said, "Never say no to yourself. Let others say no to you. Put your name down." So I did. I eventually put in an application to be chair of a different network, the Faculty & Staff of Color Community Network.
At a later date, Alana Anderson [former Diversity & Inclusion director of programs] pulled me aside at an event and said, "Crystal and I talked, and we think BU needs a Black, queer chair for the LGBTQIA+ network. We think that you could be it." So I signed up for the position and got it.
Eventually I became the face of the network, where it was like, "This is Chantel, who we knew as a Black staff member, but now we know her as a queer staff member, too." And as the new chair, I realized that there's still a lot of segregation within the LGBTQ+ community in Boston, and in general, especially for people of color. It can be a constant fight to find a space where you belong. Prime example is that we run all of these events with great attendance—but we don't have a lot of people of color join. When we do, I like to pull them aside and ask what made them decide to attend. A lot of times I'll hear, "Because I saw you and was able to trust you." But there are still a lot of people I come across who don't feel comfortable coming out at work. And they'll say exactly what I said, which is that they don't want to give folks something else to use against them. It's like, "I'm already being judged for being a person of color; I don't want to add on this extra invisible judgment from others. I just want to work." So there's still a lot of work we need to do when it comes to members of the LGBTQ+ community who are people of color.
I think the biggest turning point for the network was two years ago, when we were planning Pride events. It was during a time when so many Black people were being murdered, particularly Black trans folks. Our board meeting rattled something in me—I was like, "We can't plan Pride during this time, because Pride wouldn't have existed if a Black woman didn't throw the first brick and a butch, Latino lesbian didn't pull the first swing. You cannot celebrate Pride and recognize it as a celebration if you don't think about the history and the roots of the people who started it."
So I sent an email to the entire network. In it, I explained that we would not be celebrating happiness that month; we would be recognizing the known problems. We would focus on the roots of the LGBTQ+ community and the history of Pride. We sent everyone a list of resources. I think a lot of people respected that. And I think that was the first time that the board and the network were like, "Oh, we've got to do better." And then for me, that was when I realized what Alana and Crystal saw when they said that BU needed a Black, queer chair for the network.
The constant fear I still have as a known Black queer person at BU is that I don't want to become the token Black queer person at BU. But I do hope that me being visible allows people to be comfortable in their own skin. I'm very open about who I am now—people know I struggle with mental health, and they know my whole journey as a student who was very quiet about their LGBTQ+ identity. I hope people see that and are able to say, "You know, Chantel has been really raw about mental health—maybe I can talk to her because I'm struggling, or because I don't know what resources I need now that I've come out."
My big goal is to be the connector. If somebody's coming to a network event for the first time because they met me somewhere else, that's a win for me. Even if they sit with me for the whole time, I'm completely fine with that. Because guess what? I'm super extroverted, and you're gonna meet five more friends immediately. My daily goal is to be as supportive and visible as possible and to always allow others to feel comfortable with who they are.
This Series
Also in
June 28, 2022

June 22, 2022

June 10, 2021