As Temperatures Set Records, Heat Exposure Hits Some Neighborhoods Harder than Others
Environmental Health
As Temperatures Set Records, Heat Exposure Hits Some Neighborhoods Harder than Others
BU researcher says vulnerable communities experience the most dangerous effects of heat stress and heat-related illness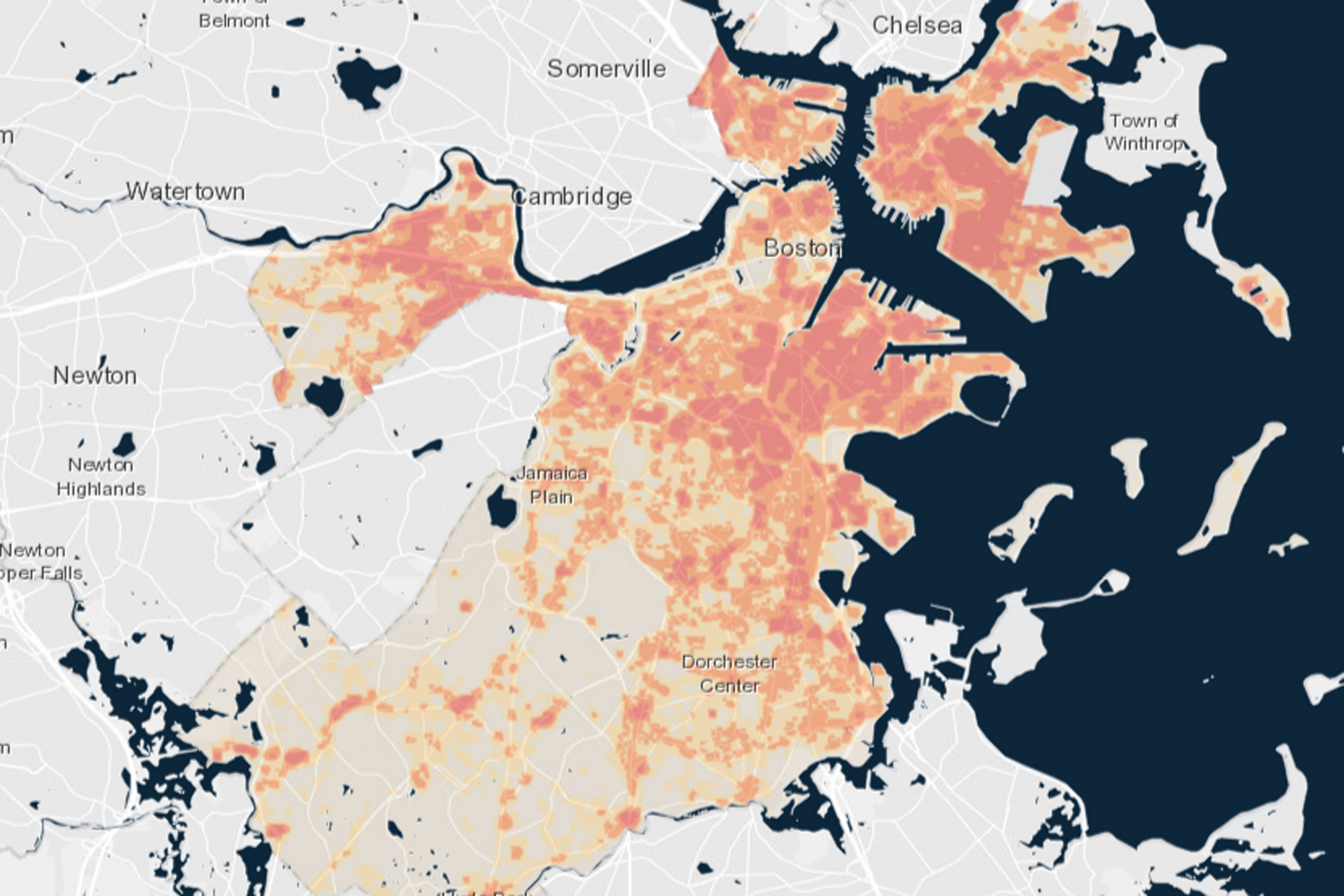 Unprecedented and extremely dangerous. Those are the words being used by meteorologists in the Pacific Northwest, where communities are bracing for a three- to seven-day heat wave expected to bring temperatures up to 15 to 30 degrees hotter than normal for this time of year—temperatures are expected to break existing June records of around 120 degrees in the region.
And in Boston, the National Weather Service also warns that "dangerous" heat is on its way back to the area after an unusually cool stretch of days. Monday and Tuesday are forecast to see the highest temperatures and humidity levels, with thermometers reaching into the high 90s.
The upcoming heat waves come after record-breaking temperatures have already recently scorched California and large swaths of the American West. In Europe and Russia, many records have toppled in the last few weeks, too.
For the most vulnerable communities—those in low-income areas, often in dense urban areas that create oppressive "heat islands"—the hottest days can become lethal. In fact, over the last 30 years, exposure to heat has been the deadliest of all weather phenomena. And according to Boston University research, the death toll may be even higher than official records indicate.
"Heat is very much a threat to the health of our communities and our families today," says Gregory Wellenius, director of BU's Program on Climate and Health and a BU School of Public Health professor of environmental health. "Public health officials have a responsibility to implement heat action plans—as many communities across the world already have—in order to warn residents ahead of days of extreme heat and to help residents cope with the heat and minimize their health risks."
The inequity of heat exposure
According to climate trends, record-breaking heat waves are only going to become more commonplace. And, ironically, air-conditioning—access to which can be lifesaving during extreme heat—may speed up climate change due to the increased energy demand and emissions generated by cooling units. As the effects compound, some communities will feel the stress of heat waves more than others—yet those same communities are most likely to be in the hottest places and populated by people struggling most to afford air conditioners and higher utility bills.
"Climate change is a slow-motion disaster for some, and a not-so-slow disaster for what we call 'frontline' communities—the most vulnerable people and places who have most often contributed the least in terms of emissions that are exacerbating the greenhouse effect," says Madeleine Scammell, BU School of Public Health associate professor of environmental health who studies heat in communities from Nicaragua to Massachusetts.
Her work began in 2008, researching an ongoing and still-unexplained epidemic of chronic kidney disease in Central America that has killed thousands of young and middle-aged men, most of them agricultural sugarcane workers. Since then, her research with collaborators at National Autonomous University of Nicaragua (UNAN) has identified high rates of the disease among other types of workers exposed to high temperatures, such as brickmakers.
Scammell also researches the dangers of heat exposure locally in her home city of Chelsea, Mass., where she served on the health board for 10 years. With support from the Barr Foundation, Scammell is studying heat exposure in 30 households in Chelsea and neighboring East Boston, and how the experience of heat exposure is shaped by demographic inequities and other factors.
Urban heat islands and social inequality
While not as sweltering as some of the heat experienced by workers in Central America, urban heat in cities like Chelsea can still be dangerous and even deadly, especially for infants and older adults, Scammell says, particularly through dehydration and resulting "sluggish" circulation that can cause dizziness and cardiovascular issues.
In summer 2020, the fourth-hottest on record for the United States—coinciding with a pandemic and a racial justice movement that made inequity impossible to ignore—public interest in the inequities of heat exposure "burgeoned," she says.
"Urban heat islands tend to correlate with areas of cities that have been historically redlined and not invested in," Scammell says. "Suddenly, everybody was realizing that the most vulnerable people are being told to stay at home either alone or with close families, elderly, young, in tenant-occupied, multigenerational homes—and it's hot! And people are struggling to pay their utility bills."
Scammell and her collaborators—including co–principal investigator Patricia Fabian, a BU School of Public Health associate professor of environmental health—recruited English- or Spanish-speaking residents of Chelsea and East Boston living in a variety of neighborhoods and types of housing. They conducted questionnaires over Zoom ("the inequality was so apparent in terms of access to a device that you can use Zoom on, and have a good enough internet connection," Scammell notes), then dropped off temperature monitors for participants to place in their homes.
"There are systemic and structural reasons why people have the diseases they have and live in the conditions that they live in, and they're larger than most individual decisions," she says.
Preventing illness caused by extreme heat exposure through infrastructure, advocacy
"Our goal in this study is not so much to document the pattern as it is to seek a solution," Scammell says. "We hope to learn about the experience of heat, thermal comfort, and coping mechanisms, so we can test solutions." Their study is being conducted in partnership with Chelsea-based environmental justice organization GreenRoots, Inc.—Scammell serves on their board—and with involvement from the city government.
"Perhaps the big problem, and solutions, are in our energy sources and infrastructure," Scammell says. "People are living in an urban heat island, struggling to pay their utility bills, and dependent on an electricity infrastructure that's owned by corporations in a deregulated market. How can [utilities] be affordable to people who rely on [them], and sustainable for the planet?"
That work on solutions is already underway. Scammell points to GreenRoots' work with the Resilient Urban Neighborhoods–Green Justice Coalition, which focuses on energy democracy—specifically, community-owned microgrids, with an eye toward climate justice.
Scammell says she wants everyone to understand this bigger picture—whether they experience inescapable heat but have too many demands to think about climate change or are focused on climate change but rarely suffer for lack of AC.
As for heat exposure among workers in Central America, Scammell says many countries and employers look to US regulatory agencies to set the bar. Public Citizen, the United Farm Workers Foundation, and Farmworker Justice have been advocating for an occupational heat standard here in the United States, where it is estimated that millions of outdoor workers lack protection from the dangers of heat.
"It is all connected," Scammell says. "I hope the heat research in Central America may have meaning to frontline workers and residents in the United States, and conversely, I hope what we learn at home may be helpful to others facing heat, wherever they may be."