Need a Job? BU Mentors Are Ready to Help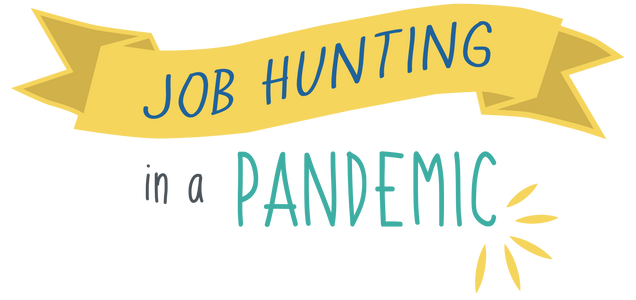 Networking
Need a Job? BU Mentors Are Ready to Help
BU Connects, University's newest networking platform, outperforms all expectations
It was still February, but Fiorella Duarte, who would be graduating from the Questrom School of Business at the end of the semester, decided that it was not too early to start looking for a job. Duarte (Questrom'21), enrolled in the Master of Science in Management Studies (MSMS) program, signed into BU's new networking platform, BU Connects, and followed the cues to find a mentor.
The person she found was Oracle employee Leanne Quinn (Pardee'20), and Quinn was happy to help. She set up a Zoom call and explained how things work at Oracle, from the interview process to the corporate culture. Three days later, Duarte was meeting with an Oracle recruiter, and two weeks after that she was offered a job as a business development consultant.
"I start at the end of June," Duarte says. "And I'll be working remotely from Boston. It's perfect. What Leanne did was really great. I hope I can do the same for someone someday."
Quinn's willingness to help others is one dollop of the secret sauce that powers BU Connects. Jeff Murphy (Questrom'06), Development and Alumni Relations (DAR) senior associate director of career programs and the driving force behind the eight-month-old platform, knew that such willingness was out there. Eight years of working with BU alums left no doubt about the potential of that enthusiasm. "There has always been a large percentage of the alumni population that was interested in helping fellow alumni and students," he says. "We hear it all the time when we are out talking with alumni."
Murphy's DAR team took an off-the-shelf software package and spent more than six months customizing it to suit the needs of BU job seekers, mentors, and staff. They built a network directory that is searchable by location, industry, job function, personal interests, professional interests, and also by shared BU experiences like education, residence halls, and student organizations or activities. They included a section for industry and affinity groups, where people can share opportunities and expand their networks. There's a function that connects users with mentors and invites alumni, faculty, and staff to become mentors, and there's a section that lists available career and internship opportunities.
"For people who are willing to mentor others, we offer a menu of specific types of helping activities that you can list on your profile," says Murphy. "You can have a one-time career conversation, you can be available to open doors and make introductions at your workplace, to do an informal interview or audition, offering job-shadowing at your workplace. And if you're interested in having a deeper, longer-lasting, more meaningful relationship as a mentor, you can offer that as well.
"It's amazing how many people are willing to help," he says. "About 78 percent of the people on the platform, including students, have said that they're willing to help others in some way."
One thing that BU Connects does not do, Murphy says, is imitate LinkedIn. "LinkedIn can be nothing but cold calls with strangers," he says. "With BU Connects, you have access to Terriers around the world who have specifically said they are willing to help, and who have offered a list of the ways they are willing to help."
A recent count, he says, shows more than 4,000 mentors who are alumni or faculty and staff.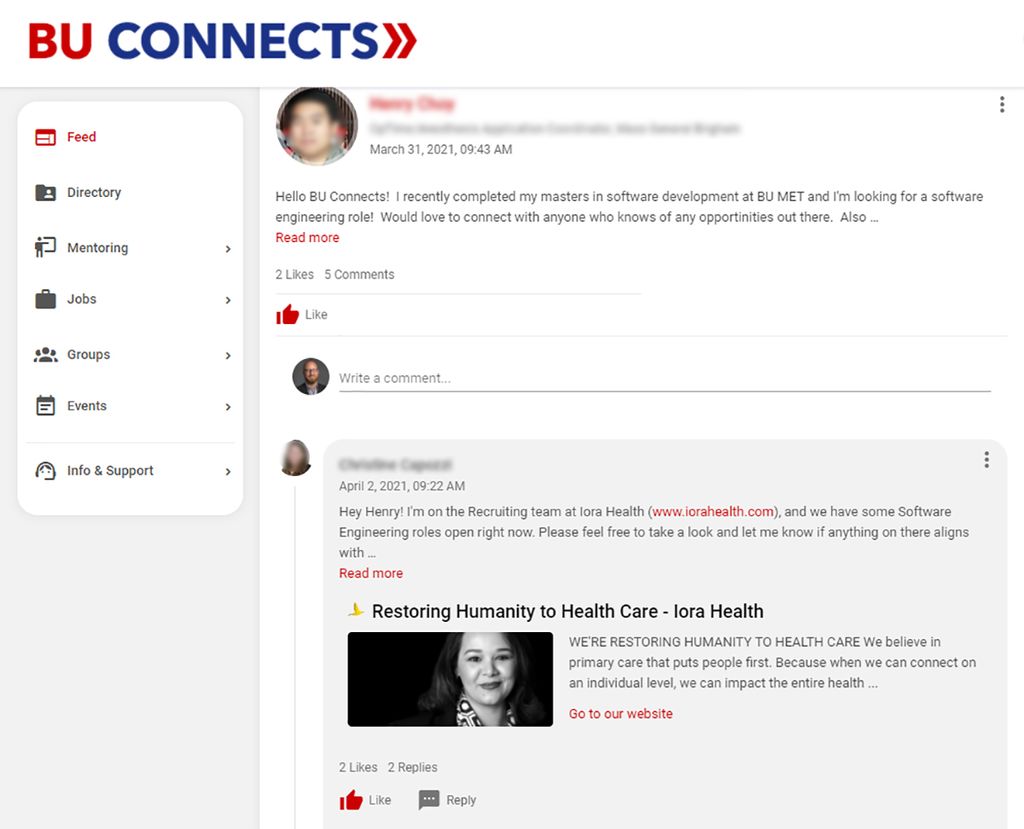 Murphy doesn't know how many people have secured jobs through BU Connects, and because the site launched during the pandemic, there is no way to know if economic changes related to COVID-19 have affected traffic. He is convinced, however, that most jobs are filled by people who knew someone or someone who knew someone who knew someone. "The statistic that gets thrown around is somewhere between 70 and 80 percent of jobs found today are made through networking," he says. "One of the things we try to teach people is that you should always be networking and looking for new opportunities, even when you're working."
He is also sure that BU Connects is a success. When the platform launched in August, he was hoping that its first year would attract 5,000 registered users: eight months after that, BU Connects has more than twice that number. Murphy attributes the site's popularity to its growing reputation as a powerful resource, its ease of use, and the readiness of BU's alumni community to share their stories. He puts that readiness to good use in his other role at DAR. He is the producer of the Proud to BU podcast, where successful alums talk about their jobs and offer career advice. The recent guest list includes Thomas W. Jones (Questrom'78), a civil rights activist and Wall Street financier, and Anthony Harrison (COM'81), a former Facebook director of corporate media relations who is now senior director of public relations for Anaplan, a cloud-native enterprise SaaS company.
"We have a lot of folks who are really successful and get to a point in their careers where they're like, hey, you know what, I want to help out BU students and I want to be available to BU alumni," Murphy says. "In fact, we are overwhelmed with people. My job for the last eight years has been to find successful and talented and accomplished alumni and ask them to give back to the University with their time and their talent and their expertise. In eight years of asking and in eight years of cold-calling, I've never had somebody say, 'Mmm I don't really want to do that.'
"Never."
Find information about BU Connects here or contact the Alumni Help Desk at alumni@bu.edu.
This Series
Also in
April 16, 2021

April 16, 2021