The Work of BU Anthropologist Cheryl Knott and Her Drone-Flying Son, a BU Sophomore, Featured in BBC's Seven Worlds, One Planet
Anthropology
Up Close, and Up High, with Orangutans
The work of a BU anthropologist and her drone-flying son, a BU sophomore, is featured in the BBC's Seven Worlds, One Planet
During the Asia episode of the BBC's latest nature documentary series, Seven Worlds, One Planet, viewers are treated to rare footage of orangutans nestling in the branches of 100-foot-tall trees in the thicket of an Indonesian rain forest in Borneo.

The footage is riveting—but here's what makes it even more fascinating: capturing it was a family effort, teamwork among a BU research anthropologist who's been studying orangutans for 25 years, her husband, a prize-winning National Geographic photographer and field biologist, and their marine science major son, a skilled drone pilot and cameraman and also a BU sophomore.

The research work led by Cheryl Knott, a College of Arts & Sciences associate professor of anthropology, who also has appointments in biology and women's, gender, and sexuality studies, comes at a critical time for orangutans. Logging and mining have destroyed their habitat, resulting in the species becoming critically endangered. Knott's latest research has focused on issues from the mating habits of female orangutans to the dangerous, illegal, and lucrative practice of the pet trade—removing primates from their habitat countries.

"The film features a mother and baby orangutan, highlighting learning and development in wild orangutans," Knott says. She is studying the slow growth rate in this species, which seems related to the natural cycles of food availability in this forest, and the long periods when they are eating mostly leaves and the inner bark of trees.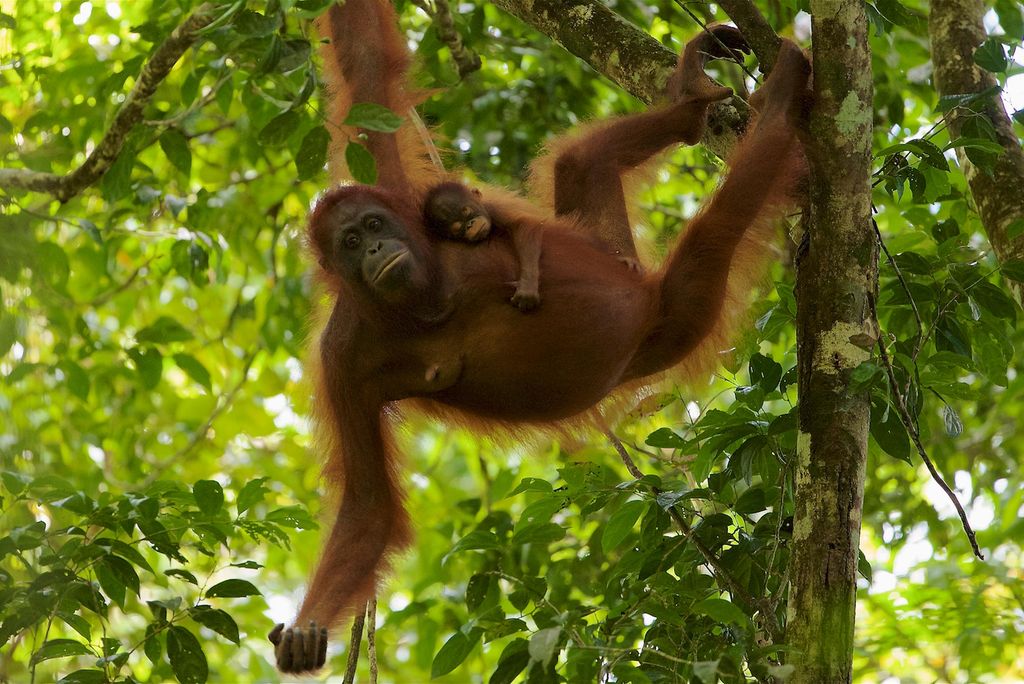 With all Seven Worlds, One Planet episodes now available for streaming on BBCAmerica.com, Knott and her son, Russell Laman (CAS'22), sat down with BU Today on a recent afternoon at the Bay State Road building housing the anthropology department. They talked about how the orangutan footage came together—and what's next for Knott's research at Borneo's Gunung Palung National Park.

When Knott and her husband, Tim Laman, were able to coordinate a trip to Gunung with the BBC for the orangutan portion of the series, it offered an opportunity to not only highlight Knott's research and Laman's photography, but also their son's skills. He had been flying drones for years and shooting pictures since he was about eight years old. As drone camera technology improved and drone footage became more valuable for nature shows, he filmed humpback whales in Panama with his father as a ninth grader. The new BBC series presented an even bigger opportunity.

"To see the animals in that canopy view, with Russell's drone shots, it's something you don't see," Knott says. "That's not our view from on the ground. To see that perspective was really amazing."

The reason those shots are so rare is that orangutans spend 90 percent of their time high up in the tree canopy. They sleep there, they eat there, they swing from the branches—they even mate there. Orangutans don't begin giving birth until around age 15 and reproduce only every seven or eight years, the longest spacing for mammals, Knott says, and "giving birth so infrequently makes them really vulnerable to extinction."
---

To see the animals in that canopy view, with Russell's drone shots…that perspective was really amazing.

---
To better understand orangutans' reproductive health and habits, a subject she addressed in a 2018 paper she coauthored in the Journal of Human Evolution, "The slow ape: High infant survival and long interbirth intervals in wild orangutans," the BU anthropologist pioneered a unique, noninvasive method for conducting her research on the primates. Because it's impossible to capture them, she and her crew, as the BBC documentary shows, hustle through the rain forest where they live with plastic bags attached to fishing rods. As the orangutans drop urine and feces from high above, the researchers extend their bags to catch it through the branches or collect it from the ground. Knott jokes that this part of her work helped her land on a list of "least popular jobs in science."

What they couldn't anticipate for the BBC filming was how the animals would react to the drones. "They are in these massive trees, and we didn't know if they would be scared of the drones," Russell Laman explains. "We decided to try it. We started by getting the orangutans acclimated to the drones." To do that, he would often rise at 3 or 4 am and fly his DJI Phantom drone carefully through the branches, letting the animals see it and understand that it wasn't dangerous, even though it sounded like a swarm of bees. Once they got used to it, he started filming with the drone's high-definition camera.

"We needed a perfect light in the canopy: those shots would take days or weeks," Laman says. "We got to film a mother and her infant for a month." His footage was so good and so useful to the filmmakers that he earned a credit in the episode, which he acknowledges is exciting. "I love to combine my interests in science and photography," he says.

As with other BBC nature documentaries, Seven Worlds is narrated by David Attenborough, the legendary natural historian and Emmy Award–winning English broadcaster, and it continues the network's long tradition of taking viewers up close to nature and wildlife, begun with its Planet Earth series. The latest series is billed as telling "the story of earth's seven spectacular continents and how they shape the extraordinary animal behavior and biodiversity we see today."

Shooting for the Seven Worlds series required travel to 41 countries, nearly 1,800 days of filming, more than 2,000 hours of footage, and a team of more than 1,500 people who worked on the project worldwide.

"We hope that the film will help inspire people to help protect the species," Knott says, "and to learn about what my research on wild orangutans is revealing."

View the BBC series Seven Worlds, One Planet online here.