BU Is Holding a Variety of Online Events to Celebrate Seniors This Month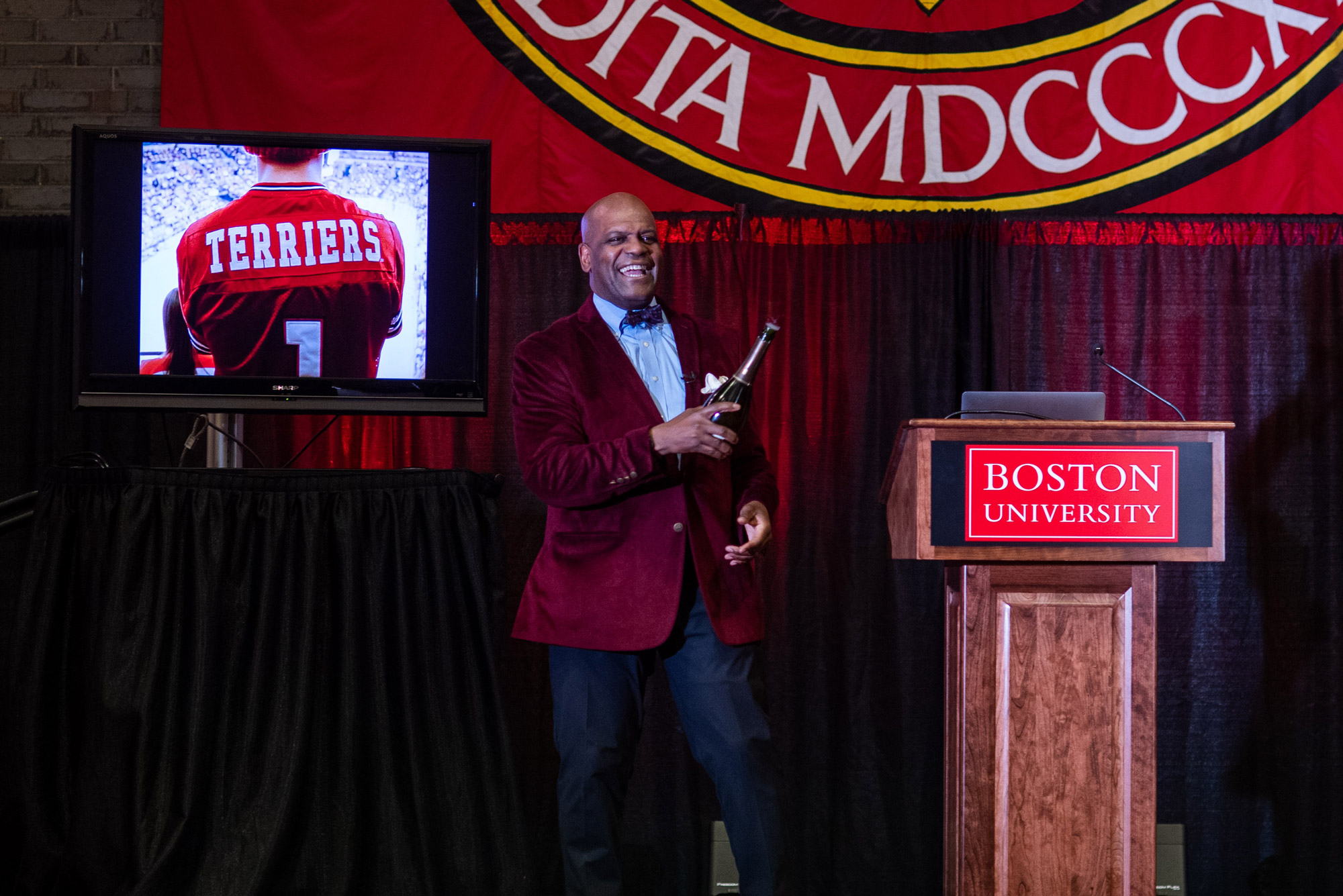 Senior Week
BU Celebrates the Class of 2020 with Virtual Events
An online dance party, a remote toast, and individual college celebrations scheduled
While Commencement is postponed indefinitely by the coronavirus pandemic, Boston University and the Student Activities office remain committed to celebrating the Class of 2020, albeit virtually for now.

In addition to Senior Breakfast, which happened via livestream last Friday, Senior Week is traditionally one of the hallmarks for the graduating class in the lead-up to graduation. With a series of special outings and celebrations, both on and off campus, Senior Week is a staple at BU.

Sadly, it is also the latest University event the public health crisis has forced to move online. At Senior Breakfast, emcee Kenneth Elmore (Wheelock'87), associate provost and dean of students, announced that a slate of remote plans were in the works for the following two weeks; find the full details here.

Bryan Adams, Student Activities senior associate director, says the University recognizes that these events do not replace Senior Week or Commencement, but the SAO felt it was important to mark this special time in any way possible.

"Even though it's not the same thing, we still want to celebrate, even if we can't be together," Adams says.

The centerpiece of the festivities will be a digital mosaic of photographs submitted by members of the BU community. It will be presented on Sunday, May 17, in recognition of the scheduled Commencement date. Throughout the next several days, students are encouraged to use the hashtag #ZoomedOutTerrier2020, a play on words that reflects both the Zoom fatigue felt by all and the hope that seniors will Zoom out and reminisce on their time at BU. Submit your photos via Twitter or Instagram using the hashtag, and remember to make your profile public so that others can see.

Schools, colleges, and departments are adding their own special informal events (not meant to replace the traditional, more formal ceremonies usually held), with more to come, so keep checking their websites for more information.

University-wide happenings:
Saturday, May 9
First up in the virtual celebrations is Proud to BU, where students are encouraged to sport their favorite BU gear, snap a photo, and flood social media using the hashtag #ZoomedOutTerrier2020. The photos will make up part of the special digital mosaic.
Friday, May 15
BU is partnering with popular Seaport nightclub The Grand Boston for a virtual dance party. The livestream party, from 10 pm to 1 am, will feature a DJ, dancers, and of course, the dance moves of host and emcee Kenneth Elmore. Details are still in the works, so check the Dean of Students website for more information as the date gets closer.
Sunday, May 17
On what would have been Commencement day, the Class of 2020 will gather virtually to raise a glass and toast their accomplishments. Students will also be able to carry out a popular and highly anticipated senior tradition: stepping on the Marsh Plaza seal. The completed mosaic will be shared on the events page as well.
---
Following is a list of individual school and college events. It is not exhaustive, and graduates should check their school and program website for more details.
The School of Social Work will conduct an informal virtual celebration to honor the master's of social work students on Sunday, May 24, at 2 pm.
Questrom School of Business deans, professors, and staff will toast graduates on Friday, May 15 at 10:30 am.
College of Communication community members are proud of how they "kept COM and carried on" during this semester. They plan to celebrate across their social media channels with videos and posts by COM students, faculty, and alums throughout the day on May 15. Join in by posting with the hashtag #KeptCOM.
The Goldman School of Dental Medicine will put on an online senior awards dinner and a virtual celebration for both predoctoral and postdoctoral graduates. Details are still being hashed out; visit the school's graduation website for updates.
The College of Arts & Sciences is continuing its annual awards and recognition ceremony, but remotely. It will be livestreamed Friday, May 15, at 2 pm. For Graduate School of Arts & Sciences students, there will be a virtual collage of praise, congratulations, and thanks, with a submission deadline of Sunday, May 10. Find a full list of events here.
The College of Fine Arts School of Music awards will be held Monday, May 11, on its website.
The CFA School of Visual Arts 2020 MFA Thesis Exhibition will also be held online, starting Friday, May 15. Visit 2020mfathesis.show to view the graphic design, painting, and sculpture work of the school's 40 MFA candidates.
The School of Medicine Graduate Medical Sciences is hosting a full slate of online events starting Thursday, May 14. Find information about the GMS-wide and individual program celebrations here.
The Wheelock College of Education & Human Development is hosting WheeGather: A Community Celebration via Zoom on Friday, May 15, at 5 pm.
The College of Engineering will celebrate seniors and announce award winners at its senior awards luncheon Monday, May 11, at noon, over Zoom.
The School of Hospitality Administration is holding a virtual "Shawesome" class celebration for graduates with a toast, awards, games, and a surprise guest on Saturday, May 16, at 9 am. RSVP here. The SHA Master of Management in Hospitality graduates will celebrate the same day, at 11 am.
The School of Law will put on two virtual celebrations on Sunday, May 17: for LLM graduates at 9 am, and for JD graduates at 2 pm.
The School of Public Health will congratulate graduates virtually with messages and videos from the SPH community on Friday, May 15, at 4 pm.
The School of Theology is hosting "A Love Feast in Celebration of STH Graduates" on Friday, May 15, at 7 pm on Facebook.
Metropolitan College will host an End of Semester Virtual Celebration and Toast on Saturday, May 23 at 10 am on Zoom. Hear from guest speakers, view congratulations videos from faculty and staff, and see a slideshow of images from our students.  Dean Zlateva will cap off the event with a special toast for the MET Class of 2020.
Find more information about Class of 2020 celebrations here. Find more information about Commencement and individual college celebrations here.