BU's 2020 Senior Breakfast Goes Virtual: Honorary Degree Recipients, Metcalf Winners Announced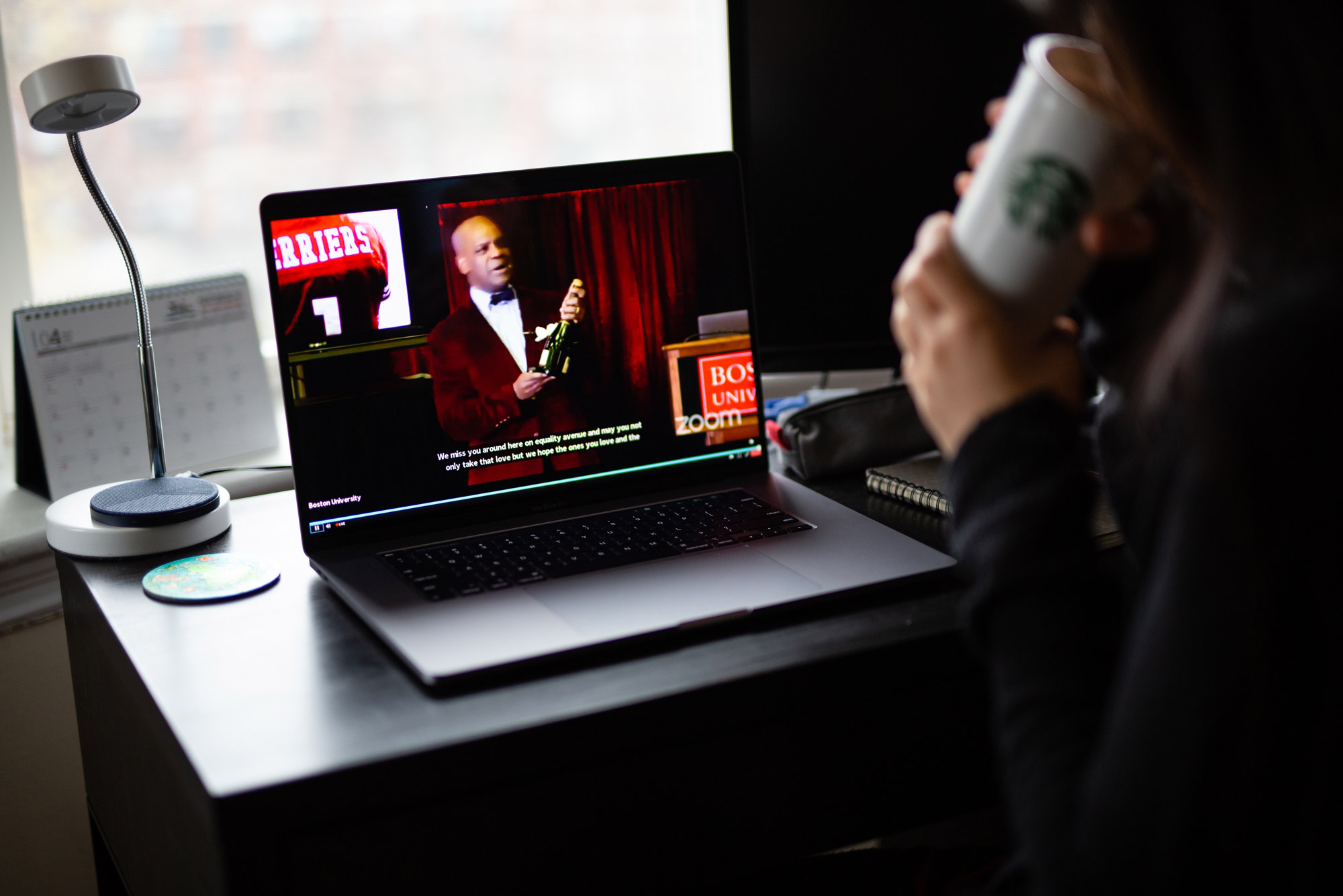 Commencement
First-Ever Online Senior Breakfast a Celebratory Affair
2020 Commencement date still to be determined, president says, but honorary degree recipients, Metcalf winners announced
The annual Senior Breakfast was held as usual this year, but with an unusual twist—the Class of 2020 celebrated it over Zoom Friday morning, with celebrity guests, annual traditions, and the news that while the date for Commencement cannot yet be set, it will most certainly happen. Event emcee Kenneth Elmore (Wheelock'87), dean of students and associate provost, led the festivities live from the GSU Metcalf Ballroom.

The big news from the morning was the announcement by Robert A. Brown, BU president, that while he could not yet give the seniors and their families a date for the 147th Commencement, he would announce it as soon as he could.

"I hope you understand that setting that date is still impossible," Brown said. "We must imagine what 20,000 friends and family will look like in the stands at Nickerson Field and what 5,000 graduates in red robes will look like on the green field. And while you're imagining, please throw in a bright, sunny day with no rain. That will happen for the Class of 2020."

He also announced the Commencement speaker: Victor J. Dzau, president of the National Academy of Medicine.

The Class of 2020 student speaker will be Macken Murphy (CAS'20) and the student singer will be Caroline Bourg (CFA'20), who closed the breakfast event by singing BU's school anthem, "Clarissima."

Earlier this week, the Dean of Students office shared with the seniors a recipe for a fancy breakfast they could prepare at home to enjoy during the online festivities. A slideshow of throwback photos from Orientation and iconic songs from the last four years played throughout the morning.

Commencement speaker Dzau will receive an honorary Doctor of Science. His pioneering research in cardiovascular medicine is credited with helping millions of people live longer, better lives. Brown named this year's other honorary degree recipients as well: Thomas R. Insel (CAS'72, MED'74), former director of the National Institute of Mental Health, Doctor of Science; Yolanda Kakabadse, longtime environmentalist and former director of the World Wildlife Fund International, Doctor of Humane Letters; David Satcher, 16th US Surgeon General and director of the Centers for Disease Control and Prevention, Doctor of Laws; Niki Tsongas (LAW'88), a former Democratic US representative from Massachusetts, who represented the Fifth Congressional district, Doctor of Laws; and Mark Volpe, president and CEO of the Boston Symphony Orchestra, Doctor of Humane Letters. Tsongas, wife of the late Paul Tsongas, US senator from Massachusetts from 1979 to 1985, will be the eventual Baccalaureate speaker.

Brown also revealed the winners of the University's highest teaching honors. This year the top honor, the Metcalf Cup and Prize for Excellence in Teaching, goes to Sarah Sherman-Stokes, a School of Law lecturer, who is credited with helping to transform LAW's Immigrants' Rights & Human Trafficking Program into a nationally recognized one. Seth Blumenthal (GRS'13), a College of Arts & Sciences Writing Program senior lecturer, and Courtney Goto, a School of Theology associate professor of religious education, are the recipients of the Metcalf Awards for Excellence in Teaching. The three faculty members will be honored at the 2020 Commencement ceremony.

Elmore introduced Rev. Robert Allan Hill, dean of Marsh Chapel, who led an invocation prayer, and several "Zoom bombers," i.e., famous alums who gave some brief encouraging advice. Those special guests were actors Kim Raver (CFA'91) (Gray's Anatomy and 24), Russell Hornsby (CFA'96) (Fences and The Affair), and Jessica Rothe (CFA'09) (La La Land), who gave a special shout-out to the College of Fine Arts students watching, telling them: "People need art more than ever now."

In his remarks, Brown acknowledged that when he spoke to members of the class at their fall 2016 Matriculation, he could not possibly have predicted how the world would now be changed. "When I spoke to you [then], I never imagined that these influences would be laid bare by a tiny virus," he said. "You, the Class of 2020, have been affected in ways that only you understand, but the faculty, staff, and leadership have been affected too. We work and live in a research community because we thrive on the vibrant optimism, noise, and even chaos that you bring to campus, and that is gone because you aren't here with us."

He went on to talk about the impact the University is having in the fight against coronavirus—the doctors, nurses, and others on the front lines at Boston Medical Center, the School of Medicine's teaching hospital, the experts at the School of Public Health who are helping BU and the general public develop the protocols to help safely reopen campus, cities, and the country, the scientists working at the National Emerging Infectious Diseases Laboratories (NEIDL). "Hopefully, our folks around the world will keep this tragedy from happening again," Brown said.

Elmore closed the event by popping champagne and digging into his (probably cold at that point) breakfast, as music from the BU Band played.

Find more information about Commencement on the Commencement website.