Jonathan Priester (COM'10), Global Black Community Inclusion Lead for Google, and a BU Trustee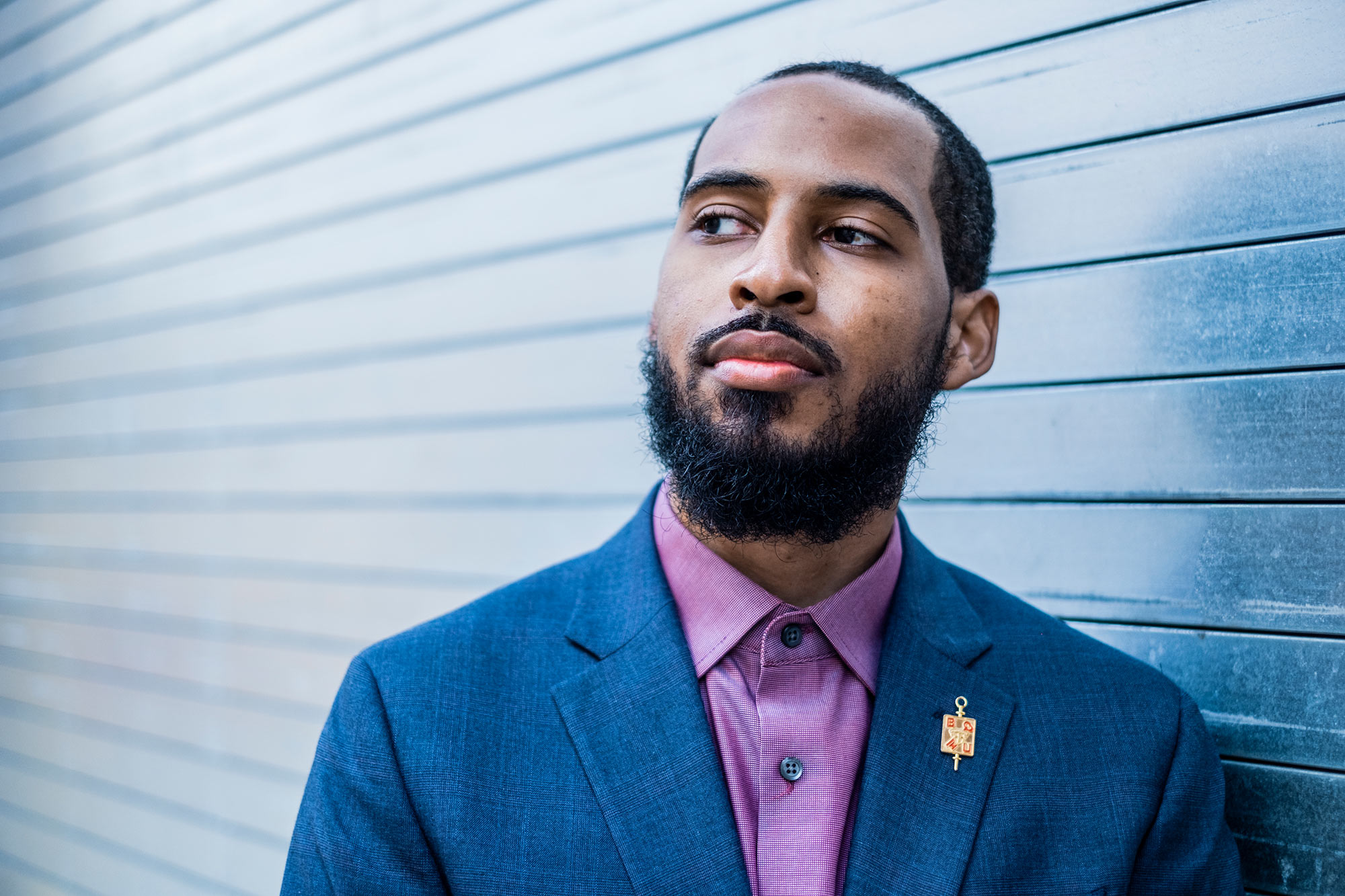 Jonathan Priester,
Global Black Community Inclusion Lead for Google, and a BU Trustee
They are determined to use their experience, influence, and positions to help make their business, organization, and world more inclusive. They are breaking barriers—and then reaching back to help those behind them overcome the same hurdles. They are BU alumni, faculty, and staff—of every race, ethnicity, age, and gender—and they are "Opening Doors" for the next generation.
---
Wearing retro eyeglasses and a full quarantine beard on a Zoom call in September, Jonathan Priester looked like an earlier generation of activist, maybe one his parents would have known when they studied at Boston University in the '60s and '70s.
But Priester (COM'10) is a decidedly of-the-moment presence. He promotes diversity and equity from inside the tech world, as global Black community inclusion lead for Google, Inc., and a member of the company's equity, diversity, inclusion, and engagement team. And in September he was named a member of the BU Board of Trustees, as the University pushes to become a fully diverse and antiracist institution. He is also a member of the Black Alumni Leadership Council.
At 33, Priester is the youngest of the current trustees, but his BU roots go deep. His parents, E. Charlene Stimley Priester (COM'73) and Melvin Priester (Wheelock'72,'73), met at BU, and his father and his uncle, Floyd Priester (Wheelock'72,'76), both played football here. "That gives you a reference as to how long ago it was," Priester says with a chuckle.
Bostonia talked with Priester about his experience at BU, what it's like to push for diversity in the tech sector, and how he hopes to help BU reach its goals. He has since trimmed the beard.
Q
&

A
With Jonathan Priester
Bostonia:
What was your experience at BU?
Jonathan Priester: Being born and raised in Jackson, Miss., and coming to BU and to Boston—it was the big city. It was such an interesting experience. It defined and redefined the way I thought about diversity and the way I thought about community.

I say I graduated from COM with a minor in the Howard Thurman Center for Common Ground. Coming from Mississippi, everything is in many senses defined in a black and white perspective. So, my time at the Thurman Center was instrumental, in that it expanded the way I look at how people build connections. We find not only things in common, but the things that define us. And outside of the Thurman Center, the diversity of the student body at BU really provided an expanded horizon.

I identify as a member of the Black community, but even within that community, while its numbers are not the largest at BU or in Boston, there still was a rich tapestry—when we think about the Caribbean experience, the African experience, the African American experience. All of that was an enriching aspect as I became more ingrained in the diversity of the diaspora. How do we as individual students connect with those from an international perspective, from different demographics? That is something I have taken into the work I do now, from my time at BU—how are we deepening the conversation around diversity, how are we sure it's not just a monolithic approach?

There is, 100 percent, work to be done increasing the number of Black and brown students that we have at the University. That being said, I think the University has opportunities to continue to celebrate and create an enriched and enriching experience for the diverse tapestry of the community that is present.
Bostonia:
How does that compare to your parents' experience at BU?
Jonathan Priester: Listening to their experience, it felt like the numbers of Black students were so much larger. They make clear that it was a very strong and robust and active community. I am still very much struck, when they talk about their time at BU, by the students' willingness to challenge the University. That's something I saw that was still maintained during my time at BU. The connections I made while at BU are the ones that really sustain me today. I tell people that BU is the type of place where you can go in knowing that it will challenge you, and you can challenge it right back. It's the best experience. When I hear those stories from my parents about protesting the shooting at Kent State and the Vietnam War, which led to the closing of the University, and when I hear about students rallying for more equitable programs for Black and brown students today, that's the connective tissue that unites us over the years.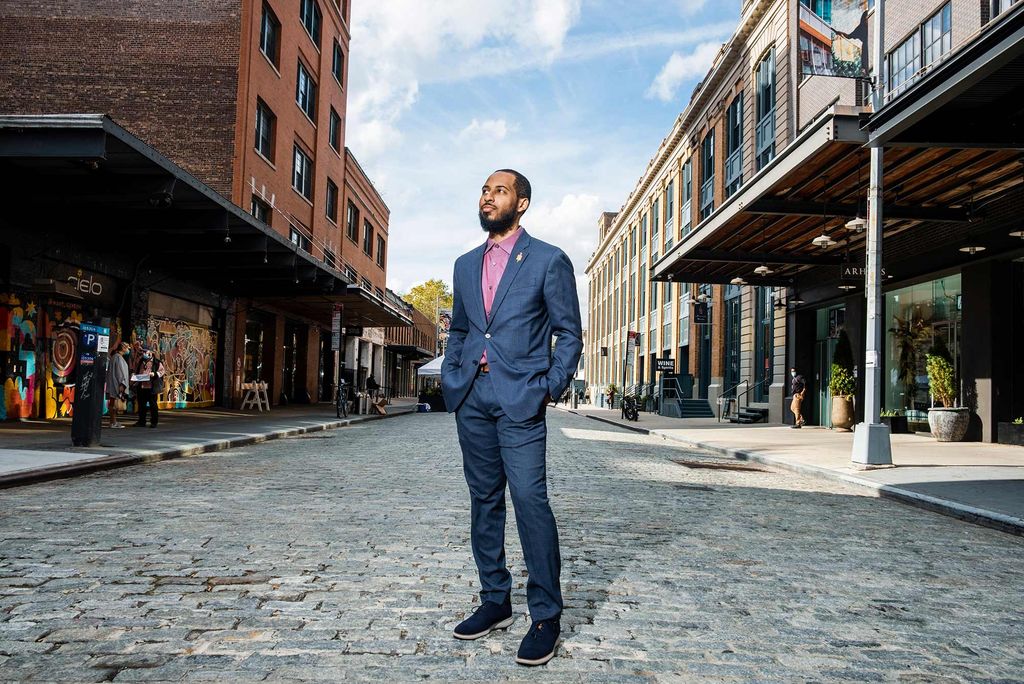 Bostonia:
Was there a moment that really crystallizes your BU experience?
For me, it really started from day one with the Common Ground Orientation presented by Katherine Kennedy [Thurman Center director] and Kenneth Elmore (Wheelock'87) [associate provost and dean of students]. One of the things that started the process for me was the idea of challenging what you know and challenging the framework that you bring into these discussions. Most orientations, you know, it's: "You're the best and the brightest, you're the greatest." And this was something like: "We know that you all have a different take on what community is, we know that you all have different experiences, and we're going to challenge that, challenge you to grow and challenge how you look at yourself and what you value as an individual student that is part of a bigger community than you even realize." Usually an orientation is: "We're happy that you're here," and this was: "We're happy that you're here—and you have some growing to do."
Bostonia:
How hard was it for you to get your foot in the door for your career?
I took advantage of every program that was available. I would always stop by the basement of COM and look at the bulletin boards to see, where were those opportunities that people were not taking advantage of? I applied for the American Advertising Federation's Most Promising Multicultural Students program, where they would select 50 of what they would claim were the top advertising majors across the country. That was really how I got my foot in the door of the digital marketing industry. And then going to Texas, spending about four years there doing all types of digital marketing roles for JCPenney, and taking with me as a passion project my love for inclusion work and making sure we are creating spaces for diverse talent to thrive. Getting my master's in emerging media. And from that getting the opportunity to move to Google in a policy role.
Bostonia:
How are you paying it forward?
A mentor of mine, Tiffany R. Warren [until recently, chief diversity officer at Omnicom, and now with Sony Music Group], has an ethos of "rise up, reach back." You're not doing your own due diligence if you are only focusing on your own craft and your own skill, and not also making sure that you are lifting as you climb. Making sure you are passing on the knowledge and skill set you have. Part of that is in my core capacity in what I do at work.

It's been an honor serving on the Black Alumni Leadership Council and doing various events with entities across the University, and making sure those who are there now see a tangible link with those who came before them, as well as those of us who are investing in those who are coming behind us.
Bostonia:
When was the last time a door was closed to you because of bias, subtle or otherwise?
Honestly, you see it on a day-to-day basis, even at the best organizations. These are things that are interpersonal, in terms of interactions with someone, but also, "Is the way this process is set up having results that are limiting the scope of someone's success?" Having diversity and inclusion as a core component of my work, I see it on a daily basis.
---

I tell people that BU is the type of place where you can go in knowing that it will challenge you, and you can challenge it right back.

---
But the thing I most recently see is there is oftentimes an assumption that if you are a person of color, your expertise or focus is going to be around diversity, when that could not be further from the truth. In this moment, where there is so much focus on addressing long-standing racial biases and limitations, it's: "Let's tap our Black community to focus on how we can really address this issue!" But those individuals are also the ones you should be tapping to drive your marketing campaigns, for business strategy.
Bostonia:
How is the tech sector different in this area?
Tech has its own eccentricities, which can be good and bad, but in many ways tech has replicated many of the same challenges and barriers to inclusion and equity that we see across all major industries. What is unique is, tech exclaims the virtues of being a data-driven industry. One of the things I look at is, are the data you are using answering the right questions? Are we looking at issues in a way that not only encompasses the analytics, but also the human costs?

We have the brightest minds, and we have these things called moonshots, where it's not only, what is our year-over-year goal, but, what is something that is going to change the industry? Let's not just make a car that is more efficient, let's make a self-driving car. Let's expand the lens of what is possible. And oftentimes that ingenuity and that level of ambition is missing when we have conversations around inclusion. That's where I think there is an opportunity for tech. When we are setting diversity and inclusion goals, are they as ambitious as our business goals? Diversity is as critical to the enterprise as making sure your next project isn't buggy.
Bostonia:
Were you surprised to be asked to join the BU Board of Trustees?
I can say that without a shadow of a doubt, being asked to join the Board of Trustees was one of the greatest honors of my life. While I have been involved with the University in various capacities for over 10 years, when I was first contacted about joining the board I was certainly surprised. When you think about the dynamic community of BU alums and supporters, it is truly humbling to be nominated and confirmed as a member of a group that is vested with the stewardship of the University. I am inspired by the board's intentional approach to bringing in new voices, especially at this critical juncture in the history of both BU and our nation.
Bostonia:
To what extent will diversity be part of your official/personal mission on the board?
While the board is still early in the process of having committee roles and responsibilities assigned, ensuring that diversity, equity, inclusion, and belonging principles are integrated into all core processes has been a mission of mine throughout my career, and it is that mindset that I look to bring with me in my time on the board. President Brown and the board have made it clear that BU's commitment to equity and antiracist change is not the responsibility of one department or team, but the entire University. I believe that I bring a professional skill set to ensure that this approach is systematically implemented both in my direct committee assignments and across the board as a whole.
Do you know BU alumni, faculty, and staff who are opening doors or breaking barriers themselves? Email Cindy Buccini at cbuccini@bu.edu and recommend them for our series "Opening Doors."
This Series
Also in
March 10, 2022

February 16, 2022

January 27, 2022