Love and Courtship, Terrier-Style
Relationships
Love and Courtship, Terrier-Style
In our annual photo essay celebrating Valentine's Day, alums share stories of how they met
Valentine's Day conjures up images of red roses, sentimental cards, and Sweethearts—those tiny heart-shaped sugar candies imprinted with messages like "Be Mine" and "Kiss Me" that hearken back to elementary school. It's a time for extolling romance and love.

For the past few years, BU Today has marked the holiday by putting together a special photo essay called "Love on Comm Ave," celebrating some of the many Terrier couples who met at BU or fell in love after graduation. They share stories of how they met, when they knew they were in love, some of the challenges they've weathered as a couple, and their thoughts on the recipe for a successful relationship. Since we introduced the series four years ago, we've heard from Terriers across the globe happy to share their love stories.

For our 2020 edition of "Love on Comm Ave," we bring you six couples—some together for decades, others recently engaged. But what unites them is their belief in the power of love. Take a look.

Anika Bent-Albert (CGS'97, CAS'99) and Todd Albert (CAS'99)
Anika and Todd met at freshman orientation in July 1995, and were inseparable for the next three days. "His humor was just spot-on—I just got it," Anika says. He had a sense of style, too, and a great smile. Todd was equally smitten by Anika: "She was adorable. I still remember the brown skirt with white circles she was wearing the day we met." That summer, the two—both from New York City—she the Bronx, he Brooklyn, hung out, keeping in touch largely by phone. "Manhattan and the phone lines were our meeting grounds," recalls Anika. "I knew I was in love with Todd once we started our freshman year: I remember thinking, I can see myself marrying this guy." It took Todd a little longer to reach the same conclusion. They dated most of freshman year—Todd wasn't ready to commit, but wanted to stay friends. Although crushed, Anika agreed to stay in touch, and both dated other people. The following year, Todd tried to get back together, but Anika wasn't interested.

But two years after graduation, when both were beginning their final year of law school (Anika graduated from American, but was at Cardozo Law School in the Bronx, and Todd was at Brooklyn Law School), they began to date again. Both remember the day after 9/11: Todd wanted Anika to come stay with him in Brooklyn, but she was too frightened to take the subway from the Bronx by herself, so he came and got her.

They married in New York on August 15, 2003, in the midst of a giant blackout. Anika and her maid of honor were stuck in a midtown Manhattan hotel, cell phones didn't work, and guests who'd come from around the country for the wedding were updated on a neighbor's landline. Anika had to do her own hair and makeup since the subway wasn't working.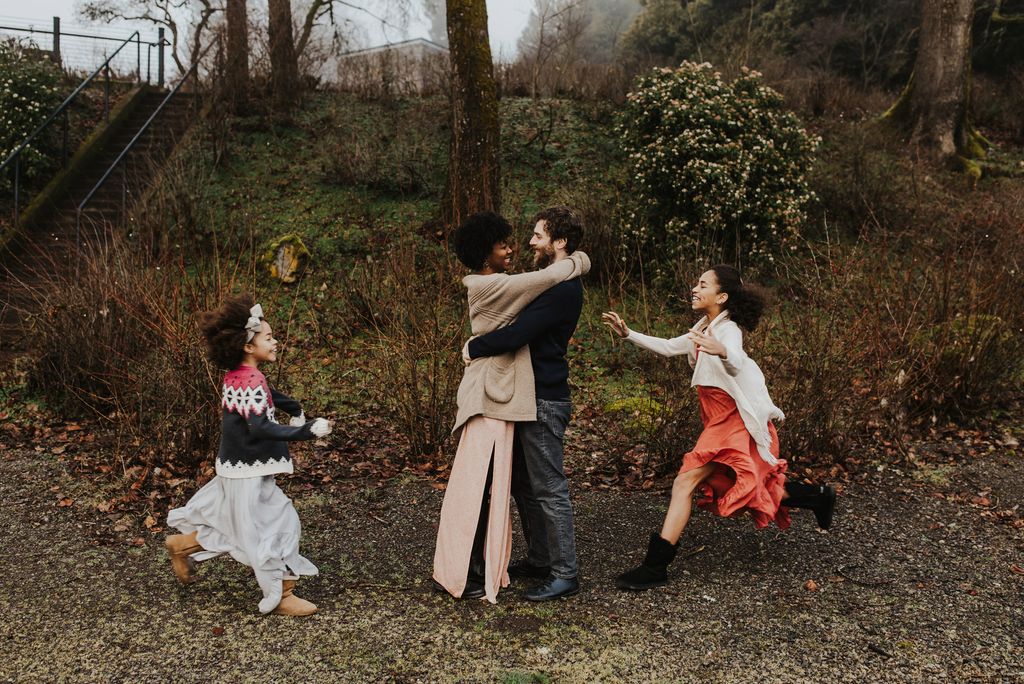 Today, Todd, Anika, and their two daughters, Maeve, 10,, and Freya, 8, live in Portland, Ore. Anika works for the Portland City Attorney's office and Todd is the state of Oregon public records advocate. They say the key to a happy marriage is understanding and respecting that the other is going to evolve as a person and remaining open to the ways the other grows. "We're both very goal-oriented," Todd says, "we've always supported each other's goals…we're puzzle pieces that fit together—so differently shaped, but we have all these connections."

Anne (Salzberg) Olshan (CAS'89, COM'89) and John Olshan (CGS'87, CAS'89)
Anne and John met freshman year at an Irish pub in Back Bay, when Anne's roommate, a Deadhead, introduced her to a "broad-chested, burly guy with a bushy beard and big brown eyes." They crossed paths a few more times freshman year, but didn't really connect until the next year at a house party. "I fell in love with Anne that night. We talked and danced for hours," John recalls. "I remember a feeling of warmth coming over me," Anne says, "like I had known him my entire life." Soon they were meeting for lunch at the GSU, studying at Mugar, and waiting at the Warren Towers T stop in the cold as trolley after trolley went by, "not wanting the evening to end," John says. Their first kiss was at Mary Ann's bar in Cleveland Circle a few months later. "'The Joker' by Steve Miller was playing on the jukebox when John confessed that he loved me that night," recalls Anne. "I pulled him in and kissed him, and it seemed like the entire world went silent. Unfortunately, as our lips locked, someone swiped John's wallet from where he'd placed it on the bar."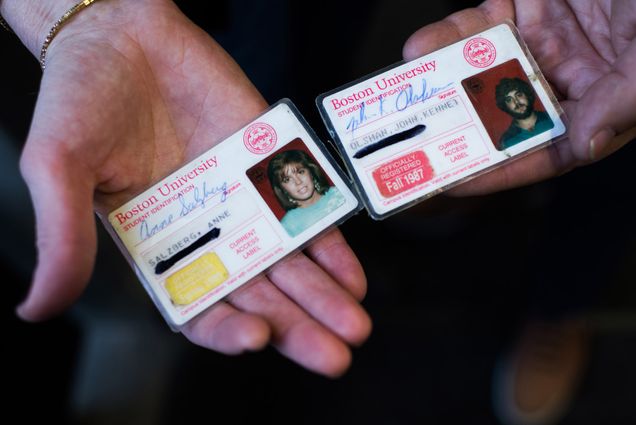 After graduation, they moved to Manhattan, where John worked in advertising and Anne worked in public relations. They were married October 5, 1991, and many BU friends came to help them celebrate. Today, they live in Stamford, Conn., the proud parents of two daughters, Sydney and Natalie (CGS'18, CAS'20). Anne says their daughters "enjoy hearing stories of our time on campus…studying together on the second floor of Mugar, me with my stack of books and John sticking pencils in his beard to make me laugh." Anne now runs her own PR firm and John works for TrackMan, a Danish technology firm that develops and sells 3-D ball flight measurement equipment. "We both attribute much of our success and entrepreneurial leanings to the excellent education we received at BU," says Anne. "We feel very lucky we met at such a young age and were smart enough to recognize early on that the love we have for each other is once-in-a-lifetime."

Jimmy Morgan (COM'14) and Jason Kashdan (COM'14)
Jimmy was already one of the nation's up-and-coming figure skaters (he competed at the 2014 US Figure Skating Championships) when he and Jason met through an online dating site in 2012, during sophomore year. They were both enrolled in COM and knew a lot of the same people. On their first date, at a sushi restaurant in Brookline, they discovered that they were into the same anime cartoon, "Sailor Moon." It was a "lightbulb moment," Jimmy says, "a guilty pleasure we both shared." Jason says he was immediately attracted to Jimmy. "Something just clicked. I remember thinking he was not only good-looking, he had this really good energy, a positive attitude." The two complemented one another: Jason more extroverted, Jimmy quieter. But over time, Jason says, the dynamic in their relationship has changed to be more 50/50: "Jimmy's become more voluble, and I've become quieter. He's made me a better listener."
After graduation, Jason moved to New York to pursue his dream of working in television news. He landed an internship at 60 MInutes, later worked at CBS This Morning, and moved back to Boston to be with Jimmy in 2015. Shortly after taking a job at WGBH's Frontline, he was diagnosed with Crohn's disease. Long interested in covering medical and health stories, after that diagnosis, he became interested in nutrition. Today, he's enrolled in a master's degree program at Tufts University's Friedman School of Nutrition Science & Policy. Jimmy continues to compete and is a figure skating coach at the Skating Club of Boston and assistant artistic director of its Theatre On Ice program. "Watching Jimmy skate and compete is inspiring," Jason says. The two say that a successful relationship is built on trust, forgiveness, and strong communication skills.

Joshua Reynolds (CFA'11, MET'13) and Danielle Galloway (CAS'15)
Sparks did not fly immediately when Joshua and Danielle were introduced by mutual friend Kyle Trotman (CAS'11) at the Howard Thurman Center for Common Ground. But they kept in touch periodically, even after Joshua graduated. In 2017, they started trading messages on Facebook and when Joshua traveled to Boston in 2018 to catch a Bruins game, they met up and had several hours-long conversations. Danielle was just launching her own business and was struck by how supportive he was. Two months later Josh flew her down to DC for his birthday (their official first date), and their relationship soon became serious.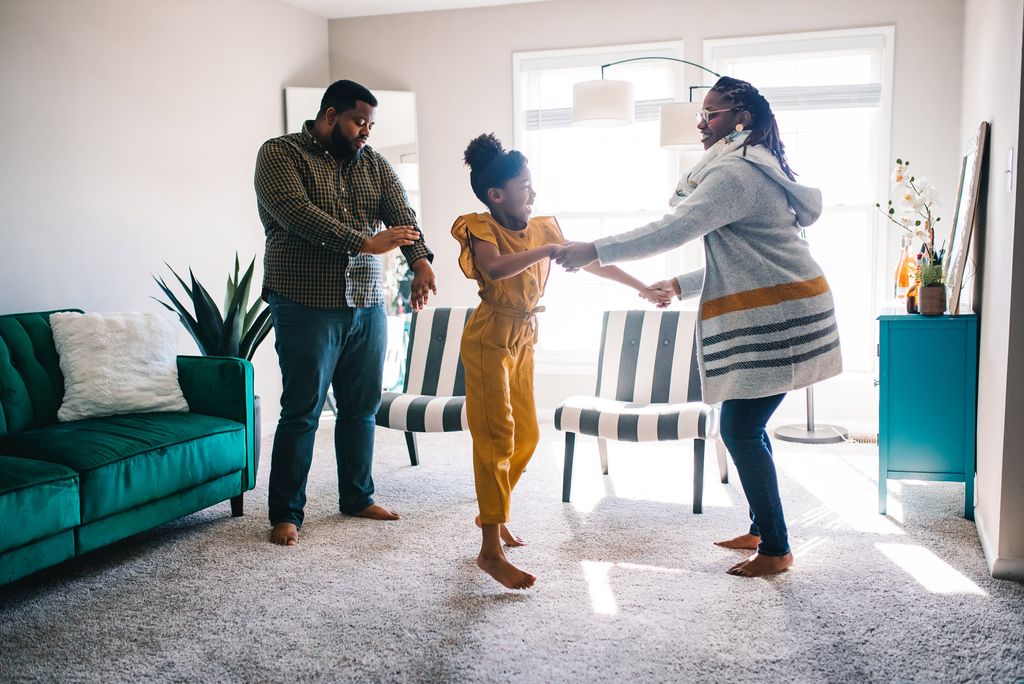 "Danielle's a phenomenal woman—her intelligence is just out of this world," Josh says. Another quality he admires is her resilience. A Posse Scholar at BU, Danielle took a leave of absence junior year when she was pregnant with her daughter, Melody (now seven). She returned the following fall, balancing the demands of parenthood with a full course load. Danielle says she was attracted to Daniel's thoughtfulness, his capacity for listening, and "his big, hearty laugh."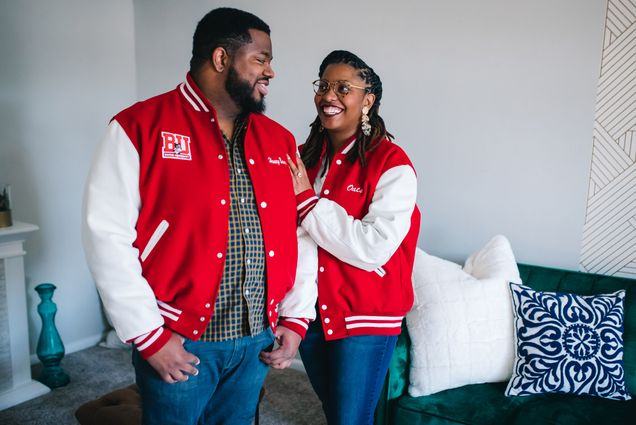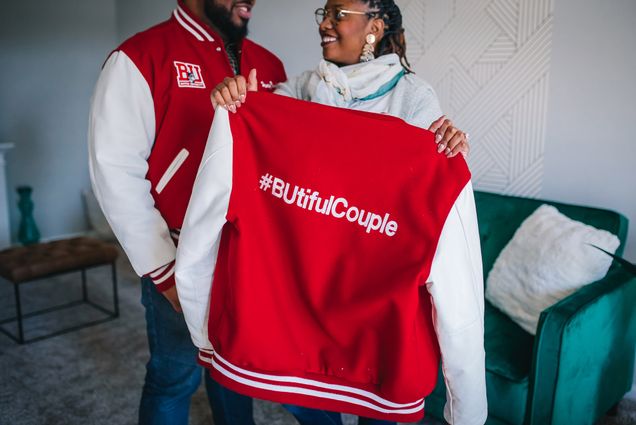 When he proposed last April in Boston, Joshua, the marketing and communications director for Maryland's Prince George's County Arts and Humanities Council, took pains to make sure Danielle would be surprised (friends told her they were taking her to an open-mic night). Joshua had rented out a space and made sure her closest friends and family, especially Melody, were on hand when he popped the question. After giving Danielle a ring, he asked Melody if he could be part of their family and gave her a special necklace. He'd also had letterman BU jackets custom-made for himself and Danielle that read "#BUtifulcouple." The two will be married in September in Fort Valley, Ga., before returning to their home in Rockville, Md., where Danielle runs a business hosting events for women, designed to foster empowerment. Watch a video showing highlights of their engagement here.
Cassandre Cruz (CGS'06, COM'08) and Antonio Cruz (ENG'06)
Cassandre and Antonio met in September 2004 when she was a freshman and he was a junior. She had been on Facebook, looking up Terriers of color, saw Antonio's profile, and immediately thought he was cute. "I sent him a poke on FB—this was before poking was creepy," Cassandre says. He poked her back, and they started sending each other messages on AOL Instant Messenger. They met in person when he stopped by her Sleeper Hall dorm room to surprise her. A couple of days later, Antonio asked her to meet him so he could give her a rose before they headed to a party. Cassandre says that "15 years, a wedding, a house, a dog, and two kids later, we're still grateful to BU for bringing us together." They got married in Mexico in 2013 and now reside in Malden with their two children, 4-year-old daughter Luna, and 16-month-old Apollo. After working at several advertising agencies, including Ogilvy, Hill Holliday, and Arnold, Cassandre is now Harvard Graduate School of Education director of marketing, and Antonio, who earned an MS in engineering management at Tufts in 2018, is technical program manager for semiconductor engineering firm ASM NEXX.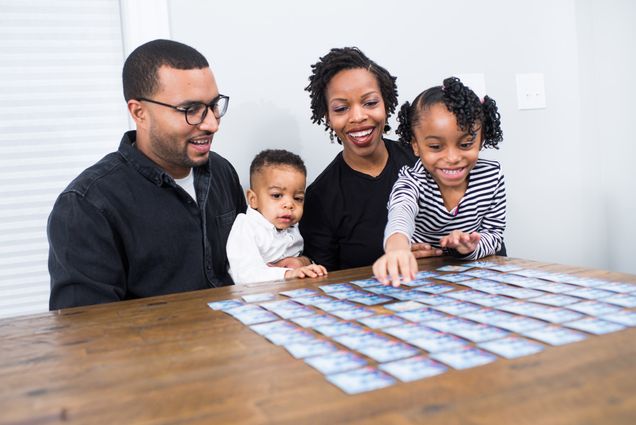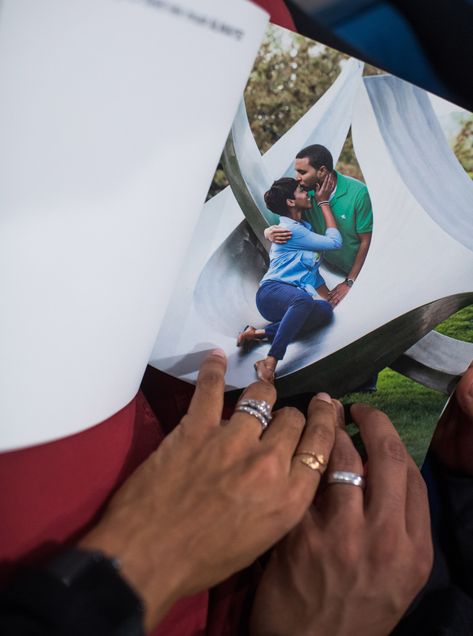 "We've grown a lot since our days at BU, but two things have remained constant: Antonio and I have always been partners—we face every challenge together and keep each other honest. And we see the strength in one another and always encourage each other to aim higher. That goes back to the many long nights we spent studying together at the Photonics Center, where we kept each other focused while preparing for big exams or projects. We share our successes, because we motivate one another. We understand the value of individual growth for the greater good of our relationship."

Felicia Gans (COM'17) and Rick Sobey (COM'12)
It's not surprising that it was a news story that brought these two journalists together. On a Saturday night in July 2016, Felicia, working part-time at the Boston Globe, had been assigned to cover a shooting at an ice cream store in Chelmsford, Mass. Rick, a reporter for the Lowell Sun, was home recovering from ankle surgery and started following the story on Twitter, where Felicia's reporting caught his eye. They bantered back and forth about the story, and more broadly, about journalism, but soon lost touch. That September, Felicia, who had just started COM's State House Program, was placed at the Lowell Sun. She reached out to Rick, and he invited her to visit the newsroom and join him and several reporters for drinks.

They clicked immediately. "We both have similar personalities—we can both be very silly—and we are both serious about our work. I joke that he's the male version of me," Felicia says. Rick was immediately drawn to her "contagious smile" and insisted on driving her back to Boston that night.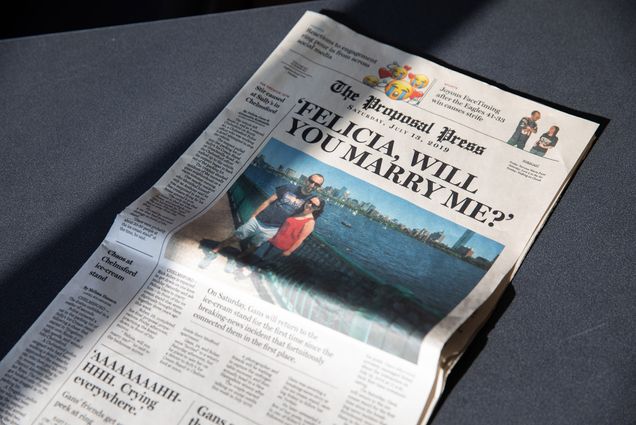 They had their first real date soon after, at Sunset Cantina. "Rick is the most positive person I know—he's 100 percent a glass half-full kind of person," Felicia says. "He's surprisingly optimistic for a journalist and always sees the good in other people." Felicia "inspires me every day," Rick says. "I don't know anyone who works harder. She makes me a better person." When Rick, now a general assignment reporter at the Boston Herald (Felicia is a digital producer and reporter for the Globe's cannabis section), proposed last July, he chose the Chelmsford ice cream store that was the site of the shooting that first brought them together. He knew he wanted to propose with a journalism theme, so he made a mock-up of a newspaper, The Proposal Press, with a headline that read: "Felicia, Will You Marry Me?" He'd assembled a group of friends to be on hand when he got down on one knee and asked Felicia to marry him. Felicia and Rick, who live in Medford, plan to marry in November.
Are you a Terrier couple with a love story you'd like to share in a future BU Today Valentine's Day photo essay? Do you know of a couple you think we should profile? Email John O'Rourke at orourkej@bu.edu. Jackie Ricciardi can be reached at jricc@bu.edu.
This Series
Also in
February 12, 2018

February 13, 2017

February 11, 2016