Election 2020: A Day of Nervousness Turns to a Night of Uncertainty
Politics
Election 2020: A Day of Nervousness Turns to a Night of Uncertainty
You told us your dreams. You told us your fears.
Throughout the day and into the night, our BU Today writers reached out across the Boston University community to find out how students, faculty, staff, and alumni were getting through the historic 2020 election, pitting President Donald Trump and former Vice President Joe Biden.
A final result looked possible, but not certain, as midnight passed and votes in key swing states were still being tallied. But for some, like one first-time BU voter we talked to, the outcome was not the only thing that mattered. For them, this was democracy at work: "Once I dropped the ballot in the drop box, I had the biggest smile on my face. I collected my 'I Voted' sticker and walked out of the building with pride in having taken part in a democratic process."
Below, in their own words, members of the BU community share their hopes, dreams, and wishes during this historic moment in American history.
---
9:38pm — George Murphy, co-director of the BU Center for Regenerative Medicine (CReM)
I was at the lab until pretty late, when I got home around 8pm I made my favorite childhood meal of grilled cheese and tomato soup as a source of comfort. Unfortunately, the effect was brief. There's been a palpable anxiety at the CReM for weeks now. Everyone I work with is really aware of the fact that there is a war on science. Now, as I'm sitting here, the election looks much closer that I would have hoped in my heart of hearts. I had hoped it would be more of a landslide.
It's impossible to imagine a more consequential event than what's happening right now. [My colleagues and I] are working on a very big paper that we're about to send out for review. In that paper, we uncovered what we think is an engraftable blood stem cell, which could have amazing translational appeal. To do that, we looked at fetal blood stem cells. We think [this discovery] will have translational and clinical impacts down the line. But if reproductive rights are impacted [by another four years of Trump], that would become impossible.
---
9:20 pm — Kate White, practicing physician and associate professor of obstetrics and gynecology at Boston Medical Center and BU School of Medicine
Today I took a vacation day to work on my first book called "The Miscarriage Guide," that will be out next October—if I finish a draft by Thanksgiving, so I am very motivated! Now that it's night time, my husband and I are watching "Enola Holmes" on Netflix. To be honest, we are trying to limit looking at the election results to a brief look every half hour or so. I have very much enjoyed being politically engaged since I was 18, seeing the rise and falls of elections almost like a sports team, but this feels different. There's no way to talk about it without talking about the inherent drama of what's at stake; I'll say the future of health care, the future of democracy, and the future of the planet… So, this doesn't feel like rooting for my team, it feels like a deep set fear of the wrong outcome.
As everything settles, patience is likely to be called for within the next couple of weeks, so prolonged self-care will be a requirement, whatever that means for you. After that, I feel like everyone—talking to myself as well—needs to take a breath, get some really good sleep, and get the next wave of energy, because the fight is not over no matter what happens tonight.
---
9:18pm — Nahid Bhadelia, director of BSL-4 medical response program at the National Emerging Infectious Diseases Laboratories
This is so tense. I'm watching with family, on TV for the most part and following along on Twitter. The thing is—I'm looking at the map right now—2020 is behaving like 2020. Nothing is happening as predicted. I'm really stressed out because it feels like it's a gladiator battle, but if one contender wins many more of us will die.
If we see Biden win, I think the focus should be on what he can start doing to make an impact on the pandemic response now, such as having more public briefings about the pandemic with people who will become government scientists with the next inauguration. I also hope the Biden camp starts building consensus with governors for approaches [to curb the pandemic]. There's also a lot that needs to be done in terms of building and manufacturing resources, so what I hope happens is that they start lining up those ducks. So that when the administration change happens, they can hit the ground running with manufacturing things that are needed.
If Trump wins, I hope that his administration's science and public experts, who have been more silent as of late, will be a lot more vocal. I hope that they speak up. History will likely judge them very harshly.
---
8:55 PM – Sarah Lipson, SPH assistant professor of Health Law Policy and Management and associate director of the Healthy Minds Network
I've been thinking about what this has been doing to our collective mental health, and especially the populations that have been most impacted by the last four years…This election is kind of a microcosm for the last 9 months, where there's so much uncertainty, waiting, checking numbers, and seeing if we can piece the story together. The election and the next few days is sort of going to feel like what the entire pandemic has felt like; with ups and downs and wanting answers. Hopefully, we've developed some coping skills and ability to live in that uncertainty, though I wish we didn't have to. Some SPH colleagues and I are watching the results, having some desserts, and popcorn. The three of us were talking about how today on Election Day everyone is saying to take care of each other, be kind to yourself, be kind to others, when it's actually tomorrow and in the days to come that will likely still be uncertain. We'll need to still keep being kind to yourselves, and people around you in the days to come.
---
8: 27 pm — Raul Fernandez, associate director for equity, diversity and inclusion, Wheelock College of Education
"I did some laundry earlier and unclogged a drain, and we took a break to watch This is Us. Great new episodes! Now, I'm having an Old Fashioned and watching the returns on NBC – the CNN alerts are just too aggressive. Trying to pace my anxiety because I know it'll be a long night."
---
8:25 pm — Joaquín Martínez Albán (CAS '23, Pardee '23), international student watching the results from Quito, Ecuador
"As a student of International Relations, I feel history being made before me. The event type one will read about in textbooks 20 years from now. In general terms, I hope tolerance and respect are prime above all else. Whatever happens, I hope that we don't lose the ability to be tolerant with others around us. I also hope that this election reminds us that the world depends on our generation for the future leaders of the world, and that education is how we can collectively achieve a better world."
---
8:23 pm — Andre de Quadros, CFA professor of music and music education, who taught his History and Philosophy in Music Education: Perspectives and Practice for grad students on Tuesday night
Tonight all the students showed up, what do you think about that [laughs]? People are saying they are anxious about their rights, and I think articulating that in the class is important. We started a class with a meditation, and since then we've been talking about justice and equity in the music classroom.
My work is focused on justice, I do a lot of work with refugees and work in prisons, work in mental health, and with victims and survivors of war. For me, it's really important to understand where our country will go after today. I won't be happy until I see the impact it's having on the poorest of our nation. It's not about what happens tonight, it's the impact that will happen later on.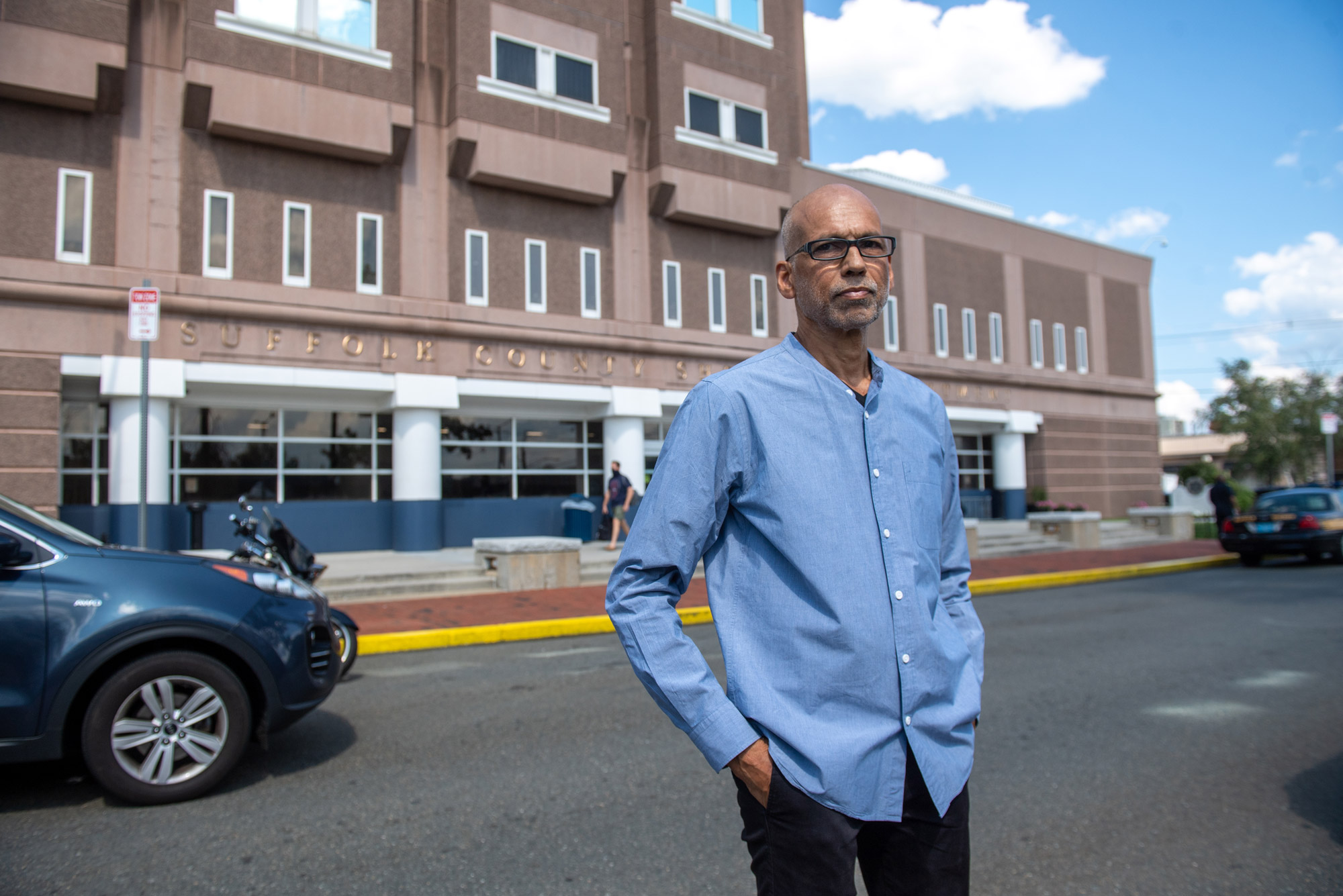 ---
8:03 pm — David Hamer, School of Public Health professor of global health
I work with people all over the world, and my friends and colleagues across the world are anxiously watching the election results. It's not just America, it's the world. And I think most of the world would like to see a stable democracy… major decisions made by the US government can have a global impact, economically or public health wise. The US pulling out of the World Health Organization is almost an emergency, I think. And I'm also really worried about climate change, and the Trump administration has reversed a lot of good measures to reduce damage to the climate. All I can say is, let's hope for the best. And let's hope that we have a peaceful resolution and end of the election.
---
8:01 pm — Ibram X. Kendi, founding director of BU's Center for Antiracist Research
---
8:00 pm — Saida Grundy, assistant professor of sociology and African American history
At a little before 8 pm, she was tracking returns in Georgia and Broward County, Fla. "Like a true millennial, I have three screens going."
She shared this youtube version of the Honey Drippers' 1973 song, "Impeach the President," as her statement about the election:
"It's an old classic. We used to play it around the house and now my nephews dance to it. It was written for Nixon, of course, but it's timeless. It's my mood and Broward County's right now. "
---
7:50 pm — Jonathan Stein (Questrom'21), president of BU chapter of Young Americans for Liberty
I'm doing well, I'm watching with friends. A few of us are supporting Biden, a few supporting Trump, and others Jo Jorgensen. I supported Jorgensen, we know she won't win but it's nice to see a diverse group of individuals supporting our democracy. The number one issue to me was the economy, so deciding between Trump and Biden, I'd go with Trump.
Obviously Florida is very entertaining to watch, the vote tally is coming in quickly. I want to push libertarian values. It would suck if Trump loses but at the end of the day I won't be a different person.
---
7:42 pm — Willis Wang, vice president and associate provost for global programs
"There's one phrase NBC says over and over: 'Too close to call.' And then they put up a graphic that says, 'Too close to call.' (LAUGH) On the one hand it is early and the polls haven't even closed in Mass. We're hopeful, but we also remember four years ago. We are cautiously optimistic, but at the same time…. I just ate a fudge bar with my son. And I might have another one."
---
7:25 pm — Julian Shapiro-Barnum (CFA'21)
If Trump wins I will go protest in NYC or Washington. Things will not go over well. If Biden wins I don't know what I'll do. It is just a tiny step towards progress but I guess take a really deep breath and like cry for a minute? I will check before I go to bed but I will not wait up all night.
---
7:21 PM — Benjamin Siegel, CAS assistant professor of history
I was so grateful that this election day was on a Tuesday when I'm teaching on campus. I taught two classes today, including one called Poverty and Democracy, that compares big issues in India and the United States. My students are all so thoughtful, they are anxious, but they are thoughtful and have deep political commitment. I don't have a single student in my class who wasn't thinking thoughtfully about what comes next and where we go from here. That was the thing that kept me sane and engaged today.
---
7:20 PM — Angela Onwuachi-Willig, dean, LAW
"I saw Trump speak to a crowd, and that made me think that he thinks he might lose tonight. He was not his boasting self, he was very calm, he was talking about waiting to see what the process [does]–not something that Trump says. I think if there's a blowout–let's say Biden or Trump wins by a large margin–I would normally say there are not going to be a lot of legal battles [over the outcome], except I don't know if Trump is a good loser. If he's not a good loser, he's going to need to come up with a good reason for why he lost, and so he will challenge things. If Biden loses by a large margin that looks legitimate, there probably wouldn't be a lot of litigation. But let's say Trump wins California or something that looks really suspicious. Then of course you're going to see some legal battles."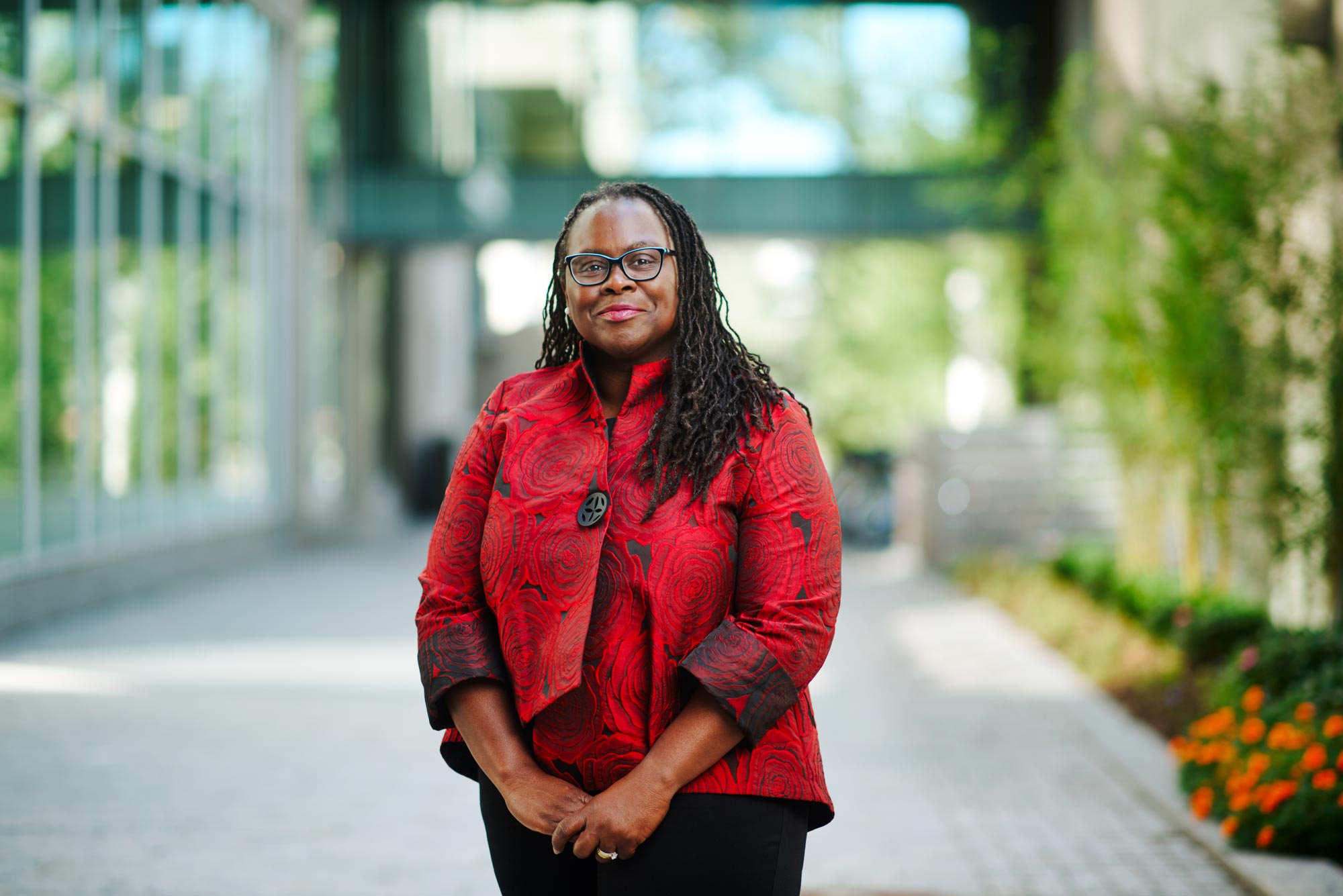 ---
7:20 pm — Oliver Pour (CGS'20, COM'22), Student Union president
The first thing I did this morning was call my parents. I wanted to see how they were feeling for Election Day and what the emotions were like at home. I definitely wanted to take a day to relax a bit. I had class but other than that, I barely scheduled meetings. It's a day filled with both highs and lows so I needed to take a step back. I have been following all the major news outlets like Fox News and CNN to keep myself updated and I plan to keep watching the media to stay up-to-date with what's going on in the election. It's going to be a LONG night and I plan to be a part of it from the beginning to end.
---
7:18pm — Danielle Citron, LAW professor and deepfake expert
"It's been so inspiring to see young people—high schoolers, college students, recent grads—spending so much time volunteering and working on disability and election issues. I'm finding myself buoyed by youth activism and engagement. In my house, I have a 22-year-old working for NextGen America, and my 20-year-old works for Swing Left.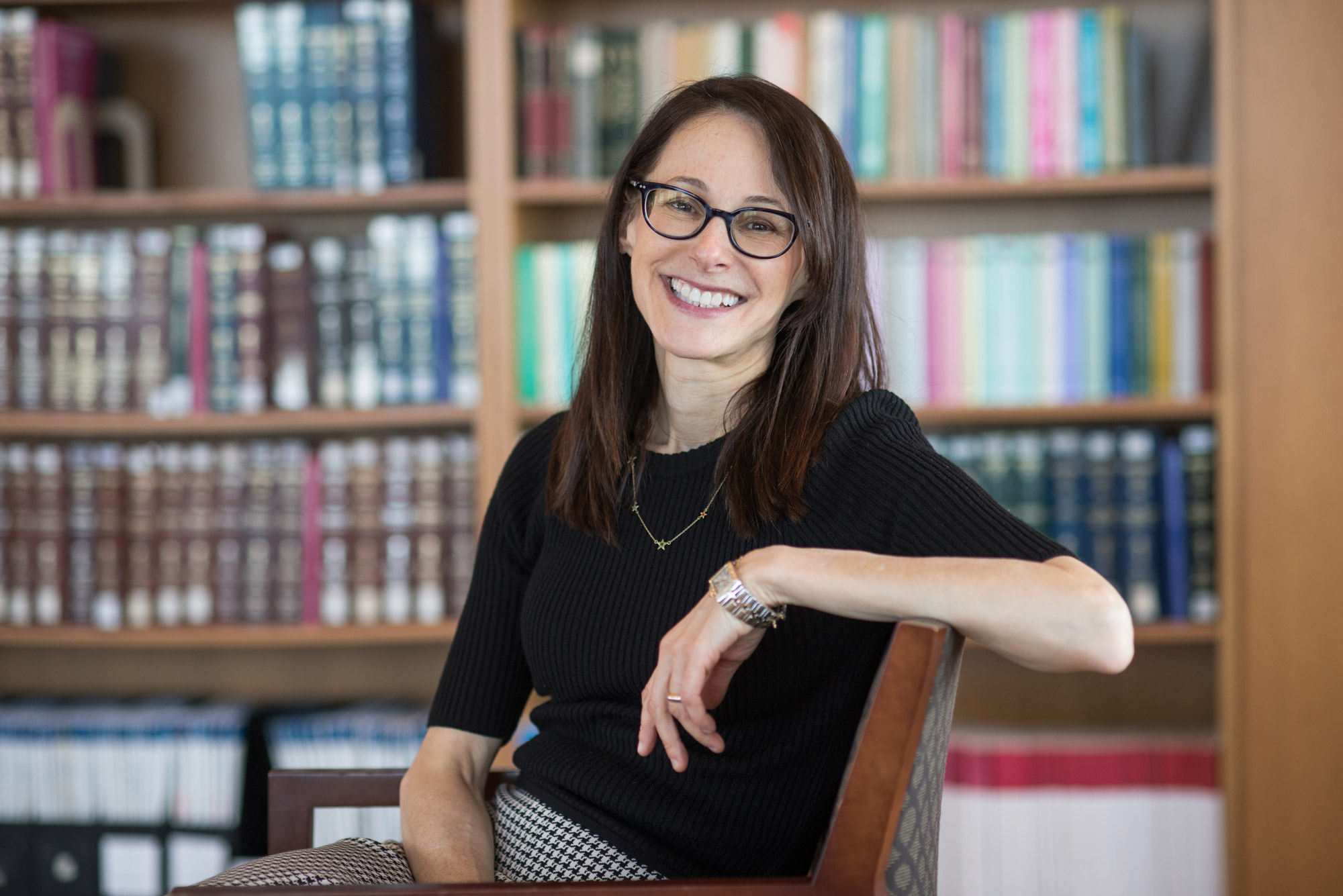 What I also find so gratifying is that we haven't seen deepfakes really distort the election. We saw Twitter managing disinformation, even coming from the president. My worst fears haven't been realized. Russia has been doing some mischief but not as bad as I thought. Social media platforms are now aware—whereas in 2016 they were caught by surprise. And the social media platforms were not cowed by the Senate hearing last week." (During that hearing, Twitter's Jack Dorsey, Facebook's Mark Zuckerberg, and Google's Sundar Pinchai were probed about Section 230 of the Communications Decency Act by Republican Senators who accused the platforms of censoring conservative content).
"My worry was that, [after the hearing, the social media platforms] would do less monitoring. But they were still active and took down a bunch of accounts. So I'm feeling OK. I'm glued to the TV with my 22-year-old, who just finished her last Zoom of the night for NextGen America. She's overwhelmed with how gratifying the work was. We're all snuggled up and watching while our 20-year-old is still off doing work [with Swing Left]."
---
7:10 pm — Nahid Bhadelia, Associate Professor of Medicine, Medical Director of Special Pathogens Unit
---
7:05 pm — Susan Akram, clinical professor SPH, director of International Human Rights Clinic (School of Law)
"I had a busy working day, [including] conference calls, one with the UN in Geneva on our work with Tibetan refugees, and another meeting on work I'm doing with global experts on Palestine. My partners and colleagues were all sending prayers and wishing us the best of luck today. Also messages from friends and family all over the world, saying all their eyes are on the election. It's not just about the United States. Then I had clinic supervision in the afternoon with my students, and they expressed a lot of anxiety as well. I think the [legal] battles have begun—there have been so many challenges around various election rules, whether drive-in ballot dropping is legal, on vote counting. I suspect there is going to be a long, drawn-out battle no matter how this comes out. I don't know if it's a boon for the legal profession, because both parties already recruited, I'm sure, over 1,000 lawyers each around the country. They're already well at work."
---
6:47 pm — Sondra Crosby, Associate Professor of Health Law, Ethics & Human Rights, Health Law, Policy & Management at BU School of Public Health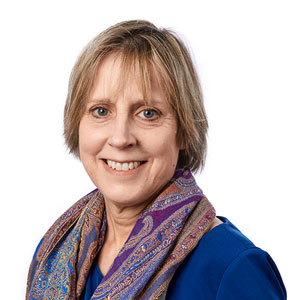 A few years ago, it would be completely unthinkable that a priority for a new presidential administration would be to stop torturing children at the border. But it is. And we have to stop it. I think it's a national emergency.
In terms of immigration and asylum, which is my specialty at BU, I would call on the Biden-Harris administration to immediately stop child separations, to reunite the children with their families, and to provide reparations for the families that have been separated.
---
6:45 pm — Rachel Brulé, Pardee School assistant professor of global development policy
On this election day, I'm working to engage with and grow the radical power of female solidarity. Our elections are occurring on the threshold of an historic convergence of support for justice organized by three radical black feminists—Alicia Garza, Patrisse Cullors, and Opal Tometi—who made a commitment to organize and build local power to intervene in violence inflicted on Black communities by the state and vigilantes, with intentional efforts to bring women, queer, and trans leaders to the center of leadership for black liberation. The result, #BlackLivesMatter, has brought at least 15-26 million Americans out to peaceful protests that are rebuilding the fabric of our democracy with a more reflective, inclusive, substantive commitment to the flourishing of all citizens—by uplifting, rather than exploiting the most vulnerable among us.
We have such a long way to go. I believe the only way we will achieve a truly healthy democratic polity, economy, and society is by deepening meaningful, radical solidarity build on the fundamental belief that we are all equal, all worthy of respect, and all entitled to the core resources humans require to flourish: guaranteed, universal access to health care, high quality education, housing, jobs that provide living wages, safe working conditions, and state support when such employment is unavailable, and support that enables us to care for our most vulnerable members: the very young and old. I believe we can get closer to that objective every day that we reach out to build solidarity, community, and support to pressure our states–local, federal, and national–and other powerful institutions–such as our employers, health care providers, and unions–to recognize, value, and support our common humanity.
In my book, Women, Power and Property: The Paradox of Gender Equality Laws in India (here) published this month by Cambridge University Press, I find that women's representation can transform the state into a source of support for advancing the rights of the most vulnerable at every level of life—from the household to the Parliament. I believe this relationship—women's ability to speak truth to power, to transform institutions into vehicles for advancing equality—is one that holds globally. But it is too much to ask token women, frequently selected by men with personalistic agendas—to perform these tasks. It is up to each of us to advance a politics of radical, egalitarian solidarity. I voted early, and am now working to gather with my female colleagues, friends, and loved ones (including my daughter!) to make this solidarity a part of the political fabric of our state. I hope we can each do more of this every day, for that is what it will take to make our state whole and healthy.
---
6:40 pm — Henry Haase (Sargent'23)
I'm definitely stressed, I woke up stressed. The air is thick and I'm not sure who to talk to. I've been checking CNN, Fox News, BBC, but it's overwhelming. Will a winner be declared tonight? We don't know. I think tonight is going to be crazy. My parents are tired of the news. I'm staying awake because I want to know. I've never seen something like this before.
---
6:37 pm — Joan Salge Blake (Sargent'84, Wheelock'16), a Sargent College of Health & Rehabilitation Sciences clinical associate professor of nutrition
I've been stressed over this since 2016, I have been carrying this stress for years. But over the last three weeks I've found relief, because I believe that with the numbers of people coming out to vote, it makes me realize that there's a lot of good in America. I'm so proud of Americans that they went out and voted.
---
I felt physically unwell yesterday, I slept so unwell last night. The day has felt like hard work, I've been really anxious, because I feel really strongly and negatively about the current administration and I want them gone. I'm scared about the future of the country.
---
6:30 pm — Tweet from Alana Anderson director of programs, diversity & inclusion office, with photo of the "election day" box she bought this morning at her favorite bakery
---
6:16 pm — Steve Kornacki (COM'01)
---
6:11 pm — New York Times writer Sopan Deb (COM'10) gently ribbing fellow BU alum, MSNBC and NBC News political correspondent Steve Kornacki (COM'01).
Kornacki is one of the election's most important voices, and will call up stats on candidates, census data, previous races, and incoming election results throughout the night.
---
6:02 PM — Tejumola Adegoke, assistant professor of obstetrics and gynecology at Boston University School of Medicine
With the nomination of Amy Coney Barrett to the Supreme Court, reproductive rights are a big concern. I absolutely always support a woman's right to choose, what happens with her body and around pregnancy. The rhetoric around what leads people to decide not to continue with a pregnancy is so misleading… I am really hoping with a Biden-Harris administration we can have better support for reducing maternal mortality, and reducing the disparities that currently exist in birth outcomes. Senator Harris supports things like the Maternal Care Act and other incentives to improve access to care for women beyond just six weeks postpartum. I specifically see patients in the Boston Medical Center's Refugee Women's Health Clinic. I know how many of our own patients have been afraid to access care because of things like the Public Charge rule, thinking that if they access care through public funding that will jeopardize their applications for immigrant status. Those are things at the top of my list that are important to me this election.
I'm trying to give myself a little bit of grace as we all deal with this anxiety. Try to give yourself a little bit of grace, and folks around you some grace.
---
5:56 pm — Zach Dubin, Assistant Dean, LAW
---
5:50 pm — Kenann F. McKenzie, director of the Aspire Institute at Wheelock College of Education & Human Development
McKenzie says that in previous years it's been a celebratory affair for her family but this year is more serious. She is involved in a newly formed Northeast chapter of the NAACP, which she says is the fastest growing chapter in the state and likely in the Northeast region. "After the election I'm worried about people coming together," she says. "Tonight I will be glued to the TV, tracking how it's going in different states in terms of voter turnout and voter intimidation. I'm hoping it's a relatively easy week the rest of the week but I know there will be something in the news that is disturbing."
---
5:36 pm — Ibram X. Kendi
---
5:32 pm — Joyce Wong, ENG professor of biomedical engineering and materials science
I feel like it's the World Series in 2004, when we were just holding our breath. I've been periodically checking Google news, but I deliberately put on classical music instead of flipping on a news station. I'll tune in more as the results start to come in. What worries me the most is that there's been so much damage done in the last four years. Focused on science, for example, there's been so much lack of regard from this administration for science, and we've seen that play out horribly in the pandemic.
One thing that has really struck me, is that I've gotten so many emails from colleagues internationally—from Germany, Malaysia, Taiwan, Canada, Korea—everybody is watching.
To young people, I would say: Your vote does matter. I'm from Macomb County, Michigan, which was in the national news last night—they were saying the Macomb County results have predicted the last four elections. I wish I could vote there. But organizing, using your voice, finding your community, that matters. God forbid he does get reelected, there are things that can be done at the state level.
---
5:32 PM — Post in Rhett-it: Boston University's unofficial Reddit community
---
5:30 pm — Alana Anderson, director of programs, Diversity & Inclusion office
This morning I went to my favorite bakery – Monumental Market, in Jamaica Plain – -where they were selling these "election boxes." There's a cinnamon roll to help you get started for the day, an apricot tart for sustenance, a packet of coffee beans if you're going to be up late, and bubbles.
It [the election] was brought up at a couple meetings today in the sense that it could be very anxiety-producing and that people need to do whatever they need to do. I'm going to hop on my Peloton later and ride. Yes, you could call it a de-stressing election day ride.
The things that feel at stake to me in this election — moving away from having a leader who is fully engaged in supporting white supremacists. Also, reimagining public safety and thinking about the summer experiences with the continued killing of unarmed Black citizens and how our country has galvanized around conversations about the role of police.
We need to support and recognize folks who are trans, particularly trans Black women, who are continuing to be killed. And I hope we'll have a leader who will better respond to this virus, recognizing that we have to make changes that are hard to keep citizens safe.
I feel like we can be hopeful, but we can't forget these last four years. I think there are policies, the ways our politicians have chosen to serve and legislate, that will continue to have major impacts on us beyond the next four years. We can't forget – we had a government that separated children from their parents.
---
5:22 PM — John Marston, CAS associate professor of archaeology and of anthropology and director of the Archaeology Program:
Marston says he voted by mail two weeks ago with plans to "hunker down" and work today. "After seeing violent protests on Sunday [in] our sleepy little New England town, my household has been increasingly anxious and it's been increasingly hard to focus," he says. "The solution? Just like bracing for a winter storm: go for your run early while it's nice, then go buy groceries. Maybe today is a lucky day after all: beautiful weather and no line at Trader Joe's. Hopefully, everything will work out fine, if I eat enough chocolate tonight."
---
5:02 PM — Cutler Cleveland, CAS professor of Earth and Environment:
"It seems like there's a significant uptick in youth voter turnout compared to 2016, and a number are first time voters. I'm interested in that—because I've been surrounded by 20 year olds for the last 30 years at BU—and because I think it speaks to the interwoven concerns about their future. Climate change is paramount in that regard, but also current political dysfunction we have is concerning for the long run, violence from police against Black Americans is extremely unsettling. I think issues that speak to the future motivated young adults to come out and vote.
If Trump gets elected, we're going to continue to go backwards with climate unfortunately. If Biden wins I hope he finds a way to connect our economic, social, and physical health in a message that talks about economic recovery, focused on clean energy and sustainable initiatives that can put people back to work, mitigate climate change and improve public health."
---
5 pm — Adil Najam, dean of the Pardee School for Global Studies, who has been busy since last night explaining the U.S. election to television commentators in India, the Philippines, and Pakistan
"You kind of become the interpreter-in-chief.The whole world is fascinated by American elections – always. What we do here is going to impact everyone in the world – it's not just about Pennsylvania.
This is the one thing that most people here don't recognize – how much attention the world pays to us. People are making judgements not just about America, but about democracy, because we are seen as the great custodians of democracy. They see all these things happening here and they say, 'So, this is the model?'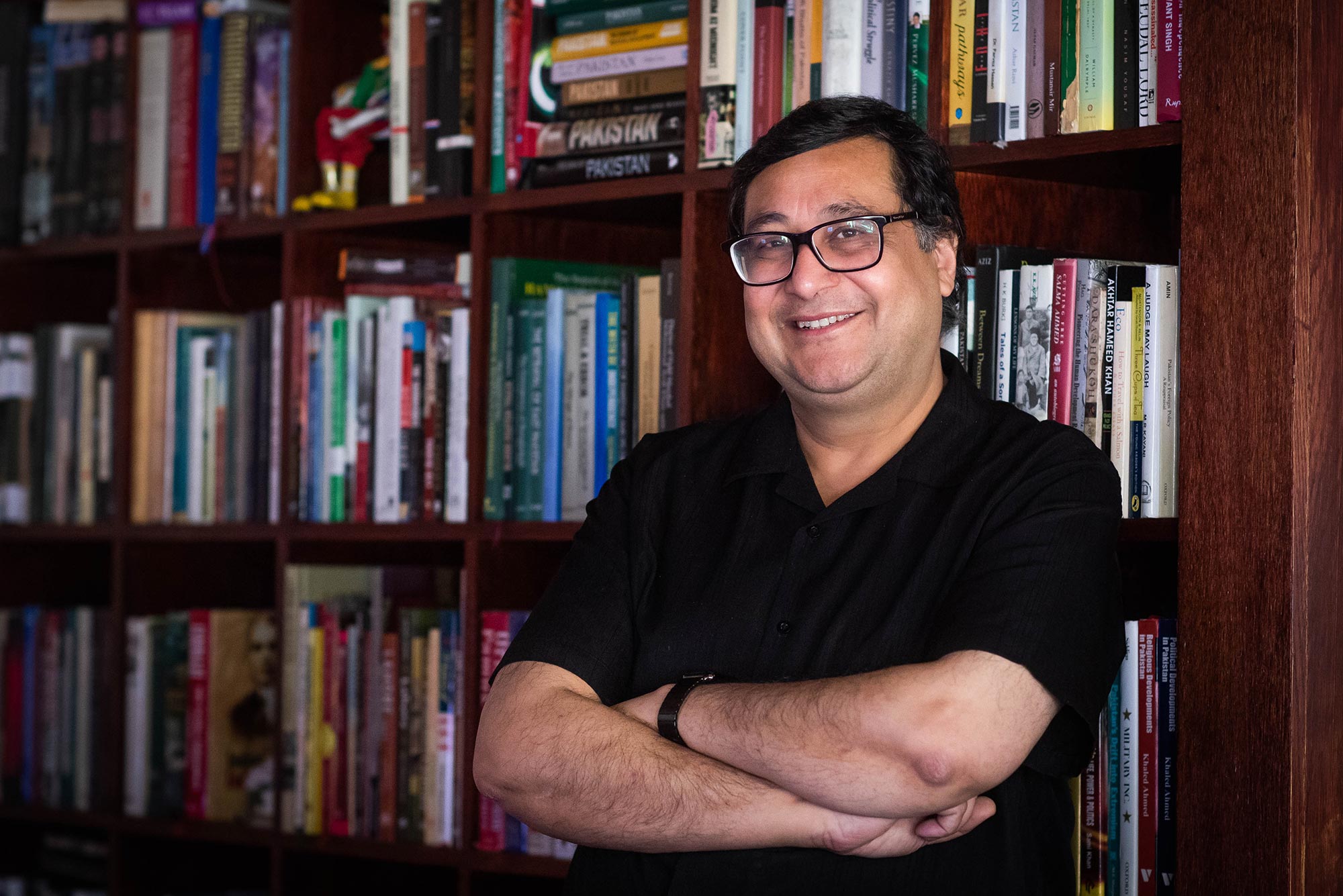 The big questions are pretty clear: Explain to us how this thing works. Why is it someone can get more votes and someone else wins? Why is the election so divisive? Why is the country so divided around the question of race?
But maybe the most fascinating thing, because I would not have guessed it, is that the world seems to be fascinated by these two really old men – one 77, one 74, and the one who is 74 keeps bringing it [age] up. In this country with such a political tradition and so many young people in politics, how do we have these two 70 something candidates?
I've done eight television interviews so far. I'm going to be at this until 3 AM. How could I sleep?
---
4:59 PM — Samuel Deese, CGS senior lecturer of social sciences:
Taking a break from phone banking, Deese, a twentieth-century historian, spoke about the fine line between fascism and authoritarian capitalism—and why Americans need to mind it.
"It was very clear what fascism was in the Second World War and in the Cold War, because the regimes were overtly fascist. What people were less on guard for is authoritarian capitalism, a capitalist economy with an authoritarian government. Americans thought, 'Well, as long as you've got a free market, then things are free, right?' I think what we've been confronted with over the past four years is a person who is authoritarian in all of his instincts. A person who admires dictators, and would be a dictator if he could be. He hasn't been terribly competent or focused in advancing and consolidating his power, and in a way, what's terrifying is that he's gotten as far as he has. So if we had somebody with the same authoritarian goals, who was more well-spoken and disciplined, we'd be in even greater trouble than we are now. Even if Trump doesn't get a second term, we need to guard against another leader with similar authoritarian impulses down the road."
---
4:41 PM — Tangy C. Morgan (MET'16), a senior advisor to the Bank of England and a prominent member of Democrats Abroad:
Tangy C. Morgan doesn't plan on going to bed tonight. A dual citizen who has lived in the United Kingdom for the past 18 years, she'll be watching the results roll in from a London hotel. Like many Americans overseas, Morgan continues to vote in every election. "We pay income tax here and we pay income tax in the US—our votes count," says Morgan.
Despite the UK being on the verge of another national lockdown and with Brexit looming, she says the country is watching tonight's results with interest. "Everybody around the world is looking at America," says Morgan, who has fielded a host of questions from friends and colleagues about the election in recent weeks, from how the electoral college works to the economic implications of a second term for President Trump.
Morgan is frustrated that more Americans haven't considered how America is viewed abroad when casting their votes. "Living outside the US, no matter whether you're Republican, Democrat, or independent, we are ambassadors for America. Ever since Donald Trump has gone into office, people have just been asking, 'What is America thinking about?'"
---
4:39 PM — Chris Daly, COM journalism professor:
"I have voted in every election since 1972, and I have never felt so anxious about the stakes involved. I just don't know that we can take anything for granted any longer in this country. We've been so used to having normal procedures, to having graceful losers, and the all-important peaceful transition of power, and I think now we realize suddenly that these things should not be taken for granted."
---
4:30 PM — Alex Lynch (CAS'21), vice president, BU College Democrats:
"I'm optimistic about Biden. I'm paying attention to the Senate, too. I think the Senate is going to be a much closer fight, with the ground that the Democrats need to pick up. I'm much more worried about the Senate, because if the two races in Georgia don't get resolved, there's a chance that it's tied 49-49. Biden would still have the majority with the VP's vote, but a tie vote in the Senate is not ideal. Thankfully, my first class tomorrow doesn't start till 1:25, so probably won't go to sleep before 2 am. I'll probably be watching in my room with my roommate, over some pizza. I am over 21 so I can drink a little bit. If [Biden] wins, I might want to soak in the moment. I'll not want to drink too much 'cause I want to remember that moment. I would probably say more if he loses."
---
4:19 PM — Jonathan Woodson, Questrom professor and former assistant secretary of defense for health affairs in the US Department of Defense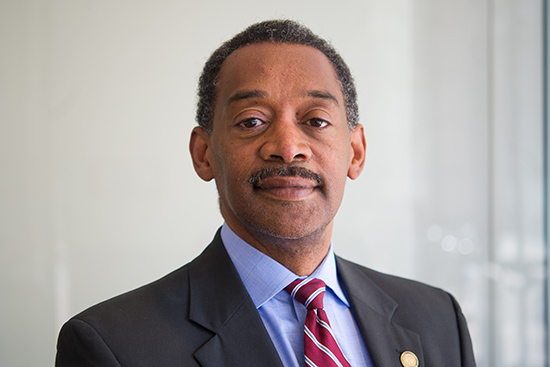 "I'm thinking about the potential for a seismic change in the attitude of leadership in this country. The hope is that tomorrow will bring a new perspective on how to lead the country. There will be many really important things that a new president will need to address right away to bring the country together. I say to the Biden supporters: Hopefully the good news tomorrow is that we have a new president. The bad news is that he'll have to deal with the problems of the last four years.
Tonight, I'll be watching election coverage with my wife, with my kids calling us frequently. I think the issue will be having patience—it's going to take time to count these votes, some of these battleground states will be reporting very late, if not in days. No matter who wins, there are substantial problems we're going to have to deal with—COVID is not going away tomorrow. We've added $4 trillion dollars to the national debt. We have record high unemployment to deal with in terms of rebuilding our economy. We've got ethnic diversity issues."
---
4:15 pm — Sarah Sherman-Stokes, LAW clinical associate professor of law, associate director, Immigrants Rights and Human Trafficking Clinic
"I called 130 voters in Florida today for Swingleft. I had some who were somehow unaffiliated. One person said, 'You got me too late, I already voted for Trump. I said, 'Are you joking?' He said, 'No, I'm not joking.
I got texts from some really enthusiastic voters.One older. Spanish speaking voter texted:
'We are Democrats in our hearts always.'
About two or three weeks ago we got together with another family, socially distancing, outdoors, and we wrote letters to voters in Arizona. My six-year-old wrote, 'I want a President who's not racist.' My four-year-old wrote, 'I want a nice President.'
---
4:14 PM — BU Votes initiative published this infographic about how and where to watch the election results
---
3:50 PM — Jude Hoag (CAS '23), studying political science and international relations, and involved with BU College Democrats and the BU Debate Society
"I am super concerned with this election. I woke up very nauseous and, against my better judgment, I've been glued to Twitter. I voted for Joe Biden as early as I could in my home state of Washington. There are so many issues in this election that matter, but what I can't get past is Trump's anti-LGBT actions and his support of white supremacist groups. Biden was not my first pick for the Dems and I know that our problems will be far from solved with him in office.
I will be listening to the NYT's Daily podcast live stream the election results. I hope to play some online multiplayer game with my friends to ignore the results. I know that it would be best for my mental stability to just go to sleep early—but in reality, it will probably be a long night."
---
3:48 PM — Michelle Amazeen, associate professor in the Department of Mass Communication, Advertising and Public Relations:
"I just got back from class, and I've been teaching all day, so I've been really focused on my students and getting them the information they need for our classes, but also being mindful of how anxious everybody is. One of the classes that I teach today is a large lecture class called Understanding Media and there's about 275 students in the class, and I typically play a song before each class. Today, I was very thoughtful about the song that I picked. I picked a Birds song called 'Turn, Turn, Turn.' I'm just trying to leave students with the message that we'll get through this, and I know things are crazy right now, but certainly at BU, we value knowledge and understanding. I'm just trying to calm everybody down, including myself."
---
3:35 PM — Sarah Sherman Stokes, LAW professor:
more than 70 calls to florida voters so far and there is only one thing i can say for certain: we are all very ready for this election to be over. there will be no update provided on halloween candy consumption. 😂#swingleft #VoteHimOut

— Sarah Sherman-Stokes (@sshermanstokes) November 3, 2020
---
3:21 PM — Alhassan Hashad (Pardee'22):
"I'm feeling both nervous and excited about the outcome of the election. The consequences of this election will be felt both in the US and the rest of the world. There is widespread division amongst our citizens. We're also experiencing a global pandemic that will have long-term impacts on the way we live our lives. Having an inspiring and capable leader will undoubtedly help us in our efforts to overcome these challenges. But it isn't a requirement.
We should not be waiting for a president or a government official to inspire us. We can't afford to waste that time. Instead, we should look to one another and expand our efforts to overcome these challenges. Having a good leader at the top will help. But the actions of our communities will ultimately determine whether or not we bring about meaningful change."
---
---
3:02 PM — Willis Wang, vice president and associate provost for global programs:
He voted in person last Saturday and expects to be "glued to the TV" tonight in hopes of a resolution:
"I'm in touch with colleagues and friends around the world. One word that struck me as interesting: a colleague in the UK told me that people there are 'cringing' with the thought of Trump being reelected. So, you can see where they sit. Many people around the world and also in the US are worried about the prospect of continuation of current White House policies, that globalization and international cooperation will be affected. It reminds me of a long time ago, I was an exchange student and lived in Denmark, and my Danish 'mother' was telling me how her whole country – her personally, but so many others – was so affected when Kennedy was assassinated. US policies and presidential races affect everyone around the world. Everyone's watching this, and particularly this race."
---
2:56 PM — Adil Najam, dean of Pardee School of Global Studies:
Been on #Election2020 duty. All night, all morning & its just beginning.

Explaining the crazy complications of #USElections🇺🇸🗳 (How do you lose if you win more votes? Electoral College?) to non-US populations is even more difficult than trying to explain cricket🏏 to Americans. pic.twitter.com/jushgoM5m9

— Adil Najam (@AdilNajam) November 3, 2020
---
2:45 PM — Jackie Tayabji (LAW'21):
"I've been trying to treat this day as normally as I can, because I know that normalcy can change any moment. For me, that has meant that I spent this morning talking to friends, doing some school work, and treating myself to comfort foods. My roommate and I are planning to shift gears and focus entirely on the news and election progress later this evening. However, I'm finding it hard to think past today and the immediate future. I know this election has really important long-term implications at stake, but I'm so preoccupied with the safety and wellbeing of people across the country this election day. I'm worried that people will contract COVID, face violence or threatened violence as they go to the polls, or will see intimidation in their communities. This is and has been happening, even before the results come in. I'm optimistic about what will hopefully happen this election, but know that it will be a long journey to get there. Also, I just want to end with a huge thank you to everyone out there volunteering and working at the polls today – you are so important!"
---
2:30 PM — Gabriela Yiangou (COM'22), international student from Cyprus and first-time voter:
Yiangou, who holds a U.S. passport, registered to vote for the first time this year and cast her vote at City Hall on Thursday.
"I thought this election was critical for America, because it will determine where we are headed as a country. So, I wanted to make sure I did my part and registered to vote. The staff at the polling place were extremely helpful and friendly and made the whole process more exciting because they showed that they cared about me being there, casting my ballot for the first time! Once I dropped the ballot in the drop box, I had the biggest smile on my face. I collected my 'I Voted' sticker and walked out of the building with pride in having taken part in a democratic process."
---
2:28 PM — Alexander Beatty (Pardee'21), graduate student from Dublin studying International Relations :
"I was just near the Arlington/Copley area and so many of the stores are boarded up. Just the idea that in the world's oldest democracy, in one of the most metropolitan cities in the country, you've got to board up the windows of retail stores on Election Day in fear of riots? It's a very sad state of affairs that America's gotten itself into."
Newbury Street on Election Day. pic.twitter.com/vPDYGHbtP6

— Only In Boston (@OnlyInBOS) November 3, 2020
---
2:23 PM — Kimberly Atkins (LAW'98, COM'98), senior writer for Boston Globe Opinion:
Early projection: My Election Day baked mac n' cheese is a winner. pic.twitter.com/GxI3Tvv5yW

— Kimberly Atkins (@KimberlyEAtkins) November 3, 2020
---
2:08 PM — Michelle Johnson, Associate Professor of the Practice, Journalism:
"Today, I'm thinking about work, to be honest. I'm not really thinking about the election because I have reporters out on the street right now liveblogging. We've got two in Wilmington, Delaware trying to get into Biden events, we have election results coming in later this evening that we have to get up on BU News Service, so Election Day for me isn't usually about the election, it's usually about trying to cover it and get all the logistics in place and make it work."
---
2:04 PM — Peter Paige (CFA'91):
Oh you're an Instragram Influencer? I'm an ELECTION INFLUENCER – because I #VOTE!

— Peter Paige (@ThePeterPaige) November 3, 2020
---
1:13 PM — Nicholas Deane (ENG'21), chairman, BU Young Americans for Freedom:
I feel more intrigued. In this election, maybe for the first time in my lifetime, I really have no idea how this is going to turn out. I'd like Donald Trump to win. I have confidence in the system, I think it'll produce a legitimate winner. Whether that'll be tonight will be an interesting question. It'll come down to where the vote breaks, even in North Carolina where I'm from—and I voted early—and in Florida, Georgia, Arizona. Luckily for me, I don't have class on Wednesday, I just have to get a few assignments done. I think I'll stay up to see where the vote's trending, and probably around 3, if it doesn't look there's any winner called, I'll go to bed.
---
1:03 PM — Angela Onwuachi-Willig, LAW dean:
"I saw a story that two New Hampshire towns who turned in their results–one was for Trump and one was for Biden. So not even the first news that I saw of the day gave us any sign. I've had meetings all morning, but even in my first meeting, a person brought it up—"I'm really nervous. I don't even want to think about it." I probably will end up staying up pretty late. I'm a little bit of a night owl anyway. I remember going to sleep many years ago thinking that Al Gore won, and waking up and learning that he hadn't.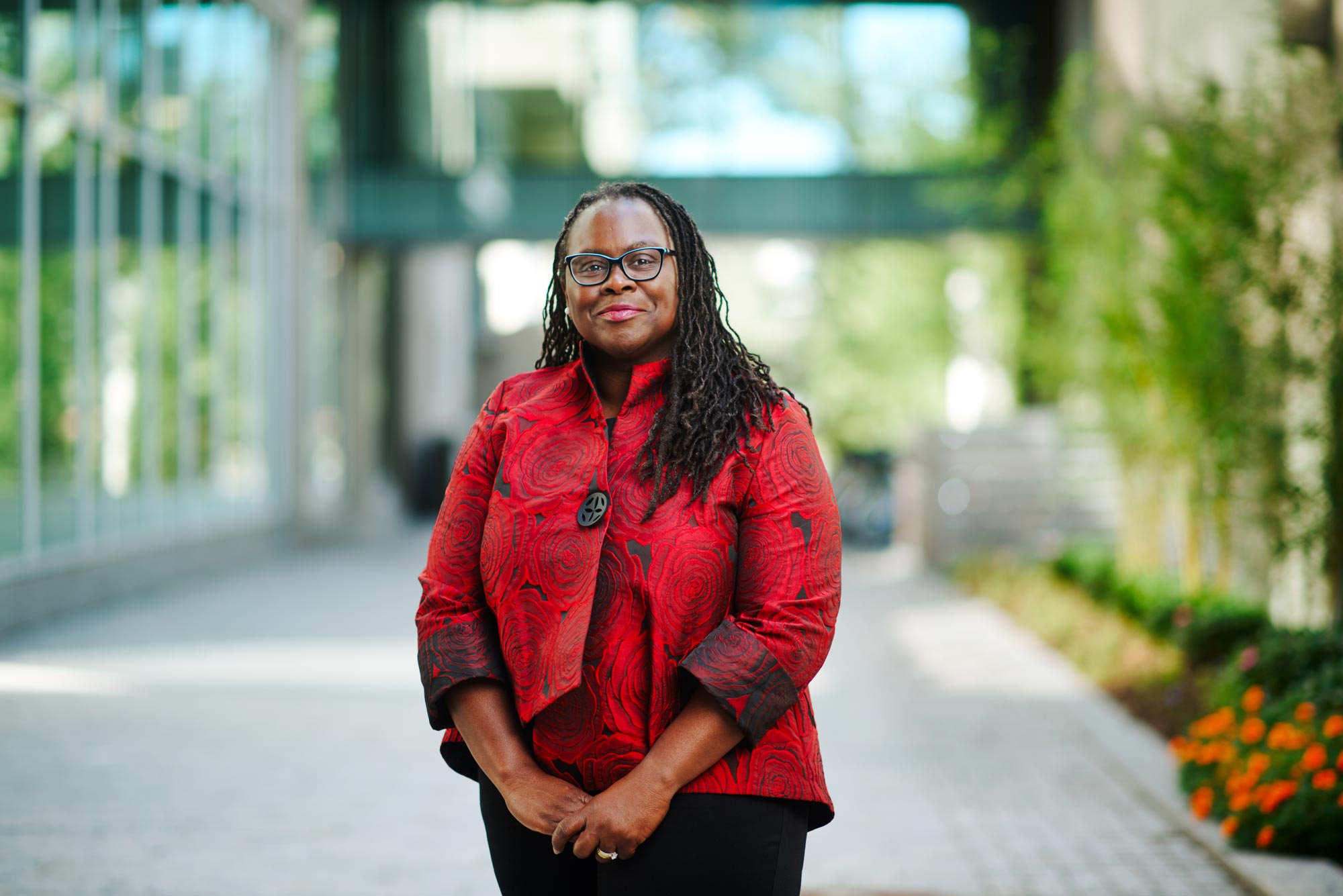 "I'm not a one-issue person. Because Trump was able to nominate so many people, I do care about the courts, so there isn't a reversal of the gains since the civil rights movement. Race relations is very important. I am somebody who believes there should be a social safety net. I guess my thing is I care most about having a government that believes in taking care of its people."
---
1:00 PM — Thomas Whalen, CGS associate professor of social sciences and political historian:
Taking a walk around Shoe Pond in Beverly in between phone interviews, Whalen expressed concern over what could happen if Donald Trump loses the election.
"The $100,000 question is: Is he going to accept the results? My biggest fear is that we're going to become a banana republic overnight. That he's going to say, 'This is a rigged election that was stolen from me; I want my supporters to exercise their Second Amendment rights and come to Washington in their pickup trucks and we'll march to the Capitol building.' The other fear I have here is the chaos if he's forced to leave. Will William Barr and the Justice Department get involved? Will there be violence? If the military has to play a role in removing him from office, that's a terrible precedent to set. Because history tells us that whenever the military is the deciding factor in a democratic election, the republic doesn't have much longer to live. He kind of reminds me of the Mad King in Game of Thrones. We haven't seen something like this since the election of 1876, the Hayes/Tilden fight, and that almost resulted in a second Civil War. That train of thought is rather frightening to contemplate."
---
12:15 PM — Professor Andy Sellars, LAW:
So far a nice if slightly brisk day at Concord's Ward 7! Hope you're all having an easy vote. https://t.co/pz3b83odzU

— Andy Sellars (@andy_sellars) November 3, 2020
---
12:00 PM — Raul Fernandez, associate dean for equity, diversity & inclusion, Wheelock College, and Brookline Select Board Member:
Fernandez was standing in line at Trader Joe's in Coolidge Corner when we caught up with him at noon:
"I walked with my fiancé to vote. We got to my polling place—the Brookline Senior Center—a little before 8:30. I'd say the mood was upbeat, but anxious. One of the poll workers was sliding a stack of mail-in ballots one by one into the voting machine—a reminder that so many people voted by mail or early. In terms of the results, I know Brookline is going to go for Biden/Harris, and so will Massachusetts, but beyond that I have no clue."
"The growing gaps in income, and race, and the intersection of the two are central issues right now. Of course, there are other big issues—the environment, housing, and other things—but they're all connected.I'm sharing content on Instagram to remind and encourage people to vote."
---
11:55 AM — Griffin Buch, news director for WTBU (COM '21):
"When you're planning election coverage, you know that you're supposed to report on the result, and typically we have an idea of when we should get it…we are going into today giving it our all, knowing that by 2:00 AM, we may very well still know nothing."
---
11:52 AM — Jean Morrison, University provost and chief academic officer: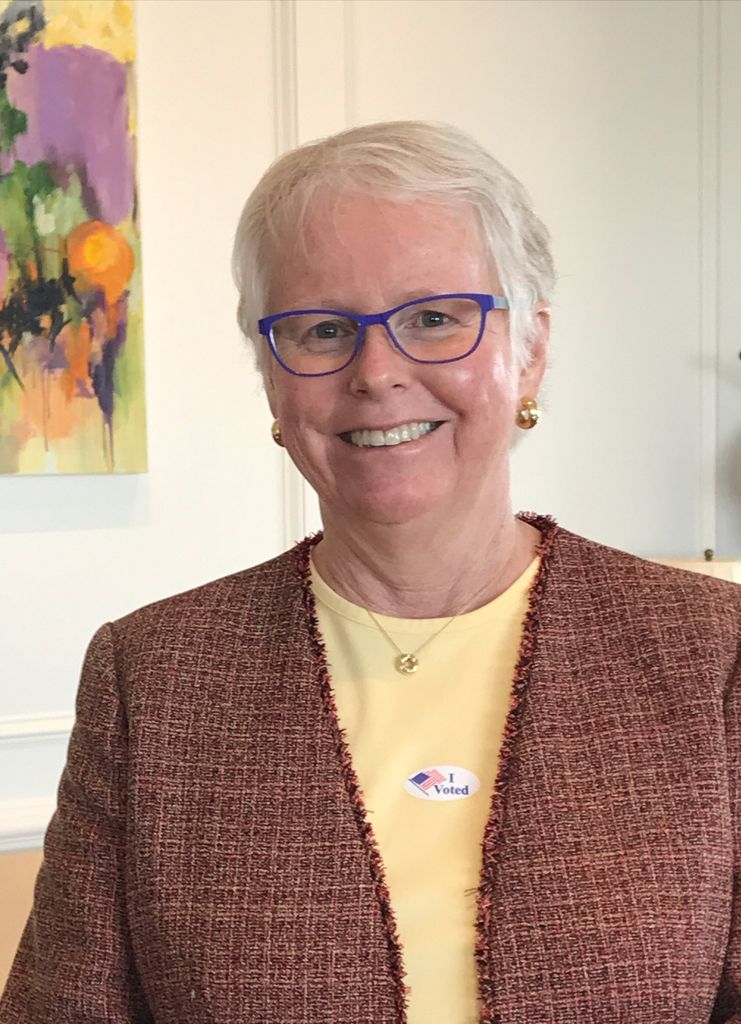 Morrison tried to vote at 7 am in Brookline, but there was a line, and she ended up going back later in the morning. She says she'll try to stay up until there are results tonight, texting with friends.
"It's been restless nights. There are so many things that are so important to higher education —policies regarding international students, Title IX, academic freedom, respect for scientists and scholars, respect for science and scholarly work, the pursuit of the truth, the capacity to continue as a global leader —all these things are on the ballot."
---
11:35 AM — Bryanne McDonough, graduate student in Astronomy ( GRS '24):
"I'm worried that today will only be the beginning. I worry about the erosion of checks and balances in our government and I worry about people not having their voices heard. There is so much riding on this election. I do have some hope, though. I've seen so many get out the vote messages and heard stories of people fighting back against voter suppression to get their vote cast, and I really believe that they will make a difference."
"I won't start really following the news until the evening, when results are actually coming in. I will be spending a lot of today standing outside my polling location in Boston with a 'Yes on 2' sign to inform voters about ranked choice voting. Working on the Yes on 2 campaign has helped me feel some control over this crazy election cycle and it's something I really believe can help fix our broken democracy. I believe we can make our country a better place for everyone and that's the hope that is getting me through this day."
---
11:20 AM — Katherine Kennedy, director, Howard Thurman Center for Common Ground:
"I did vote in person this morning. I arrived at my usual polling place at the Martin Luther King, Jr. Towers senior citizens residence. I was shocked when I pulled onto MLK Blvd. to see that there were no parking spaces on either side of this long boulevard. As I drove by the building I was even more surprised to see people lined up outside. I was expecting to just walk in, greet the folks, many of whom I know because my mother used to be the warden at that site. Instead I waited outside for about 20 minutes and then was let inside the lobby and greeted with a person offering hand sanitizer."
"I had received a ballot in the mail but decided I wanted to vote in person. I like going in person, seeing the familiar poll workers and getting my little "I voted" sticker. With all of the various news stories, I was concerned about my ballot being counted. The unusual thing that happened this time was when you placed your ballot in the box, there was a digital box that asked you to wait until it showed that your ballot was received, and confirmed that you voted."
---
11:13 AM — BU Athletics:
Make sure your voice is heard!#AllVoteNoPlay 🗳#PLVotes pic.twitter.com/0pIwl9hh7A

— BU Athletics (@BUAthletics) November 3, 2020
---
11:11 AM — Rose Collins, School of Law 2022, vice president of BU Law Students' Government Association:
"I'm spending my day working as a poll monitor, making sure that peoples' votes are protected, and if there are any issues with machines or with voter suppression I can report it and it can be rectified. This year that's especially important because COVID is making it very easy for there to be problems with voter suppression, and it's so important to protect our right to vote."
"I started my day by texting my old boss who is a Congressional candidate in Syracuse, saying 'Here we are at the finish line, I'm so proud to have worked for you.' I'm taking her vision of what the world can be."
---
11:03 AM — Kedzie Teller (COM'12):
Blasting Christmas music, playing video games, and cooking ALL day. My apartment smells like Italian HEAVEN right now while my red sauce simmers. pic.twitter.com/CbvegX287x

— Kedzie Teller (@Kedz) November 3, 2020
---
11:00 AM – Steven Rosenzweig, assistant professor of political science:
Rosenzweig recently published an op-ed in the Boston Globe with Professor Robert Blair of Brown University, "Get Ready to Protest Like Democracy Depends on It," concerning the President trying to delegitimize the results. He voted early in-person last week at his home in New York City.
"The good news is that Joe Biden appears to have a sizable lead and seems on track to have a convincing victory, but that is very uncertain of course. We've seen continued very problematic rhetoric from the President around the legitimacy of the vote, and attempts from his allies in the party to prevent valid votes from being counted. So, in that respect I'm still concerned. And I'm making my own plans to get out there tomorrow afternoon should the need arise."
---
10:52 AM — Ibram X. Kendi, Director of the Center for AntiRacist Research:
On this #ElectionDay, it is important to stress that politics is another word for power. To not do politics is to not do power. And what happens when we don't do power? Fascism happens. Bigotry happens. Injustice happens. To engage in politics is to engage our power. 1/6

— Ibram X. Kendi (@DrIbram) November 3, 2020
---
10:43 AM — Danielle Citron, LAW professor and expert on cybersecurity
This election season young people have moved mountains to get out the vote, educate folks about candidates, do the work of citizenship, and show what belonging means. I'm grateful to @TalYahalom @Wkimani04 @giandefilippis @jjcitron_ @citroneeee @GehrViolet #TeamBeckyGrossman

— Danielle Citron (@daniellecitron) November 3, 2020
---
10:40 AM — Tyler Creighton, School of Law 2021, member of the BU American Constitution Society:
"I'm feeling confident, but I don't want this thing to be even close. We need a landslide to send a strong message, keep courts out of deciding the outcome, and ensure Democratic majorities in Congress so that we can actually pass new laws to tackle all of the challenges we face. I'm spending the day at home making calls and sending texts to swing state voters. Focusing primarily on Pennsylvania because it is the closest of the rust belt states and Trump really can't win without it. I had intended to do a bit of school work in between but finding it hard to focus on that and there are always more calls/texts to make. (Thank you BU Law for cancelling classes today!)"
"I'll be finishing the day with a Zoom session and beers with a small group of BU Law friends. Also took some homemade chili verde out of the freezer as a comfort food treat. We got this!"
---
10:10 AM — Mariette DiChristina-Gerosa, Dean, COM:
"As a journalist, I learned here at COM that I of course have to read all the papers. I started with the Boston Globe this morning and the New York Times, and I do look at Twitter and other social platforms. But most of all, I think I'll be watching the COM students work. BUTV10, BU News Service, WTBU, and the Statehouse Program all have special coverage that they've been doing beforehand and today, so I'll be watching a lot of that."
---
10:05 AM — Rady Roldán-Figueroa, associate professor and director of diversity, equity and inclusion (School of Theology):
"I have been worried, but I have to say that I feel very proud of this country, to the point that it brings me to tears. A hundred million people already voted. I'm very proud for our democracy. Even though there has been tension in different places related to the campaign, these are not bullets, these are votes. Where on the planet do you have a democracy of this size in which we agree to decide the state of the country in this way? It's very moving."
"There's a crowd of issues at the top of my list. I think the Trump administration has been very anti-immigrant. I see it at Boston University with the uncertainty that international students live, every day. We have seen attempts to change the regulations governing the status of international students. They come to this country, they want to get an education here, and to have these policies that limit access of international students to our educational institution–that has been very important for me. I have a couple of deadlines for publication. I'm writing in front of the TV set."
---
10:03 AM — Manjari Chatterjee Miller, associate professor of International Relations at the Frederick S. Pardee School of Global Studies and research associate at the Oxford School of Global and Area Studies:
"I'm dealing with election madness by imposing a complete news and social media blackout on myself beginning today and ending Wednesday."
---
9:59 AM — Anna Scholz-Carlson, journalism student and BU News Service reporter:
At the Kilachand Polling center 239 votes have been cast this morning, according to the warden @BUNewsService #buns2020vote pic.twitter.com/HwwzKH8tPz

— Anna Scholz-Carlson (@ascholzcarlson) November 3, 2020
---
9:36 AM — Saida Grundy, assistant professor of sociology and African American Studies:
"I feel like I'm approaching today like someone on a date who has a history of abusive relationships… I'm keeping my hope tempered. ​My students are on our class chat telling me the Costco shelves are all emptied out. it's like the start of the pandemic all over again."
---
9:36 AM — Dylan Giordano (CAS'24), Event Board member, BU College Democrats:
"I'm cautiously optimistic but nervous. Polls were also very hopeful in 2016; we see a repeat of those polls being hopeful for Joe Biden. Maybe he's not the best president in the world, but [he'd be] a competent president. He's a decent man and he's a competent politician, and I'll be Ok with that. Everyone I've talked to has been like, don't look at the news [today], you're going to get in this rabbit hole. I'm not taking their advice whatsoever. I'll be on my TV as soon as possible. It is very likely I will be up until the sun comes out. I have a 9 am tomorrow, political science, so it'll be a full day of politics. That class will be remote, thankfully."
"I'm aware it's possible they don't know a winner tonight, and it's possible states begin tonight looking one way–perhaps going in Trump's favor if they count in-person votes first–and as they count mail-in voting, it flips. That's not evidence of fraud."
---
9:15 AM — Kenann F. McKenzie, director of the Aspire Institute at Wheelock College of Education & Human Development:
McKenzie says one way she prepared last night was by posting a special election episode of her podcast "The Aspiring Spirit." The episode deals with how a political agenda divides the Black Lives Matter and Blue Lives Matter causes.
---
9:03 AM–Susan Akram, clinical associate professor (School of Public Health), director of International Human Rights Clinic (School of Law):
"My father and grandparents were refugees from India during the 1947 partition. My grandparents and my dad lost everything. They were very fortunate to get out with their lives. I was born in Pakistan, raised there, and my childhood was with very traumatized people.
"For me, the anti-immigrant, anti-refugee policies that have been put in place have been absolutely horrifying. The US has traditionally had a quota of between 70,000 and 80,000 refugee admissions every year, and this October, not a single refugee was admitted. Probably in the 2020 fiscal year, no more than about 1,800 refugees have been resettled in the United States. This administration in such a short time has basically ended that welcome mat. I voted early. My 18-year-old daughter voted for the first time, and we're so proud of her. She was really anxious to vote. The racist statements that have come out of this White House have been personally very distressing but also for the growing minorities that are soon to be majorities in this country."
---
9:02 AM — Victoria Casey (COM'21):
"I'm most concerned about the unity of the country. Whichever way the election goes, the country is so divided right now. I hope that whoever is elected, their goal would be to unify us again."
---
8:35 AM — Sarah Sherman Stokes (LAW):
a few weeks ago, my 6 year old helped me mark #BidenHarris2020 while his little brother sat beside him stressing out over the state of our democracy. #vote #VoteBidenHarrisToSaveAmerica pic.twitter.com/tMr7zLiZ2i

— Sarah Sherman-Stokes (@sshermanstokes) November 3, 2020
---
7:31 AM — Dean of Students Kenneth Elmore (Wheelock'87) :
Elmore spoke while waiting on line to vote in Brookline. "I feel great. Before I came over, I read a speech that Martin Luther King gave about voting in 1964. That was inspiring, and he was real prescient too, because it sounds a lot like what is going on right now. For me, it's important that I physically come down here on Election Day. That's an important thing to me with my ancestors and all the people who stood in line for years to make this happen, and in some cases gave their own bodies to make this happen."
Elmore said he expects to spend most of the day and evening walking around campus. "I hope there is a good solid mood about democracy and our ability to participate in it. I think that we're going to see a lot of people nerve-wracked." He's planning to stay up all night to watch results himself.
This Series
Also in
November 13, 2020

November 11, 2020