How BU Has Responded to the Rapidly Unfolding Coronavirus Pandemic So Far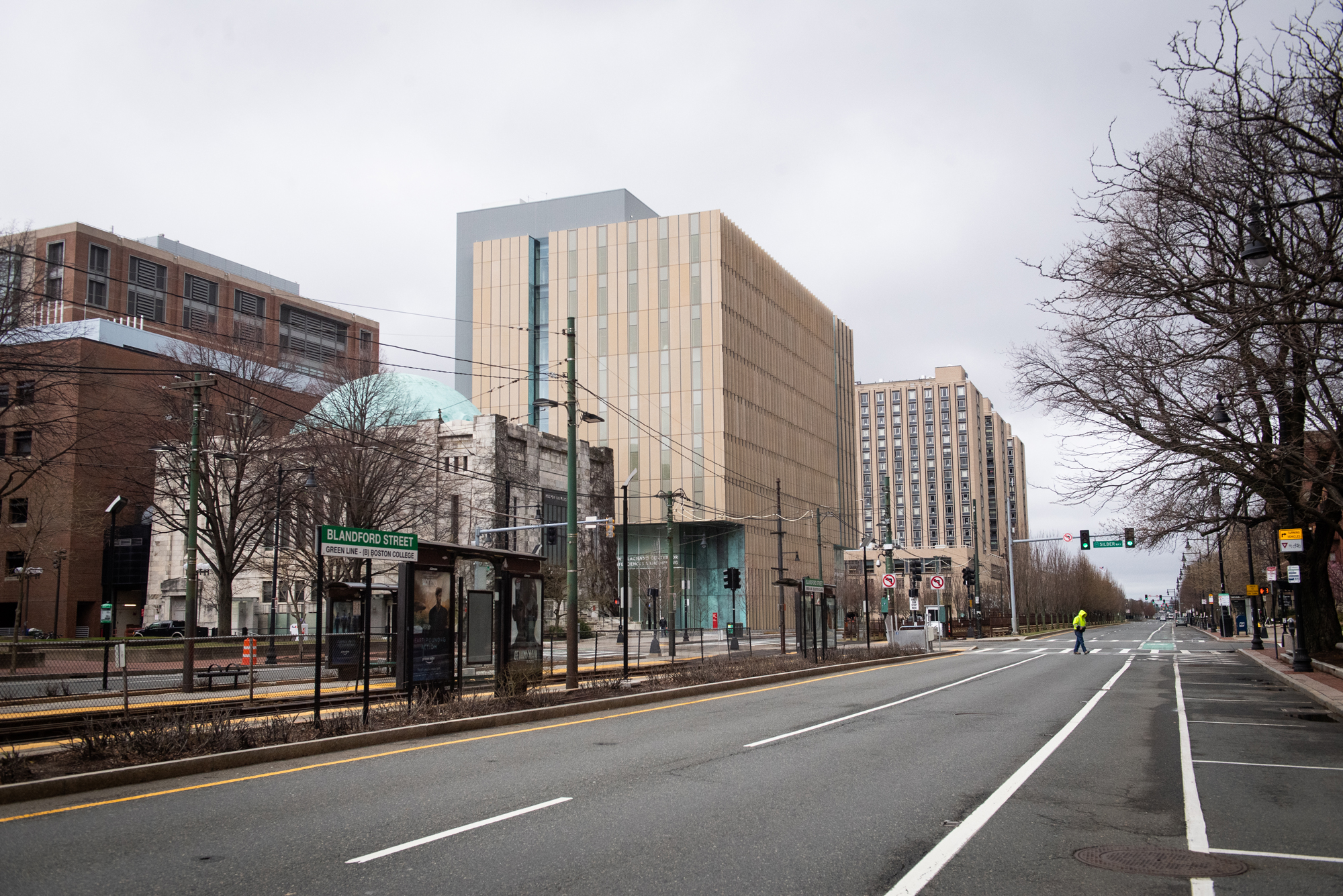 University News
Did You Miss Something? Big Decisions BU Has Made about the Coronavirus Crisis So Far
A timeline of the University's critical responses to the pandemic
Starting with its announcement on March 9 that all classes would be conducted via remote teaching and learning from March 16 to April 13, Boston University has had to continually address and refine its plans for the spring semester as the number of coronavirus cases locally and globally spiraled upward. In case you missed any of the major announcements, here are some of the University's biggest decisions during the past three weeks.
March 9


University announces plan for remote teaching and learning if COVID 19 forces campus closure
In a letter to BU faculty on March 9, Jean Morrison, BU provost and chief academic officer, outlines the development of a new remote teaching and learning plan that would allow students to continue taking their courses online if an emergency campus shutdown becomes necessary and regular classes have to be canceled.
March 11


All BU classes to be conducted remotely starting March 16 and going to April 13; campus to remain open after spring break for those who cannot return home
The University's decision comes a day after Massachusetts Governor Charlie Baker declares a state of emergency, as the commonwealth's coronavirus cases surged to 95 (77 of them tied to a single Biogen conference held in Boston), and passed 1,000 in the United States, across more than 30 states.
March 17


University says it will extend remote teaching and learning through the entire spring semester; all campus residences to close by March 22
BU extends remote teaching and learning through the end of the spring semester for its 35,000 students and 4,000 faculty and will close residence halls as of Sunday, March 22, to try and help contain the fast-spreading coronavirus. Appeals to remain on campus can be requested, but will be granted on a limited basis.
March 23


In response to Governor Baker's decision to issue a "stay-at-home advisory" for all Massachusetts residents, effective March 24, BU says its research labs should stop normal operations and shift to basic maintenance only
University faculty are allowed to continue their remote teaching from campus and other workers deemed essential are still allowed to come to work, the University says.
March 25


BU to make standardized tests optional for students applying for admission next year in response to COVID-19 pandemic; policy is in place only for next year
With high school juniors suddenly unable to take the standardized tests required by many colleges and universities because of COVID-19, Boston University says it will go test-optional for undergraduate students applying for the fall 2021 and spring 2022 semesters.
March 26


BU announces decision to postpone Commencement until late summer or early fall
Bowing to safety needs amid the coronavirus pandemic, the University says it will postpone its 147th Commencement and related events, originally scheduled for May 14 to 17, to either late August or early fall. President Robert A. Brown pledges to provide an update by May 1.
March 26


School of Medicine says it will graduate students early to help hospitals cope with pandemic
MED joins the three other Massachusetts medical schools in plan to help the state's overstressed healthcare system.
March 27


University offers students Credit/No Credit option for spring 2020 classes
BU announces that all undergraduate and most graduate students will be able choose between a letter grade and a Credit/No Credit option that will not affect their GPA for this semester.