BU Extends Remote Classes through Spring Semester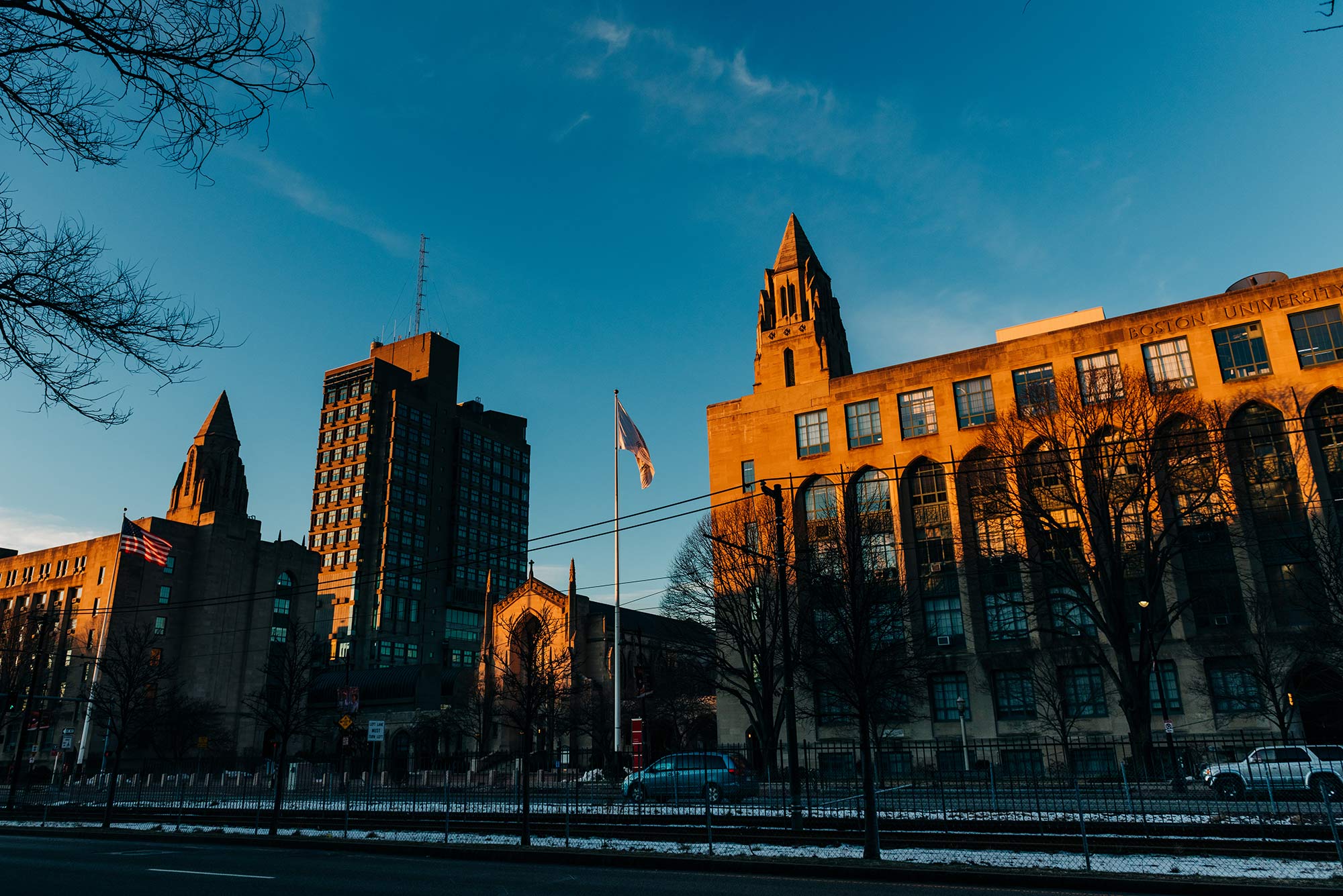 University News
BU Extends Remote Classes through Spring
Students must leave campus by March 22, no word yet about Commencement
If you have a question or comment related to BU and its response to the COVID-19 crisis, on the subject of the move-out, remote learning, retrieving personal belongings, or anything else, please visit Boston University's special COVID-19 website. Questions are being answered there by specific departments in a timely fashion. Thank you.
—Doug Most, executive editor, BU Today
In an unprecedented move reflective of these uncertain times, Boston University will extend remote teaching and learning through the end of the spring semester for its 35,000 students and 4,000 faculty and will close residence halls as of Sunday, March 22, to try and help contain the fast-spreading coronavirus, BU officials announced on Tuesday evening.
The status of the May 17 Commencement of the Class of 2020 is still "in flux," according to Robert A. Brown, BU president.

While residence halls will close, officials stressed that BU as an institution remains open, with teaching and learning continuing through remote classes, some ongoing research permitted, and all administrative offices still operating, either remotely or on campus, if necessary.

"I recognize that this is a painful decision for all our students, who thrive on the interactions with others as part of their experience as members of the Boston University community," Brown wrote in a letter to students, faculty, and staff. "I know this is especially difficult for our seniors and other candidates for graduation who undoubtedly have questions about how we will celebrate their achievements. Our hope is that our virtual technology will allow us to stay connected as we study and interact remotely, but I know it will not be the same."
In a separate letter to parents, Brown acknowledged that this drastic move for students must leave some opportunity for exceptions for students who may not be able to return home. "We understand that going home is not possible for everyone," he wrote to parents. "Those seeking exceptions should complete this appeal in order to be considered for an exception."

His letter outlined the process: "Appeals to remain on campus can be requested, but will be granted on a limited basis and, generally, only for students who have a permanent address in a country where travel is currently restricted (as of Tuesday, March 17, 2020) and no alternative place to reside in the United States; or, for students with extraordinary, extenuating circumstances that makes leaving housing an impossibility. Students who seek to remain should be aware that they will likely be asked to move to a different residence hall. Also, campus services, activities, and interactions will be severely limited."

The University is also finalizing details for students to receive either credits or refunds on their dining and residence fees, and Brown wrote that room and board "costs will be prorated for the remainder of the semester for all students leaving campus."

The impact of BU's decision on University employees will be addressed in emails to them from the University provost and the senior vice president for operations.

---

This last month we have experienced unprecedented uncertainty as Boston University and the rest of the world have confronted the spread of COVID-19. It has been amazing to watch our students, faculty, and staff quickly adapt to changes in the way we live and teach, especially the extraordinary efforts needed to take our courses online.

---
The historic decision from Brown came after the University initially set April 13 as a tentative date to return to in-person classes after a period of remote learning, with the hope that there would still be an opportunity for in-person classes to resume if the coronavirus was quickly contained. That was why some students were still permitted to remain on campus, although they were discouraged from doing so.

However, as the number of people infected with COVID-19 has continued to rise at an alarming rate, both locally and globally, and travel restrictions around the world have become more restrictive, University leaders decided that resuming in-person classes in mid-April was unrealistic. Once that decision was made, there was no longer a reason to continue allowing students to remain on campus.

BU students, suddenly forced to stay connected from afar through social media, began sharing some poignant thoughts online about being separated from their routines and friends. On Reddit, one Terrier's post struck a chord with others.
"With the full transition to online classes, I'm starting to recognize how much I really enjoy and miss in person classes," the poster wrote. "At least for me, Questrom lectures are hella fun and enjoyable because of the in-class vibe where everyone wants to learn, the class discussions amongst students, and the ability of the amazing professors to share their knowledge with us."

One student replied: "I agree 100%. As a senior I feel like I took it for granted and never realized how much I'd actually miss it." And another added, "This is a massive lesson! I'm going to appreciate every dumb little thing about normal life after this. I'm grateful for the humbling."

Brown's second letter went directly to parents of students, who have been anxiously awaiting guidance on how and where their young adults will be spending the remainder of their spring as a global pandemic has paralyzed much of the world and left thousands quarantined or in self-imposed isolation. Globally, as of Tuesday, there were 183,372 reported cases of COVID-19 and 7,167 deaths, while in the United States there were 4,661 cases, including 218 in Massachusetts. The United States recorded its 100th death from the virus this week.

"This last month we have experienced unprecedented uncertainty as Boston University and the rest of the world have confronted the spread of COVID-19," Brown said in his letter to the BU community. "It has been amazing to watch our students, faculty, and staff quickly adapt to changes in the way we live and teach, especially the extraordinary efforts needed to take our courses online."

BU's decision is particularly challenging given its expansive research operations, which comprise more than 4,000 researchers and close to $600 million in funding awards.
At this point, BU's Office of Research is asking its researchers to minimize all lab activity to the greatest extent possible by Thursday, and to plan for at least several weeks of minimal activity. The goal is to reduce in-person interactions and the density of people in BU labs, with as much research as possible conducted remotely, and only critical activities being done in the lab.
Gloria Waters, BU vice president and associate provost for research, says that principal investigators should work with their groups so that to carry out critical work no more than three people are inside a lab at a time. Work that can be delayed or stopped should be, and meetings should be held remotely.

The University's decision will have other broad-reaching impacts across the Charles River, Fenway, and Medical campuses.

Clinics run by Sargent College of Health & Rehabilitation Sciences and the College of Arts & Sciences have canceled in-person appointments and are transitioning to exclusive telehealth service delivery where possible.
Students on the Medical Campus on clinical rotations and students in the BU Physician Assistant Program are currently receiving orientation or additional online instruction. They have been instructed not to provide direct care to patients with presumptive or confirmed COVID-19 at any clinical site to minimize unnecessary exposure and to conserve personal protective equipment (PPE), and they will follow policies at various hospitals and clinical sites if they are more restrictive.
For the Henry M. Goldman School of Dental Medicine, nonemergency patient care at the 635 Albany Street Patient Treatment Center and the BU Dental Health Center at 930 Commonwealth Avenue are being discontinued, effective March 18 through April 13. Also, SDM students are receiving online instruction and participating in small-group exercises.

"For most of us, these last few days have been the most unsettling times of our lives, and the uncertainty of those days will no doubt be with us for months ahead," Brown wrote to parents. "We are doing all that we can to guide our community through this pandemic and make it possible for students to continue their Boston University education. Our students' health and safety has always been our first priority."

Read the full text of Brown's letter here.