BU Suspends Amid COVID-19 Pandemic, University Cancels Spring Study Abroad, but Is Considering Virtual Alternatives for Students Who'd Hoped to See the World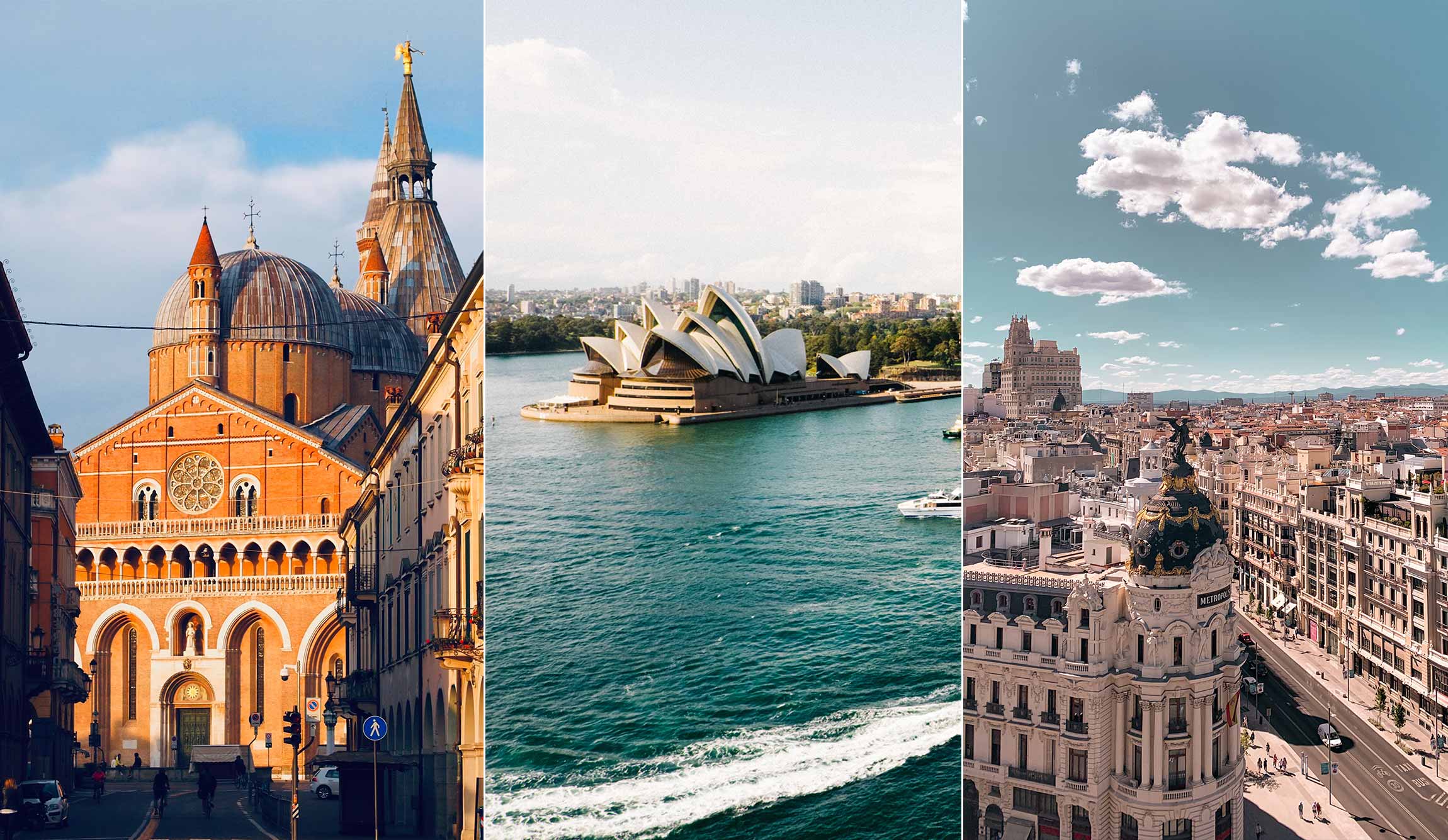 Study Abroad
Amid Worldwide COVID-19 Surge, University Cancels Spring Study Abroad
Global Programs considering virtual alternatives for students who'd hoped to see the world
BU suspends spring Study Abroad programs because of COVID-19
Will offer virtual alternatives to students who'd registered for foreign study
Pandemic has disrupted four straight semesters of Study Abroad
The global COVID-19 surge has forced BU to suspend Study Abroad programs this spring, the fourth straight semester of foreign study upended by the pandemic. The University is brainstorming virtual alternatives for the 469 students, from BU and partner universities, who had registered for BU's overseas offerings.
Study Abroad notified those students of the programs' suspension October 22 and encouraged them to sign up for classes on the Charles River Campus during spring semester registration, which is open from November 21 to December 1.
"We realize that the decision to suspend our in-country spring Study Abroad programs will cause serious disappointment for our students, as many of them plan as an important part of their college experience the chance to study and live away from their home campus for a semester," says Willis Wang, vice president and associate provost for global programs. "We sincerely regret the disruption and inconvenience this decision causes. However, the heath and safety of our students, faculty, and staff is critically important."
The suspension affects BU-operated sites in London, Madrid, Paris, Dublin, Geneva, Padua, Venice, Sydney, Los Angeles, and Washington D.C. (the latter two are part of Study Abroad's programming). It also affects sites run by BU partner institutions in Copenhagen; Milan; Arezzo, Italy; Singapore; Tokyo; Kyoto; Seoul; Haifa, Israel; and Monterrey and Puebla, Mexico.
The suspension was announced on the same day the virus shattered the record for worldwide daily cases: 443,000-plus. More than 41 million cases around the world have been reported since the pandemic began, with the death toll exceeding one million.
Wang says that before BU made the decision to suspend, "the pandemic had already reduced the typical number of applicants from BU and from US partner institutions who also send us students, as many have suspended their spring study abroad programs."
As one alternative to the suspended programs, Wang says, his team is considering a three-continent section of the BU Hub's Cross-College Challenge (XCC). The Study Abroad's section of the XCC would be a remote course to be supervised by BU Global Programs directors in Sydney, Australia; Madrid and Padua in Europe; and Boston, Los Angeles, and Washington, D.C., in North America.
Gareth McFeely, executive director of Study Abroad, says the XCC "aims to address some of the most critical issues currently impacting our world, looking at the ways that the COVID pandemic has further exposed inequalities of race and gender across the globe, and looking particularly at media representation of key challenges created by the global health crisis."
"The XCC creates the opportunity for us to completely reimagine what Study Abroad can bring to the table for BU students," Wang says, "and we're already looking to develop additional ideas for fall 2021 and beyond."
Beyond the XCC, he says, his office is "working on virtual academic internships offered through most locations where we normally offer academic internships, and a small number of courses taught by our staff instructors based overseas and available to any eligible Charles River Campus student."
In particular, Wang wrote in a memo sent to the University's academic deans, BU hopes to offer a program for undergraduates based in China—those who do not need a Chinese visa—via Study Abroad's Shanghai center. The program would be a variant of the traditional academic internship offered to juniors and seniors and would include in-person, virtual, and hybrid options, he wrote.
For Juliette Barry (COM'21), the news completed a trifecta of disappointment. "I had applied to study abroad for summer 2020" in London, she says, "and when that got canceled, I then reapplied for fall 2020, and when that got canceled, I then reapplied for spring 2021" in L.A.
"I'm not surprised that BU made these decisions to cancel," Barry adds. "I get it. But what can I say, it's still disappointing. I'm a senior, and I've missed every opportunity to have a once-in-a-lifetime chance to live abroad during my college years. But it is what it is. I will say it's a bit comical to me at this point. I guess I just wasn't meant to study abroad! I'll try to travel one day in the future."
During a stressful fall semester, Maya Malde (Questrom'22) was eagerly anticipating spring in Sydney, including a possible wine-tasting class. "Study abroad for such a long period is a unique thing to college, and BU has such a wide selection," she says. "It's just a shame—once I graduate, I won't have that time again."
Last spring's programs were cut short as the pandemic first erupted, temporarily stranding some Terriers in Quito, Ecuador, until the University chartered a flight home for them. The outbreak subsequently preempted summer and fall programs altogether.
BU's is one of the oldest such international college experiences in the country, begun in the 1970s to pair foreign study with students' undergraduate years. The University also pioneered US academia's first overseas internships. Before COVID-19, BU and partnering colleges and universities were sending more than 2,400 students annually to the University's 90-plus programs in 25 nations on 6 continents.
Alexander Puri (COM'21) and Brady Gardner (COM'22) contributed to this report.