Five BU Students Looked Forward to a Semester in Ecuador. It Turned into a Struggle to Get Home Amid a Pandemic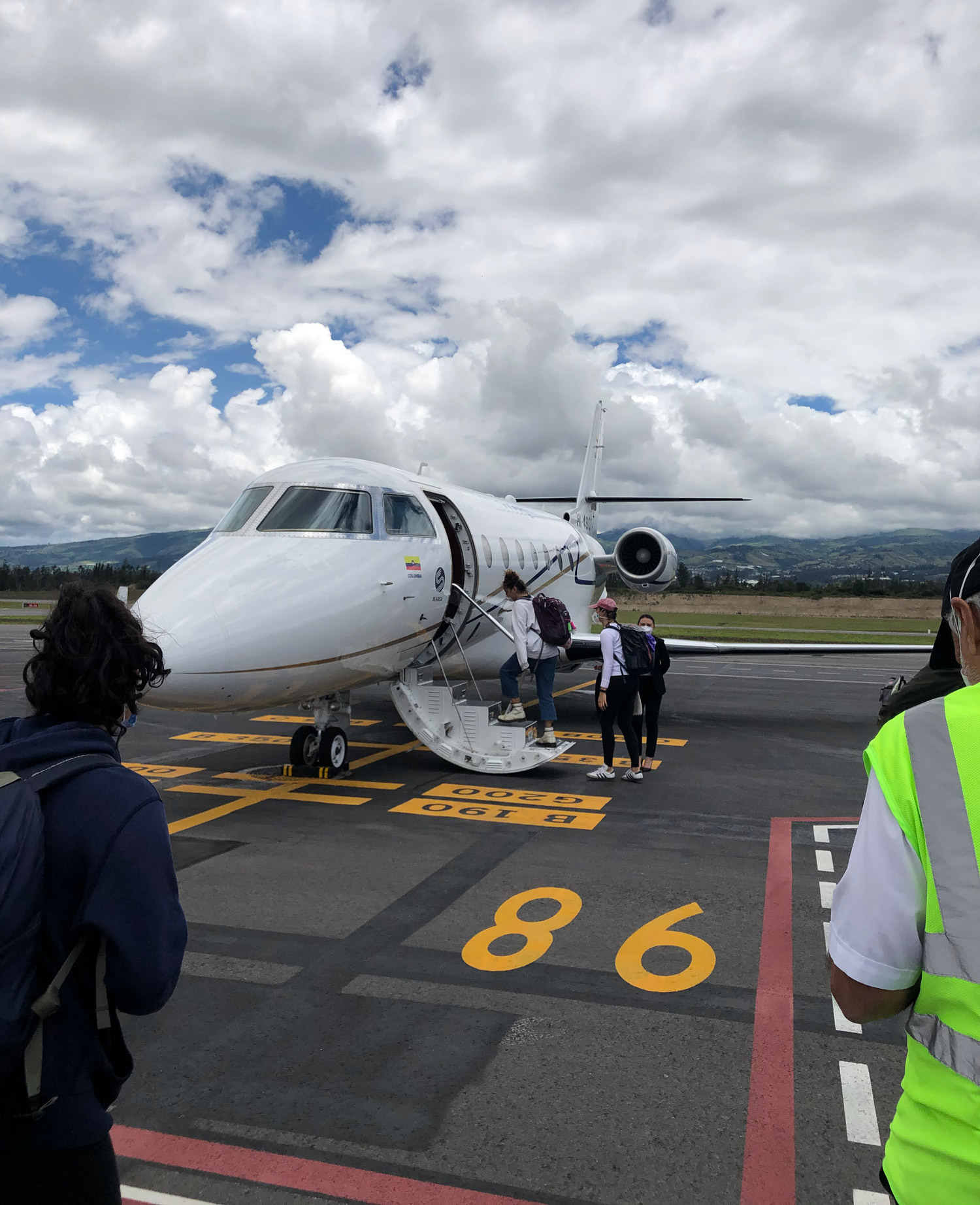 Coronavirus
Escape from Ecuador: The Race to Get BU Students Out amid Global Flight Bans
How the University scrambled to bring home Terriers trapped by the coronavirus pandemic
Sophomore Joel Herbert and his fellow study abroad students in Quito, Ecuador, huddled with their program director on Saturday, March 14, as Boston University began limiting Quito study abroad programs in the face of the fast-spreading coronavirus pandemic. Of the 16 students, 11 elected to leave the country, with the option of continuing their studies remotely, and flew out two days later. Herbert (CAS'22) chose to stay.
"I felt as though I could make it through [any] travel ban and leave in May," he says, "and we had heard nothing from BU, so I assumed that the program was still good to go." Things changed in a hurry. The University alerted staff and students Monday, March 16, that the residential portion of their program had been canceled. The five remaining students arranged to fly out—only to have US airlines cancel international flights that evening.

Another student, Nathan Plowman (CAS'21, Pardee'21), wrote about his experience on Twitter and was interviewed while stranded in Quito by an Arkansas television station (Plowman is from Fayetteville).

"We're nervous to see what's going to happen. We have a bunch of anxiety while we're here," he told the station.

Trapped in Ecuador, Herbert, Plowman, and the others had become involuntary cogs in a news story about Americans abroad in Latin America scrambling to find passage home amid cascading border tightenings or closures globally against the pandemic. What followed was a dramatic sequence of events in both Quito and 3,000 miles away in Boston, in an all-out effort to find a way to get five BU students safely out of the country.

---
"We don't do emergency evacuations for a living," says Willis Wang, vice president and associate provost for global programs, who with his team put in sleepless days and nights in search of a way to extract the Terriers.

Herbert and most of the Quito-based students were in the Quito Latin American Studies Program, where they take all their classes with BU's partner institution, Universidad San Francisco de Quito (USFQ). The rest were in BU's Ecuador Quito Tropical Ecology Program, with both courses and fieldwork in the Amazon rainforest, supervised by Kelly Swing, a USFQ professor of environmental science and a College of Arts & Sciences adjunct professor of biology, and Maria Antonieta Zalles, Study Abroad's Ecuador program coordinator.
Once BU announced it was canceling its program, Herbert spent the night of March 16 with his host family. The following morning, Quito's mayor sprang his own surprise, restricting road travel in the city of two million in what was essentially a shelter-in-place order. BU rebooked the students on the earliest non-US flight out—scheduled three weeks away, for April 6. There was a tantalizing "abundance of charter flights" earlier than that at Guayaquil, another city that is a gateway to the Galapagos Islands, Wang says. But the road travel ban put that beyond the students' reach.
"We had a call with our site directors," he says. "They shared that they couldn't easily move about the city."
i am incredibly greatful to have an amazing support system through my fellow students and friends stuck here, my program advisor, my family, and my friends. our flight is booked for april 6, but we long to be home with our families as soon as possible

— nathan plowman (@nathanbplowman) March 19, 2020
Herbert rode an emotional roller coaster over the next few days. His kindly host family tried to relieve his anxiety, passing the time making ceviches with him. "But I was incredibly stressed," he says. "I remember Monday night and watching all the flights get canceled and just feeling helpless." Heartbroken that his adventure abroad had been scotched, and with it a scheduled research trip in the Amazon, he nonetheless was grateful to the University for its steady guidance to students after their flights were canceled.
He was also bored, sheltering in place under the government's edict. He couldn't go for a run to sweat off the stress. He began heaping blame on himself and others.
"I was disappointed in myself for not having seen this coming earlier," he says. "I was disappointed in BU and the US embassy for what felt like a lackluster effort to help us. And mostly, I was disappointed by what I believe to be an unnecessary overall sense of panic that literally shut down a country without any thought for those who may not be able to withstand an indefinite quarantine."
Plowman felt safe with his "host mom," he says, and with Ecuador's antivirus precautions. "I wasn't really sure if I was going to go home or stay, and that's what caused the majority of my anxiety…that sense of uncertainty. I didn't want to leave because I had worked so hard to get there and I came with the intention of staying the entire time and bettering my Spanish."
Program coordinator Zalles and her husband, Jorge, made the difference. "They called all of us all the time to make sure we were okay and we felt safe," Plowman says.
---
Actually, BU Global Programs and its Study Abroad staff members had eyes all around the globe, monitoring the pandemic, Wang says. "While Quito and Ecuador were not yet experiencing sustained transmission as seen in other parts of the world, there had been some cases," prompting the offer home that the first wave of students had accepted.
By Wednesday, March 18, Ecuador had joined the rush of nations suspending international arrivals into the country to deflect coronavirus. What had been a logistical headache for BU became frantic anxiety over the Terriers' safety. "In an abundance of caution," Wang says, "my team and I began plans to identify charter flight options to evacuate our students as soon as possible, and the team worked tirelessly to ensure that the students got out of Quito quickly."
They were prescient. That very day, the US Department of State issued a Level 4 travel advisory, urging Americans not to go abroad and to hurry home if they already were outside the country.
Initially, Herbert says, he was unimpressed with the University referring students to a travel agency to book flights home. "However, as the situation started to look more grim, BU was able to find us a very nice flight out of Quito, and I'm eternally grateful for that." He and Plowman give a shout-out to Sarah Vankirk, a BU Global Programs health, safety, and security analyst. "She created a WhatsApp group chat for students that were stuck in Quito," Herbert says, "and she gave us updates on our situation and answered our questions."

The American Embassy provoked conflicting feelings as well, Herbert says, initially ignoring the students' calls and emails seeking help in booking a flight. Once the Level 4 advisory was put into place, however, officials became more responsive.
But BU had already acted—less than one day after the Level 4 advisory took effect. "We had our students on a charter flight provided by US-based Monarch Air, with a plane they had waiting in Bogota," Wang says. "Monarch flew their plane to the Quito airport, picked up our students, and flew them immediately to Miami-Opa Locka Executive Airport."
The flight also gave new meaning to the phrase academic collaboration, as BU gave a lift to Professor Stephen Tufte and two students from Lewis & Clark College in Oregon, as well as a University of Miami student. The entire group, with luggage, filled the capacity of the plane and allowed it to quickly depart Quito within an hour of its arrival from Colombia, helping to minimize the risk of the flight being grounded in Quito.
"It feels good to be home safe and this was largely due to the BU folks," Tufte says. Unfortunately, it's too late for me to send my kids to BU!"
"We were happy to be able to assist other US students and faculty unable to leave Quito this week, and wish we could have helped more," Wang says. "Throughout this process our goal was to ensure the health, safety, and well-being of our students, as well as providing support to our Quito-based team. We are relieved that the entire effort went smoothly and that all our Quito students were safely home before the weekend."
There's no reliable count of American students stranded abroad, although hundreds of thousands typically study overseas each academic year. Other US travelers have found their government's aid as scattershot as Herbert had; while the Air Force on Friday flew a women's football team home from Honduras, President Trump's pledge of a military lift home from Peru for Americans has been slow to come.
Plowman says BU should have shut down the residential portion of the program a week before it did, which would have averted last week's ordeal. But on balance, "I do not regret participating in the program at all," he says. "It will remain one of the best decisions of my life."
Now home in Maine, Herbert looks back on the week with mixed feelings.
"We endured a week of uncertainty, of fear and worry, which paralyzed us in our rooms, unable to attend classes or thinking about anything other than our situation," he says. But coming home made him wonder if the United States has been as aggressive as other parts of the world in fighting the pandemic.
"Given the precautions that Ecuador is taking to fight coronavirus, it honestly did not feel that dangerous, and given the hands-off approach that the United States has mainly had, I would say that we were much safer staying in Quito," he says. "It is, however, most certainly a story I will never forget."