State Planned Parenthood Head Jennifer Childs-Roshak Talks about Importance of Protecting Roe v. Wade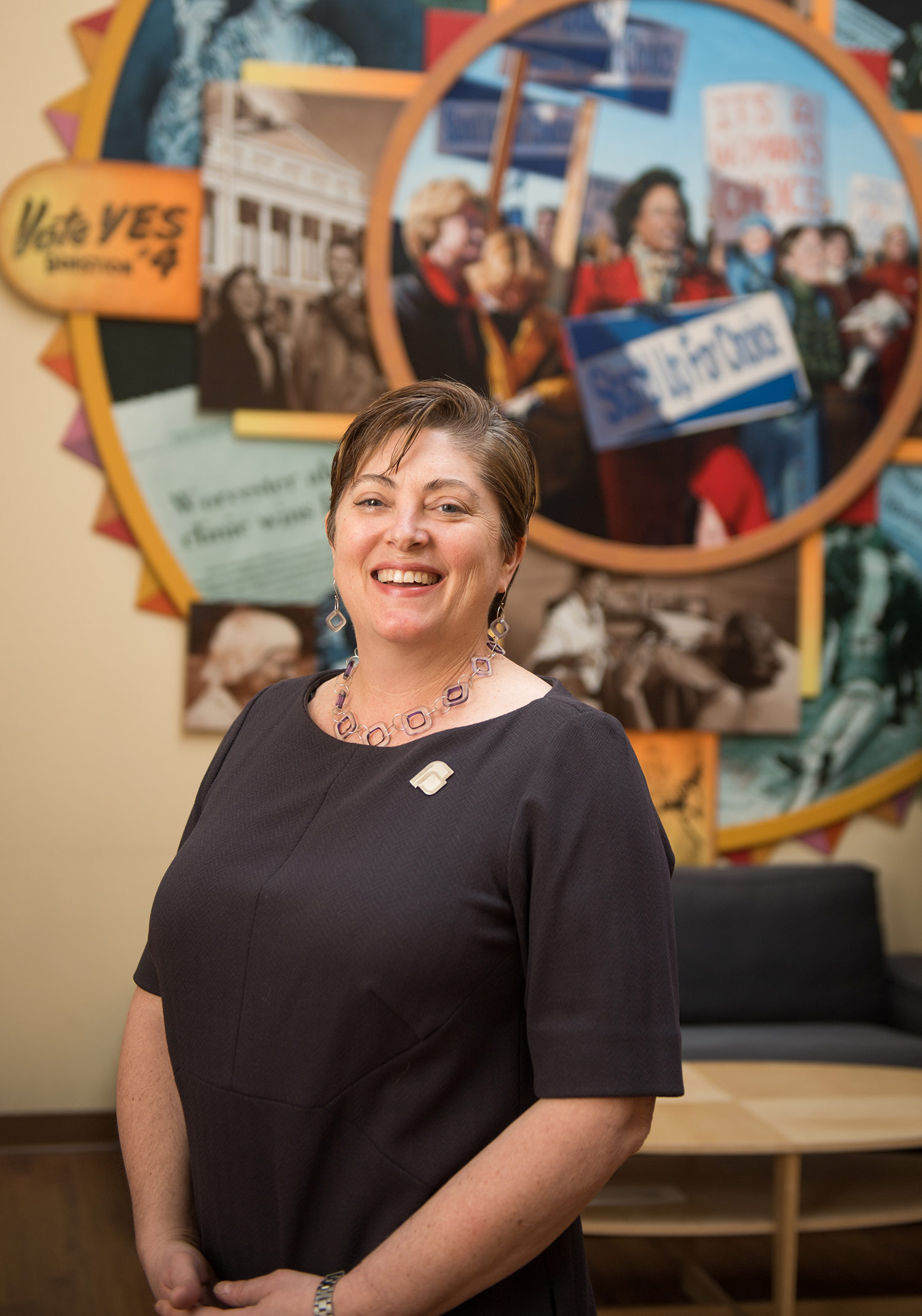 Politics
Abortion Politics, a Q&A with Alum and Planned Parenthood CEO
Jennifer Childs-Roshak (Questrom'10): "The biggest concern is to keep Roe v. Wade protected"  
Jennifer Childs-Roshak was a senior at Harvard when she and a friend drove a beat-up car from Boston to Washington to join the pro-choice rally March for Women's Lives. It was 1986, 13 years after the US Supreme Court's landmark Roe v. Wade ruling protected a woman's right to have an abortion.

"I remember turning to my friend and saying, 'When we grow up, we won't have to do this anymore,'" Childs-Roshak (Questrom'10) says with a rueful laugh on a recent afternoon in her office at Planned Parenthood League of Massachusetts (PPLM), where she is president and CEO. With a medical degree from Temple University's Lewis Katz School of Medicine, Childs-Roshak is the first physician to lead Planned Parenthood in Massachusetts.

It's 34 years after her 20-year-old self marched in her first pro-choice rally, and the seemingly never-ending battle at the state and federal levels beween what abortion opponents call the right to life and what the other side terms a woman's right to choose is heating up anew.

Preparing for abortion to be a major issue in his 2020 reelection campaign, President Trump in January became the first sitting president in history to attend the annual antiabortion March for Life rally. Planned Parenthood's national advocacy arm, meanwhile, announced it will spend a record $45 million on the 2020 presidential election as well as on congressional and statehouse races—the goal being to support pro-choice candidates.

---

We know that women's rights, access to healthcare, and abortion rights are all winning issues. Nearly 70 percent of Americans are in favor of safe, affordable, and legal abortion.

---
This spring the US Supreme Court will take up its first abortion case since Trump's appointment of conservative justices Brett Kavanaugh and Neil M. Gorsuch. June Medical Services v. Gee involves a Louisiana law that requires doctors who perform abortions to have admitting privileges at local hospitals. In June 2016, a very different Supreme Court—one without Kavanaugh and Gorsuch—struck down an identical Texas law aimed at restricting access to abortion. But now pro-choice supporters fear the new Supreme Court—and the Lousiana case—could drastically undermine, and eventually overturn, Roe v. Wade.
In 2019, conservative state legislators signed into law 25 new abortion bans, primarily in the South and Midwest, according to a December 2019 report by the Guttmacher Institute.
With that backdrop, BU Today spoke with Childs-Roshak about her lifelong interest in women's health, her concerns about the future of Roe v. Wade, and why she is urging every eligible voter to vote in 2020.
Q
&

A
With Jennifer Childs-Roshak (Questrom'10)
BU Today: What led you to join that 1986 march—and to become pro-choice?
Childs-Roshak: I'm the oldest of five kids in six years. I was an impertinent 20-year-old and so I asked my mother what her problem was—why couldn't she figure out birth control? I remember her telling me she just had so many side effects from the pill. The pill was a different formulation back in the '70s. It was very obvious to me that having personal agency over one's reproductive system, especially for girls and women, was critical.

I was in the first group of girls that was allowed to play Little League. I had three brothers; I played on boys' sports' teams. I was always interested in personal liberty, autonomy, being who I wanted to be. I realized when I went to college that that's called feminism. I got very involved with Radcliffe and women's issues, reproductive rights, social justice—all of the things you learn when you move from a conservative rural area in northern New Hampshire, where I grew up, to Cambridge.
What is your biggest concern about how the Supreme Court might rule in the Louisiana case and the impact if Roe V. Wade is eventually dismantled?
The biggest concern—why I was marching in 1986—is to keep Roe v. Wade protected. For me as a family doctor, one of the biggest worries I have about Roe v. Wade, one of the reasons why that ruling was so critically important, was that we knew then that women were losing their lives because of botched illegal back alley abortions. And it's just not okay to go back to a point in time where healthy, mostly young women, in the prime of their childbearing years, with young families, often died for no reason. I'm worried that could happen again.

Donald Trump, whether he is reelected or not, has dramatically reshaped the judiciary and the impact will be felt for years to come. These court appointments are for life.

What do you think is going to happen on the state level if the Supreme Court upholds the Louisiana law restricting abortion access?
If the court undermines the protections established by Roe v. Wade, it will be up to the states to protect access to safe, legal abortion. While the right to safe, legal abortion is protected in many states, including Massachusetts, other states can—and will—impose medically unnecessary restrictions to push abortion care out of reach. A person's ability to access care should never be limited by their zip code.
Are you pretty happy with the Democratic candidates for president and their stands on the right to abortion?
Yes, and there are a number of Republican folks who are pro-choice. The positive thing here is that I think people are more activated, especially women, and women's allies, than ever before.
How do you see that?
We've had 200 to 500 people at events at the State House, where in the past there would be maybe 150 people. We're supporting a bill on Beacon Hill that expands access to abortion care—it's called the Roe Act—and we've had several rallies on Beacon Hill in the past year that have all been tremendously well attended, with hundreds of people at each one.

We know that women's rights, access to healthcare, and abortion rights are all winning issues. Nearly 70 percent of Americans are in favor of safe, affordable, and legal abortion, according to polls. I think what we saw in the 2018 elections locally, but also at the federal level, is that the people who are bold and progressive, who are unapologetically pro-choice—those are the folks that won.

What is the strategy of the national Planned Parenthood's advocacy arm, and the $45 million it's planning to spend on the 2020 elections?
The focus is on getting people out to vote and educating voters about the issues. A lot of the information that's out there is very confusing. Just using Massachusetts as an example, with the Roe Act, the anti-choice people have been doing a lot of social media and calling the bill the "infanticide bill." It's things like that, that are totally fake and insane, but it's confusing people.

Part of what I think advocacy groups will be focusing on, and not just at Planned Parenthood, is getting out the vote, educating voters on what it means when we talk about sexual and reproductive health. What is abortion care? One in four women in America have had an abortion. This is normal healthcare.

What is your message to young people about voting?
I have two sons, who are 24 and 27. We talk about this a lot at home. It is so critically important that everybody who can vote get out to vote. People talk about the fact that young people were discouraged by the last election, that they weren't really inspired by a candidate, and so they didn't vote.

I can't really speak to a lot of that. But what I do know is that every single person who's eligible to vote, especially people who are my kids' generation, whose lives will be heavily impacted for years by what's happening now—you cannot stand on the sidelines. You've got to educate yourself on the issues and get out there and vote.