At BU and Beyond, Many Gulf War Veterans Still Suffer from Toxic Wounds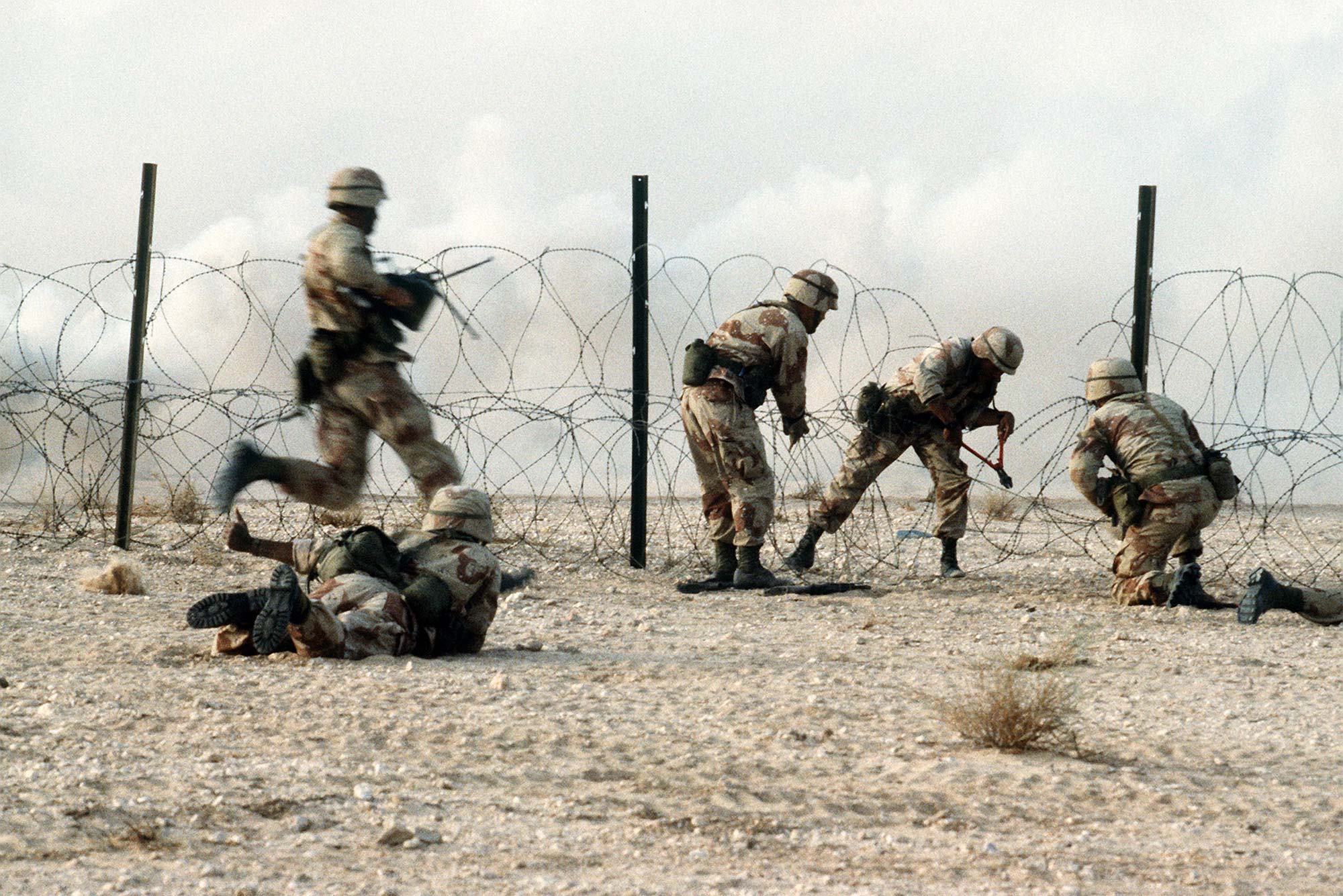 Veterans
At BU and Beyond, Many Gulf War Veterans Still Suffer from Toxic Wounds
BU researcher Kimberly Sullivan is devoted to understanding veterans' illnesses caused by chemical exposure during the Gulf War—and finding treatments
Maureen Mahoney has no regrets. Her 20 years in the military showed her parts of the world she would never have seen, and she believes that her service more than prepared her for success in the civilian world. Now associate dean for administration and finance at the Boston University College of Communication, Mahoney gets together each year with the men and women she served with 28 years ago in the Gulf War. Some of her fellow soldiers didn't come back from the war, of course. Several others have died in recent years of various cancers, she says, and many more suffer from assorted health problems, from cognitive deficits to Bell's palsy. Mahoney suffers too. She has strange rashes that come and go and she's never far away from her inhaler because of respiratory problems that get a little worse every year.

Those ailments and others, including memory impairment, chronic pain, fatigue, gastrointestinal issues, and earlier onset of age-related chronic diseases, are known to plague about 250,000 veterans, or one third of those who served in the Gulf War. Kimberly Sullivan (MED'99), a BU School of Public Health assistant research professor and one of the country's foremost experts on Gulf War illness (GWI), has led several studies linking the conditions to military service during the war. She and other researchers believe that the symptoms are caused by brain inflammation from exposure to the nerve agent sarin during the war, as well as the pyridostigmine bromide (PB) pills meant to protect against sarin gas and the pesticides meant to protect soldiers against insect-borne illnesses.
"We now know that Gulf War veterans were exposed to many toxic chemicals during their deployment, so we call their ailments toxic wounds," she says. "One big problem is that these toxic wounds are not as readily seen as other war injuries. This makes many Gulf War veterans feel like they are part of the forgotten war."

Sullivan is currently enrolling participants, Mahoney among them, in a study that aims to pinpoint the biological processes between the causes and the symptoms of Gulf War illness. Aided by $3.2 million from the Department of Defense Congressionally Directed Medical Research Programs (CDMRP), she is leading the creation of the Boston Biorepository, Recruitment, and Integrative Network (BBRAIN) for Gulf War illness research, a 4-site recruitment and 10-site data-mining project that will collect and study biospecimens and data from 500 Gulf War veterans with and without symptoms of GWI.

---

One big problem is that these toxic wounds are not as readily seen as other war injuries. This makes many Gulf War veterans feel like they are part of the forgotten war.

---
"Our veterans have been waiting a long time for answers and treatments for their illness," says Sullivan, who is also the principal investigator in the ongoing Boston Gulf War Illness Consortium (GWIC), which has nine study sites around the country. Like that consortium, BBRAIN will focus on identifying biomarkers of GWI that may point to potential treatments. It will collect biological samples, including saliva, blood, DNA, RNA, stool, and urine, and will image the brains of veterans. BBRAIN's centralized website, along with a collaborating site at Nova Southeastern University in Florida, will share data with GWI researchers from other institutions to speed up the process of finding biomarkers and treatments for the illness.

"The importance of identifying biomarkers is twofold," Sullivan says. "They make it easier for our veterans to get benefits and validation for their illness, and then we can target treatments appropriately for them." By spearheading a team science approach that brings leading GWI experts together, she is hopeful that the project will answer questions that she has been asking for years.

"We've made a lot of progress, thanks to the many veterans with and without symptoms who have taken time out of their busy schedules to volunteer for our studies over the years," she says. "We are so grateful for their willingness to participate in our studies to help their fellow veterans. We need them now more than ever as we hope to determine conclusive results by validating some of the findings from our ongoing GWI Consortium. With this new BBRAIN repository network we'll have several hundred more samples from veterans with and without symptoms to add to the wealth of data that we and other researchers can data mine."
Mahoney, who served as a combat medic in the Gulf War, says studies like BBRAIN give vets more than a reason to be hopeful—they give them a chance to help. "Most vets will do anything to help our brothers and sisters get the help they need," she says. Mahoney recalls being exposed to all of the suspect agents, including the thick black smoke of oil fires. "Our chemical alarms were always going off," she says. "We never found out why, but they don't go off for no reason."

Joe MacNeil, a BU IS&T Learning & Event Technology Services technology specialist, is one of the many Gulf War veterans whose symptoms are even more troublesome than Mahoney's. MacNeil's service in the Gulf War placed him in tactical air command and also on security, patrolling the perimeter of an air base, and like many Gulf War fighters, he was exposed to PB, pesticides, and oil smoke. Nearly three decades later, he struggles with debilitating headaches and chronic fatigue. "I don't have the stamina that a regular guy has," he says. "I'm drinking coffee all the time." MacNeil, who signed up for GWIC and BBRAIN, says the thing he wants most from studies like BBRAIN is "my life back."
Glenn Markenson, a BU School of Medicine professor of obstetrics and gynecology and director of the Center for Military and Post Deployment Health on the BU Medical Campus, also signed on to the GWIC and BBRAIN studies. Markenson, who served for four months in a hospital unit during the Gulf War, counts himself among the fortunate two-thirds of Gulf War vets who do not have definite symptoms, although he has experienced some sleep apnea and gastrointestinal distress. He suspects that the location of his posting, relatively removed from the front lines, may have spared him, despite his exposure to a thick black cloud of oil smoke and DEET, an ingredient in insect repellents.
Markenson joined the study because he knows that research like Sullivan's needs controls as well as subjects who are clearly afflicted with the GWI symptoms. "I hope I'm a control," he says. "I consider myself very fortunate that I don't have many of the symptoms."
He says studies like BBRAIN are a critical part of the search for treatments. He is heartened that the Department of Defense has been stepping up studies, including proactive studies of the health of veterans, and not just reacting to established illness.
---

Maureen Mahoney recalls being exposed to all of the suspect agents, including the thick black smoke of oil fires. "Our chemical alarms were always going off," she says. "We never found out why, but they don't go off for no reason."

---
"I think the military is taking this stuff a lot more seriously than they have done in the past," Markenson says. "It's so important to take care of these people."

Sullivan is racing to help care providers do that. Her research, both with BU colleagues and in collaboration with researchers at other schools, has already yielded several important findings that could lead to treatments. One recent project found that GWI damages the brain's white matter in ways that can trigger other parts of the brain's immune system, called glia, to become overly active, releasing chemical messengers called cytokines, which cause chronic inflammation in the brain. Sullivan's BBRAIN study hopes to push that finding further, to reveal exactly how the white matter is being damaged and pinpoint which kinds of glia are overactive.

"We have new PET brain imaging results showing that the glia is highly activated in the brains of our sick veterans, indicating lots of inflammation," she says. "We now have to figure out which type of glia is affected and causing this chronic inflammation. We need to know because there are FDA-approved drugs that can specifically target either microglia or astrocytes, which are the two types of glia that are likely affected."

Sullivan says the next phase of research, which is designed to tease out these glial activation and brain blood flow questions, should be speeded by two recently received $1.1 million grants from the Department of Defense CDMRP Gulf War Illness Research Program (GWIRP). She suspects that the overactive glia could be behind problems with the central nervous system, immune system, and gastrointestinal system that were revealed in another of her GWI studies. That study also found that veterans suffering from GWI had greater blood plasma levels of an inflammatory cytokine called TNF-RI, and that those with more exposure to chemical weapons reported significantly greater chronic pain, fatigue, and sleep difficulties than the other groups. All of which, she says, suggests that there may be a blood marker of GWI that could pave the way toward developing a simple blood diagnostic for the disorder.
Other GWI research directed by Sullivan and colleagues has shown that Gulf War veterans in general are aging faster than nonveterans. Study subjects were shown to have rates of high blood pressure, high cholesterol, heart attack, diabetes, stroke, arthritis, chronic bronchitis, and other conditions normally associated with people about a decade older than they were. And veterans who reported being exposed to chemical warfare agents and taking PB pills had especially high rates of heart attack and diabetes. "These results are similar to chronic conditions related to agent orange in Vietnam veterans," Sullivan says.

Still another study found higher rates of GWI among female veterans than male veterans, suggesting the need for further gender-specific studies.

Kristy Lidie, the DOD GWIRP program manager, says she is hopeful that BBRAIN will provide answers for sick veterans in the short term. "The GWIRP-funded BBRAIN resource and imaging studies at Boston University are key to enabling an assessment of disease severity and progression to guide clinical practice and ultimately treat our ill veterans sooner," Lidie says.

Sullivan believes that she and her colleagues may be within a year or two of finding at least some effective treatments for GWI. She points to a 2018 study she coauthored suggesting that the commonly used weight-loss supplement oleoylethanolamide (OEA) may hold promise for reducing GWI symptoms. That hypothesis, along with others related to reducing brain inflammation and cytokine signaling, is currently being explored in a multisite, $8 million Gulf War Illness Clinical Trials and Interventions Consortium in collaboration with Nova Southeastern University researchers. Sullivan is a coinvestigator in that study, which combines the expertise and efforts of the two previous consortia and implements early-phase clinical trials to evaluate candidate therapeutics for GWI. Sullivan says they hope to conduct five Phase I or Phase II clinical trials within four years.

"It's our responsibility to take care of our veterans who went to war and came back sick," she says. "It's so important to recognize their service, validate their illness, and to get them the help they need. It's the very least that we can do for these veterans who served their country and now continue to serve their communities here at BU and elsewhere."
To learn more about participating in Kimberly Sullivan's Gulf War studies, contact Joy Ajama at 617-358-1717 or at GWIC@bu.edu.