How Cambodian Music Recalls Ancestors and Brings Comfort
Power of Music
How Cambodian Music Recalls Ancestors and Brings Comfort
BU ethnomusicologist is studying the ways that ritual music and dance connect living Cambodians with the dead and the divine
Sixteen years ago, when Jeffrey Dyer first heard Cambodian music in the documentary The Flute Player, the classically trained pianist was captivated. Later, visits to the Angkor Dance Troupe in Lowell, Mass., deepened his fascination with the non-Western sounds and harmonies. Dyer, now a PhD student in Boston University's College of Fine Arts' department of musicology & ethnomusicology, has since made seven research trips to Cambodia, and has worked with dozens of Cambodian American musicians in the US.

"Over the years, I learned to play close to forty songs on Cambodian instruments, and as I got better, I had the chance to play with [Cambodian] musicians at rituals," Dyer says.

Now, he's exploring all the ways that musical sounds of rituals are used to call spirits and ancestors who bring comfort and guidance to ritual participants and witnesses.

Cambodia, Dyer says, has long been a land in need of comfort. From the late 1960s to the early 1990s, much of the country was a world on fire, torn apart first by US bombing during the Vietnam War, then by a civil war, then decimated by genocide at the hands of the Khmer Rouge, and finally plagued by violence that lasted long after a Vietnamese army removed the Khmer Rouge from power. Today, many observers see Cambodia as a scarred country, a place where people still struggle to recover from decades of trauma.
Dyer's research pushes against such characterization. He believes Cambodians' appeals for comfort are more likely to be focused on immediate needs, such as food, clean water, and relief from poverty. He is examining how music and rituals help Cambodians deal with hardships, including both their painful past and their daily deprivations. The Brink talked with Dyer to learn more about his research.
The Brink: Do Cambodians today still use their rituals to help them recover from the genocide that took place 40 years ago?
Dyer: To some extent, yes, but the answer to that question is complicated, because most of the hardships that Cambodians deal with today are not related to the Khmer Rouge. Most are related to more immediate needs, like feeding their families or taking care of their parents' illnesses. Cambodians use music and chants to invite the dead and ancestors into their lives, and there is a kind of support that they feel from that, which helps them work through whatever hardships they face. Many foreigners think that Cambodians need to remember the Khmer Rouge, but I find that there is much remembrance already embedded in the process of musically inviting the dead, whether or not those people died during the Khmer Rouge years.
Are there different songs for different purposes?
There are different genres of music for different rituals. There are also different songs that reach out to different deities. Songs have specific purposes: some might call familial ancestors and others might send them away.
When, and how often, are the rituals performed?
Sometimes they're performed for specific holidays, like the Feeding of the Hungry Ghosts, which is a widely practiced Buddhist ceremony that takes place in the fall, but the rituals can be offered any time. Some occur weekly, and some people conduct short rituals daily. For those [rituals], people usually conduct them alone in their own homes, where they might quietly speak a few words to their deceased relatives or their family's spirits. It doesn't even require sound. People can use silence to communicate. Some Cambodians say they just light incense and speak to their ancestors in a way that resonates inside their heart, but most of the larger events involve songs that call on different spirits and ancestors.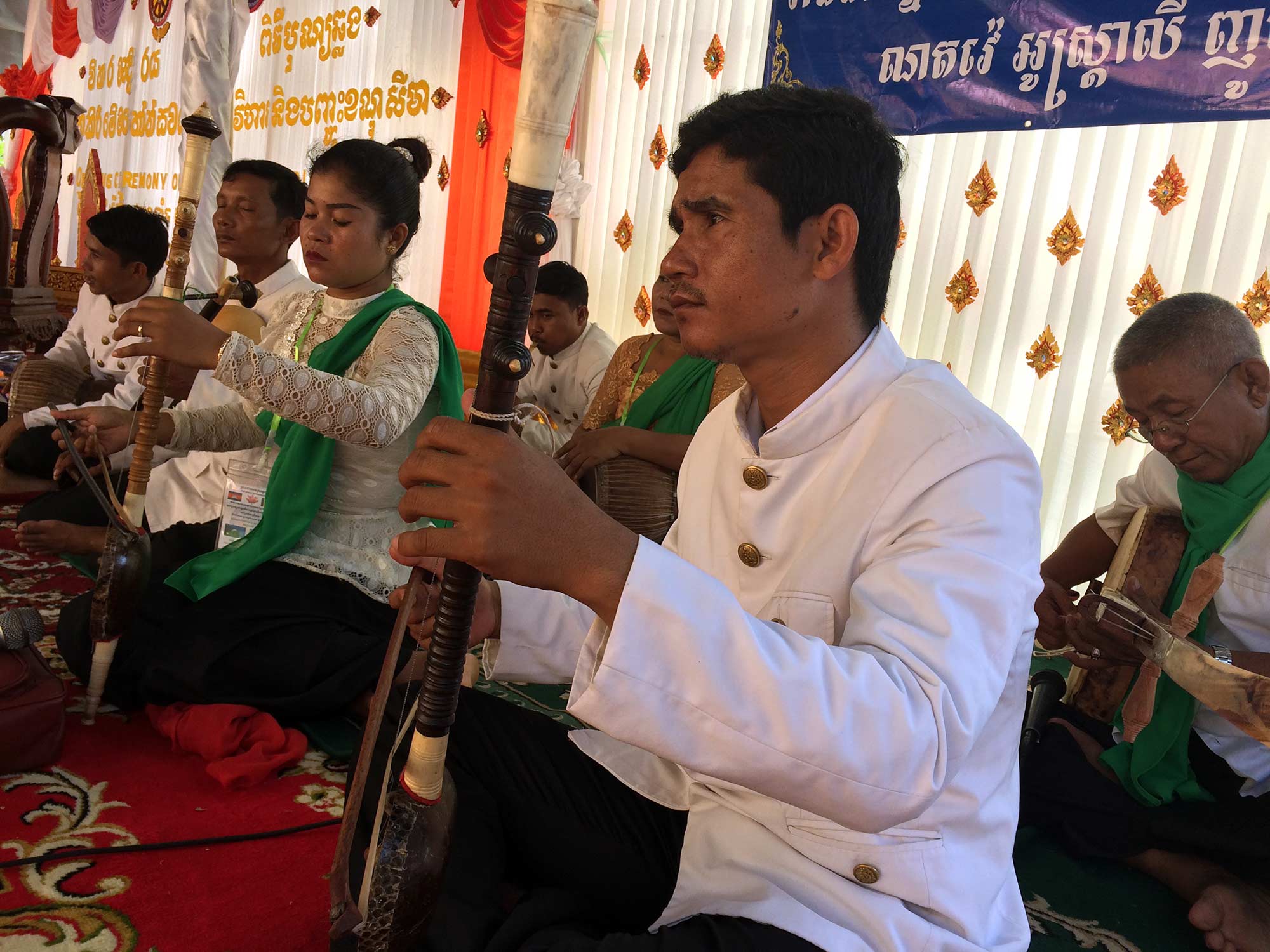 Who are the spirits that one is most likely to call?
Ancestors, deities, and teachers. Most Cambodians are Buddhists, but they also recognize many land spirits and Hindu deities. So, in addition to recognizing the Buddha, they will call on Shiva or the spirit owners of the land and water, for example. They call on their teachers, and these are very important. They include everybody who has taught them something. The Cambodian word for teacher is gru, and even after grus have died, people remember them and call on them for help and guidance. In this way, some Cambodians think of themselves as being made up of all the ancestors who came before. In the US, we tend to think of our achievements as being products of our own creation, so this is a very different way of being.
Can you talk about a particular ritual that stands out in your mind?
About a year ago, one of my music teachers organized a ritual for the 100-day anniversary of his mother's death and the 10-year anniversary of his father's death. My teacher planned this event for a long time, and whenever he reminded me of it, he emphasized that there would be dancing that night. On the morning of the ritual, we traveled from Phnom Penh to the village in Prey Veng Province where my teacher's father grew up and where their family lived during the Khmer Rouge years. When Vietnamese soldiers drove the Khmer Rouge out of Phnom Penh in 1979, my teacher's father was one of the first musicians to return to the city, and he led the efforts to rejuvenate Cambodian music. This ritual proceeded like most others: musicians invited many spirits, monks chanted, a senior monk lectured about remembering predecessors' good deeds, and they dedicated merit to their parents. After dinner, it was time for the dancing. Live musicians played rock and pop music onstage, and we all danced for hours. Late that night, I joined my teacher where he sat overlooking everyone. He turned to me and said, "My parents are here right now, watching them dance." He then explained how he had set up the stage to face the small shrine that holds his parents' bones, and he had opened the shrine's doors so his parents' spirits could return to enjoy the music they had loved when they were alive.
What do you think was more important to your teacher—the ritual or the pop music?
Well, I would say that, for him, the pop music and the dancing were both part of the ritual. What was important was to maintain his connection with his parents, and he could do that equally well through Buddhist chants and popular music. Both offered ways to care for his parents' spirits, and those spirits then returned the favor by caring for him and his family.
Are there any other experiences you've had that you can share with us?
Last February, I attended a spirit possession ritual in Siem Reap Province. When the medium was possessed by one of the spirits, villagers who had various illnesses approached, and the medium conducted blessings to alleviate their pain. Some people even brought their babies up to the spirit for a blessing. Later on, they called a different spirit to the medium, and when they played songs for him, the spirit himself and many others started to cry. Later on, I found out that the spirit was a music teacher whom many people in the village had known and had studied with, and he had died during the Khmer Rouge years. Even for people who said they weren't sure if his spirit was actually there, this was a way for them to experience his memory again, and most said they left the ritual feeling better.
What do you hope your research will teach us?
Music and sound can be forms of history. For example, when people feel connected with their predecessors through certain songs that recall their ancestors, that is a way of sensing history and feeling the past. Additionally, living [alongside] history means that people are constantly modifying what history means to them. Take the example of my teacher's ritual. The village where they conducted the ritual is where my teacher and his family had endured many hardships, but now it is also where they celebrated their parents' lives, and where my teacher felt his parents' presence again. This changes what that location, and possibly even what the Khmer Rouge years, mean to him. Cambodian music, ritual, and even dance are not "performances" as much as they are technologies people use to experience and benefit from the past.
This conversation was edited for clarity.
Dyer's research is supported by a Charlotte W. Newcombe Doctoral Dissertation Fellowship from the Woodrow Wilson National Fellowship Foundation, BU's Graduate Research Abroad Fellowship, and a grant from the Center for Khmer Studies.