BU Spearheads Largest-Ever Study of Child Anxiety
Will compare online versus in-person therapy
The 16-year-old girl came to Boston University's Center for Anxiety and Related Disorders (CARD) with life-warping fears. Unnerved by school classes to the point of nausea, she hadn't been helped by the nurse's icepacks and prescribed rest. Her mother had to quit her job to spend the entire day in the school parking lot in case her daughter rushed out for comfort.
"She was not able to keep up with her grades," says Donna Pincus, director of CARD's Child and Adolescent Fear and Anxiety Treatment Program. With cognitive behavioral therapy—a type of limited-sessions talk therapy that teaches patients to identify and modify anxiety-producing thoughts, so they can reason their way off the emotional ledge—Pincus helped the girl stay in school. Her mother was able to return to work.
Research confirms the widespread effectiveness of such therapy, Pincus says. Some studies suggest online therapy also works. But does it work as well as face-to-face sessions? Might it not be less stigmatizing and logistically easier for some patients, cutting down on missed appointments? These are questions that study coleader Pincus and fellow researchers on both the Charles River and Medical Campuses and elsewhere will study over the next five years in what Pincus calls the largest-ever research project of its kind.
Anxiety disorders are the most prevalent childhood psychiatric problem, affecting an estimated one-third of American children. CARD has a six-month waiting list for kids needing therapy, says Pincus, a Boston University College of Arts & Sciences associate professor of psychological and brain sciences.
The BU study will work with almost 1,900 young people, ages 3 to 18, with mild to moderate anxiety, in pediatric health centers in and around Boston, Baltimore, Miami, and Seattle. The Boston sites will be Massachusetts General Hospital's Chelsea Healthcare Center, South Boston Community Health Center, and Boston Medical Center (BMC), the School of Medicine's teaching hospital.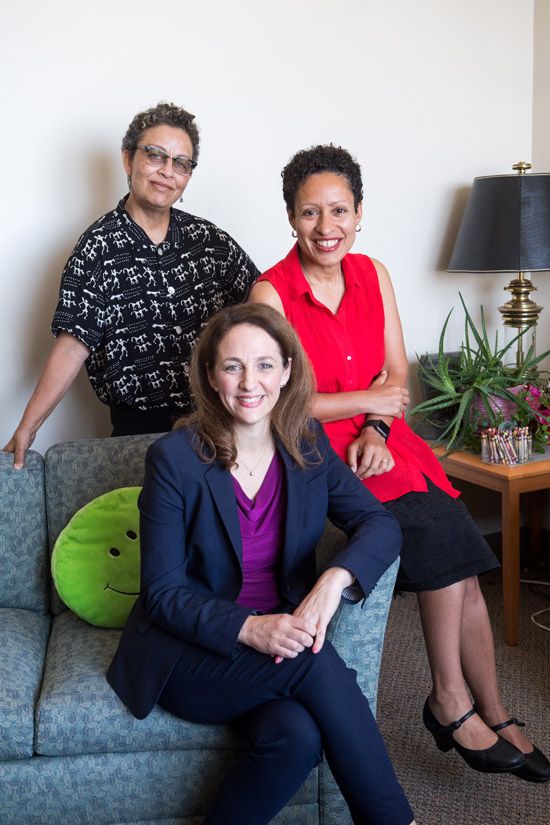 Half of the children will be assigned randomly to receive in-person cognitive behavioral therapy, Pincus says, while the other half will get that therapy online, with the therapist phoning every other week to check in.
With almost 70 therapists and supervisors needing to be trained to do the therapy, the researchers have their work cut out for them.
"We're already busy," says study coleader Lisa Fortuna, a MED assistant professor of psychiatry and director of child and adolescent psychology at BMC. She also studies disparities in services among different populations, and she says that the research project not only will judge the effectiveness of the two different ways of delivering therapy, but "what impact each type of modality might have in offering access to mental health services for kids."
"People don't always go to mental health services on a regular basis," Fortuna adds. "Especially in communities of color, we find that there's a very high rate of dropouts…in four or three sessions or less."
The other BU researchers on the project are Michelle Porche, a Wheelock College of Education & Human Development clinical associate professor of applied human development, and Jonathan Comer, a CAS adjunct associate professor of psychological and brain sciences.
Porche says her role will involve "interviewing families who are assigned to either approach and to both approaches, so that I can understand what are the barriers for them in accessing treatment, what are the barriers for them in really using the treatment." Family members and young people who've been treated for anxiety will assist or advise the researchers.
Pincus says that many children either don't get treatment or receive care that's not evidence-based because of stigma, a shortage of trained therapists, and lack of services or no easy access to them in some regions.
The $12 million study is being financed by the Patient-Centered Outcomes Research Institute, a Washington, D.C., nonprofit.