Future Engineers Learn Real-life, Hands-on Design
ENG's Gerald Fine wins Gitner Award for classroom tech use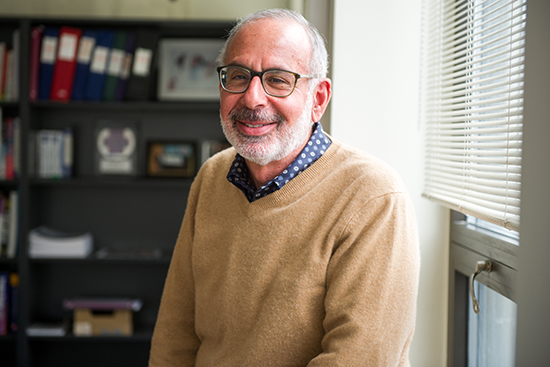 Almost 30 years in business left engineer Gerald Fine troubled as he spied the horizon of his profession. Too many young colleagues were good with a computer keyboard, but all thumbs when it came to something you'd expect to be as instinctive as breathing for engineers: working with equipment. New technologies, coming fast as Ferraris in the discipline, flummoxed them.
After joining the College of Engineering faculty in 2012, Fine, director of the Engineering Product Innovation Center (EPIC), designed ENG's first new course in 40 years that's mandatory for all students, with the goal of getting students' hands dirty, as it were. The course has won him this year's Gerald and Deanne Gitner Family Award for Innovation in Teaching with Technology.
Introduction to Engineering Design, required of all sophomores, employs what Fine calls hybrid learning. Students watch online videos before coming to class, and in class they practice what they've learned from the videos, working with  state-of-the-art technology: WiFi and Bluetooth radios, fiber optics, open-sourced microprocessors, and more. They use this technology to reverse-engineer (dismantle and examine) actual engineering products. They also build prototype products to address real problems given them by engineering companies.
Fine, a professor of the practice of mechanical engineering, says the award is a great honor, but points out that the course was a collaborative effort: several colleagues made vital suggestions, and its basic structure was suggested by Solomon Eisenberg, ENG's senior associate dean for academic programs and a professor of biomedical engineering and of electrical and computer engineering.
Moreover, says Fine, "we couldn't teach the course without EPIC." In addition to the center's technology and space, "the real key is the staff…and the student workers there. We serve in excess of 700 students per semester there now, including 200-plus" taking his Gitner-winning course.
In his letter nominating Fine for the award, Kenneth Lutchen, dean of ENG, wrote, "For the first time in our college history, all undergraduates join together in multidisciplinary teams for real-world engineering design problems. They practice conceptual design, modeling, and communication skills that are essential to modern engineering practice. They interact with real clients from real industries, and make working prototypes of their design solutions using state-of the-art machine shop facilities, 3-D printing, integrated electronics, and sophisticated microprocessor controls.
"The experience reinforces and extends for our undergraduates the core meaning of what it is to be a societal engineer, by giving them experience in how ideas are converted into real product design that society can benefit from."
Fine's industry contacts come from years in leadership jobs at technology companies such as Schott and Corning. He is also the chairman of fiber optics company Emcore. He earned a bachelor's degree from Amherst College and a PhD from the California Institute of Technology.
The Gitner Award is conferred by the Office of the Provost and the Center for Teaching & Learning. The winner receives $10,000 by developing, using, or adapting technology in ways that enhance BU's undergraduate learning.