Johannesburg: Works in Progress
Lynne Cooney looks at the creation and business of art in post-apartheid South Africa
At an urban pop-up market on a winter evening, young hipsters and families converge in a former warehouse to forage from quirky food carts (half a VW bus, a paella pan the size of a wading pool), peruse contemporary paintings, prints, and artisan clothing with elusive labels like "Vintage Zionist," and break bread at a table long enough to accommodate several Last Suppers. This exuberant, multiracial gathering might scream Brooklyn, but it is in Johannesburg. Despite its well-documented struggles, "Joburg" or "Jozi," as locals call it, is a vortex of creativity, luxuriating in post-apartheid free expression. Visual art is asserting itself in provocative and compelling ways, from public murals to galleries where the meeting of once-ghettoized black and multiracial artists and clientele are a joyful—and profitable—rebuke to the apartheid years, when blacks were forbidden from being residents of the streets where they now show their work. This is the Johannesburg that has captivated Lynne Cooney since her first visit seven years ago. Current artistic director of the Boston University Art Galleries, exhibitions director at BU's College of Fine Arts School of Visual Arts since 2004, and a PhD candidate in African studies and art history, Cooney, an art historian who also studied Zulu through the African Studies Center, spent the 2014–15 academic year on a Fulbright US Student Award in Johannesburg to study post-apartheid South Africa through the lens of visual art.
"I always feel like an outsider but I really love it here," says Cooney (GRS'10,'16), who spent her Fulbright year living above an art film house in the racially mixed Maboneng Precinct, a privately developed chunk on the east side of Johannesburg filled with lofts, design studios, and espresso bars. She is fascinated by Joburg "as a space and as a city, and how it's changing in terms of development and gentrification—some people are engaged, and some are left out. All of this figures into my work."
Over the first few months of her Fulbright year, Cooney immersed herself in Jozi's art world as she gradually adjusted her scholarly lens from wide angle to something more intimate. Her research was initially focused on the post-apartheid surge in public art—outsized installations, murals, sculpture, and tribute monuments rise from parks, public squares, and municipal buildings all over this city of nearly four million. But as a seasoned curator, Cooney has always been drawn to art museums as bellwethers of cultural shifts and racial and class divides, with the potential to influence and guide these changes. Cooney interned at the Wits Art Museum (WAM), South Africa's first post-apartheid contemporary art museum, at the city's University of the Witwatersrand. A highly regarded and progressive public research university founded in 1922, this is where Nelson Mandela studied before state-enforced apartheid, and where novelist, 1991 Nobel laureate, and political activist Nadine Gordimer took classes.
A bold structure with a fluid design reminiscent of Manhattan's Guggenheim Museum, WAM sits at the edge of the campus, in the hip, gentrifying area of Braamfontein. The museum is a popular destination for tourists as well as students—black and white—who gather over espresso in its vast glass-enclosed café. Anyone looking for the new South Africa can find it at the museum, and Cooney always found herself circling back to it. Several months into her stay, she decided her dissertation would revolve around WAM.
Both locally and internationally, South African art is sophisticated, deep, and often politically informed, no longer synonymous with just wood sculptures, beadwork, or folk paintings of township life. How the new South Africa sees itself is part of the story contemporary museums and galleries are beginning to tell, "and that is what museums do—they tell stories," says Cynthia Becker, a College of Arts & Sciences associate professor of the history of art and architecture, who is a widely published scholar of African arts and one of Cooney's dissertation advisors. "Lynne's work will shed light on how South Africa will represent itself as part of the larger African continent through this museum." During the apartheid period, South Africa's was a museum culture dominated by people of European descent. Nonwhite Africans were left out. "How will WAM tell the story of a post-apartheid South Africa, realizing the notion of a rainbow nation? How will it incorporate art made by people of African descent into its national heritage? These are the larger issues that museums in South Africa face," says Becker.
And art, and the people it brings together, may act as a counterpoint to the spiraling crime that plagues this percolating metropolis, as it does in other diverse, populous cities. The emergence of public sculpture, in particular, "has helped foster a virtuous cycle: Color and beauty draw people; people promote security, which draws more people, and creates a bigger audience possibility for more art," the New York Times noted in a July 2014 article about Johannesburg's art scene. Much of the work, like Marco Cianfanelli's towering Shadow Boxer sculpture, inspired by a 1962 photograph of Nelson Mandela, is infused with politics. "In South Africa everything is so politically contentious, everybody has something to say, and I think that's really exciting," says Cooney, standing near a sculpture installation at Constitution Hill, her lanky frame draped African-style against the June chill in a crimson blanket-sized shawl. In a changing urban landscape, "there's a lot of dialogue in the air, and people are really paying attention."
Johannesburg's contemporary cultural gifts are dented by the weight of history and wrapped in the thorny realities of life here.
From the haunting drawings and animated films of William Kentridge to the work of the late black painter George Pemba, Cooney is fascinated by art that reflects the moral growing pains of a place where the often brutal segregation of the nonwhite majority was institutionalized from 1948 to 1994, when democracy prevailed and the long road to reconciliation began. From reflections of township life, such as the lush portraits of the late Gerard Sekoto, to narrative and abstract expressionist work in all media, black and mixed-race artists' collectives thrived under the radar during the apartheid years. This is well known to Cooney, who made three visits to South Africa to curate a high-profile 2011 exhibition at BU's 808 Gallery showcasing Twenty-Five Years at the Caversham Press, the celebrated KwaZulu-Natal–based private collective that has nurtured emerging artists of all races since 1985.
WAM's collection grew out of a smaller one used for teaching, which was initiated in the early 1950s, and now represents southern Africa's most substantial accumulation of African arts. A regular visitor since 2008, Cooney has immersed herself in WAM, scrutinizing minutes of meetings and interviewing curatorial staff, exhibiting artists, and museum-goers. She also compared WAM with European-inspired paragons like the Pretoria Art Museum and the century-old Johannesburg Art Gallery (JAG), the continent's largest art museum. In contrast to the lively pulse in and around WAM, JAG's once-grand colonnaded façade fronts a derelict park that separates the building and its European masterworks from Hillbrow, a restive poverty-ridden neighborhood.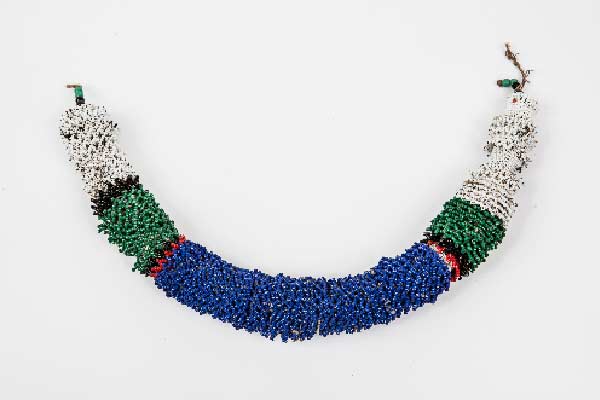 From the Wits Art Museum Collection
Top: Umbhijo (necklace) of beads on fiber coil, Artist unrecorded, Zulu, South Africa. Bottom: Ntol'bhantshi (waistcoat); glass beads, thread, store-bought waistcoat, button, metal buckle, 2010 gift of Nicholaas Maritz. Photos by Mark Lewis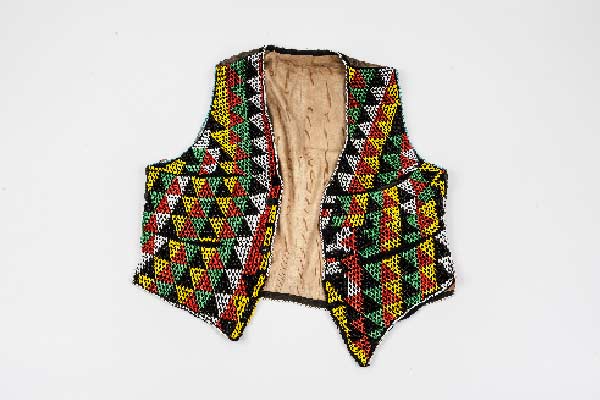 WAM planning and development consultant Lesley Spiro Cohen (CFA'87) says the museum encourages and embraces dialogue. But unlike, say, New York's Whitney Museum of American Art or the Massachusetts Museum of Contemporary Art, WAM doesn't strive to deliberately provoke—nor can it afford to, with its very small but loyal donor base, says Cohen. WAM remains intent on showing rigorous, quality work that will be seen day after day by groups of black and mixed-race schoolchildren who most likely have never visited an art museum. Johannesburg's contemporary cultural gifts are dented by the weight of history and wrapped in the thorny realities of life here. The international press has homed in on the negatives of the city. Still largely segregated, its blacks, who make up 80 percent of the population, remain significantly marginalized. Crime is a major concern, and the trappings of Jozi's middle class typically include electric fences and guard dogs.
As it finds its way, WAM embodies Jozi—and South Africa—in all these contradictions. Its 2015 exhibition Beadwork, Art and the Body, which in no way approaches the edginess of a previous one titled Doing Hair (partially underwritten by the South African hair product line "Black Like Me"), showcases traditional beaded Ndebele capes and blankets that are still worn at some wedding ceremonies. It followed on the heels of Time and Again, an exhibition of the work of Penny Siopis, an internationally known white painter from northern Cape Province, whose often harrowing canvases appear blood-soaked and whose narrative works use eerily placed random objects—clothing, dolls, kitchen utensils—to comment on colonialism, gender, and racial discrimination. Cohen has also helped organize exhibitions devoted to migrant journeys and the LGBT experience in the townships. She is mindful that for the black majority, museums were long seen as bastions of colonialism. But today, she says, "it's hard to keep up with the arts in Johannesburg—there's so much going on."
The stunning pervasiveness of art in Johannesburg is what inspired Cooney to take an unanticipated path in her research. Now, she says, she is questioning "the role and function of fine arts institutions and asking whether museums are necessary or even relevant in South Africa today. The answer is, of course, yes, but not in the same way museums operate in the West." Museums in South Africa, she says, "are loaded with the nation's difficult colonial and apartheid history, and the ways in which these histories are projected into museum spaces is what is currently driving my research."
The museum "can't be everything to everybody," says Cooney, who hopes to return to South Africa in 2016. "It has to have its own brand and vision. In some ways, it's testing the waters. I think the museum will be a very different museum in five years than it is today." And more and more, says Becker, WAM and other major museums will come to reflect Africa in the world. "There are still some people who think all Africans live in huts, but Africa is rising up," she says. "And it is engaged in the world. People think globalization marks the death of culture, but I think the opposite. It lends more vibrancy, more access to resources like cell phones and the internet, and it means more people can show their works internationally. It's a new world."
The writer's travel for these stories was supported in large part by the BU African Studies Center.