Science Gets a Front Door on Comm Ave
Center for Integrated Life Sciences & Engineering will bridge disciplines across sciences
Center for Integrated Life Sciences & Engineering will bridge disciplines across sciences
By Barbara Moran and Sara Rimer
For decades, some of the most exciting research at Boston University has been unfolding in a row of buildings hidden on Cummington Mall, designed originally for making carriages instead of studying the life sciences.
Now University President Robert A. Brown is giving science a more prominent address on the University's main thoroughfare. In late May or early summer of 2015, at what is now a parking lot at 610 Commonwealth Avenue, BU will break ground for its new Center for Integrated Life Sciences & Engineering (CILSE), a $140 million, state-of-the-art, nine-story research facility that will bring together life scientists, engineers, and physicians from the Medical and Charles River Campuses. The building will be dedicated to systems neuroscience, cognitive neuroimaging, and biological design. With shared, flexible lab spaces, meeting rooms and other common areas, it is being designed to encourage the kind of collaborative, interdisciplinary research that will be the hallmark of 21st-century science.
"Today, many of the outstanding challenges in science lie at the boundaries between traditional disciplines or the unchartered spaces between them," says President Brown. These unchartered spaces will be explored at CILSE, a place, says Brown, that will foster "major interdisciplinary research efforts led by faculty from many departments and schools, but with common interests."
CILSE will be built adjacent to historic Morse Auditorium and is expected to be finished in late 2016 or early 2017. It will contain lab space for approximately 160 researchers, postdoctoral students, and staff, 270 graduate students, and additional space for future faculty. The architects are from Payette, a Boston firm that has built prize-winning science buildings for major research universities and other institutions around the world.
The 170,000-square-foot building will house the Center for Systems Neuroscience, the Biological Design Center, the Center for Sensory Communication and Neuroengineering Technology, and a Cognitive Neuroimaging Center with a 3 Tesla fMRI—a fundamental tool for studying the brain's trillions of neural connections and how they relate to human behavior. The imaging technology will serve faculty from schools and departments across BU's sprawling neuroscience community—and from other universities around Boston—who study everything from how we learn, think, and remember, to traumatic brain injury and Alzheimer's disease.
"In the life sciences and engineering, we have world-class faculty. We need facilities to match," says Gloria Waters, vice president and associate provost for research. "We decided to invest in better lab space that would bring faculty together in a very unique and interdisciplinary environment."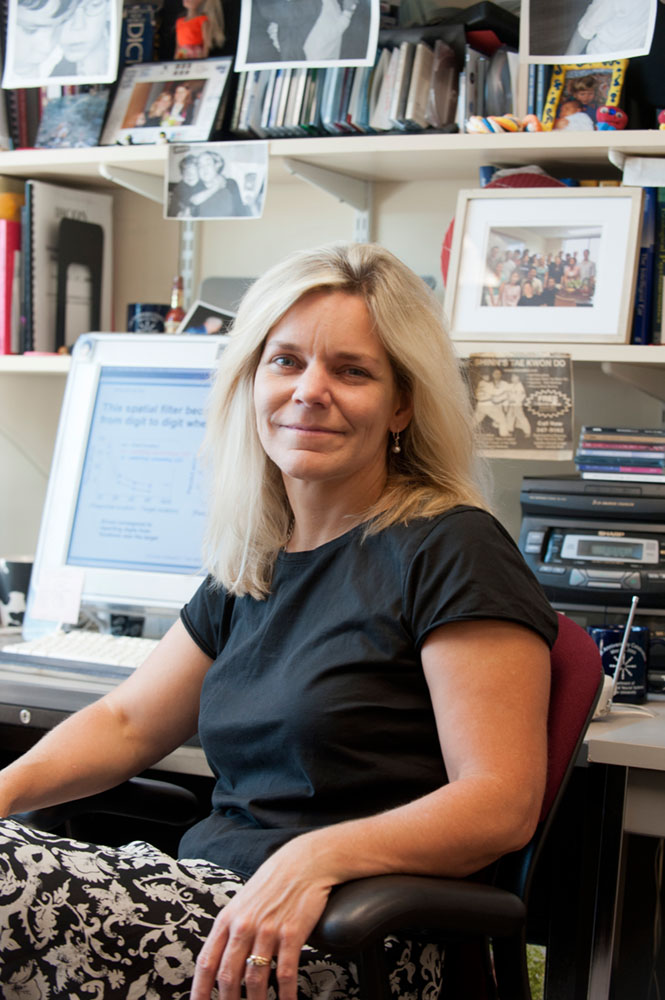 The new Center for Sensory Communication and Neuroengineering Technology will be directed by Barbara Shinn-Cunningham, a College of Engineering (ENG) professor of biomedical engineering, and will bring together neuroscientists and sensory physiologists who study hearing, speech, and language, as well as mathematicians who investigate neural coding. The center will connect scientists in these areas to enhance technological innovation, and develop technologies such as neural prosthetics and brain-computer interfaces.
---
Chantal Stern, a College of Arts & Sciences professor of psychological and brain sciences and the director of the Brain, Behavior & Cognition program, will direct the Cognitive Neuroimaging Center. She says the building—and especially the new imaging technology—signals the administration's commitment to first-class research at BU.
The University boasts one of the nation's largest clusters of researchers in the emerging fields of systems neuroscience, which examines brain function at the cellular, molecular, and cognitive levels; and biological design, which seeks to build new biological systems with the tools and techniques of engineering. These interdisciplinary fields tackle some of the thorniest problems in science and medicine, like the detection and treatment of infectious diseases, treatments for Parkinson's and Alzheimer's diseases, how memory works, and the root causes of autism. These problems draw researchers from diverse fields who are currently spread across both campuses.
"One of the great things about BU is that we have spectacular faculty from many different disciplines," says Waters. "This building will allow us to bring them together in ways that wouldn't happen if they occupied space in their individual school or college. By placing new groups in proximity to one another, we are hoping to develop collaborations that would not happen otherwise, and ultimately some unique areas of excellence."
Like many scientists working across disciplines, Douglas Densmore, an ENG assistant professor in the department of electrical and computer engineering and a primary investigator in the young field of biological design, has multiple offices and students scattered in buildings across campus. CILSE will allow him to gather his various research projects, and his students, under one roof. "I want students to be able to see each other," says Densmore. "It will be great to be in a welcoming environment that facilitates collaboration."
Ask other researchers what tops their wish list for the new building and many of them echo Densmore. Their number-one priority is simple: Finally having a place to bring their colleagues together.
"You find neuroscientists and people who define themselves as neuroscientists on both campuses—in psychological and brain sciences, biomedical engineering, biology, at Sargent College, in mathematics, physics, radiology, psychiatry, anatomy, neurobiology, pharmacology—and they're all in different buildings." Stern says she looks forward to the collaborative projects these researchers might be inspired to undertake once they're under the same roof.
So how do you encourage biologists to talk to engineers? One way to do that, says principal architect Charles Klee, is by creating lab spaces large enough—the plan for CILSE is 17,000 to 20,000 square feet per research floor—to put two or three principal investigators on each floor. "With people in the same space, you can say, 'I'm having a problem with my protein sequencer, have you ever seen this?' 'Sure—someone over here can help you with that,'" says Klee.
Scientists from different disciplines may also share lab space on the same floor in some instances. In addition to the abundance of other common spaces, there will be kitchenettes on each research floor and—one of Klee's favorite ideas for promoting serendipitous, cross-disciplinary encounters—an inviting, open stairway connecting the kitchenettes.
"We understand you'll talk to someone when you have to," says Klee. "What we're looking for is the chance discussion that happens just because you bump into someone. It jars something loose in your mind, causes you to think about something in a new way—that's very much what this kind of a building is trying to do."
As science has evolved, so has the design of science buildings. "When I was beginning my career, most buildings were designed to function within single disciplines," says President Brown. "I have seen this change dramatically over the last two decades. Now, almost all universities are focused on allocating quality space to strategically important interdisciplinary research."
"Whenever they ask if we want a wall or not, we say 'no wall,'" says Densmore. "You need this flexibility or you're going to paint yourself into a corner." Densmore imagines a futuristic lab space for his work in biological design, with multiple microfluidic devices, 3D printers creating custom equipment, and RFID-enabled name tags to track students' experiments. "When people walk in, they'll say, 'something different is going on here,'" he says.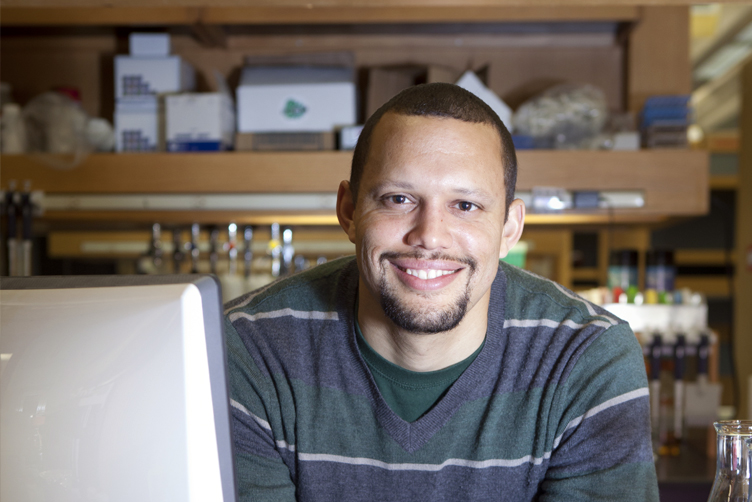 Other scientists have different ambitions for the building, especially for the Cognitive Neuroimaging Center. "We want to have room to put in an exercise bike, in case we want to study exercise and the brain," says Tyler Perrachione, assistant professor in the department of speech, language, and hearing sciences at Sargent College. "Or beds, so we can study sleep and the brain. We'll have the ability to study the biology of the brain in action."
Perrachione, who plans to use the Neuroimaging Center primarily for pediatric imaging, has been working with the architect to make sure it will be welcoming for children. "It turns out when you set up a center that's friendly for kids," he says, "it's friendly for adults, too."
Perrachione notes that the neuroimaging facility will also include a "mock scanner" ("kind of like a scanner play set," he says) that will allow special populations—children, people with autism or anxiety, the elderly—to become familiar with the MRI before entering the actual scanner.
Another critically important feature for neuroscientists at CILSE will be the sophisticated testing rooms that will minimize vibrations and shield experiments from electrical noise and electromagnetic interference. These factors can hinder research, whether it involves interviewing human subjects or the painstaking work of recording signals from individual neurons. Some of the lab space will have special floors that minimize everyday vibrations—from, say, footsteps—that could get in the way of research.
"It's very different than setting up an office building—it's not just a computer and desk," says Michael Hasselmo, director of the Center for Systems Neuroscience and a College of Arts & Sciences professor of psychological & brain sciences. "A person walking past your lab can ruin your whole experiment."
When it comes to the exterior, says Klee, the new science building will be "airy, transparent, beautiful." Klee says his team is mindful that CILSE not overshadow iconic Morse Auditorium, which is eligible for historic landmark status. "This will be a quiet building," he says. "It won't shout."
And that, the architect says, seems to suit the researchers. They just want to get inside and do their work. "Research is much more than a job; it's not a 9-to-5 activity," Klee says. "There's this kind of passion. They want a facility that will let them do what they want to do. Come hell or high water, it has to function."
President Brown has emphasized that the research inside the building be reflected in its exterior, says Klee. Just as EPIC (the new Engineering Product Innovation Center on Commonwealth Avenue) allows the public to see the hands-on nature of engineering, CILSE's glass-walled exterior will provide a window onto basic science research at BU.
"This is not a building that wants to be ashamed that it's a research building," says Klee. "You'll be able to see the exhaust fans on the roof, for example. It's transparent. You can see life in it. A lot of buildings are opaque—you have no idea whether it's a dorm, an office building, or a bank. We're giving science a front door on Commonwealth Avenue."