Alternative Spring Breaks: Killeen, Texas
Helping children with special needs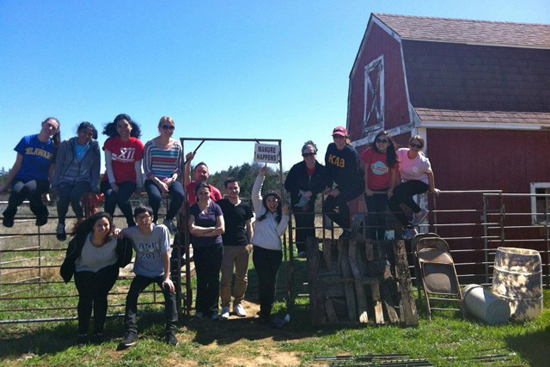 Nearly 400 students volunteered in this year's BU Community Service Center Alternative Spring Breaks program. ASB paired students with more than three dozen organizations around the country involved in environmental, affordable housing and homelessness, children's services, and animal welfare efforts. This week, we are bringing you first-person accounts of some of those trips.
"Guys, we're in Texas!" we shouted as we finally arrived at the airport in Austin, sleepy from a full day of traveling, but excited to start our ASB week. Walking through the terminal, we saw signs featuring cowboys, people in hats and Longhorns gear, and giant guitars lining the baggage claim. "This is so Texas," everyone joked. Little did we know this would become an ongoing gag line during our weeklong trip, a trip that was not only full of hard work, fun, and farmer's tans, but also achievement and growth. In short, it was a life-changing experience.
Piling into our rented vans, we began the hour-and-a-half drive to the site in Killeen, Tex., where we'd be working all week, Peaceable Kingdom Retreat for Children (PKRC). Along the way, we were caught in a downpour so severe we were forced to drive at 40 mph on a highway posted for up to 85 mph. It was scary, but our drivers were terrific, and the experience made for a perfect bonding experience. We arrived at PKRC around 1:30 a.m., briefly met program director Laura Nickel, and went to sleep, anxious to start work early the next morning.
We began our first day on the ground with a tour of the rambling camp by PKRC volunteer coordinator Adam Waugh and assistant director Tyler Duenas. PKRC is a retreat for children with disabilities and their families, offering outdoor education programs as well as weekend retreats and a summer camp. On the grounds are a swimming pool, a low ropes course, a rock wall and zipline, dinosaur tracks, fields, a fishing pond, and games. Peaceable Kingdom even has its own movie theater. And the best part is that every activity is accessible to any child, regardless of disability or chronic illness. Kids in wheelchairs are able to sit at picnic tables and fish, others are able to rock climb and zipline for the first time in their lives. PKRC gives children opportunities they might not otherwise have, and proves that anything is possible. That became our motto throughout the week.
Peaceable Kingdom was established in 1984 by Jim and Daurice Bowmer in memory of their grandson, Charlie, who died of a heart ailment as an infant. Originally called Baby Charlie's Fishing Camp, PKRC started as a day retreat where chronically ill and special needs children could celebrate nature and its healthy benefits. The camp, now run by the nonprofit Variety the Children's Charity of Texas, has since grown to encompass more than 122 acres and hosts nearly 5,000 children and families a year, partnering with families, schools, and medical groups in Central Texas. The curriculum provides programs and activities to advance academic performance, improve physical and emotional health, build social and life skills, and enhance the quality of life for children with special needs or disabilities.
We spent part of each day working with children or young teens, mainly middle school students who had learning disabilities or had been designated at-risk youth. Our job was to help them gain a sense of physical achievement and build team skills.
Two of our most meaningful days were working with a group of fifth to eighth graders from the Armed Services YMCA in Killeen, which primarily serves families of military personnel stationed at nearby Fort Hood. At first, the kids were either awkward and shy or showing off and making fun of one another. We worked with them on several projects: cleaning up a pasture, sorting (and playing with) costumes, and completing ropes courses. With motivation and support from us, the children were transformed after just two days. They gained the confidence to be themselves, to be positive, and to be kind. By the second afternoon, as they faced their fears and climbed the rock wall and ziplined down, they were cheering each other on. They later told us that their two days with us were the most fun they've ever had and that they were going to go back and brag to all their friends that they got to hang out with college students. Several promised that they'd see us at BU in a few years. The visible difference that we saw in in these children made us aware of the impact we were able to make.
Aside from working with the kids, we also created a safe area where children will be able to wait for horses and play with animals over the summer. We spent hours cleaning up a shaded pasture and covering the ground with woodchips. The work was hard, and we worked far longer than expected—often until dark—but everyone pushed through and motivated one another, and the finished pasture looked great. Children will be able to use it this summer.
This past Saturday, PKRC held its first annual "Kites for Kids" event, the first time the camp had opened its doors to the public in years, and we were a part of it. The free event was a huge success. PKRC staff had expected a crowd of between 50 and 500 guests, but more than 800 people turned out for kite flying, arcade and parachute games, movies, and contests. We served popcorn, cleaned, helped kids with kites, greeted and directed families, and even walked around in boiling 85-degree heat inside a heart mascot costume. Every family who attended had a blast at the event. We found ourselves proud to be a part of PKRC and eager to tell everyone about the wonderful things the site has to offer.
Throughout the week, we not only grew as individuals, but as a team: we helped one another. The kids changed, the pasture changed, and so did we. Those who never thought they could do manual labor in the heat found they could. People conquered their fears of height, darkness, opening up—and even snakes—and did things they would never have thought they could do.
By week's end we knew that all the heat, the cuts and bruises, the late nights, and the early mornings had been worth it—we had made a difference. With our newly minted Texas drawls and farmer's tans, we had left our mark on PKRC, and PKRC had left its mark on us.
Lauren Beader can be reached at lbeader@bu.edu.
Read more Alternative Spring Breaks stories.
This Series
Also in
March 21, 2014

March 20, 2014

March 19, 2014