Alternative Spring Breaks: Baltimore
Working with elders at a Little Sisters of the Poor home
Nearly 400 students volunteered in this year's BU Community Service Center Alternative Spring Breaks program. ASB paired students with more than three dozen organizations around the country involved in environmental, affordable housing and homelessness, children's services, and animal welfare efforts. This week, we are bringing you first-person accounts of some of those trips.
Alternative Spring Breaks: one of us had never been on a bus before, and the other had never been on an ASB trip. We were chosen to be the coordinators of the newest trip, one that took public transportation to Baltimore. After eight hours and almost no sleep, we finally left the overnight Megabus, driven by John, a very sassy bus driver. Barely awake, we filed off the bus only to find ourselves in the middle of an empty mall parking lot—not quite the Baltimore we had imagined. We called Sister Lawrence Mary, the sweet nun from Little Sisters of the Poor we had been communicating with for the past six months. It turned out that she and the group of volunteers picking us up were only a few spaces away. We could finally put a face to the comforting voice we had only dreamed about. We were too exhausted for conversation, as the volunteers drove us to St. Martin's Home, where we would be staying, serving, and eating for the week of ASB.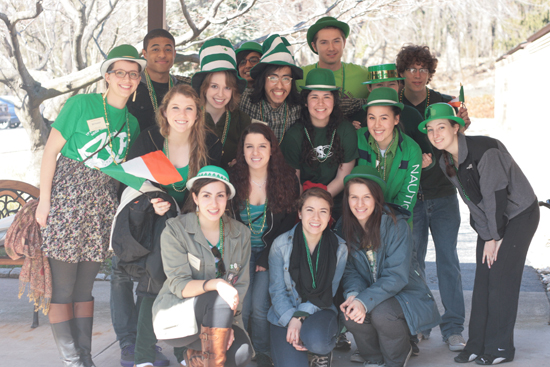 We were fed a delicious breakfast and given time for a nap before we were whisked away to our next destination—the Baltimore St. Patrick's Day Parade. Sister Loretto, who is from Ireland, had been chosen as the Honorary Grand Marshal this year. The Little Sisters graciously invited us to walk in the parade with them. We were surprised how appreciative and supportive the community was of the Little Sisters and by how many people were familiar with them; this showed how much of an impact they have made in the community, with many people mentioning that the Little Sisters had taken care of family members.
After the parade, we napped again, and Sister Lawrence Mary spoke to us about the Little Sisters of the Poor. The order was started in France in 1839 by Jeanne Jugan, who began to care for an abandoned elderly disabled woman. Soon she and others who joined her were caring for more elders and supporting themselves by begging, which the Little Sisters do to this day. St. Jeanne Jugan was beatified by Pope John Paul II in 1982 and canonized by Pope Benedict XVI in 2009.
The nuns take four vows: poverty, obedience, chastity, and hospitality. Especially hospitality. Their main mission is to care for the elderly poor, regardless of their financial status. They also went out of their way to care for us. Our favorite thing Sister Lawrence Mary said was, "We care for others because we are Catholic, not because they are." The Little Sisters are devout, but do not question the religion of the people they open their doors to. St. Martin's is like no other elder care facility we know of. The residents are treated like they are at home. The Little Sisters want them to leave their poor life behind and feel good about the place they live. It was heartwarming to see how much the Sisters dedicate their lives to this work and care about every resident.
We then wondered what exactly we would be helping them with. Some days some of us washed windows while others organized the storeroom. At first we didn't think much of this service, but as residents and Sisters began noticing and telling us they could see much more clearly, we realized we were literally brightening their day. One employee said the windows had not been cleaned like that since the 1970s. We also helped move residents' trinkets into boxes for a big move into a new wing. We disinfected wheelchairs and furniture and helped serve some meals. Residents constantly told us that we reminded them of their granddaughters or grandsons-in-law. We were happy to be of use and felt greatly appreciated.
Some of us met with residents one-on-one and were able to learn more about their lives and experiences at St. Martin's Home. We met centenarian Mary, the local bingo queen, Harry, the watchman of St. Martin's, and Go-Fish whiz Anna. There were always opportunities to stop and chat with anyone who was willing. Jerome, the most talkative of the residents, always had stories to share about his family or his favorite internet browser. He explained why he chose a career in computers: "I don't wanna destroy, I wanna create, man."
The residents went to bed at 7 p.m., so we had a lot of time to bond, through games of Mafia, friendship bracelets, and countless riddle games. We had many thoughtful discussions about elder care and how people in general feel about elders. It was great to see how much our volunteers got out of the service. The effect it had on them will definitely be a lasting one.
Paul Martinez (CAS'15) can be reached at paul93@bu.edu. Morgan Whaley (COM'14) can be reached at mwhaley@bu.edu.
Read more Alternative Spring Breaks stories.
This Series
Also in
March 21, 2014

March 20, 2014

March 19, 2014