Alternative Spring Breaks: Hobe Sound
Landscaping, trail maintenance on Florida's coast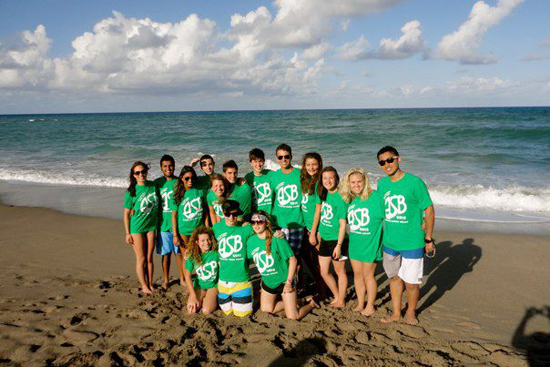 Nearly 400 students volunteered in this year's BU Community Service Center Alternative Spring Breaks program. Now celebrating its 25th anniversary, ASB paired students with 37 organizations around the country involved in environmental, affordable housing and homelessness, children's services, and animal welfare efforts. All week long, we are bringing you first-person accounts of some of those trips.
After five and a half months of planning, office hours, posting YouTube videos, and blogging, the moment we'd so eagerly anticipated had arrived: it was 5:45 a.m. March 10, and we were standing in the Fuller parking lot waiting for our ASB volunteers and the two vans that would take us to Hobe Sound, Fla. Moments later, everyone was on board, and we had begun our 30-hour drive to Jupiter Island, where we'd spend the next week assisting the Nature Conservancy restoring the habitats at the barrier island sanctuary Blowing Rocks Preserve.
The first leg of our trip proved quiet: everyone was either catching up on sleep or silently wondering why they had willingly agreed to share a van with complete strangers, overpacked duffel bags, tents, and a bad case of stinky feet that would turn out to haunt us for the rest of the week. It was during our first pit stop at a New Jersey gas station that our group started to lose its inhibitions. While people milled around stretching their legs, we suggested a game of Ninja, and within minutes we were in a circle, embarked on a loud and aggressive game.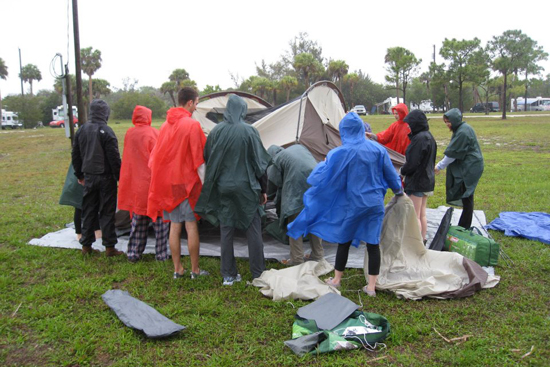 During another stop, in Washington, D.C., we played an impromptu game of Frisbee in front of the Washington Monument before heading over to the Lincoln Memorial, where we frolicked around the steps and took pictures in front of the empty reflecting pool. After romping around for nearly two hours, we found ourselves sprinting three miles back to our vans to avoid getting parking tickets. Later in the day, we met up in the Washington area with the Crossville, Tenn., trip at the home of the parents of one of the coordinators, where we filled up on pasta and played with a litter of puppies we referred to as "nuggets." The remaining drive was a blur of tweets, pictures taken at various Wawa convenience stores, wrong turns off the freeway, rain dances, and a sketchy 2 a.m. visit to South of the Border.
After driving more than 1,400 miles, we finally made it to our campground in Stuart, Fla., Sunday afternoon, in the midst of a torrential downpour. Disappointment could be seen in every face: dreams of a week of sun and warmth had been replaced by the necessity of having to set up two giant tents in a muddy field. Sporting our newly acquired stylish Wal-Mart ponchos and singing "Call Me Maybe," we quickly set up camp and cooked our first dinner while the storm played out. Before bed, we checked the forecast one more time. It called for rain and cloudy weather for the remainder of the week—not exactly the start we had been hoping for.
By Monday morning, the rain had finally subsided and after a hurried breakfast we made the 20-minute drive to Blowing Rocks Preserve on Jupiter Island, about 25 miles north of West Palm Beach.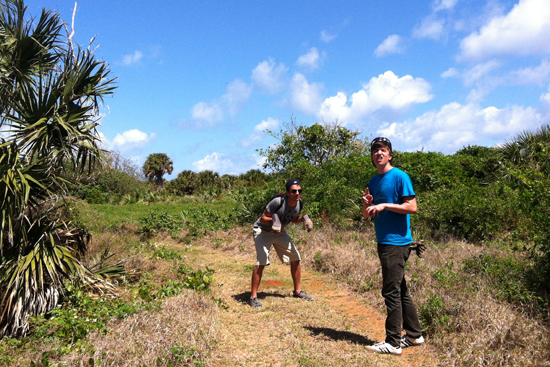 Blowing Rocks Preserve is considered one of the Nature Conservancy's greatest success stories. The 73-acre preserve has become a sanctuary for native species and habitats that are rapidly disappearing from other Florida islands. Since 1985, the Conservancy has completed a major wetlands restoration, as well as beachside restoration and the replacement of invasive nonnative species of plants with native plants, most grown on-site with seed collected from the preserve. Three species of sea turtles—loggerhead, green, and leatherback—return to nest on the north beach.
During our week at Blowing Rocks, we worked closely with Mike Renda, Conservancy conservation program manager, and his intern Kate to transform a barren and underdeveloped area of the sanctuary with new plantings. The first day, our stronger volunteers were recruited to use a machine called an auger to drill holes in the soil so others could then plant various species of native trees and other vegetation. We even stayed late that day to install an irrigation system, which was one of the highlights of our trip. The project required major teamwork: we worked in pairs to stab holes into the pipelines, causing water to spray frantically into our faces, soaking us as we inserted irrigation emitters. We didn't care. By the end of that first day, we could already see the impact we'd made on the land.
For the rest of the week, we woke our volunteers each morning at 6:30 by blaring what we designated as our anthems—"Call Me Maybe," "Princess of China," and "We Found Love"—from the van's speakers. Although tired and groggy, our group loved the chance to watch the sunrise during breakfast. We then headed to the preserve, where we mulched the trees we had planted, set up a culvert in a swampy pond (requiring some of the volunteers to wear "poop boots"), and weeded spartina grass. We finished up the week lopping vegetation for trails, removing weeds, and doing general cleanup.
Of course, when we weren't volunteering at Blowing Rocks, we found time to enjoy the beach—actually, several beaches. We had our pick of local Hobe Sound beaches as well as West Palm Beach and Stuart Beach. There is no better feeling than arriving at the beach after a long day of physical labor and immediately sprinting into the ocean and tumbling into the waves. The sun was glorious, despite the initial forecast, and our winter skin quickly tanned or sunburned.
We also used our free time to visit some local tourist spots, including the sea turtle hospital at Loggerhead Marine Life Center in Juno Beach. We explored the museum and hospital and saw all types of sea turtles recovering from various ailments, including shark attacks and malnutrition. We visited downtown Stuart on our last night, where we walked around the welcoming downtown and enjoyed ice cream before starting a flash mob dance party in the middle of a gas station.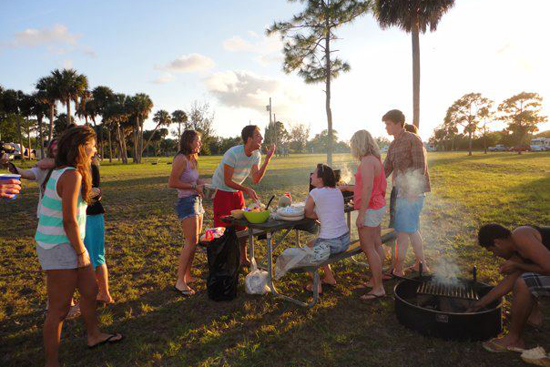 Every night we returned to camp after a long day, exhausted and slightly more sunburned, but we'd immediately start dinner and get a campfire going as the sun started to set. There were nights we ate better than others, and times when our campfire was less successful than we had hoped, but we always got together to play Mafia, roast s'mores, and exchange homemade presents we'd found in nature. As the campfire died down and volunteers returned to their tents, some of us would stay up an extra hour just to lie back and gaze at the stars.
ASB was an experience that brought us all together more than we ever expected. Now that we're back and the wonderful adventure is over, separation anxiety has definitely kicked in. Like the old saying goes, "The tans will fade, but the memories will stay the same."
Emma Briars can be reached at ebriars@bu.edu. Bobby Patrovic can be reached at bp8492@bu.edu.
This Series
Also in
March 21, 2014

March 20, 2014

March 19, 2014