Lunch, Anyone? Genki Ya
Organic sushi, a T stop away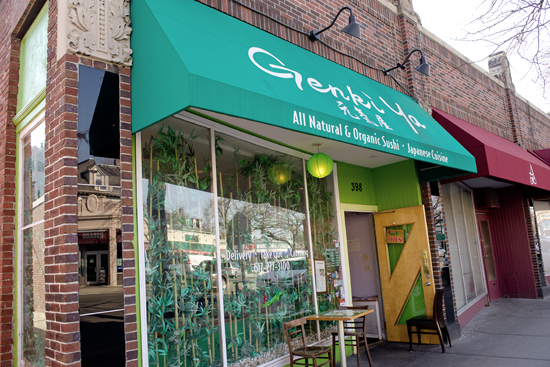 Looks can be deceiving. From the outside, Coolidge Corner's Genki Ya is all surface—shiny and bright. But once past the bright aqua awning, the fluorescent apple green door, and the bamboo stalks that curtain the window, you'll find some of the freshest, healthiest sushi anywhere in Boston.
Genki Ya offers dozens of different types of sushi—sashimi, maki, nigiri, as well as other traditional Japanese delicacies—all natural and organic. That means all of the vegetables and rice are organic, the fish has no additives, and the poultry and meat come from animals never given antibiotics or growth hormones. Even the soy sauce is organic or low sodium.
Since its first location opened in Brookline in 2008, Genki Ya has added a restaurant in Cambridge and another is coming soon to Legacy Place in Dedham. And despite the fact that it charges a dollar or two more per dish than the average sushi place, it's easy to see why the restaurant is popular: the fish is fresh and the portions are big.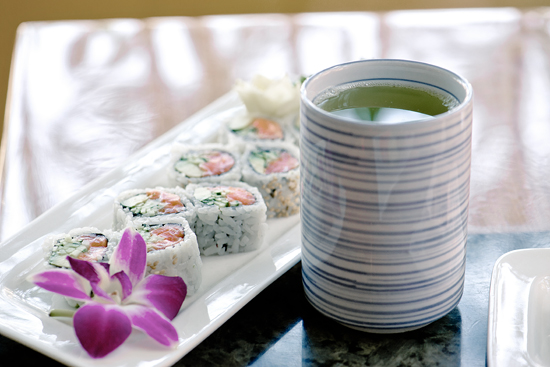 The best deals are the lunch specials. Each begins with a salad and miso soup. The salad is made with arugula, not the usual iceberg, and is dressed (a bit heavily) with a ginger dressing and a large orange slice. The miso soup is packed with more tofu, enoki mushrooms, seaweed, and scallions than you'll find in most miso. For those not wanting the standard fish broth, a vegetarian miso is available by request.
The maki special, which we usually opt for, is two rolls of sushi for $11 or three rolls for $14.50, plus the miso soup, salad, and fruit. There are 39 rolls to choose from, so be prepared to spend some time selecting. Diners can opt for the crazy roll (shrimp tempura, avocado, cucumber, flying fish roe, and spicy mayonnaise), the super white tuna avocado roll, the ABC roll (avocado, banana, and cream cheese), and the Genki vegetable roll (sweet potato, avocado, banana, mushroom tempura, and cream cheese), to name just a few.
We gorged ourselves on sushi, sampling the Alaskan roll, the eel avocado roll, the crazy maki, the salmon roll, the tuna roll, and the eel cucumber. All are available as part of the lunch special.
The eel sushi was a pleasant surprise: unlike any sushi we'd had previously, it was served with generous cuts of fresh eel with no bone or skin.
Another standout was a simple piece of salmon sushi (above), which is essentially a piece of raw salmon draped over a small block of rice. It was notable for its size: the salmon positively dwarfed the rice.
The rest of Genki Ya's maki menu is adventurous and unique. The triple torch roll ($15.95) is torched tuna, salmon, yellowtail, and flying-fish roe on top of a California roll. Fruit makes a seamless addition to the dynamite roll ($12.95)—spicy seafood, banana, avocado, flying-fish roe, tempura flakes, and spicy mayonnaise.
Rice, that all-important ingredient in any sushi meal, is served warm and soft here, a good sign that it's fresh. Diners can choose white, brown, or multigrain rice (the last two cost 50 cents more per roll). The multigrain rice is a mixture of 15 grains, and includes black soybean, corn, and Job's tears.
Finally, sushi novices or those less adventurous diners will appreciate the fact that Genki Ya's menu is generously illustrated with photographs, so it's easy to see exactly what you're ordering.
Our one complaint was with the beef nagima ($9.95), asparagus and scallions wrapped in sirloin beef or chicken, and dressed with a teriyaki-like sauce. Although the vegetables were crisp and complemented the tender beef, it had so much sauce that it overwhelmed the other flavors.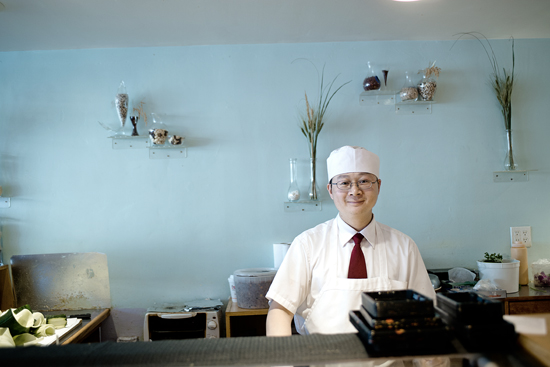 The restaurant, which seats around 30 people, is lined with granite tables and black wooden chairs, and the blue walls give the upscale eatery a sense of tranquility. If eating alone or with just one friend, we recommend dining at the sushi bar. It's fascinating to watch the sushi chefs swiftly slice the fish and shape and build the rolls almost by rote. The service was for the most part excellent. Our food arrived quickly, not a surprise since the restaurant has four diligent chefs behind the counter—more than most other sushi restaurants of its size.
Genki Ya, 398 Harvard St., Brookline, is open Monday to Thursday, 11:30 a.m. to 10:30 p.m., Friday and Saturday, 11:30 a.m. to 11 p.m., and Sunday, noon to 10 p.m. The restaurant takes all major credit cards. For takeout orders, call 617-277-3100 or order at genkiyasushi.com. Delivery is available. By public transportation, take the MBTA Green Line C trolley to Coolidge Corner, or the number 57 or 57A bus to the Packard's Corner stop and walk down Fuller Street.
This is part of a weekly series featuring Boston lunch spots of interest to the BU community. If you have any suggestions for places we should feature, leave them in the comments section below. Check out our list of lunchtime tips on Foursquare.
This Series
Also in
April 18, 2018

April 11, 2018

March 29, 2018