Lunch Anyone? BB.Q Chicken
In a competitive area, a new challenger fails to match up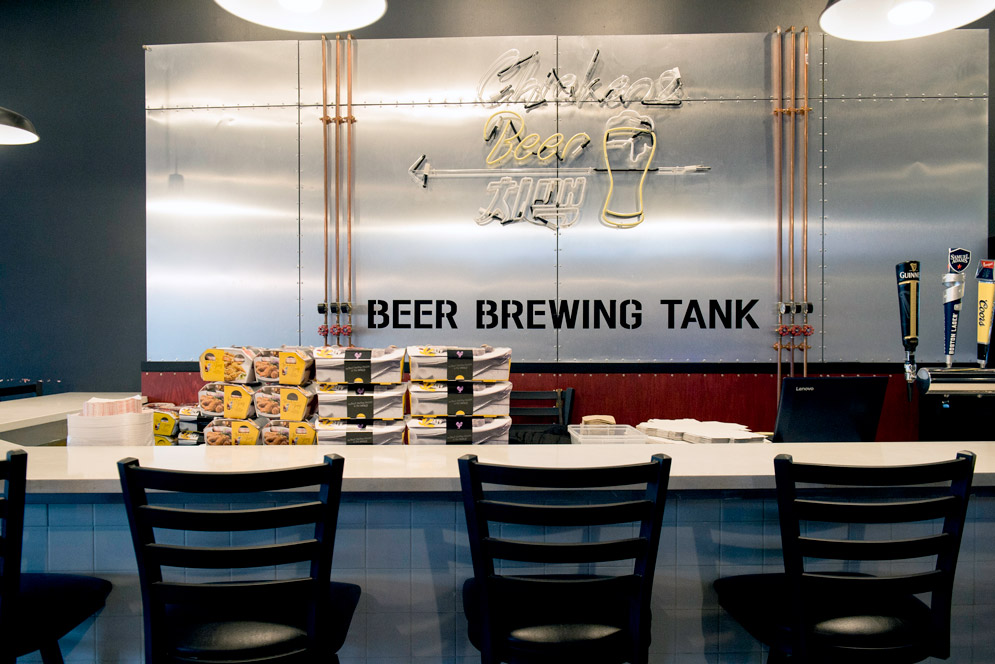 In a neighborhood packed with restaurants with diverse cuisines, Allston's BB.Q Chicken offers something unique: Korean fried chicken (and a smattering of other Korean dishes). The international chain opened in Allston last year, its first foray into New England, and its website promises that its fried, sauced, and grilled chicken is the "best of the best." But a recent visit suggests otherwise.
The most popular dish on the menu is the Golden Olive Chicken (5 pieces, $11.95; 10, $22.95). It's the closest to traditional fried chicken you'll find here. What makes it different from the chicken at fast food chains like Kentucky Fried Chicken or Popeyes is that it's fried in olive oil, which the chain touts as "caring for our customers' health and happiness."
As we found during a recent visit, the result is slightly off-putting if you're a KFC or Popeyes fan. The skin was crispy enough, but it lacked seasoning and needed salt. And while the quality of the meat was much higher than that of a McDonald's McNugget, we suggest sticking to the Golden Arches if it's flavor you're after.
We found the Honey Garlic Chicken (10 pieces, $11.95; 20, $22.95) similarly disappointing. The quality and flavor were on a par with the orange chicken at the GSU Panda Express, but it's more expensive. Once again, although it was crispy and had plenty of sauce, the flavor left much to be desired—in fact, it turned out to be hard to finish. More successful was the Soy Garlic Chicken (10 pieces, $11.95; 20, $22.95). The soy and garlic sauce gave the dish a distinctive umami flavor.
BB.Q has better luck with its smattering of traditional Korean dishes. We recommend the Jjim-Dak ($12.95), steamed chicken marinated in a sweet red chili–based sauce and cooked with various vegetables, or the Duk-Bokki ($8.95), a rice cake, fish cake, cabbage, and scallion cooked in sweet red chili sauce. Both are good, but beware: both are very spicy.
The real surprise at BB.Q is the salads. We ordered a Cobb salad ($11.95): breaded chicken, avocado, and shredded cheese over a bed of fresh, crisp lettuce in a creamy yogurt or ranch sauce. It was very good. The chicken was tasty and crispy, and the saltiness complemented the sweet dressing. Among the other salad options are a sweet pumpkin salad ($9.95) and a chickpea salad ($10.95). The salads are huge, so plan to split one with a friend or take some home.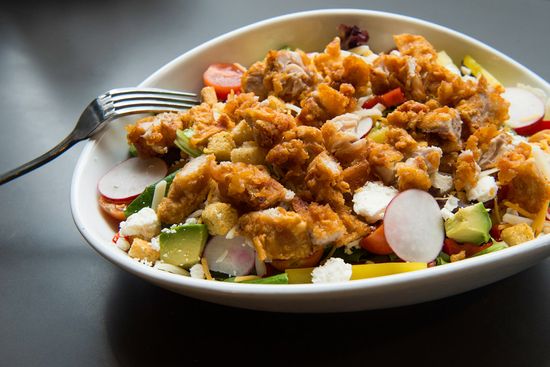 Price and convenience are two of the biggest factors working against BB.Q Chicken. Forking over $22.95 for 20 pieces of chicken may induce sticker shock. And in a neighborhood packed with delicious and cheap eats, it's hard to justify paying more for a mediocre dining experience. And unlike the many Allston eateries that are open late on weekends, BB.Q closes at 10:30 pm on Fridays and Saturdays.
BB.Q Chicken, 182 Harvard Ave., Allston, is open from 11 am to 10 pm Sunday through Thursday, and 11 am to 10:30 pm Fridays and Saturdays; phone: 617-903-3359. It accepts all major credit cards and is wheelchair accessible. Take an MBTA Green Line trolley to Harvard Avenue.
This is part of a weekly series featuring Boston lunch and brunch spots of interest to the BU community. If you have any suggestions for places we should feature, leave them in the Comment section below.
Alex Pena (COM'19) can be reached at alexgp97@bu.edu.
This Series
Also in
May 10, 2018

April 26, 2018

April 18, 2018