Lunch, Anyone? La Befana
Delicious gourmet pizza at everyday prices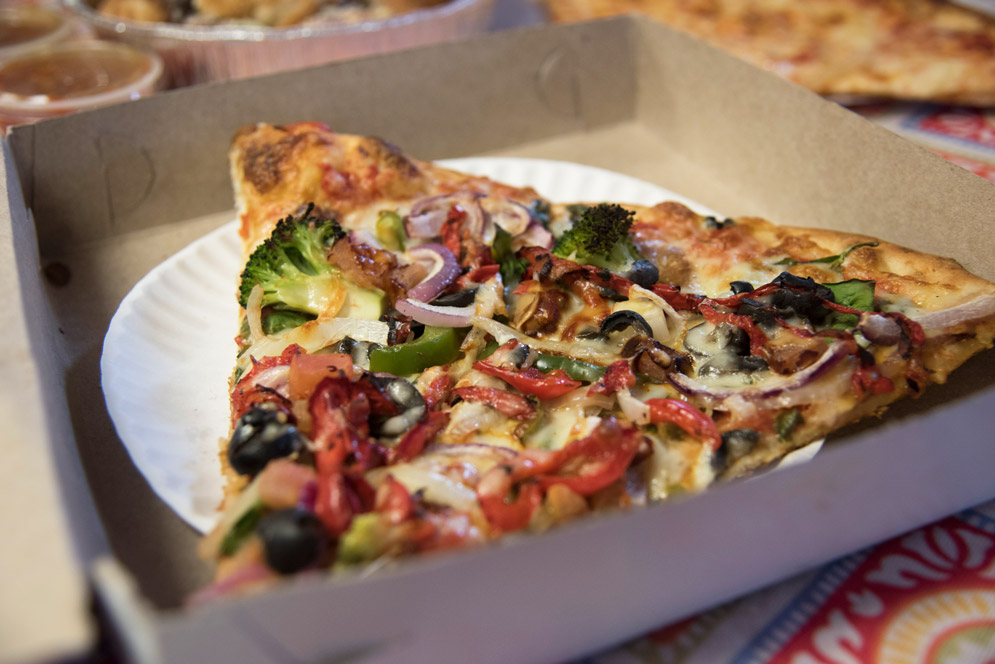 Too often when a restaurant boasts "gourmet pizza at everyday prices," it's either an exaggeration or the price is right, but the pizza is lousy. When La Befana makes that claim, it's true. A staple of Allston's dining scene since 2011, the restaurant serves up delicious pizza at affordable prices.
We went on a Friday at noon and found that since there were only two tables, most customers order their food to go. We were pleased that one of the tables was available. Like most pizzerias, you can order by the slice or opt for a whole pie (there are far more topping choices for a whole pizza than for a slice). To our delight, we discovered that a slice here is actually the equivalent of two slices anywhere else. And we're talking big ones at that. La Befana recently made Boston Eater's top-14 list (coming in at number 7) of the most reliable cheap pizza slices in and around the city.
We opted for a slice of cheese and a slice of veggie. We decided to also follow the menu's urging: "Try our garlic knots!" (We were glad we did). One bite of the cheese pizza ($3.50) and we were hooked. The mozzarella was flavorful and gooey and nicely complemented the tomato sauce and the satisfying crunch of the dough. Our only complaint was that it could have been a touch warmer (slices are on a rack when you walk in, and employees pop them in the oven once you order).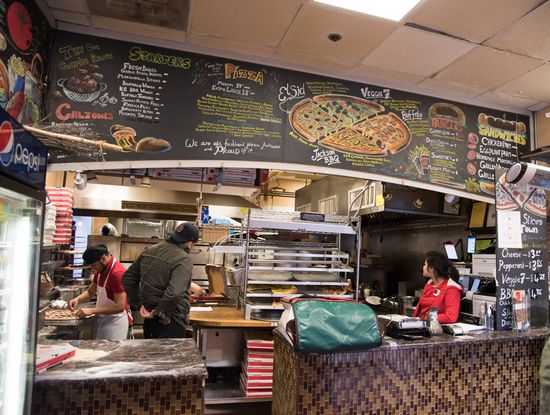 The veggie pizza ($4.25) wasn't quite as satisfying. The number of ingredients (it was loaded with spinach, broccoli, mushrooms, red and white onions, red peppers, and tomatoes) was a bit overwhelming. The vegetables were clearly fresh, but the pizza would have benefited from fewer toppings so the taste of the dish could come through.
La Befana is famous for its garlic knots—one taste tells you why they're a fan favorite. Moist and soft, the bread melts in your mouth and has just the right amount of garlic. An order of 12 hearty knots ($4.50) comes with a side of marinara sauce, and while we used the sauce sparingly (why add to something that is already so delicious?), it made a welcome addition. As an added bonus, the garlic knots are complimentary with an order of $20 or more.
Other tempting starters include mozzarella sticks ($6.50), potato skins ($7.50), and broccoli bites, battered broccoli with cheddar cheese and homemade marinara sauce ($6.50). Hungry yet?
When it comes to whole pies, patrons can design their own, opting for either white or red pizzas, a thick New York crust or a thin Neapolitan crust, and toppings from a large selection of premium, regular, or cheese. There are also more than two dozen featured white and red pizzas, like a traditional Margherita, with tomato sauce, mozzarella, and fresh basil, the more adventurous Cape Codder, sweet bay scallops, roasted garlic, bacon, and mozzarella, or Chicken Alfredo, chicken, broccoli, and alfredo sauce. Carnivores may have trouble resisting the Mighty Meat Lover: imported ham, meatballs, sweet Italian sausage, pepperoni, bacon, and mozzarella. A medium pizza is 14 inches ($11 and up), the extra-large is 18 inches ($13 and up).
Not in the mood for pizza? Don't worry. La Befana also offers a handful of pasta dishes ($8-$13), calzones ($12), burgers ($8.50-$9.50), and hot and cold subs ($7.50-$10), as well as salads and chicken wings.
The restaurant's name comes from an old Italian folk tale: an old woman (Befana), often portrayed as a witch or hag, travels from house to house each January 5 (the eve of the Christian feast of the Epiphany), dispensing sweets and presents to good children and coal to those who aren't. She is said to sweep the house before moving on to the next one. The restaurant's blackboard provides more about the legend.
Almost better than our meal was the price—just under $13 for two (really four) slices of pizza and a generous helping of garlic knots. It's the ideal place for anyone looking for a delicious meal on a budget. And for a night in? Order a cheese pizza and a side of garlic knots to go. You'll be glad you did.
La Befana, 15 North Beacon St., Allston, is open Sundays, noon to 11 pm, Mondays, 4 pm to midnight, Tuesday to Thursday, 11 am to midnight, Friday, 11 am to 1 am, and Saturday, noon to midnight; phone: 617-987-0086. The restaurant accepts all major credit cards and is a 10-minute walk from the Harvard Avenue MBTA stop.
This is part of a weekly series featuring Boston lunch and brunch spots of interest to the BU community. If you have any suggestions for places we should feature, leave them in the Comment section below.
Sara Frazier can be reached at smfrazie@bu.edu; follow her on twitter @Sara_Frazier.
This Series
Also in
May 10, 2018

April 26, 2018

March 29, 2018