Chad DiGregorio (1985-2012) was a graduate student in Aegean Prehistory in the Department of Archaeology.  He was planning to conduct dissertation research on the early Palaeolithic in the Aegean region, and it was while conducting research in Turkey that he died in an accidental fall in July of 2012.
Chad was a respected and much loved member of our archaeological community.  He began his academic career at Providence College in Rhode Island, where he graduated magna cum laude in 2008.  His interest in archaeology was first stimulated by an introductory course in archaeology taught by Thomas F. Strasser at Providence College, and by his participation on the Plakias Palaeolithic and Mesolithic Survey in Crete.  These experiences led him to the Archaeology Department at Boston University where he began his graduate studies in 2009, and also led to his first co-authored scientific publication on the project, "Dating Palaeolithic Sites in Southwestern Crete, Greece," with colleagues Thomas F. Strasser, Curtis Runnels, Karl Wegmann, Eleni Panagopoulou, Floyd McCoy, Panagiotis Karkanas, and Nick Thompson, published in the  Journal of Quaternary Science 26: 553-560, 2011.  At the time of his death Chad was working on a second article, "A Lower Palaeolithic Assemblage from Plakias, Crete (Greece), and Its Affinities,"  with colleagues Curtis Runnels, Eleni Panagopoulou, and Thomas Strasser; this article in preparation will bear his name when published.  Chad also worked on excavations at the sites of Damnoni 3 Cave and Mochlos in Crete;  in Turkey, he participated in the Central Lydia Archaeological Survey.
A fund has been created in memory of Chad DiGregorio.  The purpose of this fund is to honor our late PhD student in a way that fulfills a wish that he often expressed: that the Archaeology Department should have a source of small grants in aid for PhD students' dissertation travel and research expenses.  For information about how to apply for the Chad DiGregorio fund, click here.
Many friends, colleagues, and students wrote in memory of Chad in the "Comments" section of a BU Today article.  Students spoke repeatedly of their admiration for the knowledgeable, effective, indeed "extraordinary," teacher he was, inspiring many by his love of archaeology to follow his example.  Faculty spoke of Chad as one of the best graduate students the BU Archaeology Department had. An enthusiastic, knowledgeable and skillful young person; his ease in doing things was remarkable. There was not a task he could not find a solution for. As such a resourceful person, he could investigate well, write well, edit, draw, photograph, drive a car, ride a motorcycle, and more.  But above all, Chad had a great personality – always in action and in good spirits.
To donate to the Chad DiGregorio fund, please click the link below.
Donor Highlights
Donation to the Chad DiGregorio Fund by the Damnoni Cave Excavation Team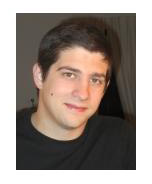 The Damnoni Cave Excavation Team, led by Dr. Thomas Strasser of the Art and Art History Department, Providence College, Rhode Island, has made a generous donation in honor of Chad DiGregorio.  Damnoni Cave is a Mesolithic site in Crete, and Chad was part of the team that has been working at the site since 2010. In January, the Damnoni team presented a poster on their current progress at the Archaeological Institute of America Annual Meeting in Chicago, which won the Best Poster Award. The Damnoni team unanimously decided to donate a large portion of the award in Chad's memory.  The Chad DiGregorio Fund was established to continue Chad's legacy by making modest grants in aid to PhD students working on dissertations.  Inspired by this moving tribute to Chad's memory by his friends and colleagues, Curtis Runnels and Priscilla Murray have matched the donation by the Damnoni team.
"Make a donation to the Chad DiGregorio Fund"