Posted June 2021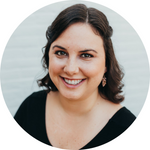 Sarah Prager (CAS'08) is the author of three books on LGBTQ+ history and has spoken on this topic across seven countries. Her writing has appeared in the New York Times, The Atlantic, National Geographic, HuffPost, NBC News, and elsewhere.

After her two recent books were submitted as fan-favorites (or better yet, Terrier-favorites) for our list of Crowdsourced: Favorite Queer Books & Movies, author and alumna Sarah Prager (CAS'08) agreed to talk to us about her career and time at BU. Sarah doesn't only stand out in the literary world; she is also a committed advocate focused on advancing LGBTQIA+ rights and inclusivity. Read the Q&A below to learn more about how her passion for advocacy and writing brought her to where she is today.
Tell us a bit about yourself and what originally brought you to pursue a BA in Hispanic language and literature at BU.
I knew I wanted to work for nonprofit organizations and that I needed a BA but not a specific degree like for certain careers. I chose to study Spanish because of my love of the language and knowing it was a useful skill for community work. I loved going to school in Boston and all of the student groups and internships at area nonprofits I had access to. I stayed in the city after graduation and started working in nonprofit communications. Now I work as a writer full-time. I don't use my major much anymore, but I'm still happy to have had the time learning deeply about something I love.
You have published two books in the past five years and are on your way to publishing a third. Did you always want to be a writer and if so, why did you choose to focus on LGBTQIA+ education?
I wanted to be a writer in elementary school but decided that was as impossible as deciding I wanted to be a famous actress. The chances of success were so slim that I didn't even pursue it. Now I am so grateful to have actually found my way to my dream.
An editor at HarperCollins reached out to me out of the blue in 2015 with a dream book deal that changed my life. That project was about LGBTQ+ history, my passion. They had reached out because of my work in that space which was just a side hustle at the time. Now I've published dozens of articles on LGBTQ+ history and dozens more on other topics as a freelance writer in between books. I love the ability to work for myself with a flexible schedule, to pitch and choose projects that I am excited about, and to move quickly from one project to another.
I write on LGBTQ+ history for young people because I believe knowing who we are and where we've come from is extremely powerful. It's important for young people, queer and not queer, to know that queer people have had a huge, positive impact on the world for all of human history.
Do you have any suggestions for recent graduates who are interested in a career as an author?
To start off, being an author is likely to be just one of your jobs. I'm a speaker, consultant, freelance writer, etc. in addition to an author, as are many authors. I find it helpful to have my other jobs be related to the topic I write about, as opposed to necessarily having to be related to publishing. That way my work helps build up my expertise and network in my field, even though much of it isn't in the book world. Choose what you're writing about and see if you can find other jobs in that field. Publishing on that topic will help your career and having a career in the topic will help with getting published.
Do you have any tips for fellow Terriers who are looking to become more involved in activism?
For activism while I was at BU, I found joining student groups to be very helpful, but also joining off-campus groups. All of the social justice issues in the world are also playing out on campus, so whether you act on campus or off, you're making a difference. Stretch yourself to learn about causes that don't seem like they personally affect you. You have the opportunity to meet people from all over the world and from many walks of life here at BU and also out in Boston, so take advantage and educate yourself out of the classroom, too.
Meeting and connecting with people from all walks of life doesn't have to end once you graduate. BU Connects, a platform dedicated to facilitating professional connections between alumni, staff, faculty, and students, allows you to get in touch with members of the BU community. Meet new people by joining one or more of the 20+ networks available within BU Connects (examples include the LGBTQIA+ Network, Media & Communications network, and Creatives & Artists Network).