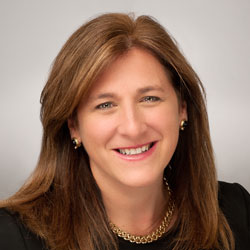 Elizabeth Brody Gluck
Lecturer
AB cum laude, Dartmouth College
JD, Northeastern University School of Law
Biography
Ms. Brody Gluck received her J.D. from Northeastern University in 1992. After graduating, she worked at Mintz, Levin, Cohn, Ferris, Glovsky and Popeo in Boston. From 2001 to 2006, she served as Vice-President and Legal Counsel to Analysts Group, Inc., a consulting firm. From 2007 to 2012, she was the Managing Partner for the Boston office of Verrill Dana. Since 2012, Ms. Brody Gluck has served as Vice-President and General Counsel of Vinfen Corporation, a non-profit provider of social services. Ms. Brody Gluck previously taught in the program from 1994 to 1996. She received her A.B., cum laude, from Dartmouth College. Ms. Gluck taught in the J.D. Writing Program for two years.
Courses
Research and Writing Seminar: LAW JD 893
This two-credit Legal Research and Writing seminar is required for LL.M. students in the American Law program and optional for students in the LL.M. programs in Banking and Financial Law and Taxation. It is specifically designed to introduce foreign lawyers to the basic principles of American legal writing. In small class settings and individual conferences, students receive guidance on drafting and editing memoranda and agreements. Their work is critiqued and rewritten. The research component of the seminar trains students to locate cases, statutes and secondary material through indexing systems and the latest computer technology. Research assignments are integrated into writing assignments -- exposing students to the methods of US legal analyses -- so that by the end of the term, students obtain the skills needed to write memoranda appropriate for submission to US law firms.
FALL 2017: LAW JD 893 A1 , Sep 11th to Dec 4th 2017