Students, Alumni Shape the Future of Antibiotic Development
Yelena Greenberg ('17), Samantha Hirsch ('18), and Cristina Cahn-Speyer ('16) discuss their work as fellows for the antibiotic development accelerator, CARB-X.
With the 2016 launch of BU Law's $350 million partnership aimed at the development of new antibiotics, the Combating Antibiotic-Resistant Bacteria Biopharmaceutical Accelerator, or CARB-X, has been working to tackle the complex global health problem of outdated and resistant antibiotics.
Headquartered at BU Law, CARB-X brings together leaders in industry, philanthropy, government, and academia with the aim of rejuvenating the antimicrobial pipeline for the next 25 years. Led by Professor of Law and N. Neal Pike Scholar in Health and Disability Law Kevin Outterson, the CARB-X partners will pool their broad scientific, technical, business and legal expertise to help grantees navigate the maze of regulatory steps, studies, and data collection required for new drugs and other products to gain approval by US and/or European regulators.
"Drug-resistant bacteria kill more than 700,000 people worldwide, and the threat is growing," Outterson says. "Unlike most drug classes, antibiotics lose effectiveness with use, so we need to innovate just to avoid falling behind."
As CARB-X fellows, Yelena Greenberg ('17), Samantha Hirsch ('18), and Cristina Cahn-Speyer ('16) have been crucial in establishing the operations of CARB-X to begin to combat this threat.
With CARB-X currently in the contracting phase, Greenberg, Hirsch, and Cahn-Speyer also support the negotiations and due diligence required to execute agreements for the 10 companies that were selected for $20 million in year-one funding.
"We are developing the contracts for applicants and looking at how to allocate risk," Greenberg says. "CARB-X isn't taking a stake in these companies, but we want to know we are supporting good science and do the due diligence to make sure these companies are worthy of the funding."
Understanding the legal side of health care is important, Greenberg says. But working at CARB-X has given her the opportunity to further understand the business aspects of the health system as well.
"It's understanding business concepts and how companies think about the business of drug development," she says.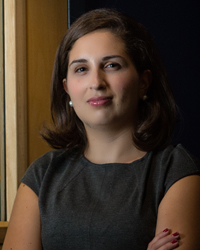 Cahn-Speyer says working at CARB-X has been a perfect fit in combining fields of law she finds interesting. "It involves contracting and compliance work as well as health law," she says.
As a graduate and a member of the Massachusetts Bar, Cahn-Speyer is a recipient of the Public Service Fellowship—which funds the work of graduates entering positions in public-service-related fields.
"What we're doing at CARB-X is trying to prevent antibacterial resistance from becoming a bigger problem than it already is," she says. "It's important to me that my work is meaningful, and it's rewarding to know that the work I'm doing is going to make a difference."
Hirsch says the CARB-X fellowship has been challenging, but fulfilling and rewarding. "I was interested in the mission of CARB-X, and being able to be a part of something that has a big impact on global health care."
The experience has been a learning process, and has allowed her to explore other areas of health law and develop basic lawyering skills. "As we are working, Professor Outterson always points out what business and legal skills we are using as well as tips to help us practice in the future," she says.
For Outterson, the progress at CARB-X would not be the same without his fellows.
"Our first day was July 28, 2016 and last week, we held a board meeting that was the culmination of a global scientific and business review involving 168 companies, selecting 10 to fund in our first cycle," Outterson says. "Moving at such speed would not have been possible without our BU Law team."
CARB-X will announce the first grant recipients on March 30, 2017.
Reported by Greg Yang (CAS'17)