Martin Luther King, Jr. Day Commemoration
"Poets are the unacknowledged legislators of the world."
A Defence of Poetry. Percy Bysshe Shelley
The Boston University Dean of Students and Howard Thurman Center present: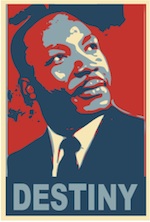 Manifest Your Destiny: Boston University's Annual Commemoration of MLK Day
Monday, January 16, 2012
1pm
Metcalf Ballroom, George Sherman Union, Boston University
775 Commonwealth Avenue, Boston, Massachusetts
Boston University's annual ceremony is one of the largest and oldest in the City of Boston. It routinely draws over 1000 attendees from throughout the community. The University's commemoration dates back to before the holiday was officially recognized by federal and state governments.
Dr. King was an alumnus of BU, and we seek to honor him with a vibrant and contemporary ceremony that brings his social justice message to today's young people.
2012's event is titled "Manifest Our Destiny" and will discuss of how one's passion can change the world. Members of the University's faculty and students will present dynamic takes on how Dr. King inspires movements and change worldwide to this very day. Speakers include Kemi Alabi, Ruha Benjamin, and Kenn Elmore. Music and performances by students within the College of Fine Arts and across the University.
For more information, please contact the Dean of Students office at 617-353-4126 or dos@bu.edu.
Admission is free. The event will also be live broadcast using UStream on this page.
For more information, please contact dos@bu.edu, katcorn@bu.edu or call our office at 617-353-4126.
UStream Live Coverage (will begin at 1pm on January 16th)