Stacy Scott
Senior Lecturer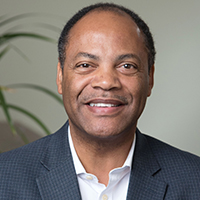 Dr. Scott has had an extensive career beginning as a teacher in middle school level and director of diversity programs for 15 years; as a psychologist training, coaching and consulting to schools and their leadership for 21 years; and, finally as a superintendent and associate superintendent of schools for nine years. Dr. Scott's first book and signature workshop named Making Equity Work were the focus of numerous workshops and seminars for many years. He has focused on bringing concerns of equity in education to light for the past 20 years.
Dr. Scott's teaching experiences at the higher education level include being a teaching assistant, lecturer, trainer, and guest lecturer over the past 25 years.  In 1987, he designed and taught a graduate-level course on Faith Development for the Gordon Conwell Theological Seminary Center for Urban Ministries. From 2000 – 2004, Dr. Scott taught a three-credit graduate course for Teachers21 on Differentiated Instruction. This perennial course gave teachers broad knowledge and skills for developing differentiated, integrated lessons as well as a portfolio of lesson plans and assessments to use.
Dr. Scott has been a guest lecturer for a variety of institutions over the years. Most recently in April 2017, he was a guest lecturer on Ethics in Education at the William James College of Psychology with Lisa Wyatt, Esq. Between 2015 and 2017, Dr. Scott presented as a guest lecturer at Harvard Graduate School of Education for Dr. Paul Reville, Dr. Lee Teitel, and Dr. Liz City's doctoral-level education leadership courses using the case-study methodology. Internationally, he has presented at various universities such as Faculdade Avantis in Balneário Camboriú in Santa Catarina, Brazil.
Training for principals and superintendents has been a specialty for Dr. Scott in a variety of programs and cities across the country.  From 2001 to 2006, Dr. Scott led five daylong sessions each year for the Aspiring Leadership Program for principal training for the Philadelphia Public Schools. This program led to principal placement for many of the participants each year.  From 2000 to 2008, Dr. Scott ran extensive trainings for principals in districts such as Tustin Unified School District, Bering Strait School District, Milwaukee Public School District as well as Louisiana State Department of Education and numerous other states and districts across the country.
Training adult learners, principals, and superintendents in graduate and certification programs has been a standard offering by Dr. Scott for many years. For example, he was a part of the Teachers21 team that created and taught Massachusetts' first principal alternative certification program. He championed the equity and diversity components of the course for several years. This work was the foundation of his later book Making Equity Work. Even more recently, Dr. Scott was one of two superintendents who were members of the Massachusetts' task force that created the Principal Assessment for Licensure which dramatically changed the certification process for principals in Massachusetts. Many of the defining features mirrored Dr. Scott's principal training, especially using cultural assessments and school-based projects as a part of the certification process.
Locally and nationally, Dr. Scott has been at the forefront of training and certification for superintendents as well as for principals. Dr. Scott was a coach for Harvard's Public Education Leadership Program where he coached the Superintendent and her team from Cleveland Heights, Ohio, as well as the Ohio State Alignment Network that included the State Superintendent and her team (which included then Ohio Assistant State Commissioner Mitchell Chester). As a member of the first cohort of the Massachusetts Superintendent Induction Program, Dr. Scott's strategic planning documents from Year One were used in the second year as exemplars for the incoming cohort.  Supporting and training superintendents and managing district strategic planning processes had already been a staple for Dr. Scott before this three-year training process began. This course was run by MASS and Harvard Graduate School of Education.
Currently, Dr. Scott is involved in a variety of programs that support superintendent development including the AASA Urban Superintendent Academy which is run in collaboration with Howard University under the leadership of Dr. Joe Hairston, former superintendent in Baltimore.  As a mentor and part of the faculty, Dr. Scott provides support to the candidates and the teaching faculty throughout the execution of the program. Dr. Scott has excelled as a leader among his peers as evident in his chairing a variety of superintendent roundtables, collaboratives, and consortiums. His leadership has been recognized and demonstrated through the numerous advisories and think tanks he has been invited to where his participation has been heralded as creative and essential to bringing the voice of the superintendent to bear on the issues at hand.
Dr. Scott's work in shaping the nature of education and schools in Massachusetts and the nation began with his role as a Member of the Massachusetts State Board of Education, appointed by Governor William Weld. He focused on adolescents at risk he continued this work as an affiliate of the National Association of State Boards of Education where he led and participated in several study groups leading to notable published papers.
Education
BA Harvard College 1981
EdM Harvard Graduate School of Education 1986
EdD Harvard Graduate School of Education 1991
Courses
ED 410/412; AP 758
Research
Dr. Scott's research emerges from social cognitive developmental theory and practice. He has focused on leadership development, equity and diversity issues in support of education reform and capacity building of leaders in education.  His mission is building equitable schools and districts supported by leaders with capacity to manage culture and equity challenges.  The education technology solutions that Dr. Scott focuses on are intended to elevate local community challenges through projects for storytelling and social networking to match communities with entrepreneurial solutions locally and globally.
Spirit of Wonder Storytelling Project

The Spirit of Wonder Project seeks to share and analyze individual life narratives to foster relationships with and among communities and different cultures, to support connectivity and to develop community engagement.

The Spirit of Wonder seeks to revive storytelling and to popularize this approach of people connecting with themselves, each other, and their communities. In modern scientific research, storytelling has been proven to cure trauma, resolve conflicts, improve self-understanding, and raise self-esteem.
Beneficiaries of this project are BU researchers and the multiple communities that sign on to share their stories and unearth the challenges they face, individually and collectively. The project includes strategies for connecting community challenges with sources of solutions. Community projects in Brazil, China and United States are the first to be established.
Confidence Constellation Project

This project explores the elements of confidence that show up in all of our human endeavors. Research focuses on tutoring and educational experiences of a small group of students over a number of years in school and tutoring settings.
A data base of student progress in the development of confidence are measured on a continuum that articulates improvement on each scale. Phases of learning are measured by a cycle which measure student responses to challenges they encounter. A book documenting the research findings, concepts and recommendations for use in the classroom will be forthcoming in early 2019.
Intuition Project

Mapping the life long work of a leading practitioners in the area of intuition; creating a curriculum for K-12 on how to support the development of innovation and creativity through harnessing intuition; on line courses and in school programs are to be designed. 
Visit Dr. Scott's Faculty Profile