Laurie A. Pohl
Program Director for Higher Education Administration
Professor of the Practice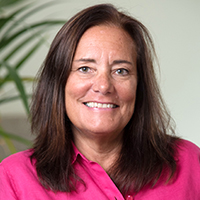 Laurie Pohl joined Wheelock College of Education & Human Development as Professor of the Practice in September 2017. Before then, she served as Vice President for Enrollment and Student Affairs at Boston University (BU) from February 2007 – August 2016. In this capacity, she oversaw undergraduate admissions, student financial assistance, the University registrar, student employment, enrollment operations, the University Service Center, the Center for Career Development, and the Educational Resource Center; developed and directed the University's undergraduate enrollment strategies; contributed to the development of a wide range of student-related information systems; and, coordinated functions and activities targeting undergraduate retention, engagement, and success.
As a member of the University's senior leadership, Dr. Pohl was a member of University Council; served as liaison to the Board of Trustees Student Affairs Committee; and was a member of University decision-making groups, such as the Provost's Cabinet and University Leadership Group. Before coming to BU as Associate Vice President for Enrollment and Student Affairs in 2003, Dr. Pohl spent over a decade in senior leadership positions at the University of Virginia (UVa) that culminated in service as Chief of Staff to the President and Chief Planning Officer. Having worked at both public and private research universities at the senior leadership level, she brings a unique perspective to issues of institutional mission and identity, leadership, organizational change, and governance.
Dr. Pohl's career spans all aspects of university administration and includes substantial experience in university-wide activities such as strategic planning, governance, agency and governmental relations, philanthropy, public relations, enrollment management and student affairs, and institutional budget and finance. For example, at UVa she led the University-wide planning effort, which set long-range goals and incorporated an intensive program of donor engagement and solicitation; facilitated improvements leading to and resulting from decentralized authority from the Commonwealth of Virginia; and served on the steering committee for a proposed UVa campus in the State of Qatar. At BU, Dr. Pohl's university service has included shepherding policy reforms, including intra-university transfer, incorporation of the Federal Educational Rights and Privacy Act (FERPA), and course credit assignment; participation in strategic planning and institutional accreditation; and, participation in the creation of the Kilachand Honors College. Dr. Pohl was deeply involved in the programming and planning for the Yawkey Center for Student Services, which provided state-of-the-art facilities and improved career and academic support services, and in the creation of the Alan and Sherry Leventhal Center, which serves as the center for BU's on-campus admissions activities.
A longstanding advocate for college access and student success, Dr. Pohl instituted numerous programs and policies that resulted in increased racial, ethnic, and socioeconomic diversity within the undergraduate student body, including establishing a partnership with the Posse Foundation; expansion of BU's financial commitment to graduates of the Boston Public Schools enrolling at BU; and, partnership with the College Advising Corps. At Wheelock, she serves as the faculty director of the new College Access Initiative, a two-pronged effort involving research on college access and student success; and, in partnership with Wheelock's Office of College Access and Completion, enhancing on-campus support and programming for Posse Scholars, Boston Community Scholars, and other from under-represented undergraduate populations.
Recent News
Education
Dr. Pohl earned bachelor's degrees in computational mathematics and chemistry from Albion College, and earned her doctoral degree in chemistry from the University of Virginia. In addition to publishing articles on her scientific research, she also has published opinion pieces and papers related to her work in university strategic planning. Dr. Pohl has completed the coursework towards a master's degree in the philosophy of science at Boston University, where her interests include the consideration of bias, values, and conflict of interest in scientific research. She received Boston University's Shimony Prize in 2006 for her paper on scientific objectivity. Dr. Pohl also completed the Institute for Educational Management at Harvard University's Graduate School of Education in 1996.
Courses
AP 612: Governance and Decision Making
AP 622: Strategic Planning and Implementation
Fall 2017: AP 612 Governance and Decision Making; AP 662 Strategic Planning and Implementation
Fall/Spring 2010 - 2012: WR100, WR150: "Methodology and Measurement"