Catherine O'Connor
Professor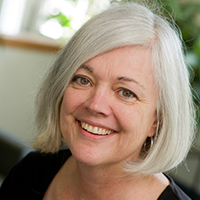 Dr. Catherine O'Connor is Professor of Education and Linguistics at Boston University. Her work in education explores the teacher's role in creating inclusive, equitable, and conceptually fruitful classroom discussion. She has focused on the role of discussion in support of student reasoning in literacy and mathematics learning in a variety of school settings, leading to funded research projects, research publications, and materials for teachers. Her work in linguistics centers on language documentation of endangered languages, including work on Northern Pomo, a dormant language of Northern California, and Medumba, a language of Cameroon. Her ongoing work of Northern Pomo supports recent advances in the revitalization of the language among descendants of the original speakers. She is currently engaged in creating curriculum for tribal revitalization efforts, including a sequence of high school courses.
Dr. O'Connor has authored or co-authored four books and over 75 refereed journal articles and book chapters. She has given over 80 invited presentations and over 75 refereed presentations at conferences. Since 2010, she has taken on a variety of administrative roles, including department chair, associate dean for faculty, and associate dean for doctoral studies. From 2017 to 2018, Dr. O'Connor served as Dean ad interim of the BU School of Education and played a significant role in the merger that created BU Wheelock College of Education & Human Development.
Recent News
Education
PhD, Linguistics, University of California, Berkeley
MA, Linguistics, University of California, Berkeley
AB, Human Language, Stanford University
Research
Recent Grants/Contracts:
NSF AISL Grant (Role: subcontract Co-PI) 2018-2020 "MathScapes: Activating Public Spaces for Early Math Learning"
James S. McDonnell Foundation (Role: Co-PI) 2018-2022 "Understanding how elementary teachers take up discussion practices to promote disciplinary learning and equity"
National Endowment for the Humanities & National Science Foundation 2013-2014 Documenting Endangered Languages Fellowship: Documentation of Northern Pomo
Dr. O'Connor's Faculty Profile
Selected Publications
Al-Adeimi, S. & O'Connor, C. (2020). Exploring the relationship between dialogic teacher talk and students' persuasive writing. Learning and Instruction  71.101388
Park, J., Simpson, L., Hernandez, C., Hernandez, S., Isom, O., Nguyen, T., Michaels, S., O'Connor, C. (2020).  Translating words and worlds in Poetry Inside Out: Intergenerational research with multilingual youth on productive group talk. In Kibler, A., Valdes, G., and Walqui, A. (Eds.) Reconceptualizing the Role of Critical Dialogue in American Classrooms: Promoting Equity Through Dialogic Instruction. New York: Routledge.
Mayer, S., O'Connor, C., & Lefstein, A. (2019). Distinctively democratic discourse in classrooms. In Mercer, N., Wegerif, R., and Major, L. (Eds.) International Handbook of Research on Dialogic Education. Routledge.
*Ford-Connors, E., & O'Connor, C. (2019). Classroom conversations as support for vocabulary learning: Examing teacher talk as input for student learning. In Grøver, V., Uccelli, P., Rowe, M. and Lieven, E. (Eds.), Learning through Language: Towards an educationally-informed theory of language learning. Cambridge University Press.
O'Connor, C. and Michaels, S. (2018). Supporting teachers in taking up productive talk moves: the long road to professional learning at scale. International Journal of Educational Research.  DOI: 10.1016/j.ijer.2017.11.003.
O'Connor, C., and Snow, C. (2018). Classroom discourse: What do we need to know for research and for practice?, in Schober, M., Britt, A., and Rapp, D. (Eds.) The Routledge Handbook of Discourse Processes, 2nd Edition. Pp. 315-342.
O'Connor, C., Michaels, S., Chapin, S., & Harbaugh, A.G. (2017). The silent and the vocal: Participation and learning in whole class discussion. Learning and Instruction. 48. April, 2017. Pp. 5-13.