Harold D'Souza grew up in a town in India without running water or electricity. A family friend who had been living in the United States since the 1960s and owned a restaurant in Cincinnati, Ohio, told him he could have a better life there. D'Souza, who had a master's in marketing management and a postgraduate diploma in human resource development, came to the US on an H1B visa with the promise of a job as a business development manager that would pay $75,000 a year, plus benefits.
"That was like Mega Millions money for me," says D'Souza, who arrived in the US with his wife, Dancy, and their two young sons in February 2003. "But my American dream transformed into a hell."
Their friend took their money and documentation, and threatened to have the D'Souzas deported unless they worked in his restaurant. D'Souza and his wife (who did not have a visa) toiled for 16 hours a day, 7 days a week, without pay.
After 19 months of servitude, Dancy confronted the owner in the kitchen and demanded he pay their back wages. He repeated his threat to have her family deported. The restaurant's chef overheard the conversation and connected the D'Souzas with the US Department of Labor; with help from trafficking assistance programs and their local church and community, the family was able to escape their imprisonment. D'Souza is now a senior supply chain associate for Cincinnati Children's Hospital Medical Center and an advocate for other trafficking survivors. His trafficker was never charged.
As a senior advisor at the US Department of State, Jane Sigmon fights to make sure that what happened to the D'Souzas doesn't happen to others. Sigmon ('72) is part of the Office to Monitor and Combat Trafficking in Persons, which leads diplomatic engagement with foreign governments and supports antitrafficking organizations in nearly 100 countries.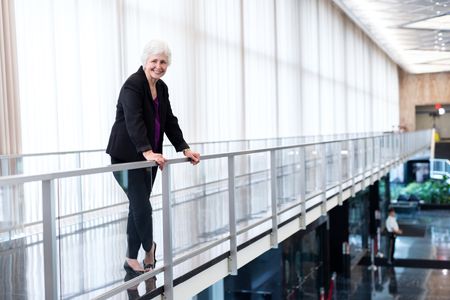 A Lucrative Industry
Traffickers use coercive and deceptive practices to exploit their victims for compelled labor or commercial sex, but the term "trafficking" can be misleading, says Sigmon, because it implies that a victim is moved from one place to another. "A person can be a victim of trafficking in their own neighborhood, in their own town"—in a suburban home, a nail salon, a farm, a restaurant. "People use the phrase hidden in plain sight," Sigmon says. "No country is immune." Victims of human trafficking are held captive by debt bondage, violence, and other forms of manipulation, and their servitude goes unnoticed in their communities, and unassisted. An estimated 25 million people worldwide live in trafficking situations; in 2018, only 85,613 were identified. Of those cases, there were 7,481 convictions, and only 259 for labor trafficking cases like D'Souza's.
Combating the crime requires worldwide collaboration. Sigmon's office coordinates an alliance of international organizations like the United Nations Office on Drugs and Crime and the International Organization for Migration, assists foreign governments in establishing comprehensive victim assistance services, and develops training programs on investigating and prosecuting trafficking crimes. It also facilitates the US Advisory Council on Human Trafficking, composed of survivors, including D'Souza, who are working to end trafficking on a global scale. For the last five years, Sigmon's focus has been on negotiating and overseeing partnerships between the United States and foreign governments aimed at ending child sex and labor trafficking.
It's a formidable job. Trafficking is estimated to be a $150 billion industry, the second most profitable illegal business after the drug trade. Victims are often lured into sex or labor servitude by someone they know, commonly friends or family members. Recruiters may be acting independently, or connected to organized criminal networks or terrorist groups like ISIS.
Like D'Souza, victims often borrow money for a passport, visa, or travel expenses with the promise of a job or romantic relationship, only to be sold into servitude, already in debt. "It's hard to identify the coercion, and victims are reluctant to talk to police," Sigmon says. "They're told if they come forward, they're going to be deported or prosecuted. So, many traffickers operate with impunity."
Becoming Part of the Solution
Sigmon has devoted her life to defending the world's most vulnerable people, beginning in high school, when she volunteered on a Native American Indian reservation. "I was raised to always think about how I could contribute and what I might be able to do," she says. "I understand that there are people who victimize others, and I want to be a helper; I want to be a part of the solution."
She spent her early career helping to diagnose learning disabilities in children and designing individualized learning programs. That experience led her to become involved in policy at the state and national levels, developing protections and advocating for people with developmental disabilities.
"My career trajectory really changed when I was appointed the associate commissioner for the Children's Bureau in the Department of Health and Human Services," which oversees all federal foster care and child abuse and neglect programs in the United States, Sigmon says. That was in 1984. "I began at that point in my career to appreciate how violence affects families."
As part of this work, she oversaw a national center on child abuse and neglect and federal child welfare programs, including foster care. She built on that experience at the US Department of Justice (DOJ), which she joined in 1987. As director of the Office for Victims of Crime within the DOJ, Sigmon developed programs for victims of violent crime, including child abuse and domestic violence, on Native American Indian reservations. In 1991, she took a nine-year break from government work to direct the nonprofit Victim Assistance Legal Organization, where she created a training program for crime victim advocates.
Sigmon says her understanding of the inner workings of the education, social welfare, and criminal justice systems comes into play in her work today.
"Combating a crime as complex as human trafficking takes a whole-of-government approach," she says. "And it's especially needed working overseas on programs aimed at protecting children."
Progress Report
In 2000, Congress passed the Trafficking Victims Protection Act (TVPA) with bipartisan support. Sigmon identifies this act as a turning point for the awareness and prosecution of human trafficking; for example, until that point, teenagers who were exploited in prostitution in New York City were criminalized by authorities. Now, Sigmon says, "those kids who were being seen as juvenile delinquents are considered trafficking victims," which secures them the right to legal assistance and other services. "Today, we understand the dynamics of human trafficking so much better."
After TVPA, the State Department established the Office to Monitor and Combat Trafficking in Persons. While the department's initial focus was sex trafficking, Sigmon says, throughout the last two decades, "we've learned a great deal about forced labor, and how it has received less attention in most countries than sex trafficking."
The State Department measures global progress in its annual Trafficking in Persons Report that assesses how effectively 187 countries—including the United States—are combating human trafficking.
The nearly-500-page report summarizes the status of the crime in each country and records the number of victims its government has identified and assisted, as well as the number of traffickers they have investigated, prosecuted, and convicted.
The report also offers recommendations in order of priority; Sigmon's office collaborates with US embassies around the world to disseminate the report's findings and work with individual governments.
Although the United States is ahead of many countries in tackling trafficking, it still has work to do. Sigmon says the report recommends that the US government beefs up the investigation and prosecution of labor traffickers and expands the resources and access to services for victims.
The latest report also notes the areas in which the United States is making progress: it provided services to more victims (in 2018, the DOJ gave $31.2 million for 45 victim service providers, an increase from 18 providers receiving $16.2 million in 2017), worked with survivors to improve antitrafficking programs, and elevated awareness through effective outreach campaigns, which included promoting its national hotline.
"It's important to mark progress when you see it," Sigmon says. "The very first trafficking report had only 82 countries in it. This year, we included 187 countries. Most criminalize human trafficking now and are developing services for victims. They may not be comprehensive, but they didn't exist 20 years ago. We know we're far from solving the problem, but it's really important to focus on being in it for the long haul, if you really want to see change."
To report a suspected case of human trafficking, call the 24-hour, toll-free National Human Trafficking Hotline at 888-373-7888, SMS: 233733 (Text "HELP" or "INFO").
Originally published in the Fall/Winter 2019 issue of BU Wheelock Magazine. Update your alumni contact info to make sure you're on our mailing list for this and future issues.