Through the mid-20th century, children recovering from everything from a routine tonsillectomy to more serious diseases such as polio languished in their hospital beds without games or activities to help pass the time. Family visits were often heavily restricted, and child hospitalizations were long and particularly unpleasant.
A movement in the early 1960s, in part led by faculty and alumni of Boston's Wheelock College, aimed to change that. These experts in child development and well-being stressed to the medical field that children needed play and enrichment to heal.
With that, the field of child life was born, and Wheelock College, seeing an opportunity to train its students in this much-needed and emerging discipline, established the first academic child life program in the country in 1972. Today, child life specialists support children's and families' psychosocial and cultural needs in hospitals and other clinical settings. They are sometimes called to work with the children of adult patients, especially in critical care or end-of-life situations. Educated and trained in child development, they work to reduce stress and fear by explaining in age-appropriate terms what will happen before a surgery or by leading patients and their families in deep breathing to promote mindfulness.
In 2018, the year Wheelock merged with BU, the college's Child Life & Family-Centered Care graduate program was the first in the country to be endorsed by the Association of Child Life Professionals, the industry's major professional organization. This year, one of the most highly respected academic programs in the country marks its 50th anniversary.
"We advocate for a child's strengths, respect their values and their culture, and normalize their environment through developmental, therapeutic, and medical play," says program director Claire White ('79,'84), a senior lecturer of counseling psychology and applied human development. "Our role is to help minimize trauma. I think our graduates' background in development and family-centered care help them know how children and families understand health, what a child would find fearful, and their stress points."
Many child life visits are not covered by insurance, but hiring one of these professionals has proven to be worth the investment for a hospital. The presence of a child life specialist on staff raises a hospital's ranking in U.S. News & World Report, for example. The American Academy of Pediatrics says that child life professionals not only contribute to a positive patient experience, they make financial sense, too–reducing sedation costs and patient stays and leading to better cooperation during procedures.
Child life specialists say they have seen an increased demand for their services amid the current mental health crisis and increasingly are sought after to work in outpatient settings, vaccine clinics, homeless shelters, refugee camps in France, and hospices. But their profession is also vulnerable to challenges facing the healthcare industry: more than 100 hospitals have closed since 2005—the majority in rural areas—a problem exacerbated by the pandemic's financial toll and the elimination of many elective surgeries.
Andrea Colliton ('04,'06), was director of child life services at Tufts Medical Center before Tufts Children's Hospital closed on July 1. (Tufts said its closure was due to the need for space, as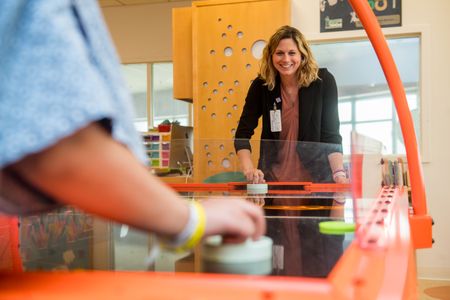 there is a high demand for adult beds.) Colliton says the pandemic has demonstrated how scary and stressful a serious diagnosis and hospital stay can be, and how child life professionals—in spite of changes and challenges to the profession—still play a role helping children process their emotions through play. "I think our role became even more prominent," Colliton says. "The pandemic shed light on the importance of support services, and how psychosocial and emotional support is so crucial to children and their families."
A FIELD INSPIRED BY LUCY WHEELOCK'S TEACHINGS
Nineteenth-century kindergarten pioneer Lucy Wheelock thought education could transform society, and in 1888 founded Wheelock College to train teachers to do just that. Wheelock wanted her students to have experience not only in the classroom, but in places like hospitals and settlement houses—which were organizations that provided support to the poor and immigrants. Her students joined others across the country in volunteering as hospital "play ladies," offering enrichment and activities.
In the 1950s, Wheelock College established its signature course, human growth and development, a core part of which included students working in the field, at sites such as hospitals and schools. Retired Wheelock professor Evelyn Hausslein, inaugural chair of Wheelock's child life graduate program (she cofounded the program alongside Muriel Hirt, now deceased), remembers what it was like to work with sick children in hospitals at that time. "We in child life were always pushing a little bit for changes, like increased visiting hours for parents, or the change from working with children only at their bedside to the playroom, to then outside." It was in these ways, Hausslein says, that child life professionals became known as the biggest advocates for children and families in the hospital setting.
"Our role is to help minimize trauma. I think our graduates' background in development and family-centered care help them know how children and families understand health, what a child would find fearful, and their stress points." –Claire White
In 1967, the Association for the Care of Children in Hospitals was established, and two years later Wheelock College started its hospitalized child bachelor's degree program. The program expanded over the years to include a six-week summer graduate seminar in England and an eventual graduate degree–only program back in Boston by 1980.
Dick Thompson, a retired Wheelock College professor who was instrumental in designing the program's curriculum starting in the 1980s, says he and his colleagues felt it was important that students learn how healthcare is delivered, in addition to its inequities. "And I think it gave our students somewhat of a competitive advantage, since they were savvier about the healthcare system and the pressures on it," he says.
Today, enrollees in the program must have volunteered under a certified child life specialist for at least 100 hours. Once matriculating, students spend three semesters in a small cohort and complete two internships totaling 600 hours before sitting for the Association of Child Life Professionals certification exam.
Paul Thayer (STH'07), a clinical associate professor of counseling psychology and applied human development, says child life is seeing more students coming from countries and regions such as Taiwan, Singapore, and Kuwait, who are looking to bring what they learn at Wheelock back home.
CHILD LIFE TODAY
More than 400 hospitals in the US feature child life programs, and Wheelock alums work in many of them. Child life professionals also work in child palliative homes, outpatient centers, homeless shelters, and therapeutic camps. "The support that is provided is not just, 'Tell me about your feelings,'" Thayer says. "It's much more about building community and supporting kids in a nonpathological way to talk about what they've been through and how that might have changed them."
Much of what child life professionals do is meant to bring joy; Daniela Ramirez ('21), a child life specialist in the dialysis department at Boston Children's Hospital, says that some of her favorite activities to do with patients are science experiments, potion making, and painting with needle-free syringes. But they are also on hand to help guide patients and their families through difficult conversations surrounding chronic disease and death. Ramirez's experience tracks with the literature on the profession. The 2018 Handbook of Child Life, which Thompson edits, says that pediatricians treating health issues such as chronic diseases, congenital and neonatal anomalies, and mental and developmental disorders rely on complex technology and frequent medical interventions, making a child life professional's job that much more challenging.
The current mental health crisis, which has been exacerbated by the pandemic, has had another profound impact on the profession. Suzanne Graca ('89), the child life clinical and program manager at Boston Children's Hospital and a clinical instructor of counseling psychology and applied human development, says Boston Children's only houses young patients with mental health issues until a facility has a spot for them, giving child life professionals a narrow window of time to form a connection.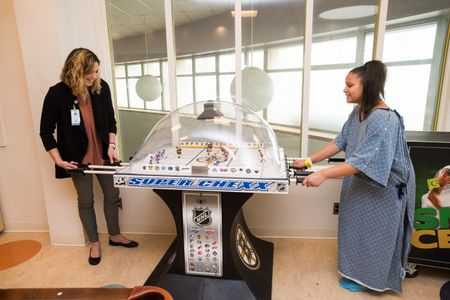 If a child is anxious, they will try to help them identify the cause and think of safe distractions. Alyssa Sachs ('21), also a Boston Children's Hospital child life specialist, spent a recent day motivating a 5-year-old patient with a dinosaur game to get him moving and out of bed, and then shifted to brainstorming fun, calming activities with a 15-year-old who was facing a lengthy hospitalization. They settled on music therapy and visits from a comfort dog.
"Child life specialists can use a strengths-based, proactive approach to reward those patients for appropriate behaviors and being safe," Graca says, "instead of a reactive approach when a child's already escalating, and then calling for assistance to help de-escalate."
Graca stresses the importance of having a sense of humor, which some find surprising since she often works with the sickest of the sick.
"We need to remind ourselves that childhood should be joyful, it should incorporate play. And Child-life professionals are here to promote that and remind everyone that even in the darkest times, there is a place for play."—Suzanne Graca
Children need more than medicine "in a pandemic or any normal environment," Graca says. "We need to remind ourselves that childhood should be joyful, it should incorporate play. And child life professionals are here to promote that and remind everyone that even in the darkest of times, there is a place for play."
LOOKING FORWARD
The pandemic presented the child life field with some serious challenges, beyond the intensifying mental health crisis. Hospitals often banned visitors, which meant that many student interns and child life specialists had to conduct patient sessions over Zoom or FaceTime. Elective surgeries were delayed and clinics shut down, dramatically decreasing hospital revenues, and many child life professionals were furloughed as a result. More than three dozen hospitals across the country have shuttered for budgetary reasons since March 2020. In the Boston area, Tufts Children's Hospital, which employed several Wheelock graduates, closed in July 2022. And with a lack of internship and job sites nationwide, Thayer says some in the field are looking at other fields.
BU Wheelock's child life professors are pushing their graduates to adapt to these changes. White and Thayer have begun discussing a family life specialty geared toward children with chronic illnesses as they age into adult care, and continue to advocate for the ways a child life professional can help make difficult medical diagnoses a little bit easier to cope with.
"The profession needs to look to the future and figure out how we can utilize our knowledge and skills, not just in hospitals, but by incorporating our work more into the community," Colliton says. "There will always be new viruses, new diagnoses, but part of our role is, how can we adapt and evolve with our environment?"