Your future is waiting for you at BU Wheelock
Undergraduate students, learn more about our application requirements, campus tours, financial aid, and more.
Begin your application to BU today!
When you're a Terrier, the possibilities are unlimited
Whether you're an undergrad or grad student, you'll have access to resources and opportunities that will help you grow—at BU and beyond.
Take a virtual tour of BU Wheelock today!
"I decided to transfer to the Wheelock College of Education & Human Development at Boston University because I wanted to broaden my mind. I wanted to feel challenged in my classes and have the freedom to take courses outside of my education major."
– Rebecca Rodriguez, Early Childhood Education
Take your graduate studies to the next level
Join a community dedicated to breaking down barriers and transforming systems for a more equitable future for all. Learn more today!
"Being a first generation college student, I want to provide other students like me with access to resources. Learning about how to focus on diverse populations in higher education has really shaped and framed the way that I want to do things going forward."
– Ariana Greco, EdM in Higher Education Administration, '17
Everything you need to know about upcoming information sessions, applications checklists, and more.
Application Deadlines
Answers to your questions about how to to finance your BU Wheelock studies.
Graduate Cost & Tuition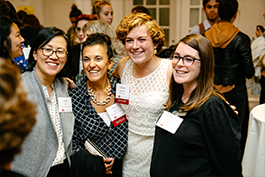 The best place to start for information fellowships, scholarships, and other opportunities.
Financial Aid Assistance
Begin your graduate application today!