A Conversation with Dr. Ramón González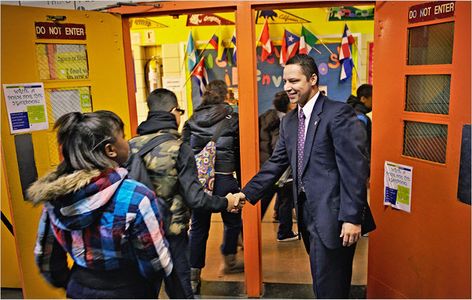 Dr. Ramón González, principal of the award winning Laboratory School of Finance and Technology (MS 223) in the South Bronx, will deliver the keynote address at the first-ever BU Wheelock Community Symposium, taking place on March 29 and 30 at the Fenway Campus.
MS 223 opened in 2003 as a replacement for a persistently dangerous and under-performing junior high school in the Mott Haven neighborhood of the South Bronx. Since then, the school has grown in size and popularity, becoming know within the New York City public school system for its innovative programming and safe learning environment. Following a recent expansion into high school grades, MS 233 now serves 450 students in grades 6-12.
Dr. González's work has been recognized for his educational leadership by Smithsonian Magazine, the Wall Street Journal, the New York Times Magazine, President Barack Obama, and by many other organizations, high profile individuals, and publications. Before he joins us on campus, Dr. González sat down with us to chat.
Tell us a little about your background.
I've been an educator for about 24 years.   Of those 24 years I've been a principal for about 16 years.  I grew up in the East Harlem neighborhood across the river from the South Bronx. I was fortunate to be given opportunities by caring adults who saw me as a youth with promise instead of at-risk.  I won a scholarship to the Middlesex School, in Concord, Mass., and then to Cornell University.   I decided to teach in 1996.
What's The Lab School of Finance and Technology also known as MS/HS 223 like? 
The school was founded in 2003. At the time, there was a large amount of violence in the neighborhood and a lack of opportunity.  Because of the violence and segregation of schools, the kids who went to those schools were nervous and fearful to go to school.  That resulted in high absentee rates.   I was asked to create a safe space and rigorous environment for these kids.  It took us about 4-5 years before we were able to create a school that was the number one school in the district.  And it took a lot of work.  We were selling promises to a community that had been let down often.  We conducted interviews for faculty and staff at a Starbucks in Harlem because we knew so many of our staff were scared of the reputation of the neighborhood.  Our attendance increased from 75% to 96% in those early years.  To provide increased continuity for the kids, we decided to expand our school from a middle school to a grade 6 through high school.   The idea was for our school to become the most sought after school in the neighborhood. That took us another 4-5 years. We began enrolling students in our high school in 2012. 
We developed the high school because our kids would finish our middle school and then realize they had about 400 choices for high school and that they would have to go very far to go to a quality high school.  We felt emboldened that it was possible to create a quality high school in our neighborhood, just like when we started our middle school.  We started the process the same way we started the middle school.  We surveyed schools in the neighborhood and we focused on creating a school in the South Bronx that kids would be excited to attend.
We were able to do that by making sure we were focused on the needs of OUR kids.  A robust summer program is a priority for our kids.  An after-school program is essential for our kids.  About 90% of our middle-schoolers attend these supplementary programs.  Our school is in the most impoverished Congressional District in the country and they need the kind of services that more advantaged kids get from their families and communities.  For us, providing these essential extra services is a way to accelerate their preparation for high school and college. I just left the school to head to a meeting; it's 5:10 pm and the school is full of kids and the school day ended at 2:30pm.  This is about equity in our schools.
These are things we've decided to do to both make the school attractive to students but also attractive to our families who are working.  Parents of the average Bronx family have two jobs.  So, our parents feel like it is a luxury that their kids can go to a school that has a robust after school program.  We think it is a necessity.  One feature of our school is an internship program.  We have developed internships in the community for 50 to 100 students.  We have also developed 50 to 60 summer academic scholarships to BU, Cornell, Columbia, Skidmore, Syracuse, NYU, and Marist.  Every summer, 50 – 100 our our kids attend summer college programs. These programs are not for the "talented tenth" or for the 10% of our students who struggle the most.  Our programs are for everyone.  That's the model we've built and that's the impact we want. 
Can you speak to the innovative learning programs at M.S. 223? 
There's innovation behind everything we do — from the expanded year model to the extended day model to our computer science program that starts in the 6th grade.  That innovation starts with an attitude by the staff that we can always be better for our kids.  We just received an award for having one of the highest percentages of young adults taking computer science. That started with our "attitude" that it isn't acceptable to have computer science classes accessible to only one segment of our population.  Typically, within computer science in most schools, the students are predominantly male.   At our school, the students involved in computer science are predominantly female.  Over 50% of our students are taking six or more AP courses but didn't just happen; it meant that we had to expand our summer programming with coursework that would give our kids an additional semester of the courses that prepare them for the rigors of AP.  That meant access to solution focused counseling, jobs, and snacks. 
We have worked hard to support our students beginning at a very early age.  Starting late is too late.  Now, we're starting to have students who graduated from our high school, and graduated from college, coming back to teach in our school.  It's always been important to us that our students and graduates affect the neighborhood in positive ways; our school affects the neighborhood through every family that we touch.
Now that we are a grade 6-12 school, we have more years to develop relationships with students and families.  These relationships matter!  The stability and continuity of our school enables us to support our students for seven years and these pre-teen and teenage years can be volatile years.  We try to provide both the support and challenge to make sure that our kids are going to some of the best schools.  Recently, three of our graduates went to BU, which is rare, but great.
Usually, New York City kids don't go to BU.  They'll go to upstate schools.  But now we're starting to build our networks outside the New York area.  One student actually came back to visit us today who's studying at USC and another at BYU.  Again, these students come from a local South Bronx school most people have never heard of because we have such a boutique model.  It's very exciting to see that we're starting to have the impact that we sought.
In your view, what are the most pressing challenges facing educators today? 
We all want to push ourselves to be the best, but we are often limited by time, money, and access to the best resources and professional support.  My big push is building partnerships — with universities and community-based organizations — to make sure we can provide our kids with the experiences and advantages that many other kids have.
It's always difficult to challenge every kid at whatever academic level they arrive at.  We want to meet them where they're at in the school building and not have to outsource services.  I take great pride in knowing that every kid who comes through our door will be challenged by us.  We do things like AP for all, where every kid is expected to do Advanced Placement work whether they are the top kid, or a kid with special needs.  All of our students are challenged with the most rigorous course work but it is also our responsibility to provide support as well.  That again, is equity.  We do that by building multiple scaffolds in the building — Advisory class with peers, parent support, teaching students to be self-advocates, teaching time management and of course extended day and expanded summer programming, are all examples of the kind of support services necessary to allow our kids to thrive. 
In order to accomplish all of this, our educators have to be well trained and well resourced, and we do that.  Our success with a population that historically struggled academically and socially is a source of great  pride but also a daily challenge.
What is your message to current and future practitioners who are passionate about equity? 
We have to pay attention — to our students, to our colleagues, and to our community!  We have to think hard and work hard.  We have to do this over time.
We should also reach beyond the local reality and engage in the larger educational world.  Pay attention to the research and let the research inform our teaching and leading.
As I have said, partnerships are important.   We do not have meaningful partnerships with researchers, for example.  We need a closer relationship between the universities and the schools.  If we can accomplish that, the research can be grounded in the problems of practice that we face every day and every year.  Research that emerges from the school house and from school districts has the potential to be more meaningful. 
Take advantage of the resources in the neighborhood. I teach a course on community asset mapping.  Typically, people go to outside the local communities and ask for money and ask for resources.  We see the people here as resources, the institution as a resource, community organizations as a resource.
As educators, we have to see the community in which we work as an asset.  And we have to learn how to leverage that community to meet the needs of our kids. If we can do that, we'll make the experience of our kids a lot more valuable.  We're trying to connect the work that our students do in our school to the world beyond the schoolhouse.  We want education to be applicable and relevant to life outside of school so our students can see themselves as competent accomplished citizens in all sorts of different venues and ultimately as citizens of the world.
Interested in hearing Dr. Ramón González speak? RSVP to the Symposium here.
– Grace Hagerty