What Can I Recycle?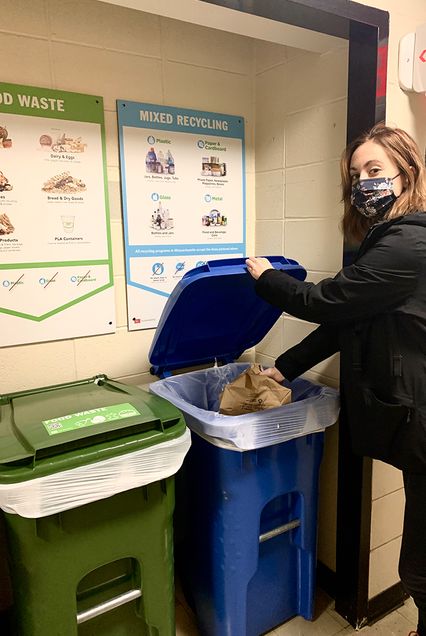 Mixed Recycling
Our campuses collect recyclables through a mixed-recycling system.
Plastic jars, bottles, jugs and tubs, paper and cardboard, glass bottles and jars, and metal food and beverage cans are all collected in the same bin.
Still have separate cans and bottles or paper bins in your space? Let us know by emailing our Zero Waste Manager; Sarah Healey.
Quick Tips
Help stop contamination! Don't put food waste, dirty containers, or trash in recycling bins.
Don't worry about the numbers, focus on the shape. According to RecycleSmartMA, "If it is a clean and empty plastic bottle, jar, jug or tub, it can be recycled in Massachusetts."

Plastic and metal caps and lids should be reattached to empty containers before you recycle them.

Plastic bags are not recyclable! When disposing of recyclables, skip the trash bag and put them directly in the bin.
Plastic bottles, jars, jugs, and tubs can be recycled regardless of their color, as long as that color is not black or another really dark color. Please put black plastic containers in the trash.

Why? According to RecycleSmartMA, "

recycling facilities sort plastics by bouncing a beam of light off them. Since black plastic absorbs light, it can't be sorted and goes straight through the system and off to landfill or incineration."
Have a question about if an item is recyclable or not? Use RecycleSmartMA's "Recyclopedia" tool to look it up!
Keep an eye out for compostable plastics.
PLA Plastic and compostable products are not recyclable. These products — made from renewable resources such as corn, potatoes, and sugar — are designed to be processed with food waste and are labeled "compostable" or "biodegradable."
Dining Services has replaced many of its oil-based plastic containers with compostable ones. However, PLA Plastic is NOT able to be composted in BU's Food Waste bins. Place these items in the trash.
The following items can be recycled when collected separately:
Foam
Batteries
Electronics
Ink and Toner Cartridges
Where Can I Recycle?
Chances are, somewhere nearby. There are tons of convenient locations across campus in residential, academic, and administrative buildings. Use BU Maps to find the mixed recycling area nearest you.
Big Belly solar-powered compactors throughout campus make it easy to sort waste into trash and single-stream recycling bins. These bins take five times the capacity of traditional trash bins. Use proper recycling practices to prevent contamination of the single-stream bin.
Recycling Bin Requests