Reusing at BU – our community takes action to make old new
When you are at home or in your office, you probably recycle and may even think about how you can reduce your waste. But have you thought about the other "R": Reuse!
Here at BU, we have buildings that reuse energy, students that launch startups that help us reuse food, and organizations that engage with fellow Terriers and our community that promote and expand the act of "reusing." Here are just a handful of those examples:
A building that reuses and stores the power of the earth
When you stumble upon the Center for Computing and Data Sciences, you're likely looking up to marvel at the new 19-story fossil fuel-free tower. Well, 1,500 feet beneath the street is a geothermal closed-loop system that extracts heat from the ground to heat and cool the building. This is also known as ground source heat pumps. In the summer, the system extracts heat from the building and transfers it back into the ground for later use. The amount of energy extracted from the ground must equal the energy put back into the ground each year, allowing for a limitless lifetime of heating and cooling. Click the image above to learn more about the building's geothermal system and other sustainability elements.
Giving leftovers a second life
Every year, BU Students can get their startup off the ground through the Sustainability Innovation Seed Grant program from BU Sustainability and the BUild Lab. Recipients are programs, initiatives, and businesses that help advance BU's climate action goals but often go beyond our community. For example, a team of students in the College of Communications created an app called "Broccoli in the Fridge," which helps people reduce food waste by tracking expiration dates. Instead of just throwing away the item, it reminds users how to better use and reuse items in their fridge. All you do is input the expiration dates of the food in your fridge and pantry, including leftovers. Then the app reminds users to consume items before they go bad and even helps create a grocery list based on current contents in the fridge so that you can give food a second life.
A cup of joe
BU's Environmental Student Organization (ESO) helps students who need a caffeine perk by repurposing old mugs to reduce single-use plastic and paper waste. This is especially helpful as we try to reduce the amount of waste we generate at BU since hot coffee cups and their lids are not recyclable. At Starbucks/Breadwinners located in Questrom, the "The Mug Spot" allows students to grab a mug and use it for their order for a 25-cent discount. When they are done with the mug, they return it, and it can be reused again. To learn more about what ESO does, visit their Linktree for regular updates on programming.
Helping those in need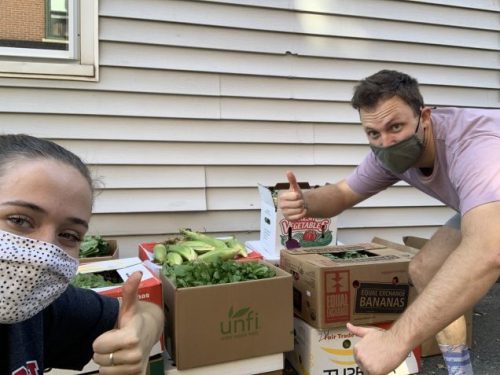 BU's Student Food Rescue (SFR) aims to connect student volunteers with the Greater Boston community through service, education, and food justice. They partner with local bakeries, large grocers, and restaurants to divert excess prepared meals, pantry items, and perishables from going to waste. Instead, they send them to women's transitional homes, homeless shelters, children's programs, and elderly communities.