New Space, New Ideas: Demo Day recap
Demo Day Spring 2023 proved once again that Spark! students' creativity and commitment to positive change is unmatched. This year, Demo Day was held in the new Spark! Space on Floor 2 of the BU Center for Computing & Data Sciences, with people joining both in-person and online. We're excited so many people showed up to demo a semester's worth of hard work from Spark! Innovation Program, X-Lab, practicum courses, and co-Lab students. 
Demo Day was part of the Spring 2023 Experiential Learning Expo where students from the Faculty of Computing & Data Sciences, Cross-College Challenge, the Learning Assistant Program, and BU Spark! presented their semester-long projects. 
Keep reading to dive into the outstanding projects presented at Demo Day, and celebrate the students who are shaping the future with their ideas to make a meaningful impact on the world.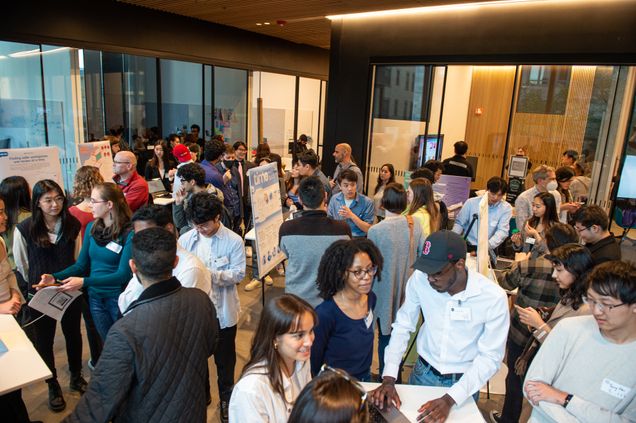 Winner's Circle
These projects were chosen for their exceptional quality, creativity, and potential to make a significant impact in the world. 
Terrier Taste

— Judges' Innovation Award
Terrier Taste aims to help BU students reduce of food waste generated by BU Dining Hall services. We will tackle this problem by providing users with a tool that will help them to rate, comment, and review menu items (to help each other make more informed choices) at the dining hall in hopes of creating a feedback loop between the users and the dining hall services to better improve the menu thus, reducing food waste.
Team members: Yin-Ching (William) Lee (leewill@bu.edu), Abby Gualda (agualda@bu.edu), Tyler Nguyen (t198@bu.edu), Mina Chung (mchung00@bu.edu)
Links: GitHub | Jira | Product link | Presentation
CS/DS549:

Atfal Mafkoda – Missing Children

— Audience Choice Award
Atfal Mafkoda (translates to Missing Children) is a community project based in Egypt interested in applying age progression forensics to pictures of the missing children, since some of them have been missing for years While the organization has successfully returned 3000+ missing persons to date, the process is not effective when the photos are too old, picture quality is low, and the children have gone missing for too many years that their photos no longer match their current facial features. This project attempts to address these challenges by applying generative deep learning methods to improve forensic face aging to provide higher quality aged face photos; explore style and face feature transfer techniques to incorporate facial features of family members in the hopes of generating more realistic aged photos; explore techniques to apply visual effects of possible homelessness to the aged photos to account for the fact that the children may have been subject to the physical stresses of homelessness and more.
Team members: Yin-Ching (William) Lee (leewill@bu.edu), Matthew Batacan (mbatacan@bu.edu), Daniel Skahill (dskahill@bu.edu), Ryan Nie (Ryanznie@bu.edu)
---
Project Gallery
All of the projects presented at Demo Day were outstanding in their own right and showed remarkable innovation and creativity. 
Dibs
AllstonXmas aims to address the moment at the end of every semester when students move out of off-campus housing and the sidewalks are filled with furniture or other household items. Our platform will provide a hyper-local solution for making people aware of items that are about to be available and the street location when they can be picked up to create more efficiency and hopefully reduce unnecessary destruction of items that may be desirable to others, making real the adage: "one person's trash is another person's treasure!"
Team members: Haya Al Majali (hayamaj@bu.edu), Naomi Downing (downing3@bu.edu), Marielle Belomme (mbelomme@bu.edu), Malik Baker (malbaker@bu.edu)
Links: GitHub | Jira | Product link | Presentation

DroneZ
DroneZ is a project that seeks to address instant drone balancing and optimized mapping through machine learning for the purpose of remote inspections. We plan to build and test a prototype using large internal spaces on campus, such as the new CDS building, where weather and other factors are not an issue, but route mapping and optimization is still needed. We have already built the drone so this project will focus on the route mapping and balancing issues in the context of a real-world use case and application.
Team members: Byeong Heon Ahn (ahnbh@bu.edu), Gosoo Park (leop@bu.edu), Shimli Satpathy (shimli@bu.edu), Daniel Oh (danoh@bu.edu), Charles Fuss (cjbf@bu.edu)
Links: GitHub | Jira | Presentation
SafeCrew/Soros
Soros is a web app that allows women in Mexico City to anonymously report instances of sexual harassment and violence in their workplaces through safety report forms. Users can share their experiences and contribute to a growing database of user-generated data to inform job seekers about the safety of a particular workplace. The platform provides a safe space for women to speak out about their experiences to help others avoid potentially dangerous situations.
Team members: Maria Del Pilar Dominguez Molina (pilymdm@bu.edu), Tara Sarli (tsarli@bu.edu), Azamat Khanbabaev (matkhan@bu.edu), Hannah Hong (hyhong@bu.edu)
Links: GitHub | Jira | Product link | Presentation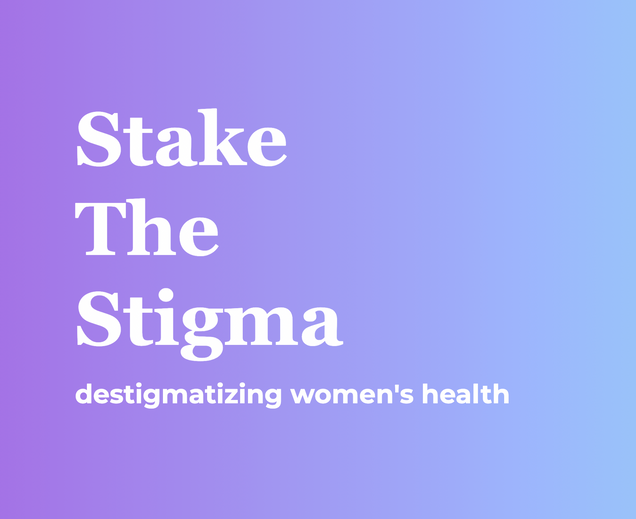 Stake the Stigma
Stake The Stigma (STS) aims to create a secure and open social community platform for women to share and support each other's health and well-being around health issues that are often stigmatized topics in the public sphere. STS is a response to the changes in the national legal landscape around reproductive rights and the dangers that people, especially women, are now facing as a result of a lack of information and awareness related to these stigmatized topics.
Team members: Georgina Alcaraz (galcaraz@bu.edu), Elaine Leiyoung (eleiyoun@bu.edu), James Xiao (jamxiao@bu.edu), Ivan Yang (yangi@bu.edu), Yuhan (Geneva) Yang (yyang25@bu.edu)
Links: GitHub | Jira | Product link | Presentation
Study House
StudyHouse aims to solve the growing issue of procrastination among individuals with neurological disorders such as ADHD. Many psychological studies have showcased that activation of a reward system can be beneficial when it comes to getting those with difficulties concentrating to stay on track. Inspired by the impact of gamification experiences such as the Sims and Pocketlove, StudyHouse aims to trigger reward activation mechanisms in service of countering procrastination and incentivizing productivity in service of studying or achieving other goals.
Team members: Sambridhi Subedi (subedis@bu.edu), Jarrett Fok (jfok23@bu.edu), Jason Kim (jasonk@bu.edu), Li Ruojia (Colette) (ruojiali@bu.edu), John Bolognino (jcbolo@bu.edu)
Links: GitHub | Jira | Product link | Presentation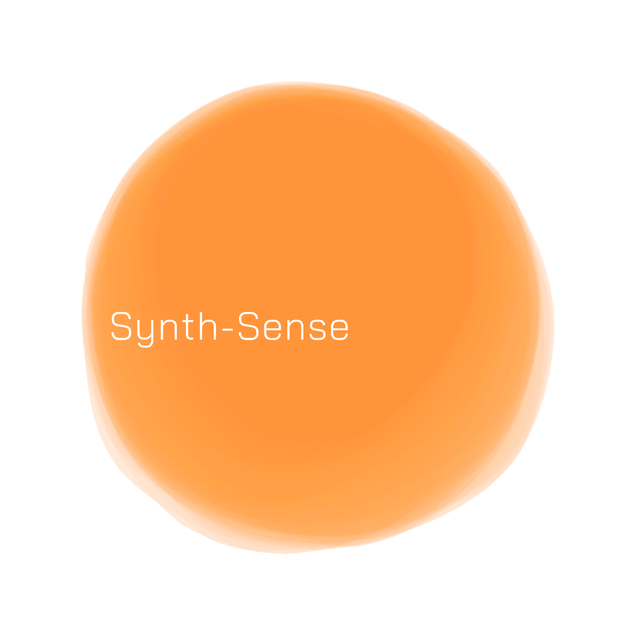 SynthSense
Synth Sense is a dynamic wall art project that uses real-time data on weather, noise, and motion to create an interactive and visually striking display. The art reacts to the movements and interactions of people in the space, changing in color and pattern based on their presence and activity. Additionally, Synth Sense incorporates informational text such as the company's logo and real-time weather and time updates to provide useful information to viewers. The art is designed to be displayed in meeting rooms or lobbies of companies, creating an engaging and memorable visual experience for visitors and employees alike.
Team members: Selena Zheng (selz@bu.edu), Jack Campbell (jawicamp@bu.edu), Yiyun (Michael) Sun (yiyunsun@bu.edu), Mustafa Taybah (mtaybah@bu.edu)
Links: GitHub | Jira | Product link | Presentation

Timo
Timo will be a mobile app that will help people with tardiness by combatting the common problem of overestimating the time available to get ready and underestimating how much time it will take to reach a destination. The goal of this solution will be to provide a simple and adaptive time management assistant that can be easily integrated into anyone's routine through the incorporation of internal and external data from your personal and school calendars to weather and traffic conditions delivered through APIs so all scenarios are known and addressed through the time estimation process.
Team members: Jacqueline Mang (jacmango@bu.edu), Isaac Hu (ihu21@bu.edu), Julian Tanja (jrtanja@bu.edu), Rithvik Nakirikanti (rithvikn@bu.edu), Sean Fung (sfung10@bu.edu)
Links: GitHub | Jira | Product link | Presentation
What's the Move
The problem that I am attempting to solve is to combat loneliness and boredom by making it easier for young people to discover new things and connect with others. It is hard for many students arriving on campus to decide where to spend their time, what they are interested in, or how to connect with like-minded people when they are still in a phase of discovery. Due to scheduling and time constraints, many students find themselves stuck in a loop of classwork and don't have enough time to research all the cool and fun things happening on campus or in the community. WTM aims to provide a central location where students can learn about opportunities on campus and beyond and connect with others.
Team members: Agedel Alcindor (agedel@bu.edu), Nawaf Alrasheed (nawafds@bu.edu), Jiangyan Zhou (Molly) (jyanzhou@bu.edu), Yulin Chen (ychen498@bu.edu)
Links: GitHub | Jira | Product link | Presentation
On behalf of the entire Spark! community, we would like to thank the industry professionals who judged. Your experience and expertise are an invaluable part of our students' success. 
Anish Asthana, Red Hat
Silvia Camara, Fidelity
Anthony Chamberas, Astreya
Morgan Curran, Primacy
Adrish Dey, Boston University
Tim Duncan, Cambridge Financial Technology
Alison Fanning, C Space
Tom Gardos, Intel
Kevin Hatchoua, Red Hat
Leonidas Konotothanassis, Meta
Prasad Kithapalli, Boston University
Allison McDonald, Boston University
Urvashi Mohnani, Red Hat
Xuan Hy Nguyen, Microsoft
Arianna Perry, EY
Natalie Pienkowska, Microsoft
Smitha Rajan, Wellington
Mark Schifferli, Fathom
Andriana Skaperdas, EY
Tony Tong, Mata
Zhaoqi Wang, Meta
Matthew Zhang, Google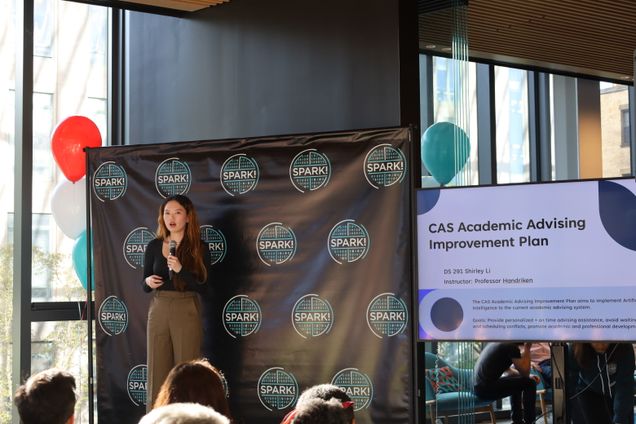 —
Housed at Boston University's Faculty of Computing & Data Sciences, BU Spark! is an incubator and experiential learning lab for computer science and engineering projects. Spark! provides the infrastructure to support student innovation projects and engagement in applied research or real-world technology projects, while fostering an inclusive, connected community around interdisciplinary computing and data science.