Tech for Change hosts first annual Civic Hackathon at BU addressing social issues through coding
Students from across the country participated in the BU and Howard University co-hosted the event in BU's Center for Computing & Data Sciences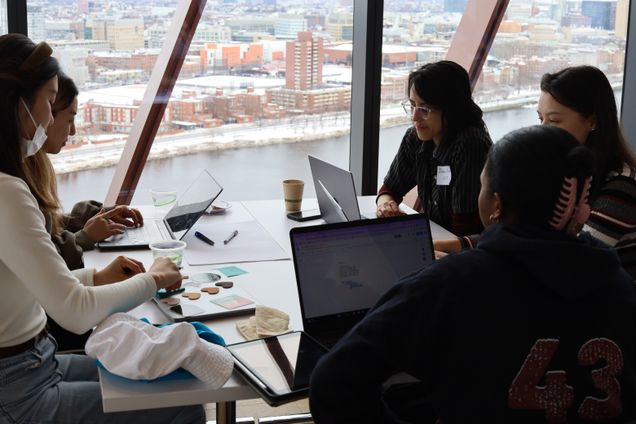 An app that lets you roleplay as your city councilor, a website that matches female students in STEM with mentors, or learning financial literacy skills starting in elementary school—these are all projects that student teams worked on during Tech for Change's February Civic Hackathon. 
Hosted at Boston University and co-organized by BU and Howard University students, the working event brought together computing and data science students passionate about addressing social issues. From February 25-26, nearly 100 students from coast to coast—from the University of Washington to Harvard University—formed teams and worked on projects that addressed issues around education, election turnout, and social welfare policies. 
Overlooking the Boston skyline from the seventeenth floor of the Center for Computing & Data Sciences, teams were asked to brainstorm an original solution and develop a working prototype that could be judged by a group of esteemed guest judges. Teams were able to work with industry mentors who helped guide students through the development process. Further, as part of the weekend-long event, students were also invited to participate in six workshops aimed at sharpening their computing and data science skills and preparing them for post-graduation work. Among them were a resume-building workshop, a workshop about diversity, equity, and inclusion in tech, and a GitHub workshop. 
Managing the Hackathon was senior Mya Turner who is studying computer engineering at BU. Mya grew the former PIT-UN team of three to a team of twelve, rebranding the initiative as Tech for Change. "I am so proud of my incredible peers who pulled together this Hackathon for the first time in about two months," Mya said of her team. "We were able to create an organized, fun, educative, and engaging event that will spearhead the Tech for Change movement across the country for years to come." Mya is also the president emeritus of the National Society of Black Engineers at BU. 
On Sunday, 21 projects were presented. Four teams won prizes totaling $5,000, three in each category and one overall. 
Winning the best overall project for social welfare was NavigAid, a website, and app aimed at connecting those who are food insecure with assistance programs. NavigAid aims to reduce the stigma around seeking help and foster a hub of resources for those in need. 
Winning the best overall project for election turnout was VoteReal, an app that gamifies local government. By letting users roleplay as their city councilor — voting on real legislation and letting them know how their representative voted — VoteReal works to close the gap between young people and what happens in politics at the local level.
Winning the best overall project for education was Steminists, a website, and app that pairs female Boston Public Schools students with graduate students and industry mentors. This project helps empower young women who want to be professionals in STEM fields by building a network of mentee-mentor relationships. 
Winning best overall project in all categories was FinLITT which seeks to equalize access to financial literacy education, particularly for students of color. The application personalizes the learning experience for the user and gamifies their financial literacy education journey with lessons and videos that make personal finance simple and easy to understand. 
As a reflection of Tech for Change's mission—that technology can be used as a catalyst to build a more equal society—the Hackathon was a success. Putting student creativity and ingenuity on full display, these projects open exciting possibilities for what can be done with technology used for the public good. And, the Hackathon served as a reminder of the important work that still needs to be done in our communities. 
—
Housed at Boston University's Faculty of Computing & Data Sciences, BU Spark! is an incubator and experiential learning lab for computer science and engineering projects. Spark! provides the infrastructure to support student innovation projects and engagement in applied research or real-world technology projects, while fostering an inclusive, connected community around interdisciplinary computing and data science.