Spark! Demo Day Fall 2022 Changes Locations and Sets Record
By now, it's essentially a fact that Spark! students continuously show up and show out, and Fall Demo Day 2022 was no different.
In record fashion, almost 220 people came together in the Questrom School of Business Auditorium in person and virtually to witness what's been a semester's worth of innovation for students in the Spark! Innovation Program, X-Lab, Practicum, and co-Labs. Their projects ranged from apps that are sure to shine in the technology marketplace, groundbreaking investigations published in media outlets, and efforts to take our partner's existing projects to new heights.
Winner's Circle
Stewie
—

Judges' Choice for Innovation Program

Stewie is a cooking web application that helps young adults gain the confidence and support to simply get in the kitchen and start cooking for themselves.

Team: Lauren Had, Jeffrey Hsu, Muhammed Abdalla, Edwyn Song

Contact: lhad@bu.edu, jeffhsu@bu.edu, muhabda@bu.edu, esong501@bu.edu

GitHub | Jira | Product Link

Click to view Stewie's presentation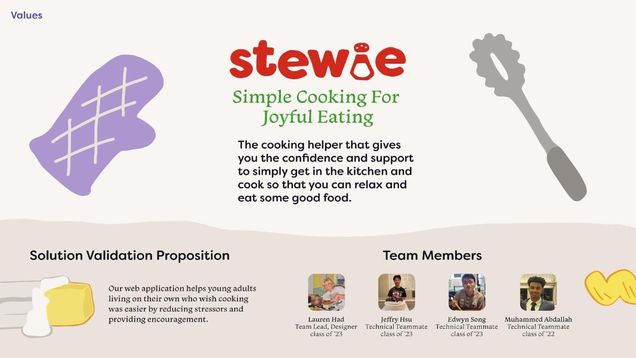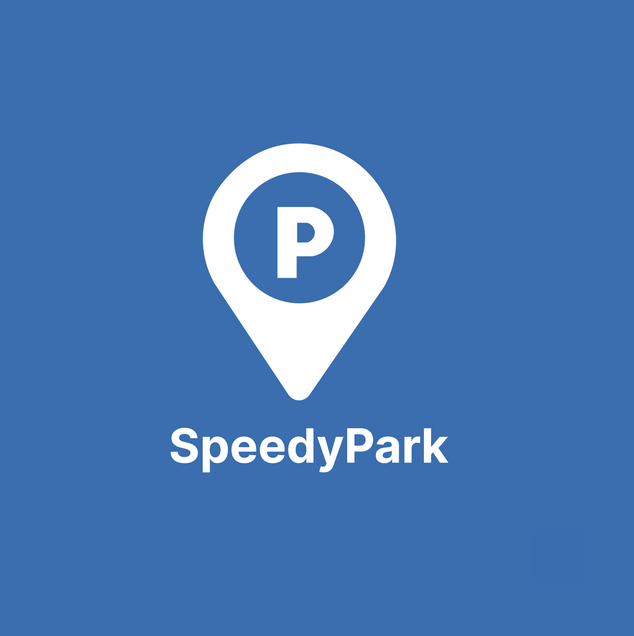 SpeedyPark
—

Audience Choice for Innovation Program

Prototype for parking assistance tool for BU students looking for information on actual or likely parking spaces on campus based on location and time.

Team: Alex Zhou, Andrew Hu, Linah Uchiyama, Justin Lee, Daniel Yu

Contact: alexzhou@bu.edu, lmu12@bu.edu, juslee@bu.edu, danyu@bu.edu,  andrewhu@bu.edu

Click to view SpeedyPark's presentation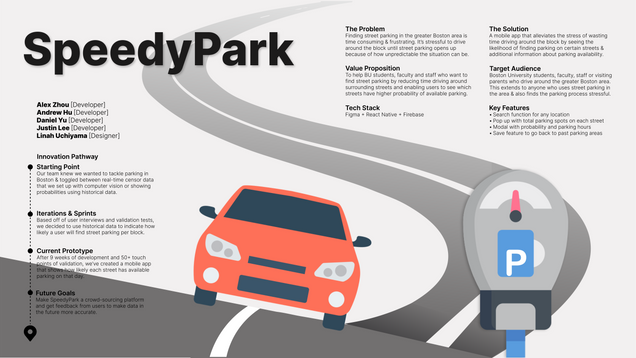 DEI in Tech: Pass/Fail Project
— Audience Choice for External Projects
First Year Pass/Fail is a proposed framework for Boston University's Computer Science department to implement a new more encompassing first-year course and use pass/fail grading. This change is designed to lessen the amount of students that are pushed out the major for a number of factors.
Team: Olivia Bene
Contact: livebene@bu.edu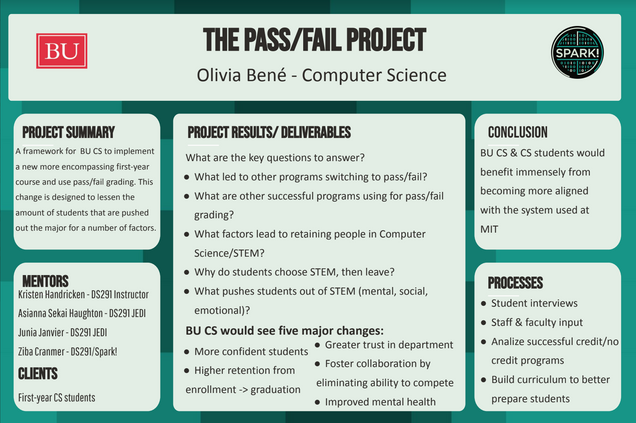 ---
Spark! Technology Innovation Program
BullyProof
Social Media filtering tool to protect vulnerable or at-risk individuals from bullying based on semantic model, search bots, and an interface that allows users to easily apply the tool to their social media feeds. 
Team: Ruiqi Liu, Jingyi Tsai, Alex Lavaee, Ethan Seow
Contact: ruiqiliu@bu.edu, jytsai@bu.edu, alavaee@bu.edu, eseow@bu.edu
GitHub | Jira | Product Link
Click to view BullyProof's presentation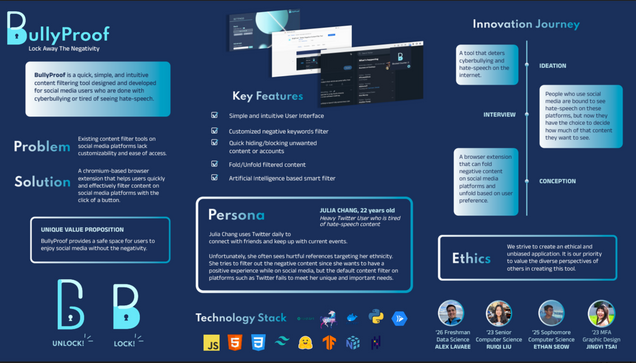 WhatWorks
Online community and information aggregator for individuals suffering from specific non-life threatening chronic diseases to share remedies, information about treatment, providers, and more.
Team: Ashley Hsieh, Venika "Nika" Vachani, Zachary Gou, Mani Mukesh Reddy
Contact: ahsieh22@bu.edu, venika@bu.edu, zgou@bu.edu, nmani@bu.edu
Click to view WhatWorks' presentation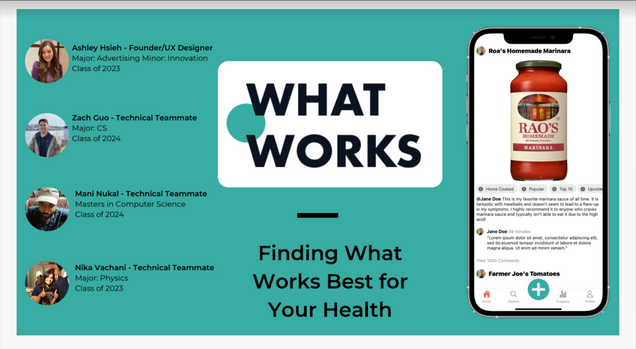 BU InfoShare
An open online resource where BU students can share information and find information regarding courses and homework for their respective majors.
Team: Hou Chi Chan, Macy See So, Joseph Jang

Contact: houchic@bu.edu, mso7@bu.edu, jojang@bu.edu
GitHub | Jira | Product Link
Click to view BU InfoShare's presentation

CollaborArt
CollaborArt is a virtual reality platform to create digital artworks together.
Team: Roubing Liao, Crystal Sealey, Akhil Uthappa, Sitong Liu
Contact: roubing@bu.edu, cnsealey@bu.edu, akhilus@bu.edu, mayliu@bu.edu
GitHub | Jira | Product Link
Click to view CollaborArt's presentation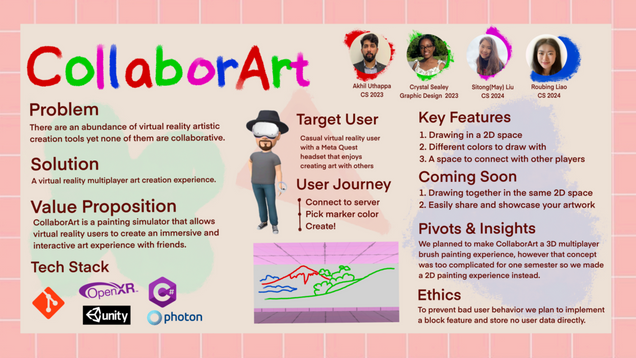 Empoworker
Empoworker is a web application that provides undocumented workers the ability to search for a company in Massachusetts and see that company's workforce violations. With access to this information, workers can decide whether the company is a reliable employer and prevent becoming victims of labor abuse.
Team: Daniel Gonzalez, Seoyeun "Chloe" Lee, Añulika Nnadi, Roberto Rodas-Herndon
Contact: dagon@bu.edu, leeseo@bu.edu, annadi@bu.edu, rrh2023@bu.edu
GitHub | Jira | Product Link
Click to view Empoworker's presentation
---
Justice Media co-Lab
USA Today
— Analyzing Political Messaging on Social Media
This project mined Facebook posts and Tweets from congressional candidates leading up to the midterm elections to explore and understand political rhetoric.
Team: Melissa Ellin, Sam Petruccelli, Vy Nguyen, Yuyan Li, Lily Kepner, and Joy Shen
Contact: mellin@bu.edu, spetrucc@bu.edu, nptv1207@bu.edu, yuyanli@bu.edu, lkepner@bu.edu
Click here to view Spark! x USA Today presentation
GBH Youth Voting
The goal of this project was to analyze large amounts of voting data to identify trends amongst youth voters throughout the state. Using demographic data such as location and party, we wrote an article with independent reporting to supplement our findings for WGBH.
Team: Jasmine Fanchu Zhou, Molly Farrar, Yuyan Li, Dongyue Xu, Samuele Petruccelli, Artemis Huang
Contact: fanchuz@bu.edu, mjfarrar@bu.edu, yuyanli@bu.edu, xdy@bu.edu, spetrucc@bu.edu, artemish@bu.edu
Click here to view GBH Youth Voting presentation
---
DEI in Tech
DS291: One for All, All for One
One for all, All for One is an organization for minorities, and All, STEM majors which will help them get more real-world and applicable experience for the workforce by working on team-based engineering projects. It will also provide them with a place to work on coursework and build a network with mentors, professors, and professionals. It is also a place for STEM students to build a network and socialize with other students as well.
Team: Oliver Samuels
Contact: osamuels@bu.edu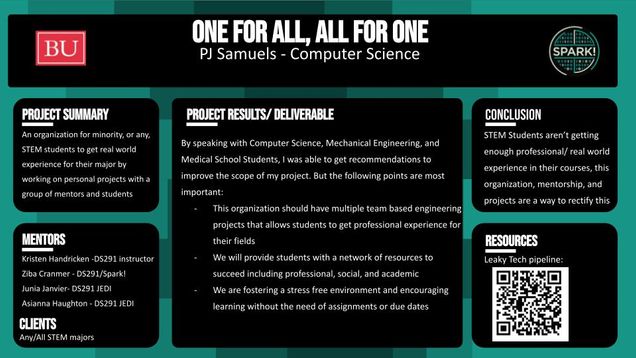 DS291: Unconscious Bias in Tech
The goal of this project is to introduce a training manual for tech companies that helps them avoid unconscious bias in the workplace. The manual will be an online subscription with a minimal fee of $5 which can also be waived if the company submits a waiver saying that they are a small company.
Team: Lavya Midha
Contact: lavyam@bu.edu
---
External Projects
DS459: Brady Disclosure Information Extraction Project
The Committee for Public Counsel Services (CPCS) also known as the public defender, enlisted students to build a machine learning pipeline to extract and standardize key data from 'Brady notices' that require the government to disclose key evidence.
Team: Ryan Hom, Yile "Arin" Wang, Aditya Pal, Wenhan "Vivian" Zhou
Contact: rhom@bu.edu, arinwyl@bu.edu, paditya@bu.edu, wzhou27@bu.edu
Click here to view the Brady Disclosure Information Extraction Project presentation
DS519: Boston Children's Hospital: ALS Audio Bank
Students worked on this project for Children's Hospital to create a stable, clean, and efficient web application for ALS patients and their caretakers. The application provides automated audio file editing such that ALS patients' voice recordings can be used for customized synthetic voice production.
Team: Daniel Delijani, Shaolin Xie, Haowei Li, Chang Liu
Contact: delijani@bu.edu, slxie@bu.edu, lihaowei@bu.edu, lc21fall@bu.edu
Click here to view ALS Audio Bank's presentation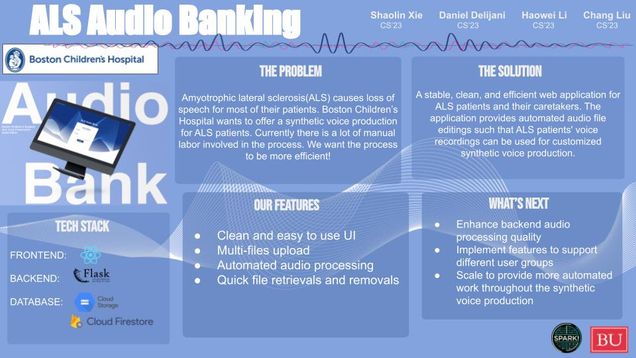 XC 410 B1: DS4G Mayor's Office of Housing Stability
The goal of this project was to understand eviction patterns in Boston, specifically the outcome of notices to quit (evict) filed in court vs. actual evictions to determine
Team: Andy Yang, Diti Pitre, Guannan Zhou, Hanna Dworkin, Ruihang Liu
Contact: ayang903@bu.edu, dpitre@bu.edu, guannanz@bu.edu, hdworkin@bu.edu, hrl@bu.edu
Click here to view Mayor's Office of Housing Stability presentation 
CS 506: Housing Forward MA
Data science is a powerful tool for unlocking insights based on data. Using that as our tool, we targeted Massachusetts' housing crisis issue by helping map the impact of the legislation to create MBTA Communities as a tool for increasing affordable multi-family housing stock.
Team: Chuhan Li, Yuxin Liu, Miles Clemons, Ryan Long Hei Ko, Gloria Ampadu-Darko
Contact: lich@bu.edu, lyx1012@bu.edu, milesrc@bu.edu, rko@bu.edu, gaad@bu.edu
Click here to view Housing Forward MA presentation
CS506: Bad Landlords
In response to a request from project partner, City Councilor Breadon (D9), students produced an interactive map that shows the number of housing violations and the top worst landlords in each neighborhood. The project also
concludes with if affordable houses have more violations and the reasons for concentrated violations.
Team: GM Harshvardhan, Janki Chauhan, Tianyang Gu, Dingyuan Xu
Contact: gmharsh@bu.edu, tygu@bu.edu, tygu@bu.edu, dyxu@bu.edu
Click here to view Bad Landlords' presentation
Spark! Internship: Museums Moving Forward
Museums Moving Forward (MMF) is a data-driven, curator-led effort to create a culture of accountability within the art museum sector. We have implemented an interactive web application to visualize the survey data using highcharts.
Team: Shobhakumar Selvarhaj, Ingi Hong, Ananya Chakraborty
Contact: shobhak@bu.edu, ingihong@bu.edu, ananyac@bu.edu