by Althea Ruoppo
There is a certain comfort that is brought only by the stillness of the hours between dusk and dawn. Nightfall has long held a fascination for artists and, especially since the nineteenth century, has had rich treatment in the United States and Europe as our contributors to the Spring 2022 issue of SEQUITUR show. In his 1881 poem, "A Clear Midnight," American poet and journalist Walt Whitman (1819–1892) muses on the night as a time of great solitude, an occasion for the temporary transcendence of mundane pursuits:
This is thy hour O Soul, thy free flight into the wordless,
Away from books, away from art, the day erased, the lesson done,
Thee fully forth emerging, silent, gazing, pondering the themes
thou lovest best,
Night, sleep, death and the stars.
In night Whitman found a source of solace and reverie, and his poem provides a late Romantic response to the subject which emphasizes spiritual, psychological interiority. In contrast, other artists featured in this issue move beyond the self, rendering the nocturne in terms of its connections to secular, earthly exteriority.
Picturing individuals seeking nighttime diversion, the 2018 photograph Connect I by German photographer Andreas Gurksy (b. 1955) shows, for example, how night can invigorate bustling after-hours entertainment (fig. 1). Many of Gursky's works capture global mass phenomena, and Connect I is no exception. This full-bleed C-print, which extends to the edges of the picture plane, depicts a vast crowd in a large, darkened space. Their bodies, lit only by flashing red and white lights, sway to the grandiose sounds of DJ Solomun performing at the Connect Festival on the West Stage of Messe Düsseldorf, Germany, in the early morning hours of October 13, 2018.1 More than 20,000 people, including locals and "techno tourists" from around the world, attended this and many other overnight performances during the fourteen-hour event.
Gursky's photograph, a preliminary version of which is the cover art for Solomun's second studio album Nobody Is Not Loved (2021), is now on view at the Kunstpalast Düsseldorf for the first time. An entire gallery of the current exhibition Electro. Von Kraftwerk bis Techno (Electro. From Kraftwerk to Techno) (December 9, 2021–May 15, 2022)—tracing the 100-year history of international electronic music—features a selection of Gursky's famed images of nighttime rave, club, and festival culture (fig. 2).2 A long-time enthusiast of the techno music scene in Germany, Gursky has taken awe-inspiring photographs of the annual Mayday electronic music festival in Dortmund and the legendary techno club Cocoon in Frankfurt since the 1990s.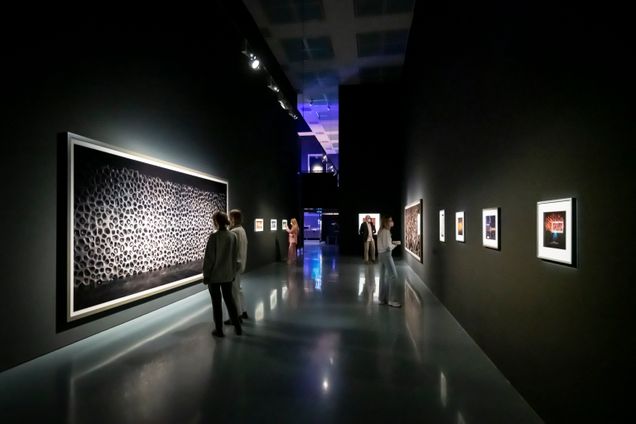 Struck by booming beats and darkness cut by laser lights, viewers of the spectacular multimedia exhibition may wonder if they stumbled into an underground club by mistake (fig. 3). The lively, communal atmosphere of Electro. Von Kraftwerk bis Techno is quite distinct from Whitman's meditation on the tranquil, solitary experience of nighttime. Visitors encounter an eclectic grouping of music by Düsseldorf electro pioneers Kraftwerk, French electro group Daft Punk, British figureheads Chemical Brothers, as well as the sounds of Detroit techno and Chicago house and hip-hop, among others. Gursky's hazy black and red sea of faces and bodies is joined by more than five hundred works: musical instruments, photographs, graphics, sound installations, audio recordings, and hypnotic videos of ravers on the dancefloor—a place, as co-curator Alain Bieber (Artistic Director NRW-Forum, Düsseldorf) explains, "where you can let yourself go, where people of different ethnic and social identities freely interact with each other."3 For Gursky and for other artists and musicians in the exhibition, night provokes a totally immersive, auditory experience in which autonomous individuals come together to form a tolerant, collective body.
For this issue of SEQUITUR, we invited current and recent graduate students to submit further instances of how artists and makers have responded to the theme of "Nightfall." The six selected authors explore the diverse ways in which night has been experienced, imagined, celebrated, and critiqued in art, architecture, and material culture in the United States and Europe from the early nineteenth century to the contemporary period. 
In the history of art and architecture, nightfall has often been a catalyst for creative inspiration of various forms. Artists past and present have employed light or its absence as both subject and medium. Some have used darkness to harness tonal contrasts, highlight points of emphasis, or accentuate emotional tension in their compositions. Others have responded to the unique challenges of making things visible at night, experimenting with photography, film noir, and nocturnes. Following the industrial revolution and introduction of electricity, architects conceived of architecture of the night, using artificial illumination to redefine the nocturnal presence of buildings, monuments, and urban spaces. In recent years, scholars such as Hélène Valance have delved deeper into the darker contexts of nocturnal imagery, examining the genre not simply as a stylistic response to nighttime fascination and evolving technologies but also as an aesthetic that is often wrapped up in racial and imperial discourses.4 
Elizabeth Mangone's feature essay, for example, shows how French artist Adolphe Yvon's (1817–1893) use of striking contrasts between day and night; light and dark; and white, Black, and Indigenous figures is reflective of racial anxieties and biases in the post-Civil War era. In her close examination of Yvon's allegorical painting, Genius of America (ca. 1868), Mangone demonstrates how this work, which was meant to celebrate the abolition of slavery and reunification of the American Republic, actually registers the artist's paternalistic attitudes toward people of color and reflects the sensibilities of his time.
Jin Wang's research spotlight, which focuses on the lesser known Belgian Symbolist painter and graphic artist Léon Spilliaert (1881–1946), similarly explores the sociopolitical implications of nightfall's representation in art. While existing scholarship on Spilliaert has emphasized his position as a insomniac loner who wandered his hometown of Ostend at night, Wang seeks to place the focus on Ostend's rapid urbanization in the late nineteenth century and Spilliaert's relation to early twentieth century empathy theories. Spilliaert's city- and seascapes, Wang argues, should be read in terms of the "darkness" out of which they emerged; much of the infrastructure that the artist recorded was a direct result of Belgian imperialism and colonialism. 
Three authors examine nightfall or darkness by forging connections between fine art and the written word. In her feature essay, Xiaoli Pan offers a preliminary reading of Odilon Redon's illustrations for La Maison hantée, the 1896 French translation of British author Edward Bulwer-Lytton's 1859 novella The Haunted and the Haunters; Or, The House and the Brain. Pan emphasizes the material characteristics and macabre undertones of Redon's lithographs, as well as their divergences from Bulwer-Lytton's ghost story. Her focused analysis of Redon's imagery sparks further investigation into themes such as mesmerism and the subconscious prevalent in Victorian gothic literature.
Amy DeLaBruere finds striking parallels between the artistic methodologies and oeuvres of nineteenth-century British painter J.M.W. Turner (1775–1851) and twentieth-century American poet Wallace Stevens (1879–1955). In her close examination of two of Turner's paintings and two of Stevens's poems, DeLaBruere shows us that both creators progressively abstracted and obscured their images and texts—which often illustrate terrestrial or celestial nighttime skies and darkened bedroom scenes—through their visual and verbal application of essential color.
Renée Brown's discussion of the German photographer Anneliese Hager's (1904–1997) 1964 book of poems and photograms—images made by placing objects directly onto photographic paper and then exposing them to light—continues the compelling relation between visual art and language. In her review of the exhibition White Shadows: Anneliese Hager and the Camera-less Photograph at the Harvard Art Museums, Brown contends that Hager's juxtaposition of complexly layered text and image should be seen as indicative of her larger interest in distortions of perception and legibility. Harvard's revisionist exhibition brings the artist's innovative achievements out of the shadows, even if her works appear alongside other photographs by nineteenth- and twentieth-century scientists and artists.
Hager's knowledge and fascination with science is shared by Argentina-born, Berlin-based artist Tomás Saraceno (b. 1973). In their review of the exhibition, Tomás Saraceno: Particular Matter(s), at The Shed, New York, Sarah-Rose Hansen describes the visitor's ocular experience of moving through Saraceno's interactive installations which employ sensory perception as a means of inviting environmental awareness of our shared planet. These works, which contain references to solar eclipses and sun orbs, feature dramatic shifts in lighting that animate human physiological processes scientifically referred to as light and dark adaptations.
Our issue concludes with a summary of Under(Water), this year's Mary L. Cornille (GRS '87) 38th Annual Graduate Symposium in the History of Art & Architecture, co-organized by Katherine Mitchell and Francesca Soriano. Eight graduate students, presenting on a broad range of topics spanning cultures, geographies, and centuries, engaged with the theme in two panels titled "Water as Resource" and "Water as Connector," while keynote speaker Dr. Stacy L. Kamehiro's examined water as a vital space of transit in Oceanic art and visual culture. While at first it may seem like the themes of "Nightfall" and "Under(Water)" have little in common, deeper consideration of these paired topics reveals intriguing parallels. One such correlation between bodies of water and the period between dusk and dawn is that both often have particular connotations of mystery, mythology, and peril. In her research spotlight, SEQUITUR author Jin Wang shows us artist Léon Spilliaert's images of lone figures in bleak coastal environments while symposium speaker Marina Wells analyzes the dangers posed by the whaling industry as reflected in nineteenth-century representations of the subject. The congruences between water and night's immersive qualities is suggested by speaker Krista Mileva-Frank's discussion of simulated underwater submersion at the Expositions Universelles and SEQUITUR contributor Sarah-Rose Hansen's analysis of Saraceno's large-scale installations.
The editors would like to thank the authors for illuminating the hidden nuances of nightfall, showing us that the possible subjects related to this topic are far more myriad and expansive than we thought when we released our call for content in February 2022. At this challenging moment in world history, marked by the ongoing COVID-19 pandemic, Russian aggression in Ukraine, and attacks on civil liberties as well as gun violence in the United States, we may struggle to see through the veil of darkness in order to find a path forward. We must choose community and solidarity with others in a time of social distance, suffering, and the denial of human rights. Despite an uncertain future, nightfall offers just one occasion for different groups of people to come together, and may it bring the kind of acceptance, connection, and freedom like that written in Whitman's poems or pictured in Gurksy's images of urban nightlife.
____________________
Althea Ruoppo is a PhD candidate in history of art and architecture at Boston University. Her dissertation focuses on three German artists who have gradually developed their own specific approaches to transnational sculpture through the medium and strategy of assemblage: Isa Genzken (b. 1948), Reinhard Mucha (b. 1950), and Rosemarie Trockel (b. 1952).
____________________
Footnotes
1. YouTube user PrinceM shared a five-minute video of DJ Solomun's performance one day after the event. See https://www.youtube.com/watch?v=JOWpn30J0ho.
2. The exhibition Electro: De Kraftwerk à Daft Punk originated in Paris in 2019 at the Musée de la Musique-Philharmonie de Paris, where it was curated by Jean-Yves Leloup. In 2020, an expanded version of the show traveled to London's Design Museum under the title Electronic: From Kraftwerk to The Chemical Brothers.
3. Wall label, "The Dancefloor," Electro. Von Kraftwerk bis Techno, Kunstpalast Düsseldorf, December 9, 2021–May 15, 2022.
4. See Hélène Valance, "PART II: Heart of Darkness: The Nocturne as Metaphor for Racial Difference," in Nocturne: Night in American Art, 1890–1917 (New Haven: Yale University Press, 2018), 87–146.