Shelter in Place Gallery, Boston
October 6–9, 2020
by Shannon Bewley
Jessica Burko's latest sculptural installation at Shelter in Place Gallery (SIP) in Boston, Massachusetts, consisted of assemblages of found furniture and photographs (fig. 1). Her stacked vintage dresser drawers leaned against the gallery walls. Red and blue drawers provided a pop of color among a sea of wood tones. Black-and-white encaustic photo transfers lined some of the drawers' bottoms, depicting a scrap of paper, a wishbone, a baby doll with a bottle, and a puzzle piece. These wood containers presented their contents like relics from the attic. The exhibition's accompanying text suggested that Burko was drawn to their ability to compartmentalize "the detritus of daily life."1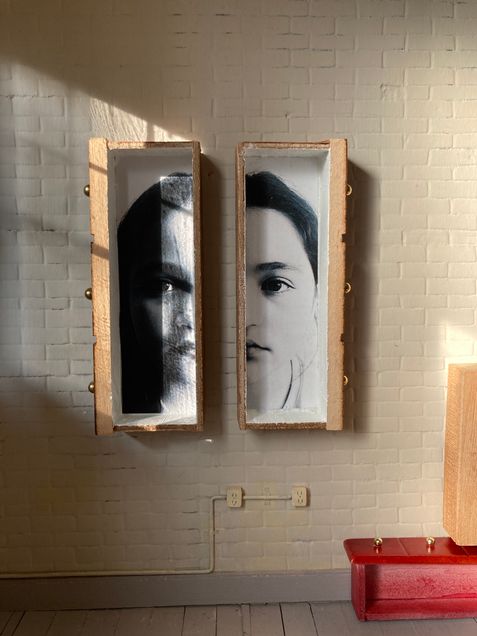 These drawers also held photographs of body parts, such as a lipsticked mouth or children's feet. The close cropping of the images represents how the mind distills events into specific moments and images. Yet the photographs' distorted scale and blurry focus shows that these are not actual mementos but memories of them. Our recollections of cherished objects, like photographs, no longer match the actual toys hidden in the forgotten corners of childhood dresser. Near the gallery windows, two long drawers hung in tandem on the white brick wall with left and right halves of two women's faces peering out from the wall to form a single portrait (fig. 2). These separated bodies could be read in light of the physical separation required during the ongoing COVID-19 pandemic, while the vintage images of the toys suggest the growing distance between our recollections of life before and after the virus. Yet, little else about Burko's exhibition indicated that both the works and the venue were adaptations to current social-distancing constraints. Nothing about the space immediately revealed that SIP is a 1:12 scale model, where one inch equals one foot (fig. 3). Its exhibitions, all equally small, are only accessed through images posted online. Most viewers "visit" the gallery through its Instagram feed.
SIP debuted in March 2020 at the onset of the COVID-19 pandemic. Founder Eben Haines and his partner Delaney Dameron sought to offer Boston-area artists an accessible space to envision large installations and to continue exhibiting during the global health crisis. Haines, a practicing artist and graphic designer for the Museum of Fine Arts, Boston, previously created an elaborate twenty-by-thirty-inch gallery maquette to plan out his own paintings. Now, his precise model presents other artists' miniature works, which are conveyed to Haines's and Dameron's doorstep through contactless delivery. The vast majority of SIP's artists, like Burko, do not comment on the context or size of the exhibition space in their works.
SIP was awarded a Transformative Public Art Program Grant from the City of Boston Mayor's Office of Arts and Culture in June 2020. The award of these public funds to Haines and Dameron acknowledged the gallery's ability to connect citizens of Boston to each other, and the gallery's equivalence to other enduring community projects like murals. As other institutions remain closed, SIP's social media platform offers a safe, virtual gathering space for Boston's arts community. Yet the novelty of this model, like social distancing amid an international pandemic, has worn into normalcy. For the artists, the desire to play with the format of the space has faded in favor of the chance to present their works to a bigger audience. SIP's Instagram profile welcomes visitors 27/4 without the logistical burdens of museum buildings. SIP signals a viable new era of pandemic-proof digital arts institutions for artists like Jessica Burko, whose exhibition allows us the opportunity to contemplate narratives and histories both of and beyond the current moment.
____________________
Shannon Bewley
Shannon Bewley was the Provenance Research Fellow in the departments of American and European Art at the Birmingham Museum of Art prior to entering Boston University as a PhD student in the Department of History of Art and Architecture. Her research areas include sculpture and conceptual art, with special attention to photographs of conceptual art and participatory sculpture.
____________________
Footnotes
1. Shelter In Place Gallery (SIP) (@shelterinplacegallery), "Good morning from the gallery! The air is crisp, and the slanting light is playing very nicely with two large installation works by @jessicaburko," Instagram photo, October 7, 2020, https://www.instagram.com/p/CGC0SWtlROZ/?utm_source=ig_web_copy_link.