A Sustaining Cherokee Basket: Colonial Inscription and Indigenous Resistance
by Amanda Thompson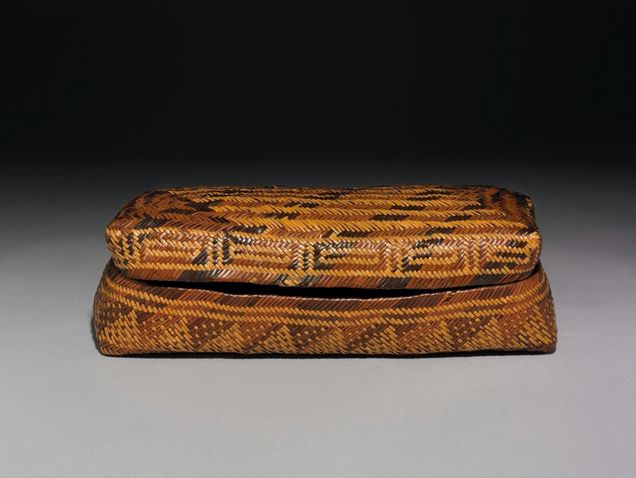 One of my Cherokee elder aunts tells me baskets are living things. She believes the materials she uses in her weaving give the baskets everlasting life. "When we weave a basket, it is held close to our body so as to impart our spirit into the basket. When you give a basket, you give a part of your spirit," she says.[1]

—Author and poet MariJo Moore (Eastern Cherokee, Dutch, and Irish ancestry) in "The Spirit of a Cherokee Basket"

A large Carolina basket made by the Indians of splitt canes some parts of them being dyed red by the fruit of the Solanum magnum Virginianum racemosum rubrum & black. They will keep any thing in this from being wetted by rain. From Coll. Nicholson Governor of South Carolina whence he brought them.[2]

 —Earliest catalogue description of a Cherokee basket acquired by the British Museum in 1753
The two texts which begin this essay communicate disparate understandings of a Cherokee basket.[3] Although written centuries apart, cultural rather than temporal differences separate them. The first presents the conceptions of generations of the author's Eastern Cherokee ancestors that a basket is a living thing, with a continuous, intimate, and inextricable connection to the sources of its natural materials and to its maker. The second, written to identify an object in the British Museum's collection, represents the basket, its materials, and its maker as colonized subjects. Considering the object life of that eighteenth-century doubleweave Cherokee basket in the collection of the British Museum (fig. 1–2), I will draw on the tension between these two ways of understanding a basket to weave an essay which unsettles the authority of a colonial institution's collecting and cataloguing of a Native-made basket and exposes that authority as an agent of settler colonial violence.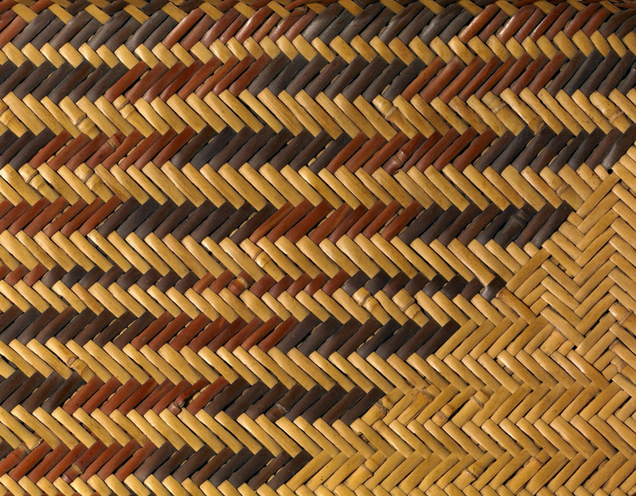 Guided by the counsel of Tuscarora art historian Jolene Rickard that "even the most 'traditional' form, like basket weaving, is actually a demonstration of Indigenous renewal, survival, and political and environmental awareness," I aim to access Cherokee basket makers' "strategic cultural resistance," and to illustrate how colonial agents acted to neutralize and erase this resistance, conforming to the "elimination of the Native" required by the settler colonial structure.[4] I conclude by considering the maker and, responding to an archival lack, imagine her agency in entering the basket into the colonial networks of exchange and demonstrate how the maker's act of "strategic cultural resistance" has lived on to renew Cherokee political and cultural agency. As a non-Native scholar, this imagining is in the form of queries, shaped—like all my scholarship—–by what I have learned from many Native thinkers. This mode of narration is influenced by African-American scholar Saidiya Hartman who "exploit[s] the capacities of the subjunctive… both to tell an impossible story and to amplify the impossibility of its telling.[5] My queries aim to illuminate other ways of considering the unknown maker's agency, without speaking for her.
"The Spirit of a Cherokee Basket"
Basketry is woven into Cherokee cosmological, ecological, ancestral, and community relationships. Historically, women made baskets to be used for trapping, harvesting and processing food, storage, transporting goods, and bartering, among other subsistence activities.Baskets also had ceremonial purposes, such as to protect and contain the power of ritual tools and garments. They feature prominently in Cherokee stories, such as that of Selu, the Corn Mother, who used baskets to catch the corn and beans which she shook from her body to nourish her children, and of Kanane-ski Amai-yehi, or Spider-Dwelling-in-the-Water, who wove a basket to bring fire to the earth.[6] In these stories and practical uses, baskets are sustaining vessels central to Cherokee ways of being.[7]
Basketry has also supported Cherokee continuance. For instance, following the Indian Removal Act of 1830 and subsequent forced migration of thousands of Cherokees, Cherokee Nation scholar Karen Cooper Coody describes:
Upon arrival in Indian Territory, bereft of adequate household items, the vast majority of Cherokee women would have immediately set to work producing a needed array of workbaskets. … Most women were faced with endless tasks of tending sick and weakened families, feeding them, sewing and mending worn-out clothing, weaving new cloth and making quilts, planting household gardens, cooking and foraging in unfamiliar Ozark woodlands or grasslands for plants suitable for food, medicine and craft materials [such as basketry].[8]
After devastating loss, Cherokee women managed their survival by adapting their ancestral art to the materials available in unknown territory.[9] Returning to their tradition of weaving allowed for the renewal and resurgence of peoples—not just through a basket's utility, but also through ensuring that cultural knowledge could live on, changed but resilient.
Basketry also provides rhetorical means for renewal and decolonization. Cherokee/Appalachian author Marilou Awiakta identifies a doubleweave basket as the "natural form" of her book Selu: Seeking the Corn-Mother's Wisdom:
As I worked with the poems, essays, and stories, I saw they shared a common base—the sacred law of taking and giving back with respect, of maintaining balance. From there they wove around four themes, gradually assuming a double-sided pattern—one outer, one inner—distinct, yet interconnected in a whole. … Reading will be easy if you keep the weaving mode in mind: over… under… over… under. A round basket never runs "straight-on."[10]
The complicated process and ultimate strength of doubleweave enables Awiakta to reckon with modern environmental destruction and reweave a restorative vision of futurity for her readers. Similarly, Qwo-Li Driskill uses doubleweave as a structure in their 2016 book Asegi Stories: Cherokee Queer and Two-Spirit Memory, which weaves together personal and theoretical writings to create a third space ("between the basket walls") in which to decolonize Cherokee-specific traditions of gender and sexuality.[11] Thusly, basketry has sustained Cherokee life and culture through baskets' practical uses, in the perpetuation of traditions of knowledge, and by providing a framework for resurgence and decolonization—all despite colonial efforts to decontextualize baskets and disenfranchise their Native makers through collecting and cataloguing.
"A large Carolina basket": Collecting and cataloguing as settler colonial inscription
The catalogue cited at the start of this essay is the earliest known record of the British Museum's doubleweave basket.[12] Although the writer is unidentified, the language they use to describe the basket illuminates a colonial framework for their knowledge, with idioms encoded to naturalize colonial power. The basket is first identified as a product of a place inscribed with a colonial name: Carolina. The colony of Carolina was granted its charter and named by King Charles II of England in honor of his father, erasing the historic and ongoing identifications of lands by the peoples native to them and instead providing an Anglo-monarchical ancestry.[13] The basket is secondly identified by the generic "Indians" who made it, eliding the diverse Native polities of North America into one undistinguished other.[14] The plant whose dyes provide the basket's contrasting design is called after Britain's supposed virgin queen, Elizabeth I, literally overlaying British power onto plants indigenous to the colony, in an act of "linguistic imperialism" which classified and so claimed the plant life of the world.[15]
This cataloguing enacts epistemic violence we now identify with settler colonialism. Citizen Potawatomi Nation scholar Kyle Powys Whyte writes that settler colonialism necessitates "homeland inscription," as "settlers can only make a homeland by creating social institutions that physically carve their origin, religious and cultural narratives, social ways of life and political and economic systems (e.g. property) into the waters, soils, air and other environmental dimensions of the territory or landscape. That is, settler ecologies have to be inscribed into indigenous ecologies."[16] Settler colonialism has been inscribed into the archive of this basket by renaming its homelands and the natural materials from which it was woven and by flattening the diverse peoples of Native North America into a single, othered, Indian. This inscription supports the "structural genocide" of settler colonialism through appropriation of lands and assimilation of peoples.[17]
As its maker and community has been excised from its archival record, the written provenance of this basket begins with its ownership by a colonial agent. South Carolina governor Francis Nicholson possibly collected it as a gift from Native delegations, such as when he negotiated the first colonial treaty with Cherokees in 1721. In meetings with the multiple Native communities of South Carolina, Nicholson sought to gain information and establish boundaries and trade relations, while Native delegations took the opportunity to affirm their sovereignty. Gifts like maps and baskets asserted rights by demonstrating Native territories, resources, geographical and ecological knowledge, and existing trade and political relationships. While Native people strategically gifted maps and baskets to make political, economic, and territorial claims in their meetings with colonial authorities in the eighteenth century, other Southeastern Native nations—such as the Chitimacha and the Coushatta—have used baskets to strategically advance land claims into the twentieth century.[18]
Rather than acknowledging the rights asserted with these maps and baskets, Nicholson entered them into a collection supportive of Britain's empire-building project by transferring them to Sir Hans Sloane. A leading London intellectual, Sloane used his position and wealth to comprehensively collect flora and human-made objects from throughout the empire, supported by British agents acquiring local specimens.[19] Sloane collected in order to build knowledge, which in turn supported Britain's expanding empire and commercial interests.[20] Botanical knowledge enabled the classification, cultivation, and capitalization of the natural products of colonized lands.[21] Objects made by peoples throughout the empire educated British people about colonized subjects and supported an imagined hierarchy of civilization with British culture at the pinnacle and other cultures below.[22]
Upon Sloane's death, British Parliament complied with his testamentary wishes that the collection be kept together and made publicly accessible by establishing the British Museum in 1753. This progressive move towards public education enabled all those able to visit to observe and learn about world cultures. But the London museum also facilitated the expansion of the logic of colonialism, as visitors could imagine their place at the center of empire and internalize hierarchies of a civilized center superior to uncivilized others which Sloane created in his collection. By spreading the logic of colonialism amongst the public, subjugation, resource extraction, and dispossession were normalized as an inevitable—and benevolent—right of Britain. The transformation of a Native diplomatic gift into an object in a national collection at the center of empire enacted settler colonialism by providing proof of ownership of Native land and of the incorporation of Native peoples at the seat of colonial power.[23]
Conclusion
In resistance to the epistemic violence of settler colonialism which severed this basket from its cultural context, I believe it is powerful to acknowledge the part of the unidentified maker's spirit given with the basket, recalling the opening words of MariJo Moore. What if she intended this basket to demonstrate Cherokee rootedness in their homelands? What if she staked a claim by mobilizing the knowledge of generations of ancestors who learned to cultivate the land and transform its plant life into a watertight basket? What if she meant to build a relationship through the gifting of this basket, with the expectation of reciprocity and respect, in line with Cherokee relationship-based governance? What if this basket was woven as a material manifestation of Cherokee sovereignty? The intentions and expectations of the maker's spirit have been excised in the basket's collection and cataloguing in order to inscribe settler colonialism onto the peoples, land, and ecology from which it came, in another deliberate act of dispossession.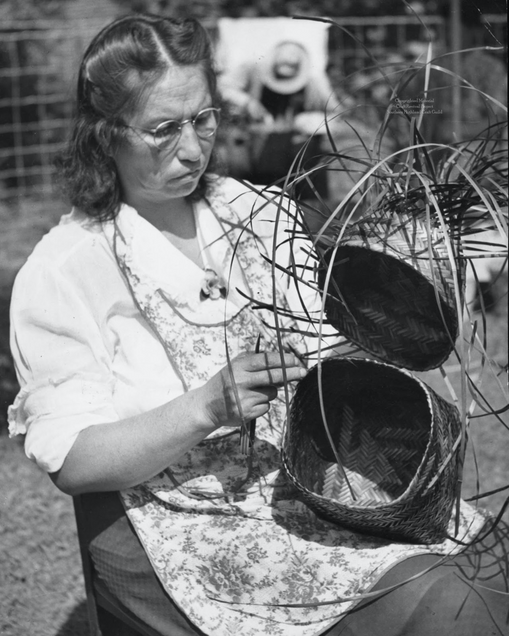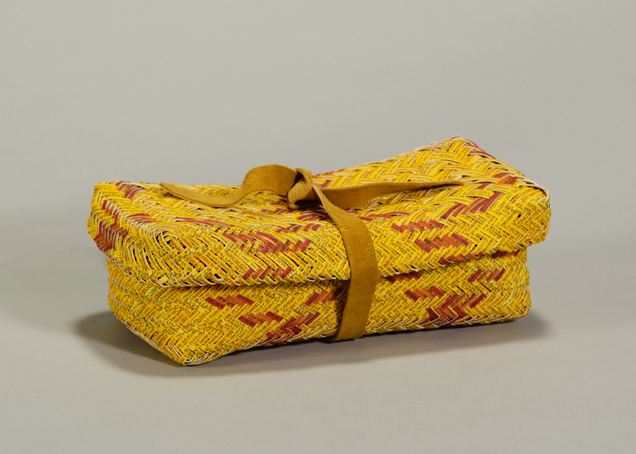 In 1940, Eastern Cherokee basket maker Lottie Stamper used images of this basket to further her knowledge of the doubleweave technique and then teach it to others (fig. 3).[24] In this way, Stamper refused the co-option of the basket by the colonial state, and instead accessed the ancestral knowledge embodied in the basket to enable the technique's renewal in the community. Eastern Cherokee artist Shan Goshorn, who passed away in 2018, drew from the knowledge revitalized by Stamper and used strips of treaty texts, historical photographs, and other documents to weave paper baskets which spoke powerfully to the injustices of the United States against Native peoples (fig. 4). Goshorn's basketry demonstrates how an eighteenth-century basket continues to sustain Indigenous renewal and strategic cultural resistance.[25]  
____________________
Footnotes
[1] MariJo Moore, "The Spirit of a Cherokee Basket," Fiberarts 28, no. 4 (February 2002): 25.
[2] "Basket," British Museum, accessed March 9, 2020, https://www.britishmuseum.org/collection/object/E_Am-SLMisc-1218-a-b.
[3] Cherokee peoples are indigenous to homelands throughout the Southeast of the territory now known as the United States. In the nineteenth century, the United States government forcibly moved thousands of Cherokees to Oklahoma to open up land to settlers. Today, there are three recognized tribes of Cherokees: the United Keetoowah Band of Cherokee Indians and the Cherokee Nation, both in Oklahoma, and the Eastern Band of Cherokee Indians in North Carolina—all of whom maintain basketry traditions. In this paper, I refer to the culture both generally and pre-removal as Cherokee.
[4] The basketry quotation comes from Jolene Rickard, "Uncovering/Recovering: Indigenous Artists in California" in Art, Women, California 1950-2000: Parallels and Intersections, ed. Diana Burgess Fuller and Daniela Salvioni, (Berkeley, Los Angeles: University of California Press, 2002), 145. The term "strategic cultural resistance" is drawn from Jolene Rickard, "Visualizing Sovereignty in the Time of Biometric Sensors," South Atlantic Quarterly 110 (Spring 2011): 474. While in the latter essay, Rickard engaged with contemporary "Haudenosaunee artists [who] visualize sovereignty through key episodic 'traditional' or historical moments" (474-75), I find the idea broadly useful in thinking politically and critically about historic and contemporary Indigenous arts. The term "elimination of the Native" comes from a foundational text of settler colonial theory by Patrick Wolfe, "Settler Colonialism and the Elimination of the Native," Journal of Genocide Research 8, no. 4 (December 2006): 387-409. Wolfe asserts a "structural genocide" (403) as concomitant with settler colonialism, enacted not just by mass killings but also removal from lands, removal from tribes, enforcement of a grammar of race, and assimilation.
[5]Abridged for length in the body of my essay, I think it necessary to include this quotation in its powerful entirety: "By advancing a series of speculative arguments and exploiting the capacities of the subjunctive (a grammatical mood that expresses doubts, wishes, and possibilities), in fashioning a narrative, which is based upon archival research, and by that I mean a critical reading of the archive that mimes the figurative dimensions of history, I intended both to tell an impossible story and to amplify the impossibility of its telling";Saidiya Hartman, "Venus in Two Acts," Small Axe: A Caribbean Journal of Criticism 12, no. 2 (June 1, 2008): 11.
[6] James Mooney, Myths of the Cherokee (Washington, DC: Government Printing Office, 1902), 242, http://www.gutenberg.org/files/45634/45634-h/45634-h.htm#s2. Still today "these stories and the teaching that come from them create and maintain the everyday reality for the Eastern Cherokees"; Sandra Muse Isaacs, Eastern Cherokee Stories: A Living Oral Tradition and Its Cultural Continuance (Norman, OK: University of Oklahoma Press, 2019), 100.
[7] For information on Cherokee basketry, see M. Anna Fariello, Cherokee Basketry: From the Hands of Our Elders (Charleston, SC: History Press, 2009) and Sarah H. Hill, Weaving New Worlds: Southeastern Cherokee Women and Their Basketry (Chapel Hill, NC: University of North Carolina Press, 1997). It is likely the British Museum basket is actually two separate pieces—a basket and a tray—miscatalogued as one piece due to the similarity of sizes and technique. Anthropologist Betty Duggan believes they might represent the work of two different makers, and resists an absolute attribution to a Cherokee maker, rather than to other peoples indigenous to the region; Betty J. Duggan, "Baskets of the Southeast" in By Native Hands: Woven Treasures from the Lauren Rogers Museum of Art, ed. Stephen W. Cook and Jill R. Chancey (Laurel, MS, Seattle, WA: Lauren Rogers Museum of Art, University of Washington Press, 2005), 36.
[8] Karen Coody Cooper, Oklahoma Cherokee Baskets (Charleston, SC: The History Press, 2016), 27.
[9] Cherokee makers experimented with the different plants found in Oklahoma and adjusted to their qualities and gathering seasons. Eventually, buckbrush root became the primary basketry material of Oklahoma Cherokees, combined with oak stays. Similarly, Eastern Cherokee basket makers had to adapt to environmental changes wrought by settlers. As cane became less prevalent Cherokee women innovated basketry techniques and designs in oak and root runners in the early nineteenth century, the introduced or invasive Japanese honeysuckle root runner in the later nineteenth century, and fast-growing maple in the early twentieth century. Contemporary makers use all these materials to continue to innovate new forms and designs.
[10] Marilou Awiakta, Selu: Seeking the Corn-Mother's Wisdom (Golden, CO: Fulcrum Pub, 1993), 34.
[11] Qwo-Li Driskill, Asegi Stories: Cherokee Queer and Two-Spirit Memory (Tucson, AZ: The University of Arizona Press, 2016), 5.
[12] Cataloguing is a practice that museums use to describe objects. It is a step in the acquisition process, as knowing creates ownership. Its classifications impose culturally contingent knowledge upon objects, which continue to determine understandings and access to objects to the present; see Ramesh Srinivasan, Robin Boast, Jonathan Furner, and Katherine M. Becvar, "Digital Museums and Diverse Cultural Knowledges: Moving Past the Traditional Catalog," Information Society 25 (2009): 265-78 and Hannah Turner, "Decolonizing Ethnographic Documentation: A Critical History of the Early Museum Catalogs at the Smithsonian's National Museum of Natural History," Cataloguing & Classification Quarterly 53 (August 2012): 658-76.
[13] The colony of Carolina was chartered in 1663 and split into two colonies—North and South Carolina—in 1712. As the singular "Carolina" is used in the catalogue description, it is likely that in England the two colonies were still referred to as one despite their administrative division.
[14] See Jodi A. Byrd, The Transit of Empire: Indigenous Critiques of Colonialism, First Peoples: New Directions in Indigenous Studies (Minneapolis, MN: University of Minnesota Press, 2011) on the collapsing of diverse Indigenous polities into a racial Indianness as a tool of settler colonialism in the United States.
[15] Londa L. Schiebinger, Plants and Empire: Colonial Bioprospecting in the Atlantic World (Cambridge, MA: Harvard University Press, 2004), 195. The acts of classifying plants and cataloguing objects similarly subordinate local knowledge to that of the empire.
[16] Kyle Powys Whyte, "Indigenous Experience, Environmental Justice and Settler Colonialism" in Nature and Experience: Phenomenology and the Environment, ed. Bryan E. Bannon (London, New York: Rowman & Littlefield International, 2016), 171-72.
[17] Wolfe, "Settler Colonialism and the Elimination of the Native": 403.
[18] See Ian Chambers, "A Cherokee Origin for the 'Catawba' Deerskin Map," Imago Mundi 65, no. 2 (June 2013): 207–16; Denise E. Bates, Basket Diplomacy: Leadership, Alliance-Building, and Resilience among the Coushatta Tribe of Louisiana, 1884-1984 (Lincoln, NE: University of Nebraska Press, 2020); and Daniel H. Usner, Weaving Alliances with Other Women: Chitimacha Indian Work in the New South (Athens, GA: The University of Georgia Press, 2015).
[19] See James Delbourgo, Collecting the World: Hans Sloane and the Origins of the British Museum (Cambridge, MA: The Belknap Press of Harvard University Press, 2017) for a history of Sloane's collecting and the founding of the British Museum anchored in the recognition that Sloane's wealth in part derived from his slave-holding, demonstrating the foundational link of the British national collection to profits from the subjugation of people and the realities of Britain's slave-based economic power. For early research specifically into Sloane's ethnographic collections, see David I. Bushnell, "The Sloane Collection in the British Museum," American Anthropologist 8, no. 4 (1906): 671-85; H. J. Braunholtz, "The Sloane Collection: Ethnography," The British Museum Quarterly 18, no. 1 (1953): 23-26, https://doi.org/10.2307/4422413.
[20] See Edward W. Said, Orientalism (New York: Vintage Books, 1979), a foundational work of postcolonial theory on how the creation of knowledge enabled imperial power as a form of epistemic violence working in tandem with imperialism's brute force and material superiority.
[21] See Londa L. Schiebinger, Plants and Empire: Colonial Bioprospecting in the Atlantic World (Cambridge, MA: Harvard University Press, 2004).
[22] See T. J. Barringer, and Tom Flynn, eds., Colonialism and the Object: Empire, Material Culture, and the Museum, Museum Meanings. (London , New York: Routledge, 1998); Elizabeth Edwards, Chris Gosden, and Ruth B. Phillips, eds., Sensible Objects: Colonialism, Museums and Material Culture, Wenner-Gren International Symposium Series (Oxford , New York: Berg, 2006); Amiria J. M. Henare, Museums, Anthropology and Imperial Exchange (Cambridge, UK , New York: Cambridge University Press, 2005); George W. Stocking, ed., Objects and Others: Essays on Museums and Material Culture, History of Anthropology, (Madison, WI: University of Wisconsin Press, 1985).
[23] See Curtis M. Hinsley, "Collecting Cultures and Cultures of Collecting: The Lure of the American Southwest, 1880-1915," Museum Anthropology 16, no. 1 (1992): 12-20. As Indigenous communities and formerly colonized countries today demand the repatriation of objects collected under conditions of unequal power, these assumed hierarchies of knowledge and authority endure particularly in debates over rightful ownership and claims that objects will be in jeopardy if returned to their community of production; see Chip Colwell-Chanthaphonh,"Repatriation and the Burdens of Proof," Museum Anthropology 36, no. 2 (2013): 108-9,https://doi.org/10.1111/muan.12024; Rosemary Coombe, "The Properties of Culture and the Possession of Identity: Postcolonial Struggle and the Legal Imagination" in Bruce H. Ziff and Pratima V. Rao, eds., Borrowed Power: Essays on Cultural Appropriation (New Brunswick, NJ: Rutgers University Press, 1997), 74-96; and Neil G.W. Curtis, "Universal Museums, Museum Objects and Repatriation: The Tangled Stories of Things," Museum Management and Curatorship 21, no. 2 (January 1, 2006): 117-27.
[24] The technique of doubleweave was not dormant in the Eastern Cherokee community at the time, as at least a few women still used the technique. Stamper, however, learned the technique in order to teach it and therefore spread and revitalize its use; Fariello, Cherokee Basketry, 40-43.
[25] See curatorial statement by Heather Ahtone in INTERTWINED, Stories of Splintered Pasts: Shan Goshorn & Sarah Sense (Tulsa, OK: Arts & Humanities Council of Tulsa, Hardesty Arts Center, 2015), https://issuu.com/ahhatulsa/docs/int_cat_issuu, for more on the work of Goshorn.